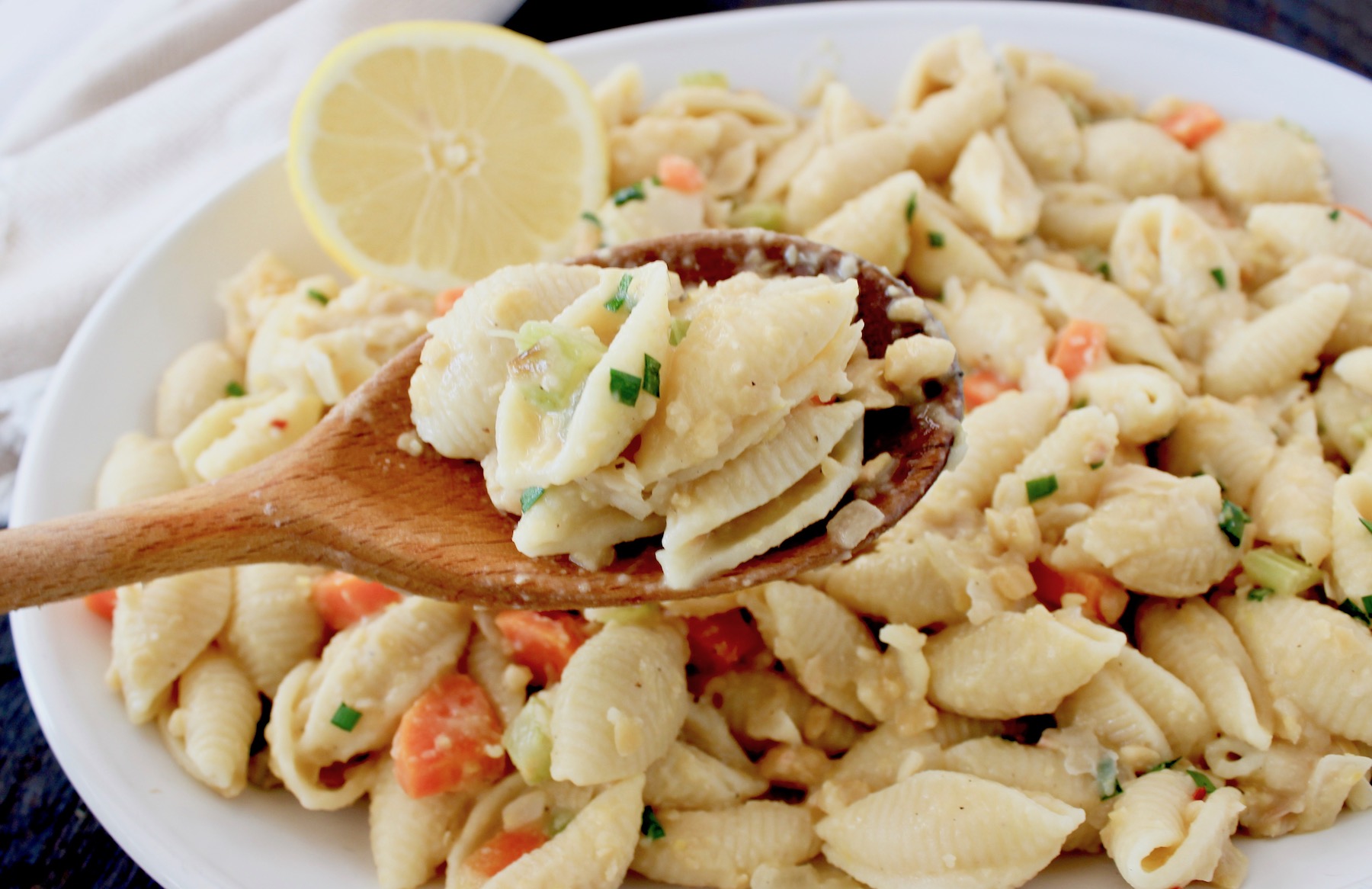 This week I dusted off M.F.K. Fisher's How to Cook a Wolf.  It was published in 1942 and opens with a quote from American humanist Charlotte Perkins (Stetson) Gilman: "There's a whining at the threshold, There's a scratching at the floor.  To work!  To work!  In Heaven's name!  The wolf is at the door!"  
It was the peak of war. The 'wolf' was a metaphor for hunger, and the book is a guide to frugality during wartime shortages, along with tips on achieving a semblance of normalcy during chaos.  During that time, folks at home were 'in it together,' determined to survive while supporting the troops.
Today, I feel like our 'troops' are nearby neighbors and loved ones.  And while we don't necessarily have a 'wolf' at our door, our foundations have been rocked.  I've been examining my daily activities/tasks – some borne out of habit, others so routine I don't even think about them – until I was told I couldn't do them.  But I have slowed down, I'm taking more deep breaths, and I've started to re-appreciate things.  Maybe you've been doing the same?  Have you found that some of the simplest things are now of utmost importance to you, like taking a walk, talking to loved ones, checking on your neighbors, or playing board games with family?
M.F.K. wrote about change and the need to adapt: "It is all a question of weeding out what you yourself like best to do, so that you can live most agreeably in a world full of an increasing number of disagreeable surprises."
'Disagreeable surprises' – a nice way of putting it.
During the Depression, food was in short supply (especially fresh eggs, butter, meat, veggies/fruit and spices), but folks managed to make nutritious, warming meals.  They used more beans and pasta; tossed in fillers like cereal or bread crumbs to stretch the yield; made stews/soups with whatever was on hand; replaced butter with shortening; used canned soup in place of oil/butter in cakes (have you heard of 'Tomato Soup Cake'?); replaced fresh meat with hot dogs ('Hoover Stew' was an especially popular mix of pasta, hot dogs, canned tomatoes, corn or beans); and transformed meatloaf into a concoction of canned veggies, nuts, dried fruit, leftovers and bread.
We're certainly not living with Depression-era challenges, but I can't help but see some parallels in terms of how we relate to each other, and the worth of certain commodities.  There's value in acknowledging our past, and creativity is usually borne out of necessity!
As an homage to times past, here's a simple and nutritious dish to fill your bellies. It's a meatless meal using two things you probably have in your pantry – chickpeas and pasta — full of protein and nutrients.  I bet you've even got an onion, a carrot, some celery and garlic in the fridge, too.  And maybe a little rind of parmesan?  If you don't have fresh herbs, maybe your neighbor has some?  As for the lemon (it really makes this dish), if you don't have your own tree, maybe you found one at the market recently. . .
Yes, we're living in interesting times, but the 'wolf' will never be at your door if you have a good pantry, and lots of imagination 🙂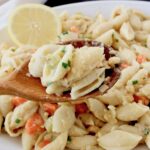 Print Recipe
Chickpeas and Pasta
A simple dish with a 'sauce' of mashed chickpeas, onion, garlic, carrot, lemon and parmesan, mixed with short pasta.
Ingredients
2

c.

Dry, medium pasta (elbows, shells, etc.)

(alt: chickpea or other preferred pasta)

1

Can chickpeas, drained & mashed

(yield: 2 cups)

2

Tb.

Olive oil

1

Carrot, peeled & minced

1

Celery rib, minced

1

Small onion, peeled & minced

1-2

Garlic cloves, peeled & minced

~1/2

tsp.

Kosher salt

1

Tb.

Unsalted butter

1

Lemon, zested (plus juice of 1/2 lemon)

1/2

c.

Parmesan cheese, grated

2+

Tb.

Fresh herbs (chives or parsley or rosemary)

1/4

tsp.

Freshly ground black pepper
Instructions
Cook pasta according to package directions, but be sure to reserve about 1 1/2 cups of the cooking liquid before draining the pasta (and set aside until ready to use)!

Mash the chickpeas in a bowl, using a potato masher or a large fork.

Add olive oil to a deep skillet, over medium/low heat. When warm, add carrot, celery, onion and garlic and sprinkle with 1/4 tsp. salt. Stir and cook slowly, until soft.

When vegetables are cooked, add chickpeas, 3/4 c. of pasta water, and butter. Stir and simmer gently 1-2 minutes, then add pasta.

Turn off heat, add parmesan, lemon zest and lemon juice, along with a bit of pasta water at a time to achieve desired consistency (it should be a little saucy and creamy, not dry). Add more salt, if needed. Sprinkle with herbs and black pepper; serve immediately.