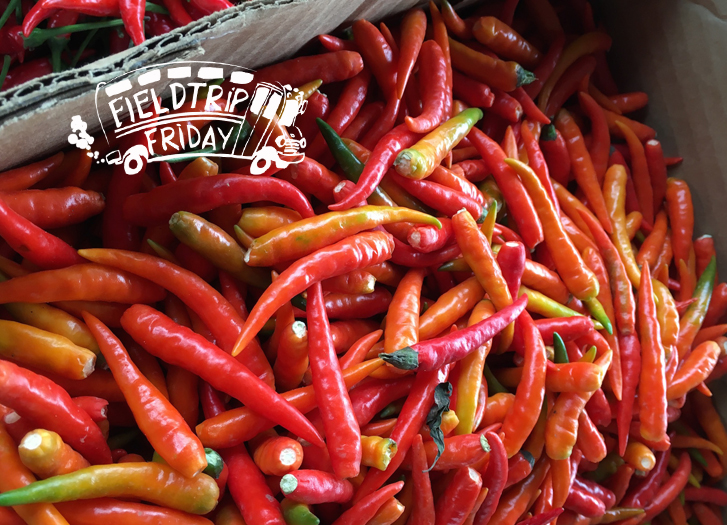 (Field Trip Fridays capture interesting, fun, food-related and/or fishing adventures that I like to share with you!).
UPDATE: Sadly, effective June 30, 2020, Mustang Flea Market and Wagon Wheel Flea Market are closed, after 55 years. . .)
___
After 27 years in Florida, I still find interesting places. This time it was the Wagon Wheel Flea Market in Pinellas Park. Not just any flea market — this one has two distinct offerings. You'll find plenty of screwdrivers, sunglasses, toys, churros, kitchen items, pocket knives and other stuff on the traditional side of the market, but if you're a foodie (Asian food, in particular) or you love gardening, it's the other side you must visit — Mustang Flea Market.
The large, outdoor market is known for an abundance of exotic produce. Vendors at Mustang sell on Wednesdays, Saturdays and Sundays (vs. Saturdays/Sundays at Wagon Wheel), so there are more opportunities to stock up. As I watched them, I thought of Calvin Trillin's "To Market, To Market" piece in Alice, Let's Eat (1978). In it, he describes his partiality for 'market people' — vendors who take 'a positively overt pleasure in selling their wares.'  These vendors were eager to answer questions and send folks off with something — they took pleasure in not only making a sale, but also, helping buyers have good results at home.  Pictured below: Vendors holding Yu Choy (left) and Canistel (right).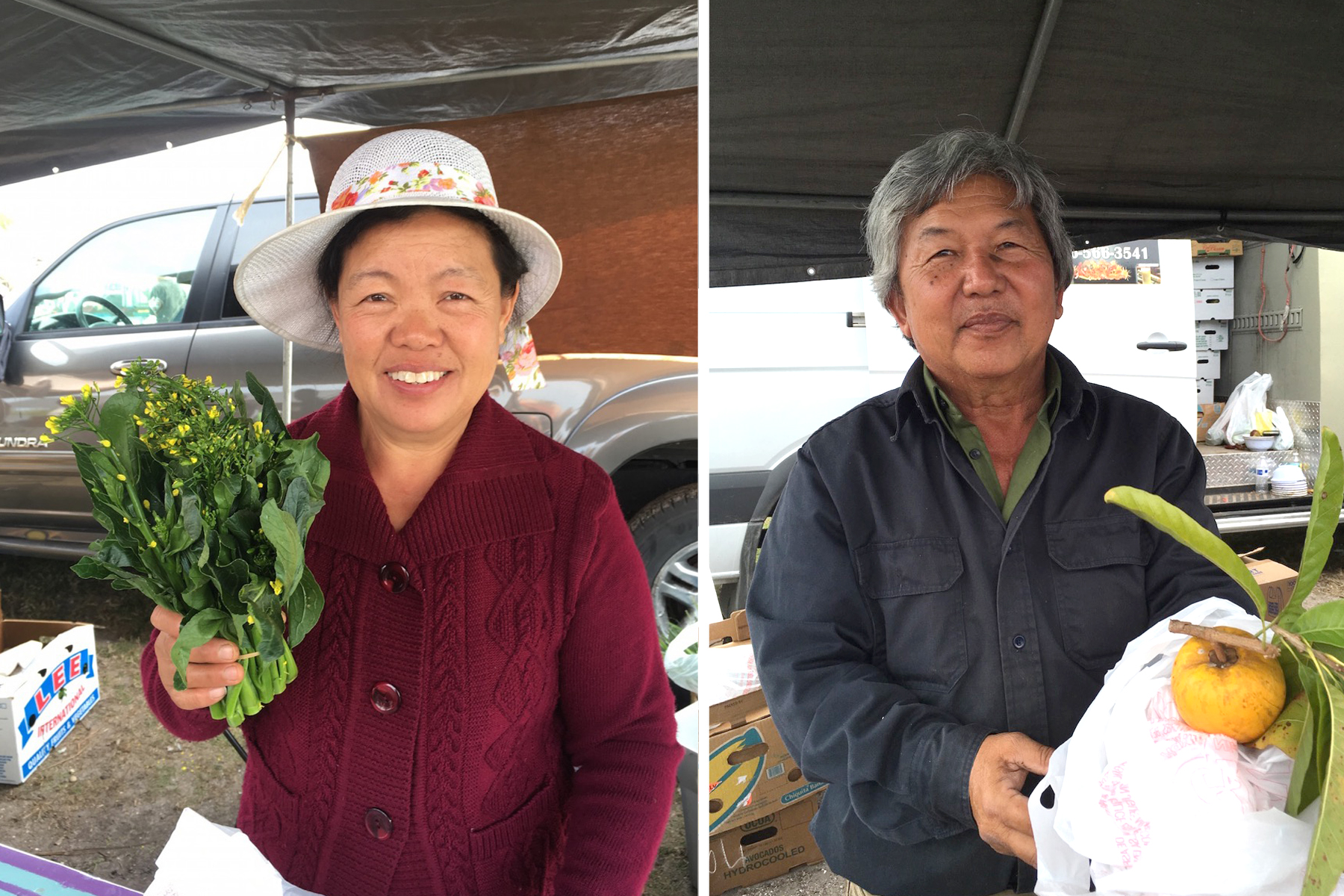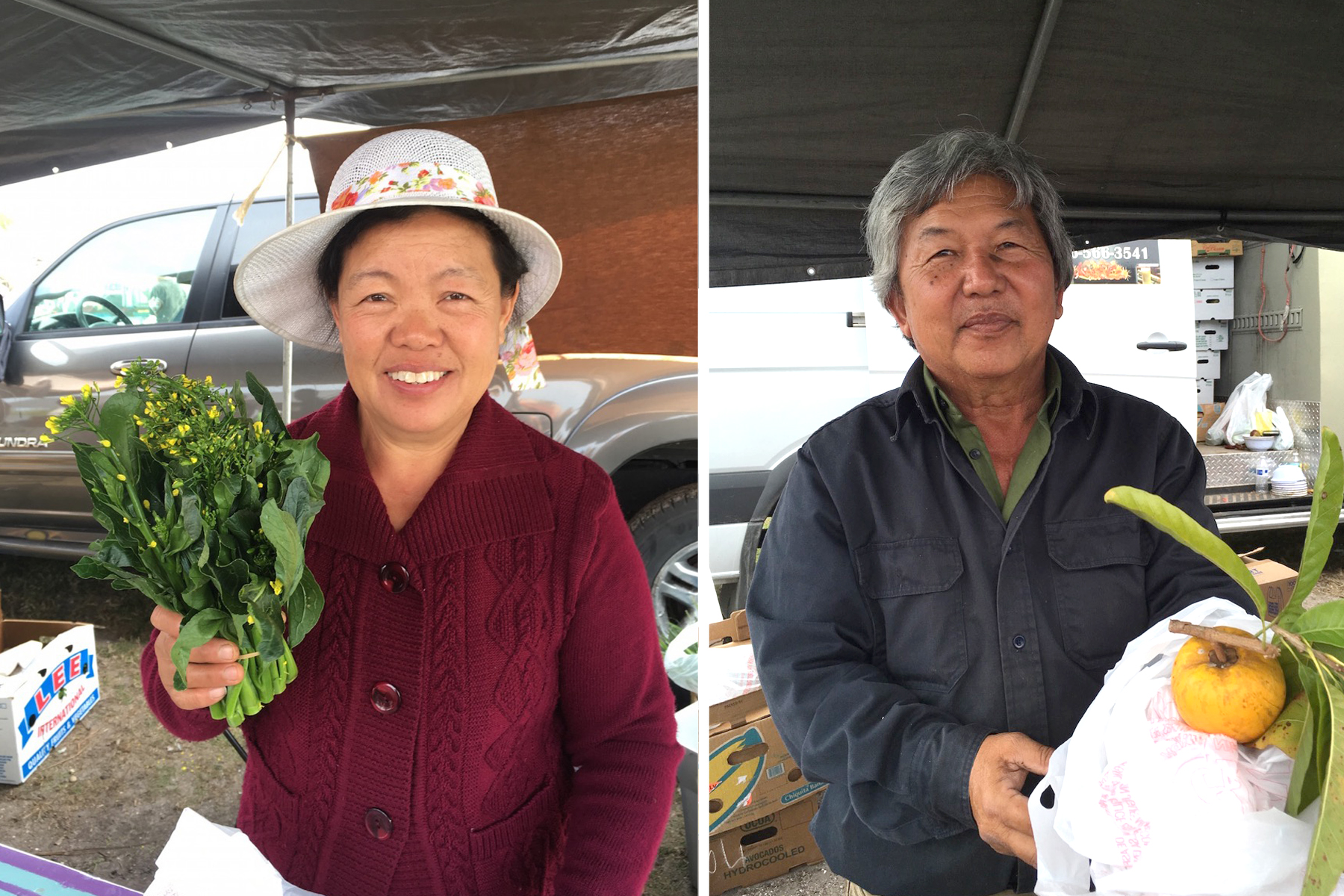 Markets like this make it a little easier to fulfill our growing desire to know where food comes from. Even back in '78, Trillin wrote ". . .some people shop at a market on the theory that it represents their only hope of coming across fruit and vegetables that have not been bred by the agribusiness Frankensteins to have a shelf life approximately that of a mop handle." That theory continues today. It's nice to shop where sellers are, in many instances, the folks who actually grew much of the food and are happy to talk to us about it. Sometimes their quantities are small, and that's ok, but you never know what you'll find!
I was with a group walking tour led by Andy Firk, owner of Bamboo Grove Farm in Arcadia. Andy is extremely knowledgeable about edible gingers and tropical plants and offers tours of gardens, markets and food forests, so we were in good hands.  Honestly, after 20 minutes, I was overwhelmed! So much to see and learn that I gave up taking notes and simply listened and watched.
Some vendors spoke little English, but there were lots of supporting players to help and offer samples. Don't expect to see many signs about what items are or how much they cost – vendors assume you know, or that you'll ask and they'll be happy to tell you. Everywhere I looked there were piles of lemongrass, galangal (a.k.a. Thai ginger), scallions, ginger, turmeric, star fruit, limes, Makrut leaves, turnips, citrus, peppers and more, all reasonably priced. In fact, many bunches of produce were only one dollar.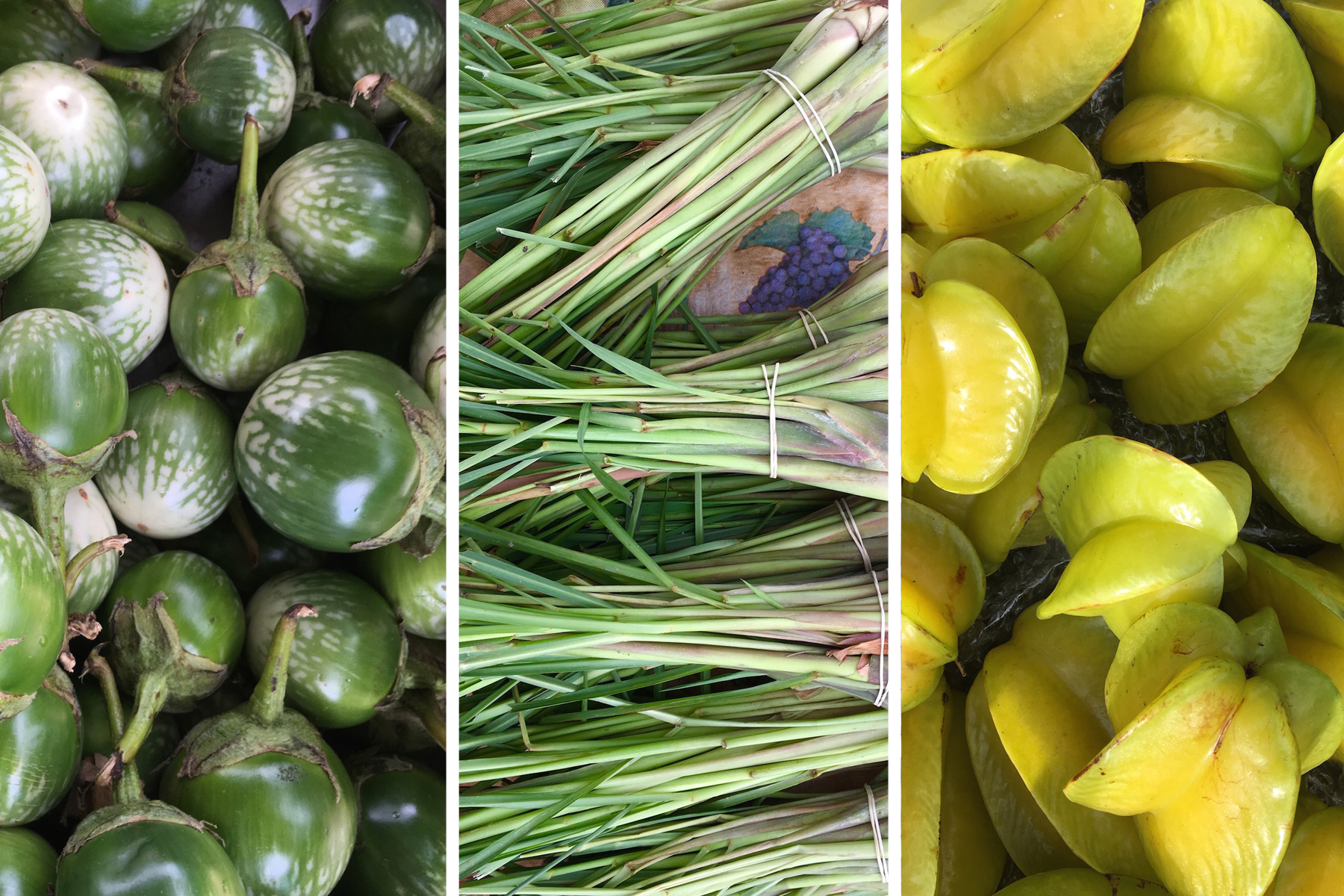 There were also lots of well-priced potted fruit trees and vegetable plants.  And if you need fish, they've got that, too — ice-filled coolers of Ladyfish, Mullet, Tilapia, Sand Perch, and premium fish. I spotted several Asian women sorting through coolers with tongs in search of whatever they deemed to be the 'best fish'. . .It's not how I typically get fish, but it works for some 🙂
And how often do you see whole, plucked chickens, feet sticking up, in an icy bag? I saw those, too. No pictures necessary. . .
I also spotted mounds of Galangal (Thai ginger – very spicy) and various turmerics and gingers: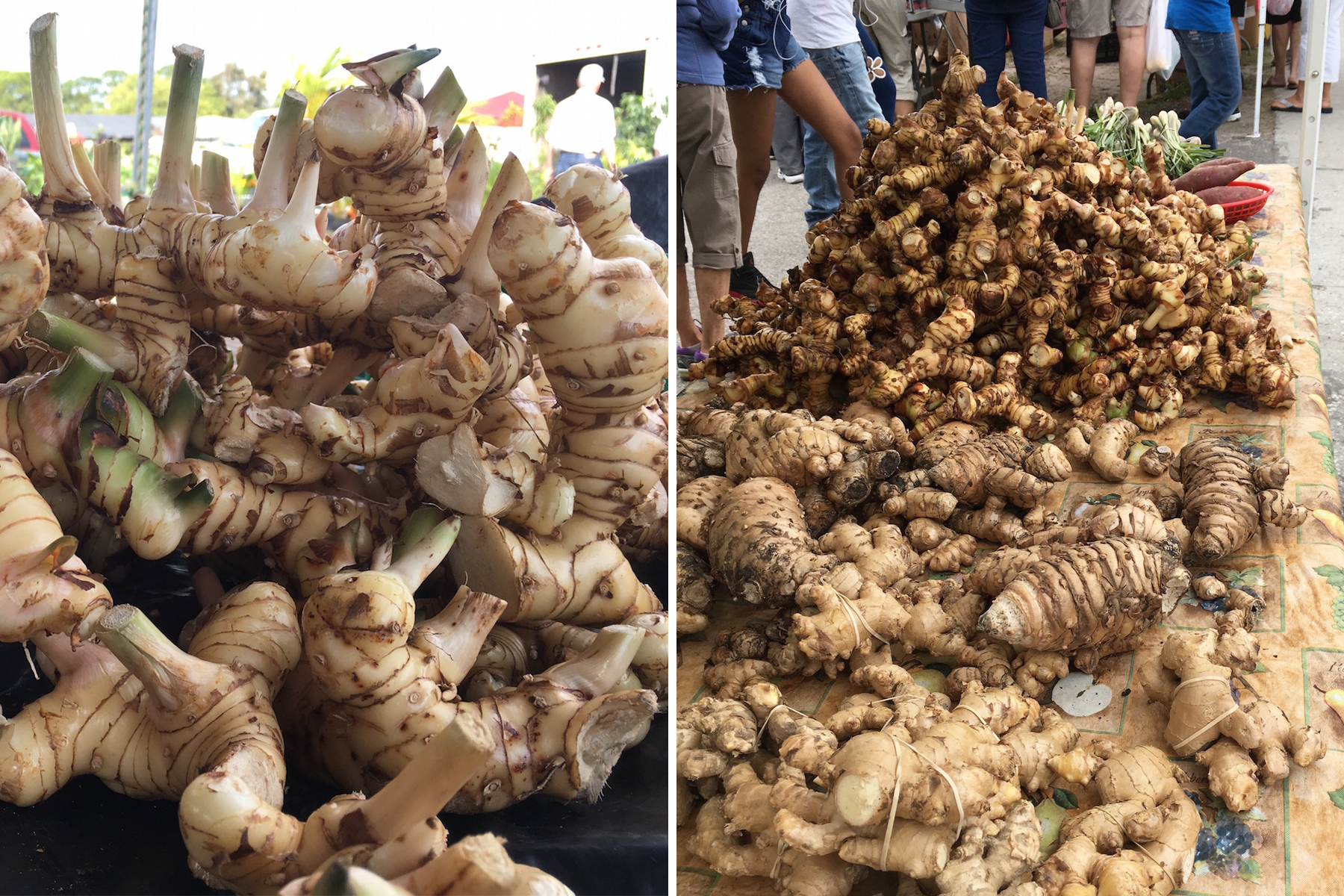 Here are just some things I picked up:
Green Papaya (pictured bottom right): popular in Vietnam, folks use the unripe papaya as a vegetable when it's green and crunchy, and as a fruit when it's ripe. This vendor sold it pre-shredded, so I'm making mine into a tasty slaw.
Canistel: called Eggfruit because it has a consistency of cooked egg yolk; round and yellow fruit with a little dimple. Sweet, dense pulp when ripe — tastes like a cooked sweet potato to me. I'm making custard with the ones I took home.
Malud: red, grape-looking fruits with silver specks; grow in clusters; have a similar consistency to grapes, but taste like kiwi (the vendor insisted we each try one – that's when I learned large sizes are more sour, so I bought small ones).
Yu Choy: bright yellow flowers were stunning against dark green leaves; great in stir fries, flowers and all.
Jackfruit (pictured below left): ginormous, prickly skinned fruit that tastes a lot like Juicy Fruit gum. SO good.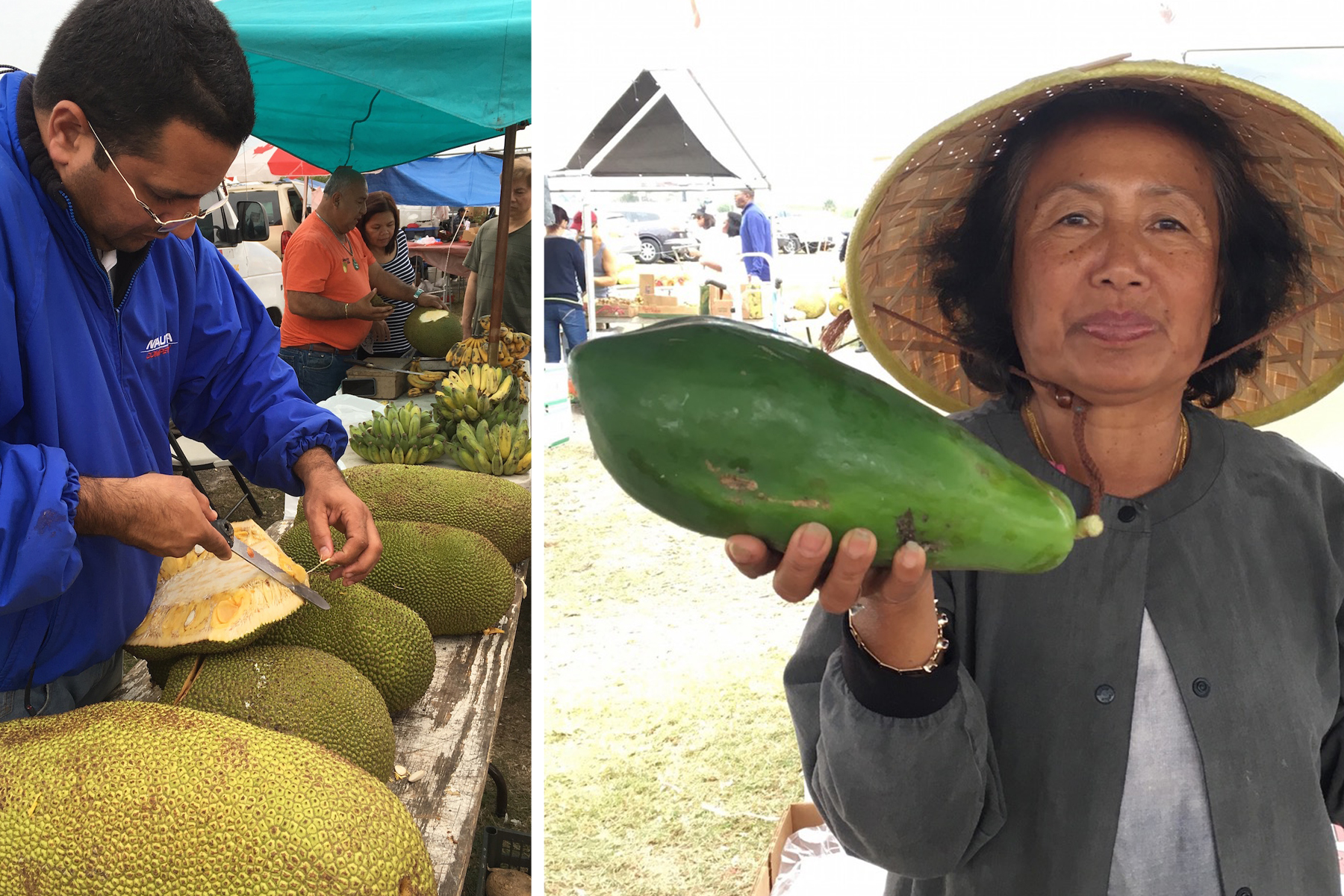 Did I mention I was overwhelmed? After three hours my feet were tired, my arms were cramped from the bags I was carrying, and my head was spinning from the knowledge I had gained. My next visit will be even better, now that I know how this place works. I'll also bring my SUV to carry fruit trees and potted plants, and will be sure to have a rolling cart 🙂
So, for a moderate drive and a one dollar parking fee, Mustang Flea Market is a great way to spend a morning!