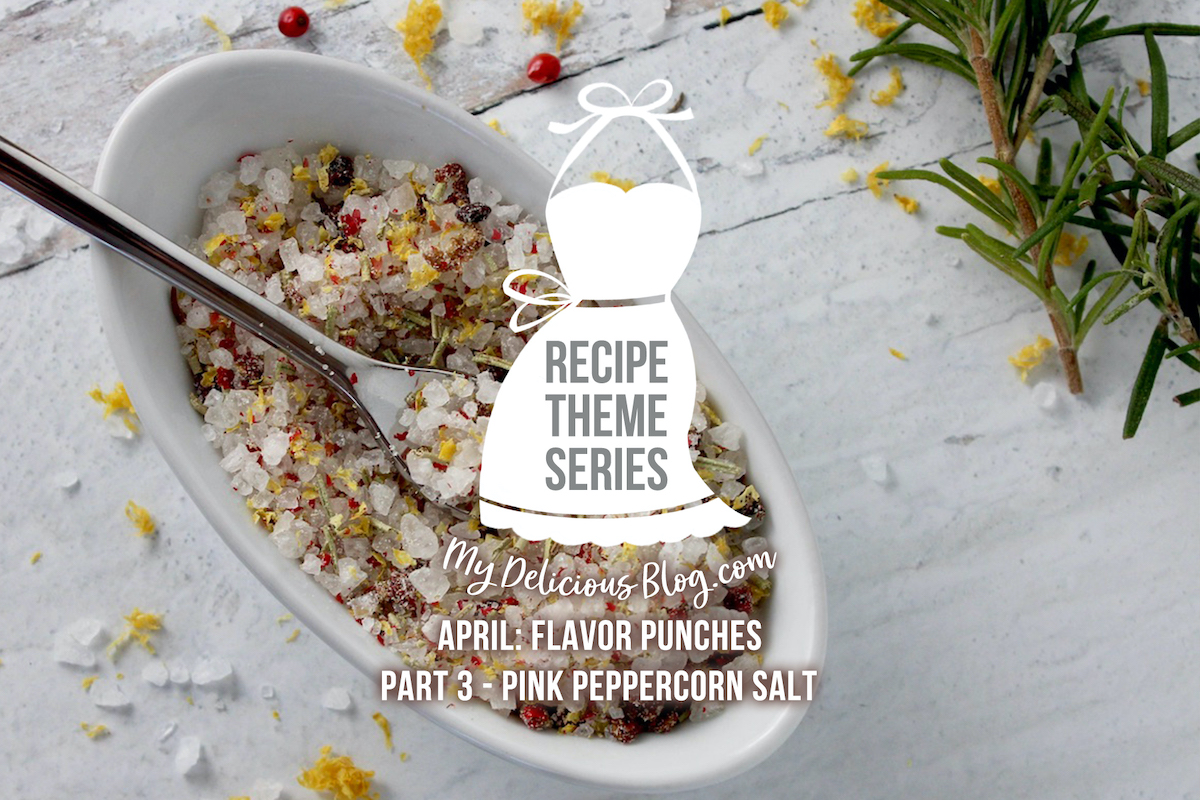 A sprinkle of flavored salt can make dishes sparkle.  I've got several mixtures in my pantry that I bring out for special touches to meat, seafood or veggies.
Each type of salt (sea, Himalayan, Kosher, fleur de sel, Kosher, etc.) offers its own level of 'saltiness' or 'brininess,' enhancing underlying flavors of food in their own ways.  Even a pinch can turn something bland to wonderful, so experiment to see what you like/don't like.
A dear friend once gave me Marcona almonds from
Golden Isles Olive Oil
on Saint Simon's Island, Georgia.  They were coated in rosemary olive oil, pink peppercorns, rosemary and sea salt, and were so delicious that I almost single-handedly consumed them all in minutes.  That delicious combo of spices is the inspiration for my own flavored salt!
Pink peppercorns make this salt yummy.  If you've never had them, they're actually not peppercorns, they're dried berries from the Peruvian peppertree, a plant in the cashew family (make note if you have nut allergies). The flavor profile is more delicate than traditional peppercorns, offering heat like that of a chile – sometimes described as 'feisty,' with notes of fruitiness and sweetness.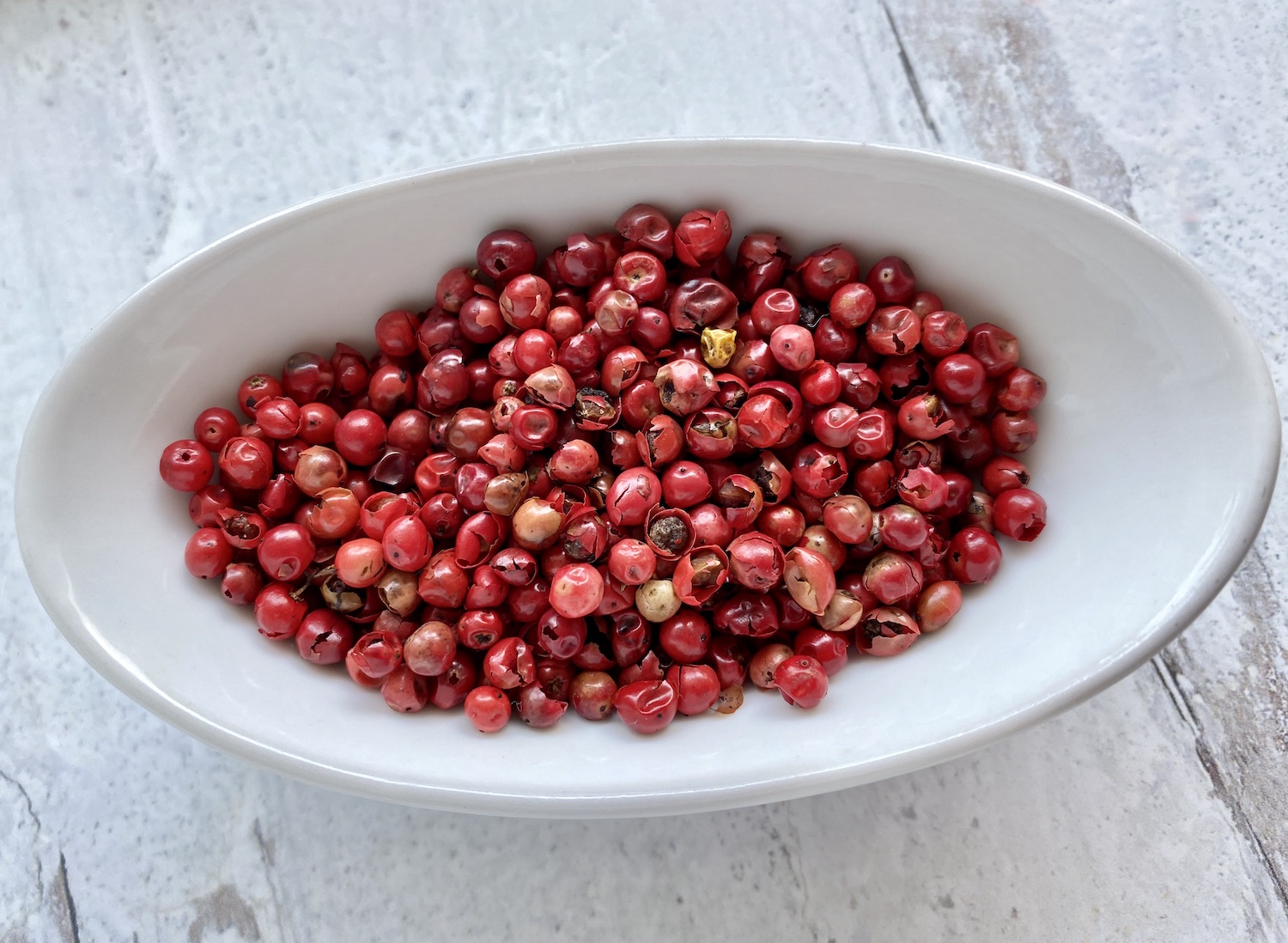 I paired them with rosemary and lemon, offering heat, freshness and earthiness to every bite.
First I dried the zest (a few 30-second intervals in the microwave is all it takes):
Then blended it with salt, rosemary and peppercorns to achieve my desired texture.  I don't have a mortar and pestle any longer, so I used the handle of my citrus juicer: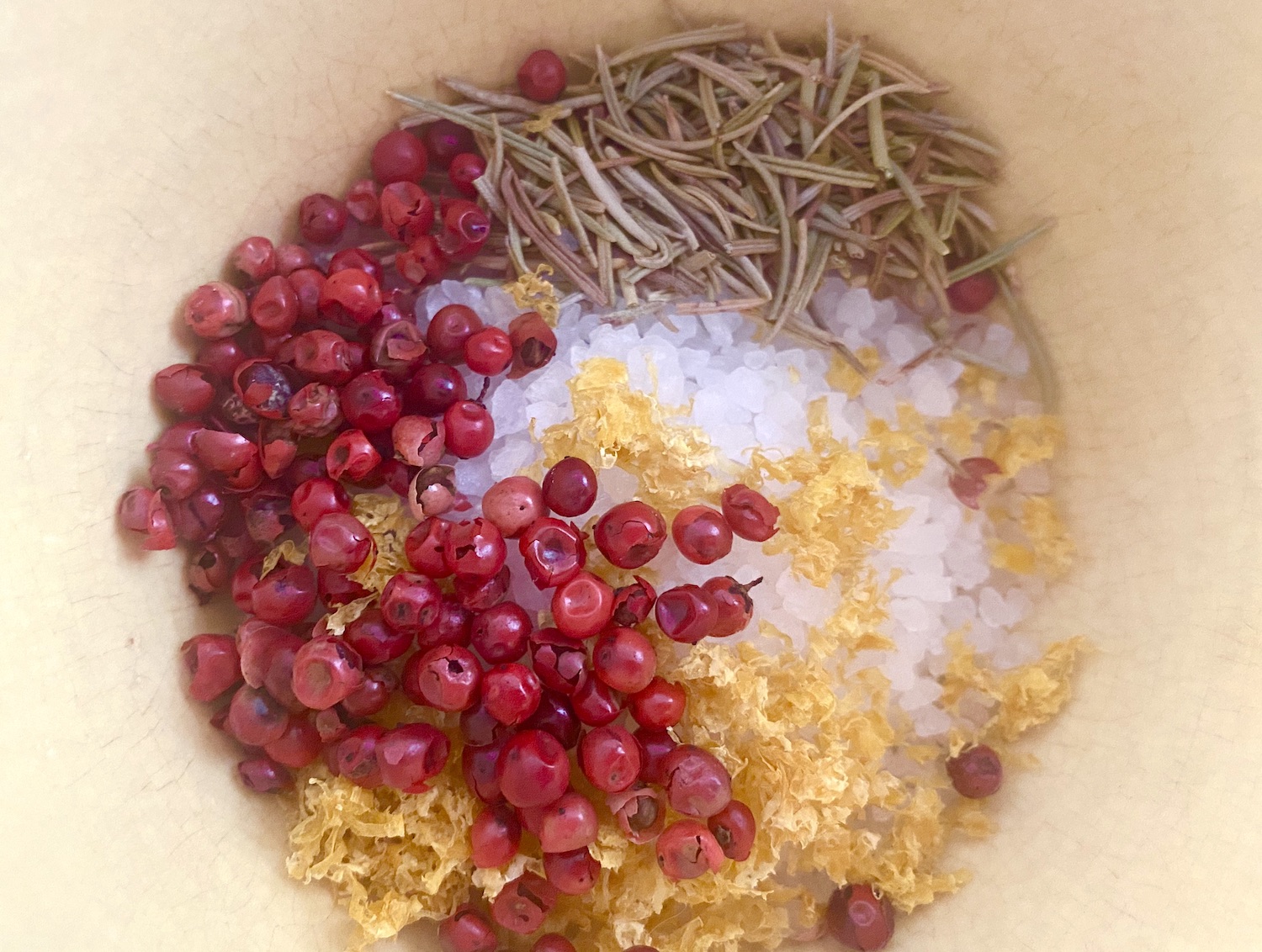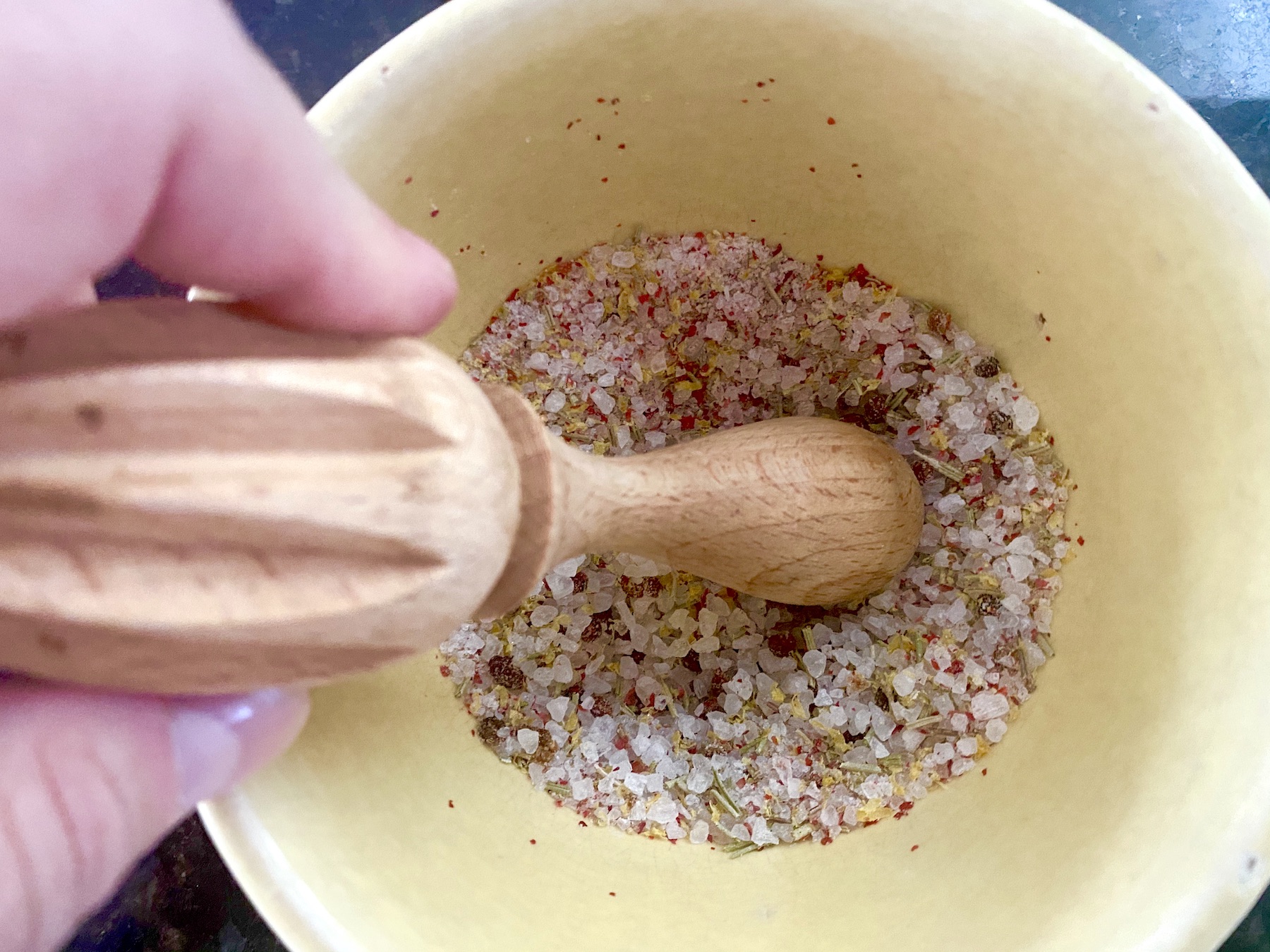 Add a pinch to grilled or steamed meats/veggies/seafood just before serving, or stir some into a simmering stew or soup.  Experiment and see how you like to use it!
P.S. also try this 
flavored salt
with calamondin peels (you can substitute orange or mandarin) using an oven-baked method.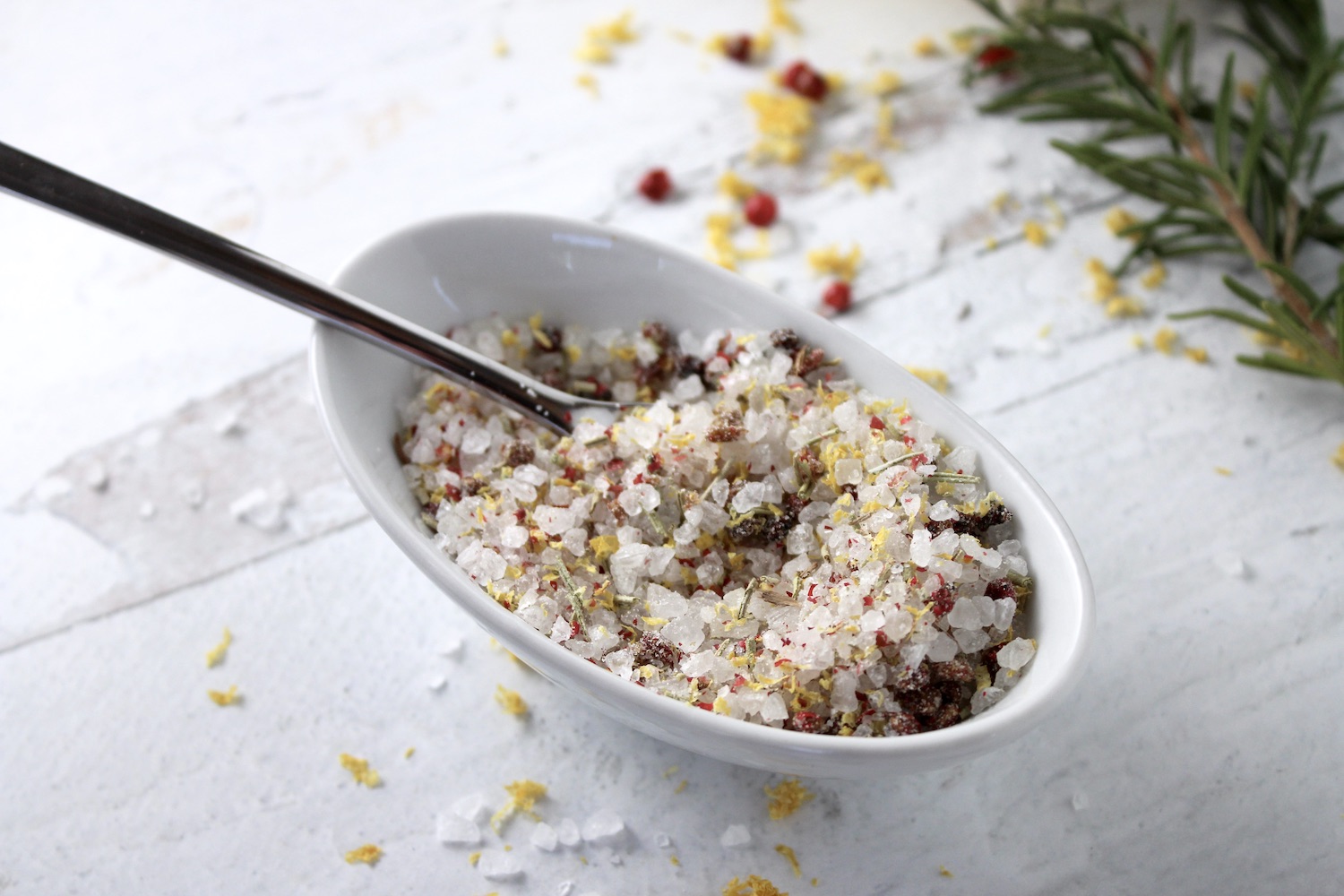 Print Recipe
Peppercorn, Rosemary and Lemon Salt
A delicious blend of sea salt, pink peppercorns, rosemary and lemon that makes any dish sing!
Ingredients
2

Lemons, zested

(organic, if available)

1/4

c.

Sea salt

1 1/2

tsp.

Pink peppercorns

1 1/2

tsp.

Dried lemon zest

1 1/2

tsp.

Dried rosemary
Instructions
Clean the lemons thoroughly. Using a microplane, remove the zest and place it on parchment paper or a plate. Place in a microwave and set for 30 seconds on high. Remove from microwave and stir, then return for another 30 seconds. Remove and check to see how dry the zest is. If it's still moist, return to microwave for another 20-30 seconds. When done, set aside to allow it to continue to dry and get to room temperature.

In a small bowl (or mortar), combine salt, peppercorns, lemon zest and rosemary. Crush/mix the components into smaller pieces, to your desired consistency.

Store in an airtight container for up to 3 months.
Notes
Two lemons will likely yield about 2 full teaspoons of dried zest.  You can use the extra zest in other recipes like cake or muffin batter, or toss some into a few tablespoons of sugar and let it site for a few days (it makes a yummy addition to your iced tea).
Alternates to microwaving your zest:
place the zest on parchment paper and bake in an oven at 150 degrees for about 30 minutes;
place the zest on parchment paper or a plate and leave at room temperature for about 24 hours.