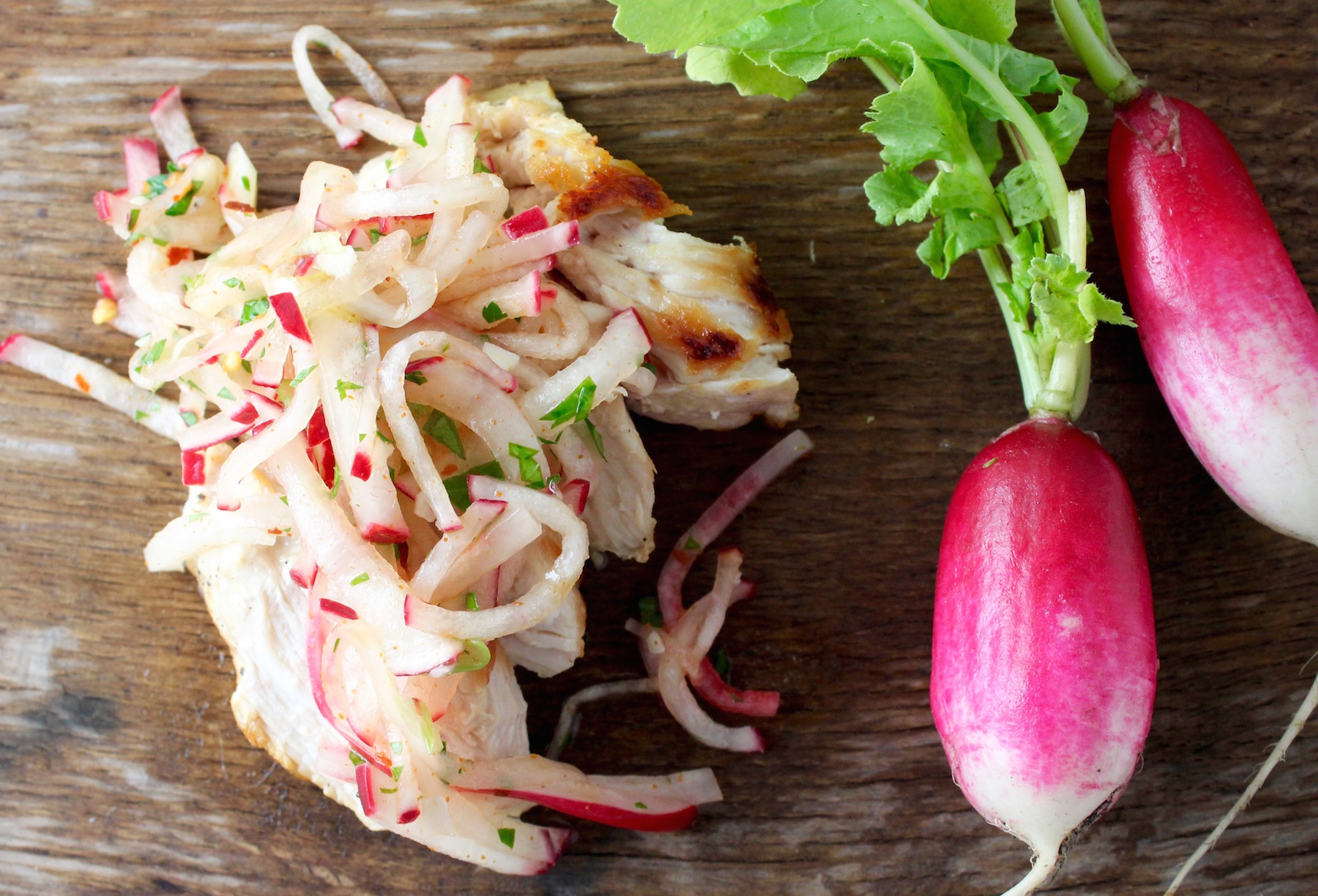 In my quest to find new inspiration for my share of vegetables each week from my favorite CSA farm, I've been digging through recipe books and sites to find out how folks are using radishes, and I found lots of references to Japanese Daikon radish (those huge purple or white varieties). One of the more popular dishes is a Korean salad called Musaengchae, which offers sweet, sour and spicy flavors, so I knew it was my kind of dish, and I got busy in my kitchen.
I tried several combinations based on what was in my pantry. I didn't have Daikon radish, but I did have a bunch of small/ medium Celesta and French Breakfast varieties (thanks to Geraldson Community Farm) and figured they'd be equally tasty.

I've had those beautiful round, bright red Celesta radishes before, but this was the first time I've tasted the French Breakfast variety, and I now adore them. You can't mistake them for another variety due to their elongated shape, beautiful red and fuchsia colors and bright green tops. They're mild/slightly spicy, crispy and tender and make great snacks just by themselves. But they're especially tasty when dipped in butter and salt like the French love to do (check out my post for Radish Crostini and consider giving those a try if you're looking for something new).
Once it was all pulled together, hubby and I enjoyed this tasty and colorful salad with a simple grilled chicken breast, but I'm sure it would be quite tasty with any fish or pork.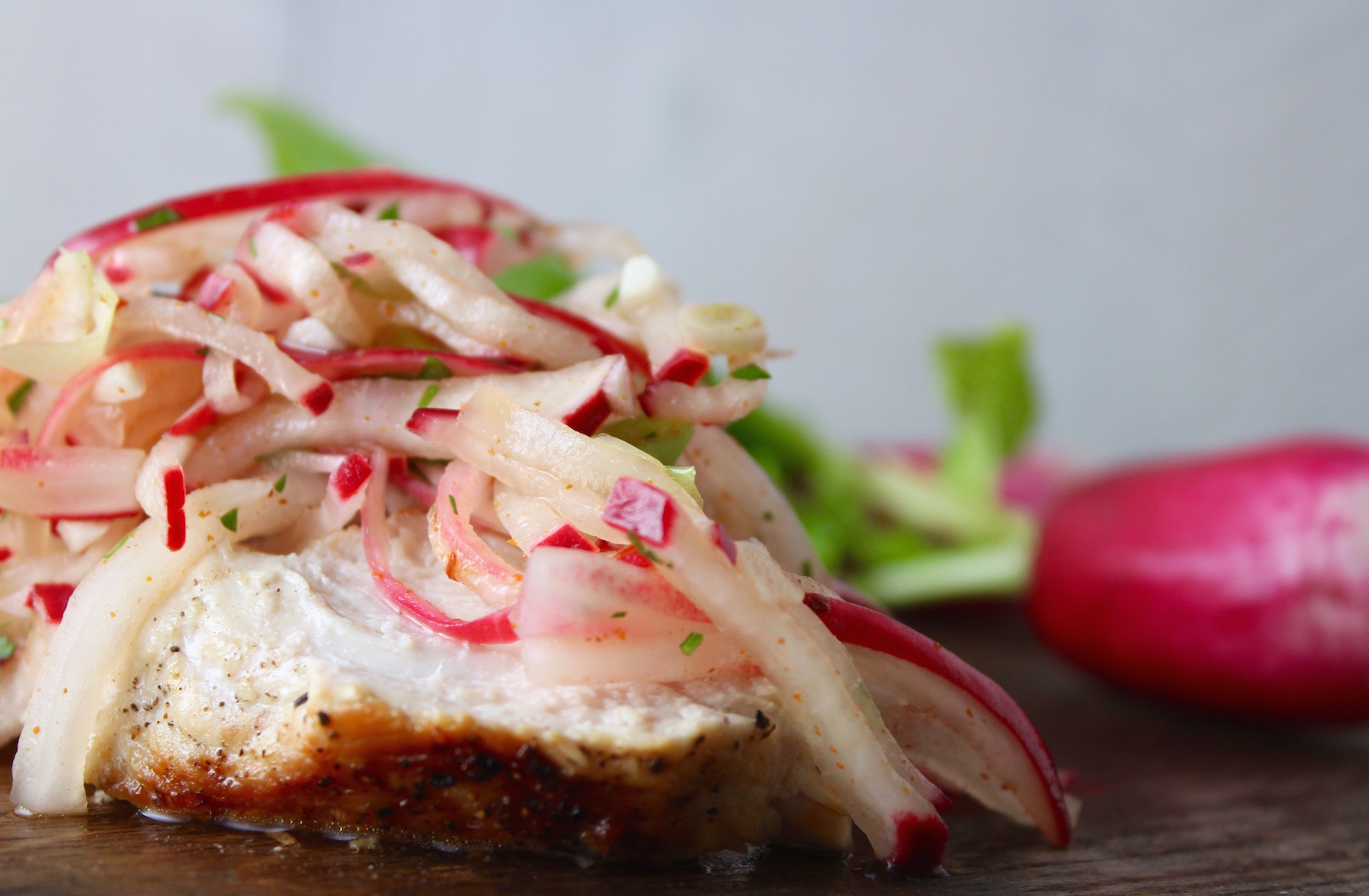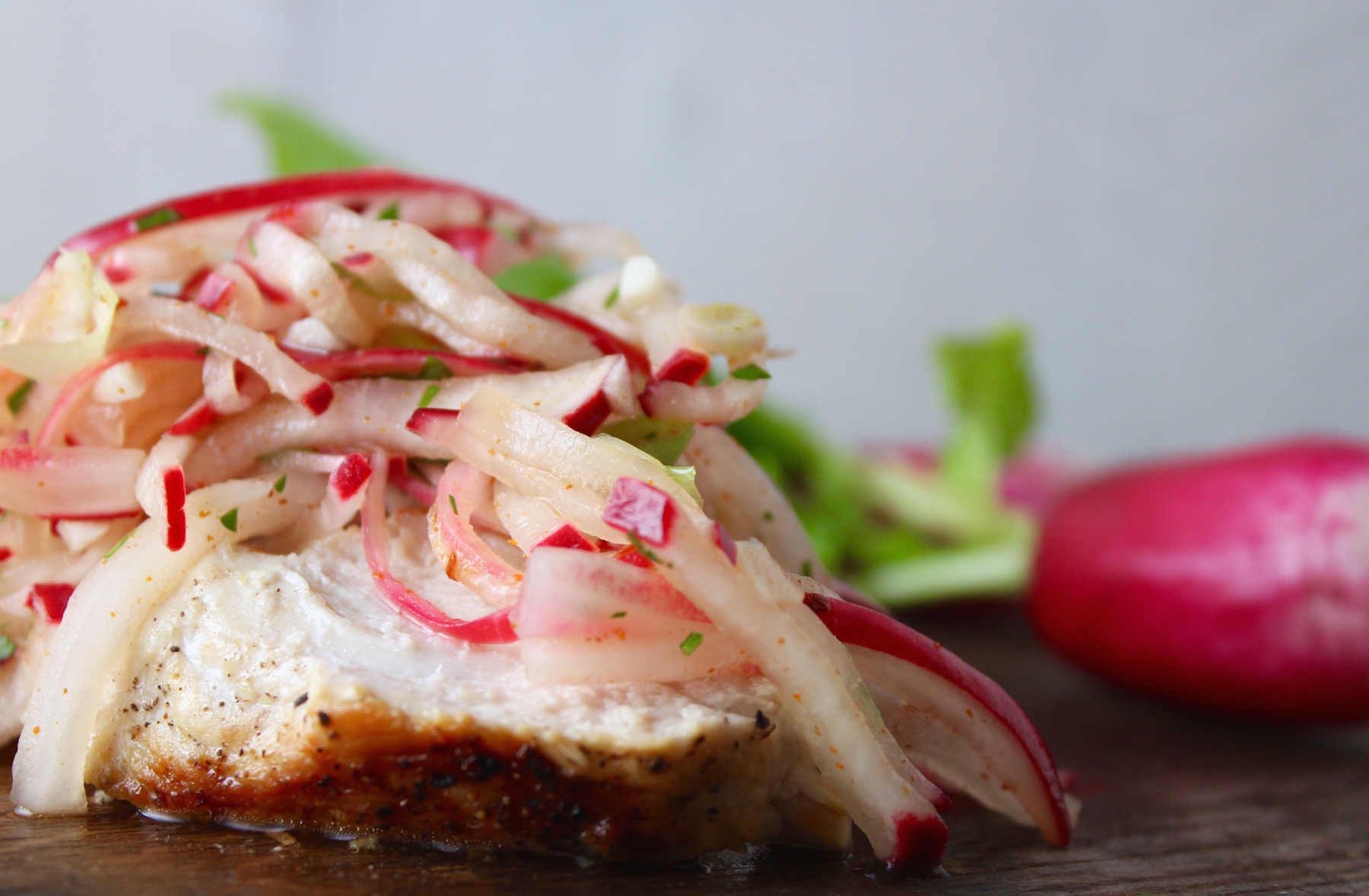 There's an old Chinese proverb that goes something like "Eating pungent radish and drinking hot tea let the starved doctors beg on their knees."  So there you have it – an easy, tasty dish made with healthy radishes that might just even put your doctor out of business 🙂
Eat more radishes!

Korean Style Radish Salad
Crunchy radishes make a delicious salad when paired with tasty add-ins.
Author:
My Delicious Blog
Ingredients
6 small/medium radishes
1 tsp. kosher salt
⅛ tsp. red pepper flakes
⅛ tsp. ground red pepper (reduce if you don't want it TOO spicy)
1 tsp. granulated sugar
1 Tb. rice wine vinegar
2-3 scallions, thinly sliced
1 clove garlic, minced
Few sprigs fresh parsley, minced
Instructions
Remove stem ends from radishes; rinse well.
Slice each radish then cut each slice into thin matchsticks.
To remove some moisture from the radishes, combine radish and salt in a small bowl and allow to stand about 10 minutes. Rinse and pat dry with paper towels or a kitchen towel (it's easiest to simply toss all the radish pieces into a small towel and wring it dry).
Combine radishes with all other ingredients and mix well to combine.
Refrigerate at least 1 hour before serving (best served cold).