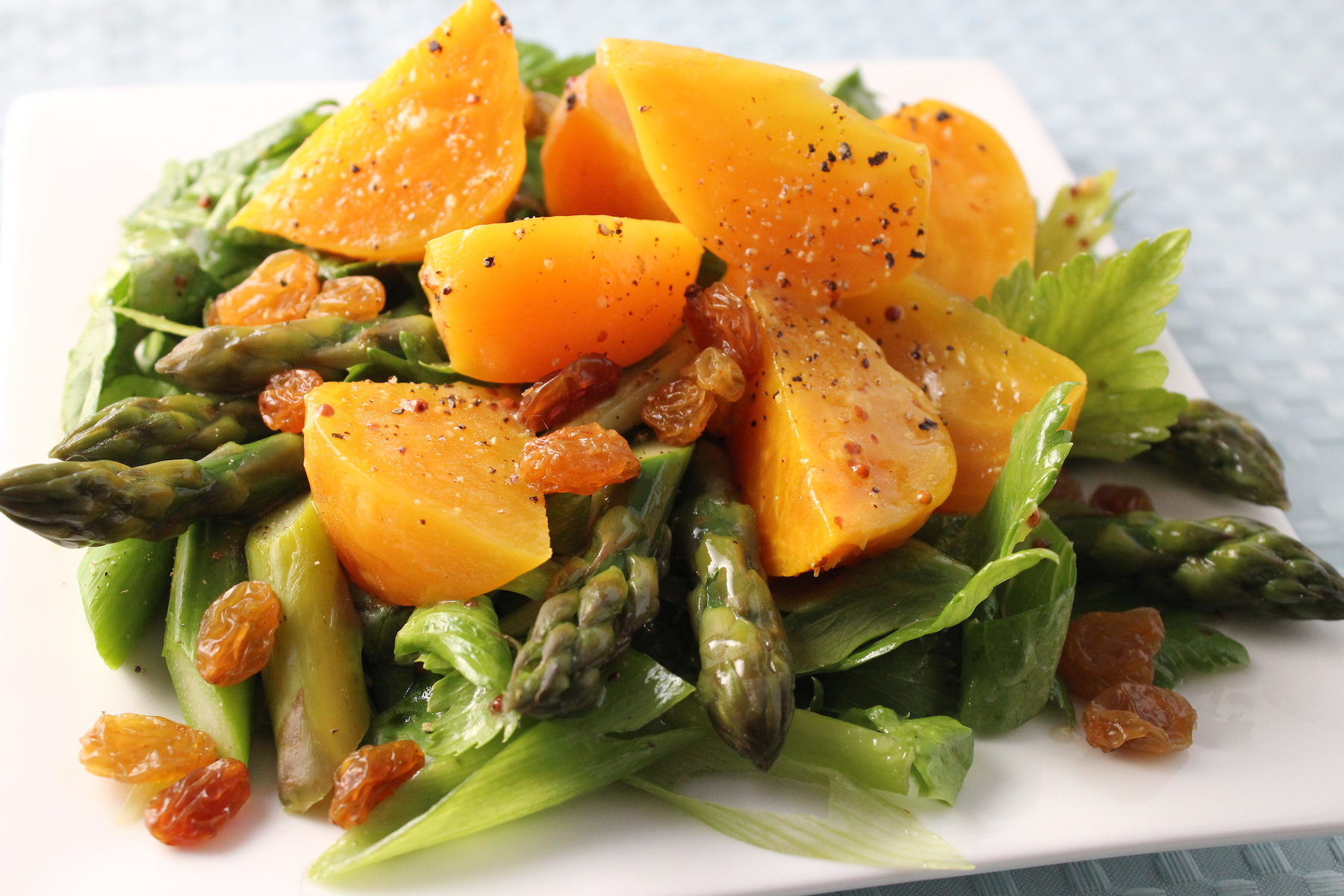 Celery leaves can have a strong "celery" flavor and can even be slightly bitter, but they're packed with good stuff, including vitamin A (good for healthy skin and night vision), antioxidants, vitamin K (for helping to increase bone mass), fiber and calcium. So, when I found myself with a HUGE bunch of celery from a local organic farm, I knew it would be a shame to toss all those beautiful leaves!
I removed the leaves from the stems, washed them well, spun them in my salad spinner, put them in an airtight bag and tossed them in the fridge to crisp them up.  Doing this front-end prep helps when you want to quickly grab a bunch and mix into salads, toss them in a pot with veggies for a veggie broth, add them into chicken salad, etc.  As Martha says "It's a good thing!"
For dinner tonight, I also had a batch of beautiful beets.  How's that for alliteration?  They were so pretty in red, gold and orange tones.  And rather than roasting them (which takes time and heats up my house too much), I snipped off the greens and simply tossed them into a pan with water (enough to cover them), put a lid on it and brought it to a boil.  Then I turned off the burner and let them sit in the hot water for about an hour.  This is such an easy way to cook beets, and it's pretty fool-proof.  When I tested them with a knife and confirmed doneness, I removed them from the water and let them cool.  With a paper towel I rubbed each beet to remove the skin (this method also prevents the color from bleeding onto my hands).  Once they're peeled, you're ready to put them into action.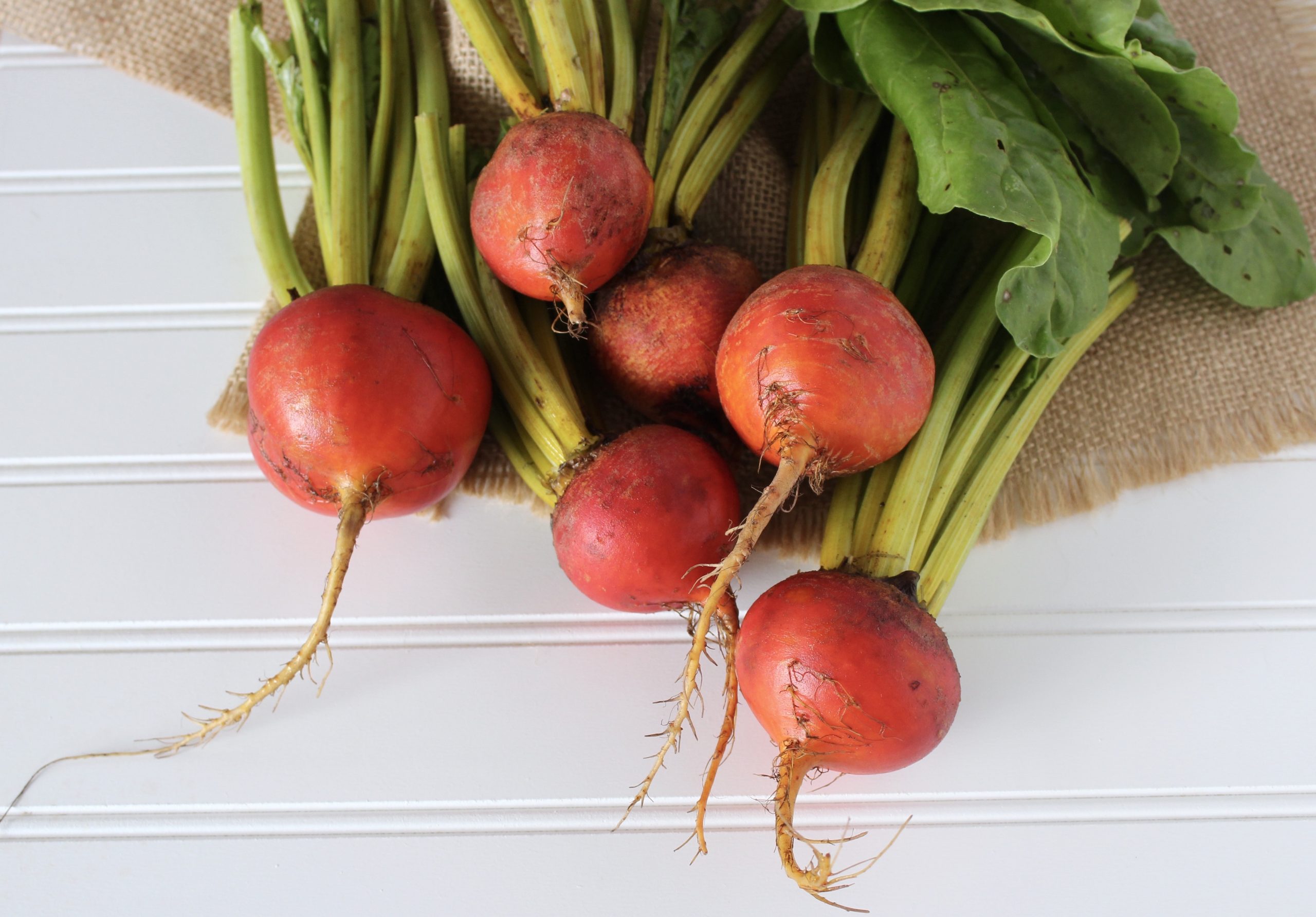 This salad combines thinly chopped Romaine, whole celery leaves, shaved scallions, steamed asparagus and sweet/salty cracked mustard dressing.  Since celery leaves lean toward the bitter side, I added a good amount of honey to the dressing, and even tossed in some golden raisins for extra sweetness and texture.
Hubby was pretty pleased with this dish, even saying "this is one of the best salads I've ever eaten!"  Gosh, I don't know about that, but I think I'll make it again with that kind of endorsement 🙂

Golden Beets with Romaine & Celery Leaves
Healthy beets and asparagus are awesome with this honey mustard vinaigrette.
Author:
My Delicious Blog
Ingredients
Salad:
4 golden beets, steamed, peeled and cut into chunks
2 c. Romaine lettuce, chopped
1 c. fresh celery leaves, whole
4 asparagus, steamed or roasted, cut into 2" pieces
¼ c. golden raisins
Dressing:
⅛ c. red wine vinegar
1-2 tsp. fresh lemon juice
⅛ c. whole grain mustard
2 tsp. honey
½ tsp. kosher salt
¼ tsp. freshly ground black pepper
½ c. extra virgin olive oil
Instructions
Remove stems from beets and place in a large pan. Cover beets with water and bring to a boil. Once it boils, turn off the heat but keep the lid on. Allow beets to sit on the stove for at least 1 hour.
Test with a knife to ensure they're cooked all the way through. Drain water & let cool.
Using a paper towel, rub beets to remove skins. Cut into quarters.
Place beets, Romaine, celery leaves, asparagus, raisins in a large bowl.
In a small mixing bowl, whisk together red wine vinegar, lemon juice, mustard, honey, S&P.
Slowly drizzle in olive oil and whisk to emulsify. Season with extra salt and/or pepper if needed.
Pour dressing over salad and mix well to combine.