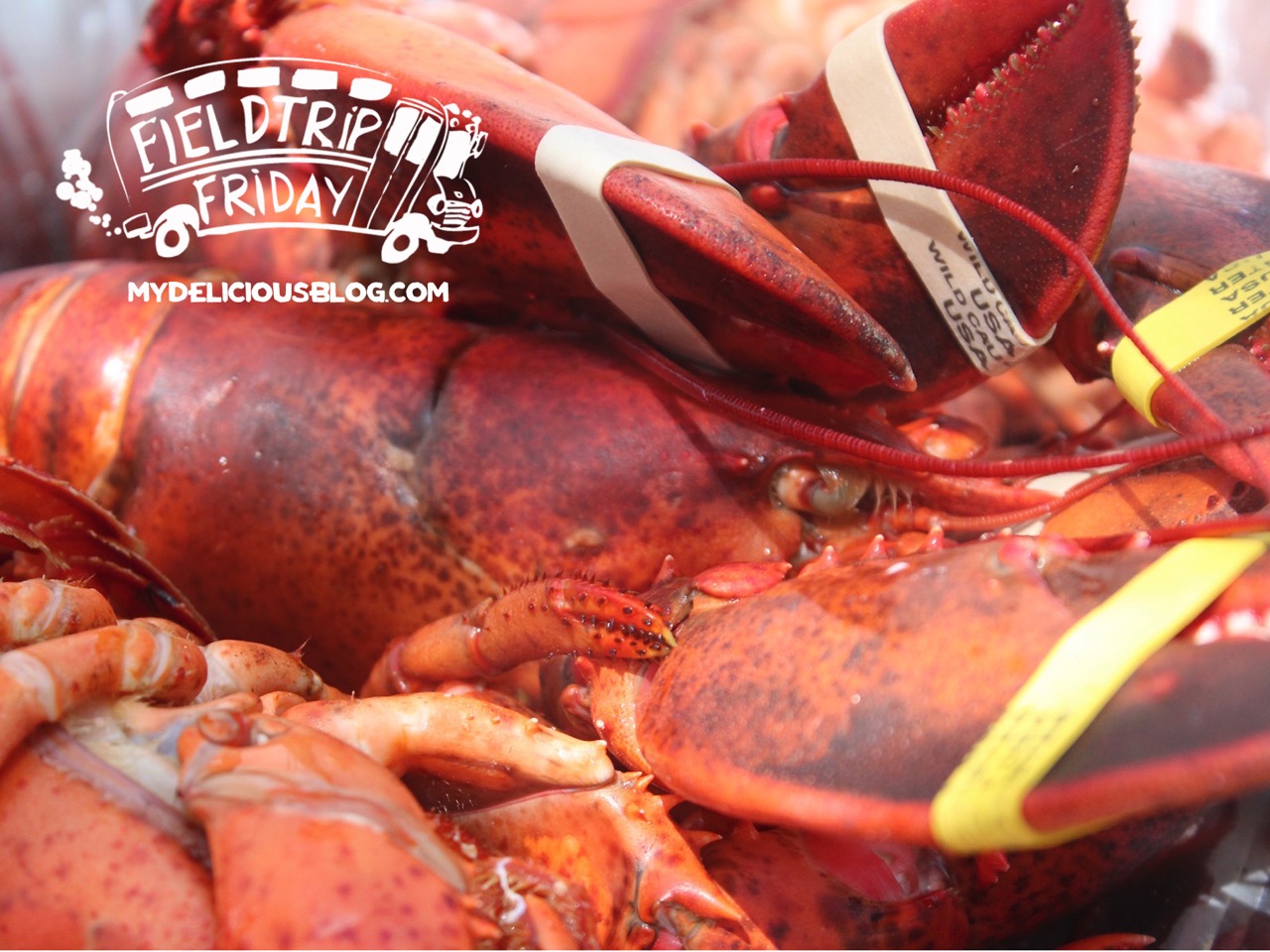 (Field Trip Fridays capture interesting, fun, food-related and/or fishing adventures that I like to share with you! At a minimum, you'll see one post each month).
Recently, the Sarasota Farmer's Market hosted its 5th Annual Shrimp & Lobster Fest. My husband and I made our way downtown, happily willing to brave the ridiculous heat and humidity in order to get our hands on a good lobster roll.
Ahi sliders, lobster rolls, steamed lobster, corn on the cob, spicy shrimp. . .it was all there, ready for the taking (in exchange for money, of course). I made a bee-line to Maggie's Seafood which offered up hot and cold lobster rolls, as well as, whole steamed lobsters.  Here's the chef prepping a delicious crustacean: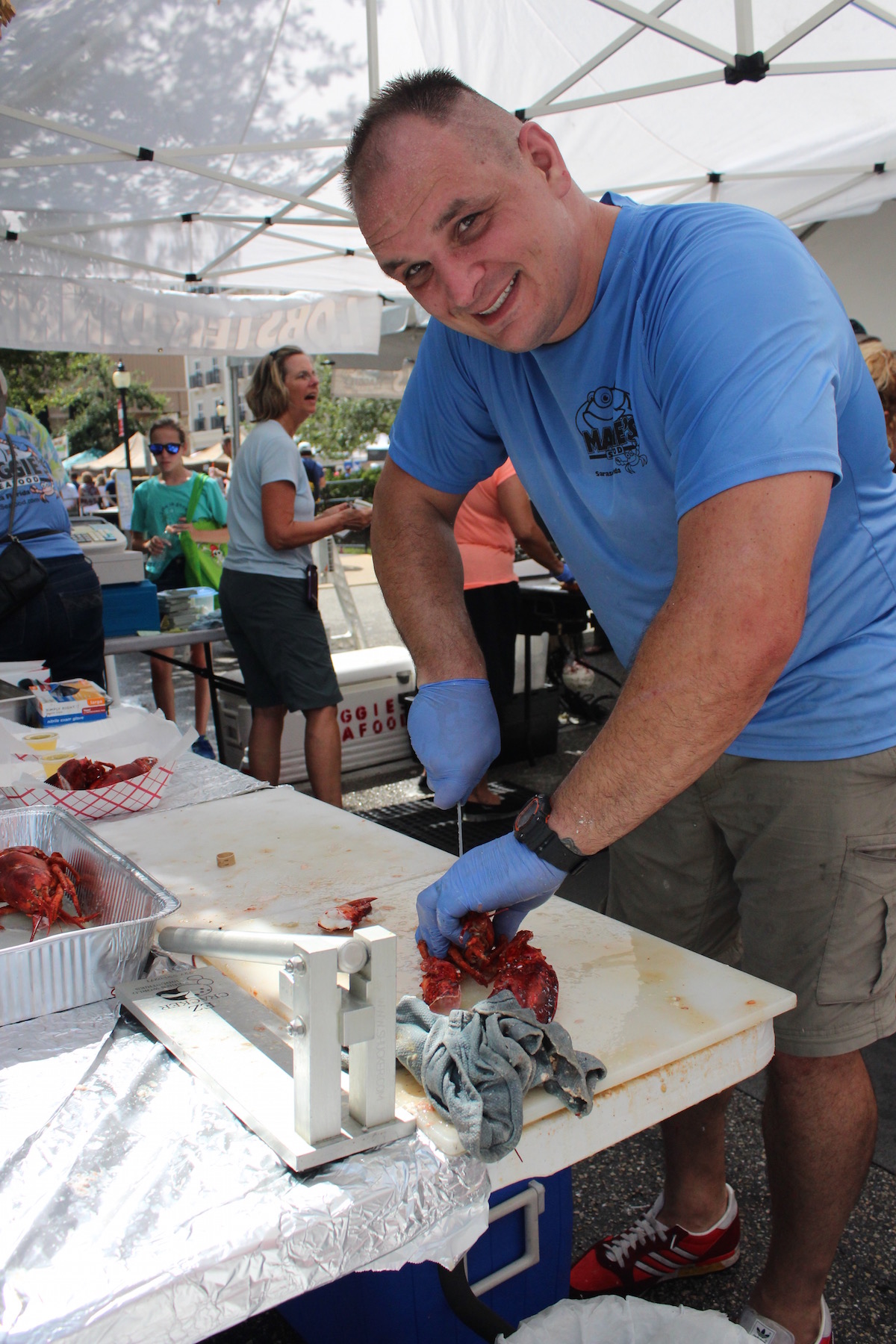 The line was long, but we were willing to wait, drooling over every plate that walked by us. Being a New Englander who has eaten her fair share of lobster rolls, I know a good one when I taste one, and this one scored highly. Big chunks of lobster and fresh mayo on a buttered/grilled bun. The only thing missing, for me, was a little celery or lettuce for some crunch but, other than that, I was NOT complaining. Here I am just before tasting — don't I look happy and excited?!?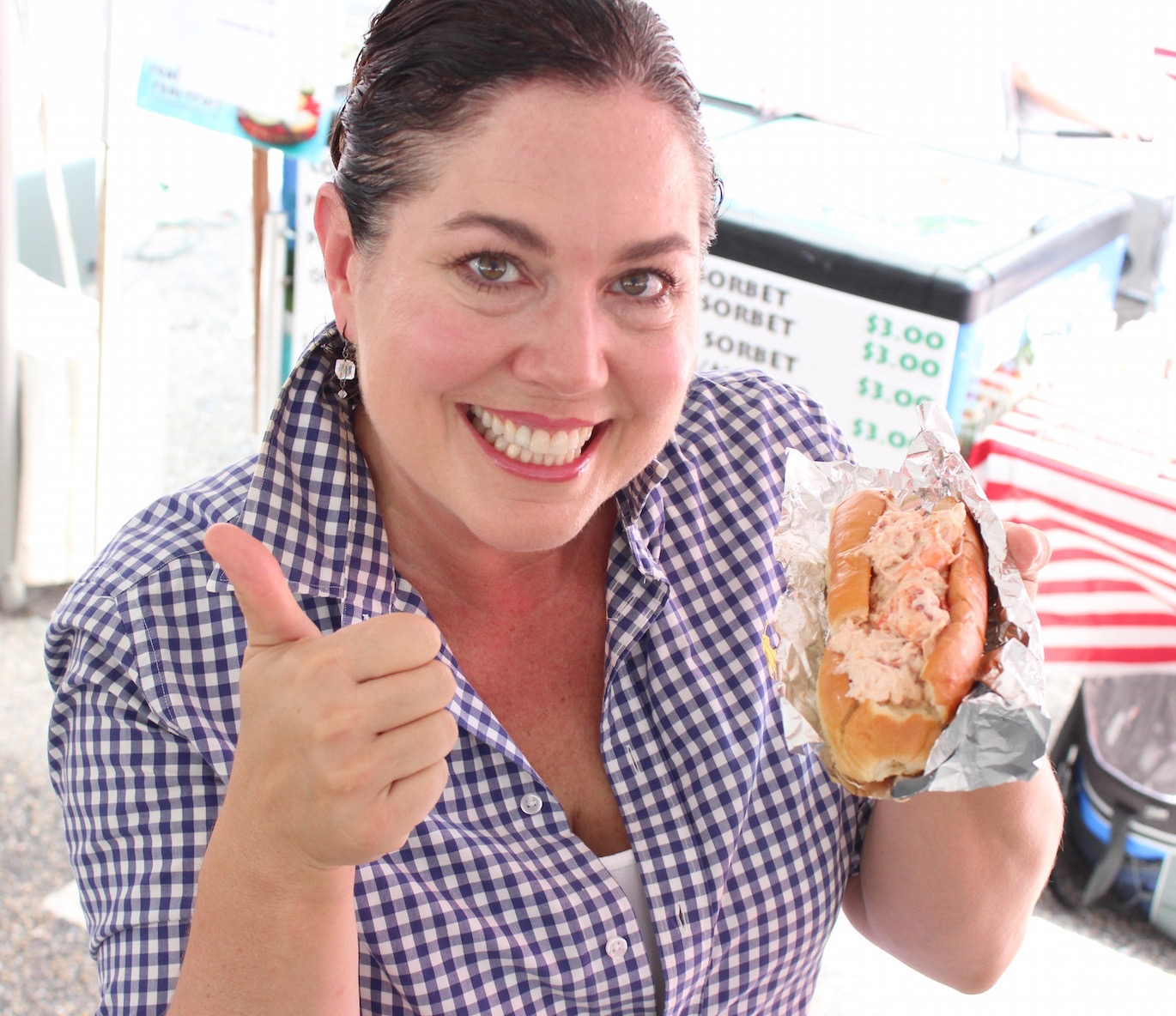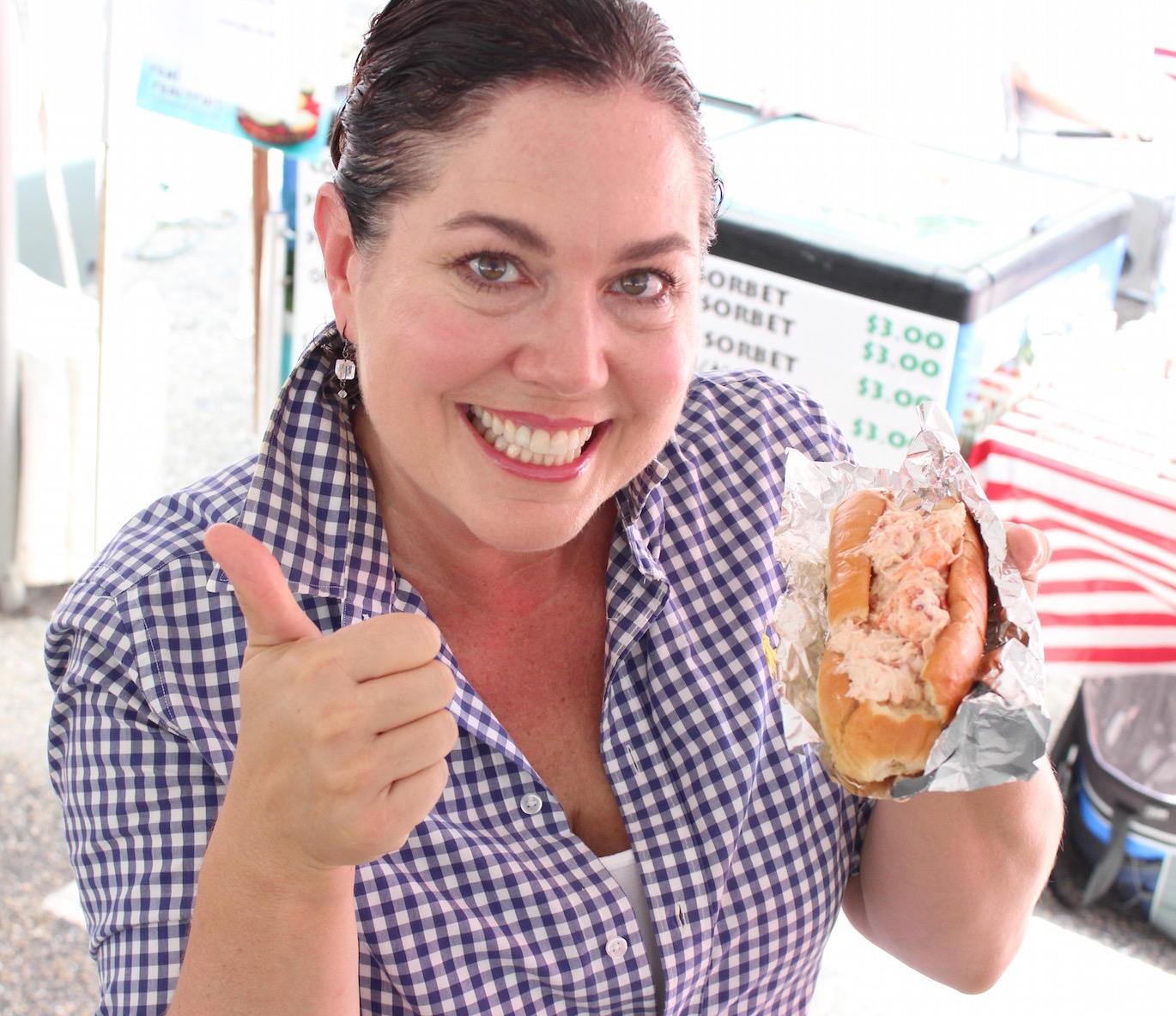 We also tried the ahi sliders.  These are certainly a fun way to enjoy seared tuna and, as a matter of fact, they inspired me to try my own version with some Blackfin tuna I have in the freezer, so stay tuned on the blog. We asked the chef how he prepared them — fresh ahi patted with dry rub (similar to that of Paul Prudhomme's Redfish Magic) and sesame seeds, then seared on a hot flat iron grill seasoned with sesame oil — a simple process for a delicious fish that literally melted in our mouths. . .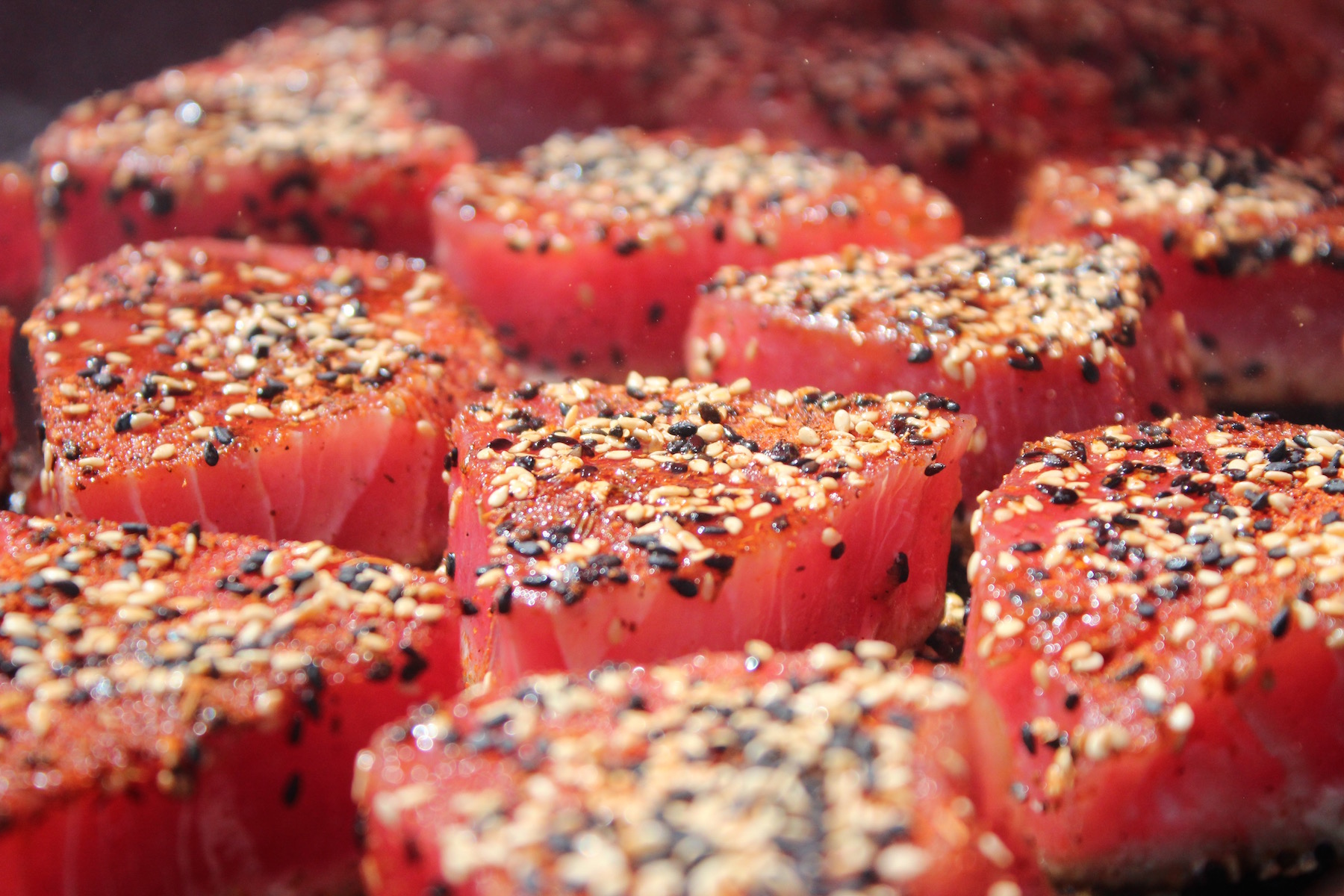 While taking a break from eating, we enjoyed some cool treats and some live music by Big Night Out.  Let me tell you, it was hard to sit still with this band's great Latin/Funk beat, even amidst the crazy humidity.
As I mentioned in my Field Trip Friday – Greek Festival post, culinary festivals offer us great opportunities to try new interpretations of special or seasonal foods, as well as, to savor old favorites. They're also a great venue for connecting with friends and neighbors we haven't seen in a while, even public officials we don't normally get a chance to hob-nob with, like Sarasota Mayor, Willie Shaw!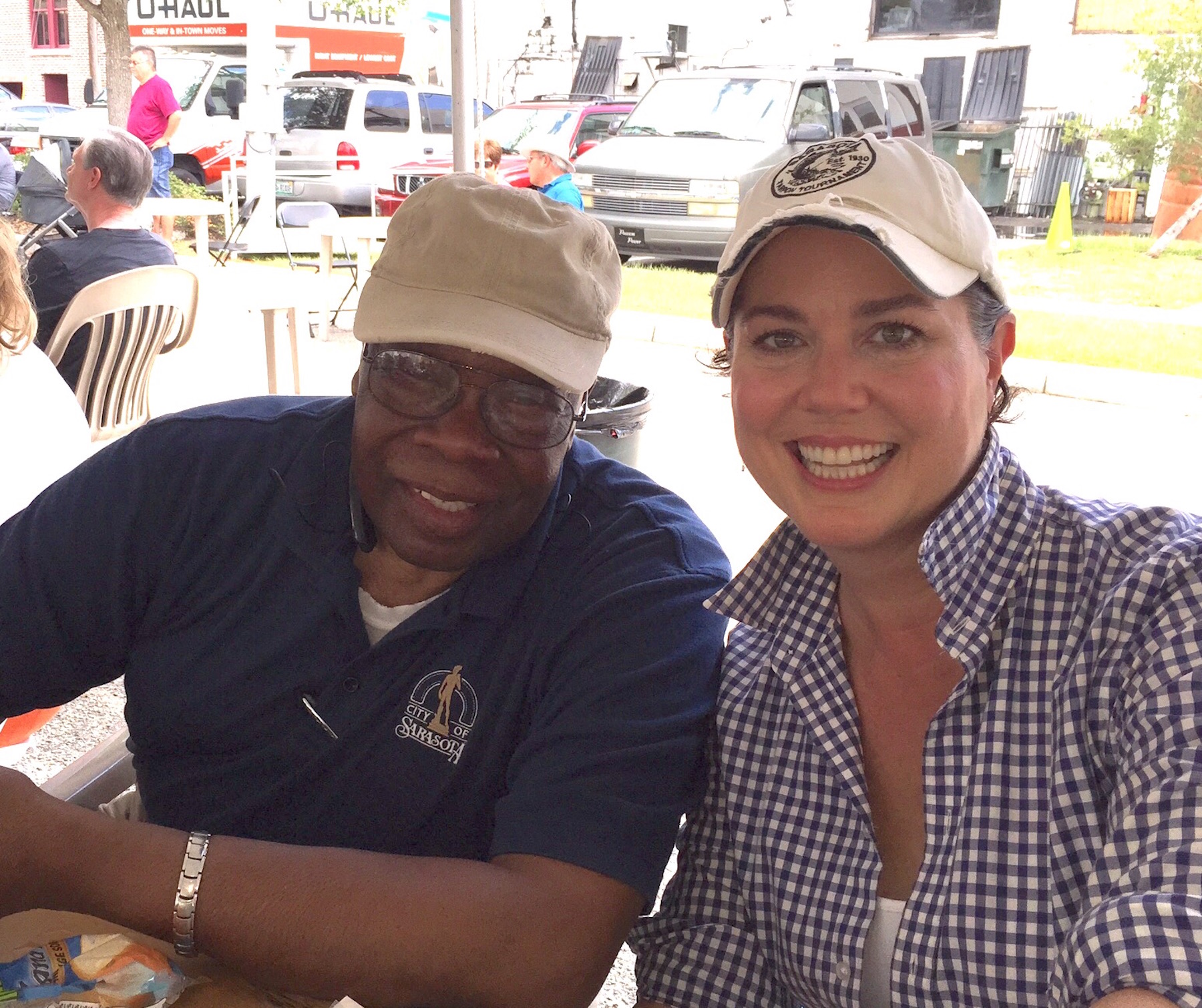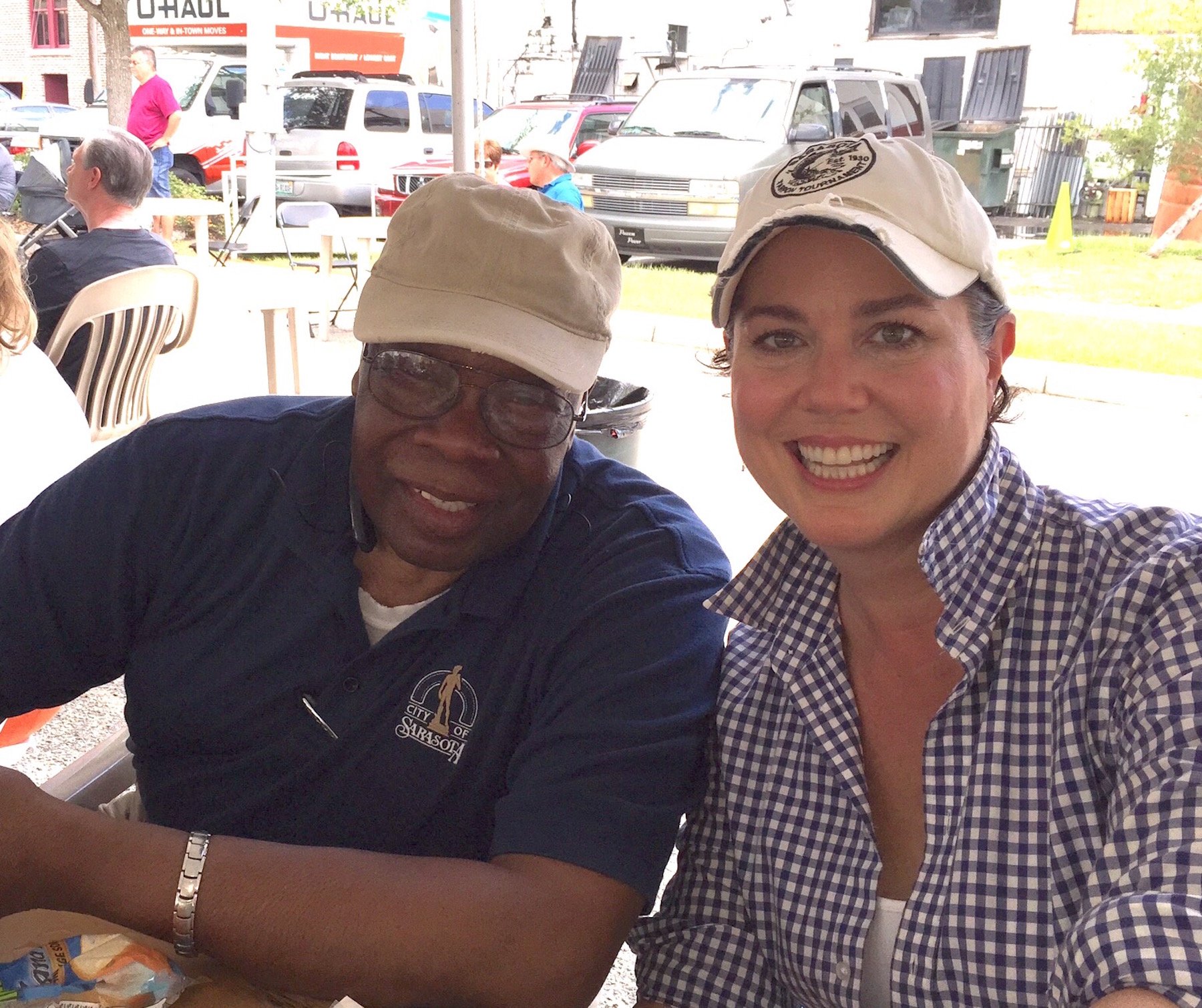 We'll definitely attend the 6th annual event, and the 7th, and the 8th. . .well, you get the picture.
If you'd like to make them at home, here's a basic recipe for Lobster Rolls. The best method is to steam your own lobster, but having someone else do all the hard work and clean up is nice, too 🙂

Field Trip Friday - Lobster Rolls
Classic lobster salad for the traditional lobster roll in New England.
Author:
My Delicious Blog
Ingredients
2 c. fresh lobster meat, lightly chopped
½ c. celery, chopped
5-6 Tb. mayonnaise (I like Hellmann's but, whatever brand you use, it MUST be the real stuff!)
pinch of kosher salt
pinch of freshly ground black pepper
2 Tb. unsalted butter, room temperature
4 top-split hot dog buns*
pinch of paprika
Lemon wedge (optional)
Instructions
Place the lobster in a mixing bowl and combine with mayonnaise, celery, salt & pepper. Cover and refrigerate 1 hour for the flavors to merge.
When ready to serve, heat a flat top grill or a non-stick skillet on medium/high.
Spread butter on all sides of the buns.
Place each bun, buttered side down, on hot grill/pan. Flip when they're very golden brown.
Spoon in the lobster, top with a sprinkle of paprika and serve (don't allow them to sit too long or they'll get soggy!).
While it's not required, I have to admit, I sometimes like to squeeze a bit of lemon on top.
Notes
Real New England lobster rolls use top-split, flat-sided buns. I've seen them sold online but, if you can't find them, simply shave off a little of the sides of a regular bun, then butter and grill/toast -- it works, in a pinch.