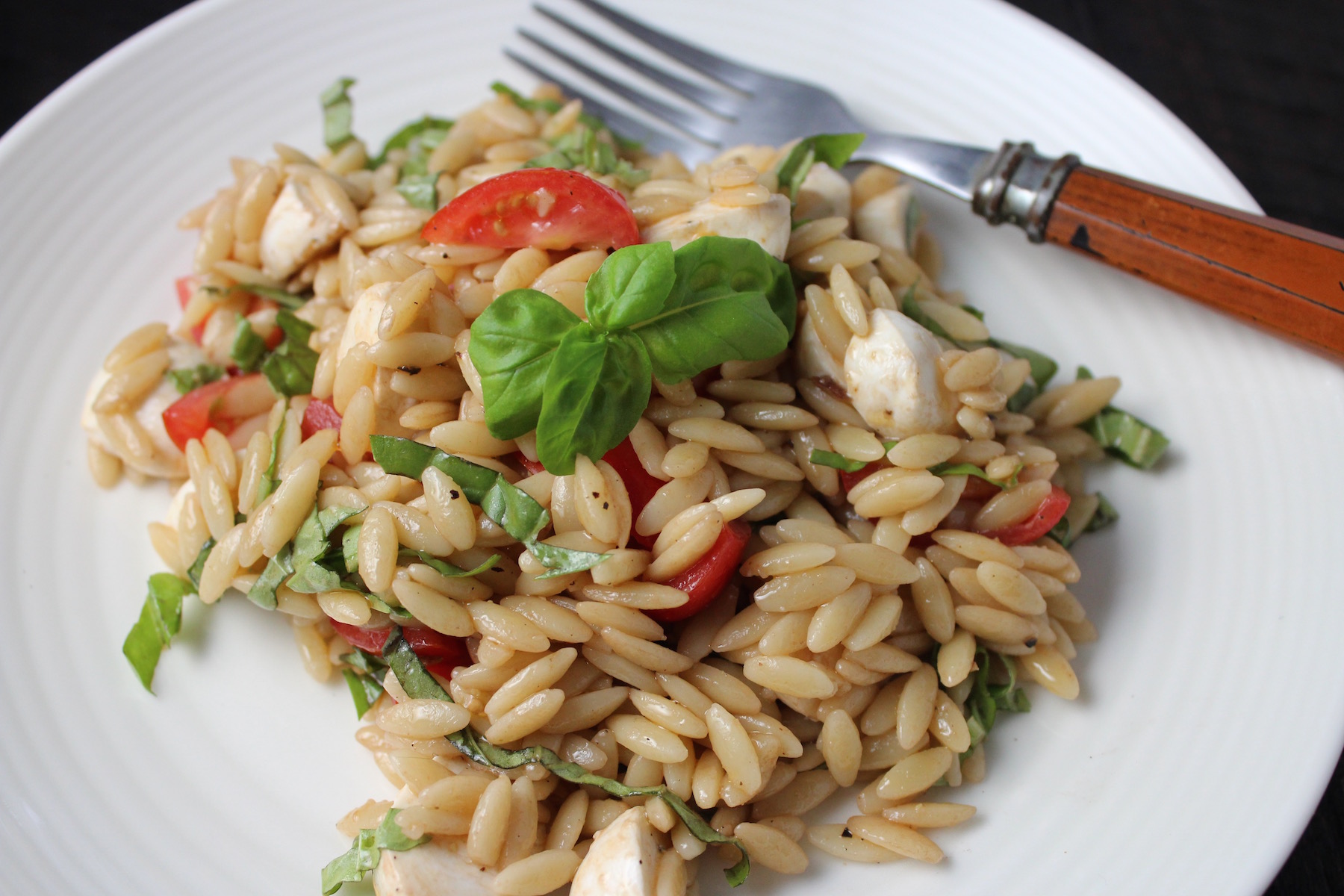 A caprese salad (Insalata Caprese) is one of my favorite dishes — tomatoes, mozzarella and basil, drizzled with olive oil. It's good as a starter to a meal, or even as a main course served with fresh greens (arugula makes a nice addition), crusty bread or grilled meat or veggies. It's a classic flavor combo that you don't have to be Italian to appreciate!
With so few components, it's important to make each ingredient a star — ripe/in season tomatoes, tender basil, fresh milk mozzarella and GOOD olive oil. If at all possible, check out your farmer's market or local farm to see what's available. But if that's not an option, simply pick up the best looking and best smelling ingredients you can find 🙂
My salad captures key components of this classic dish, but adds tasty flavors/texture by adding balsamic dressing and orzo. If you're not familiar with it, orzo looks like a large grain of rice, but is actually a short-cut pasta. It's very versatile because you can use it in salads, soups, sides, even in a risotto-style preparation. Warm, room temperature or cold, it's always good, and I regularly experiment with new and tasty ways to use this staple in my pantry.
Once you cook the orzo and do a little prep, putting it all together is a snap. Cut cherry (or grape) tomatoes and bocconcini (small mozzarella balls) in half, chiffonade the basil, toast the pine nuts, make a simple balsamic dressing and mix it together.  That's it!
P.S. try incorporating some multi-colored small tomatoes or heirloom tomatoes for an extra pop of color.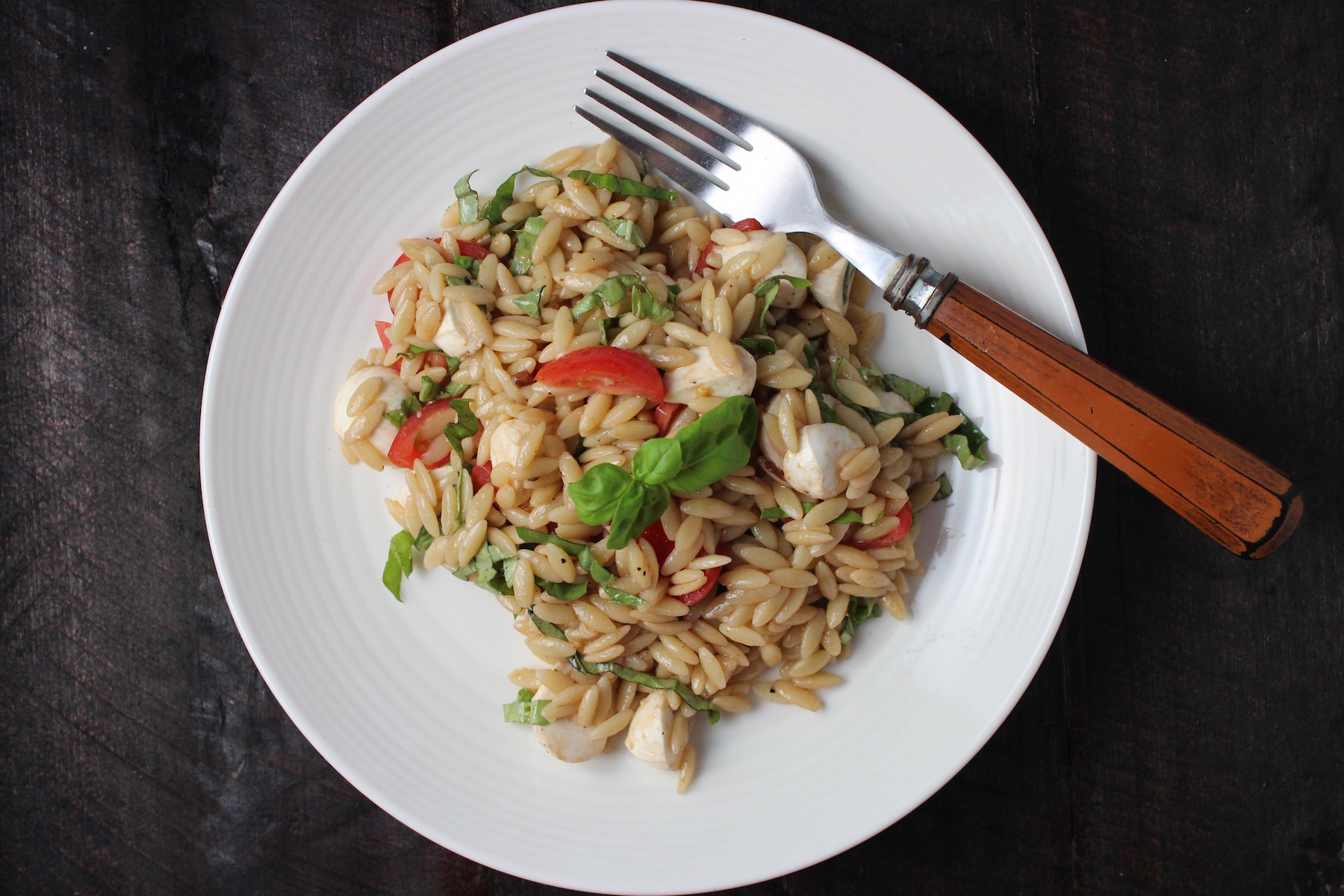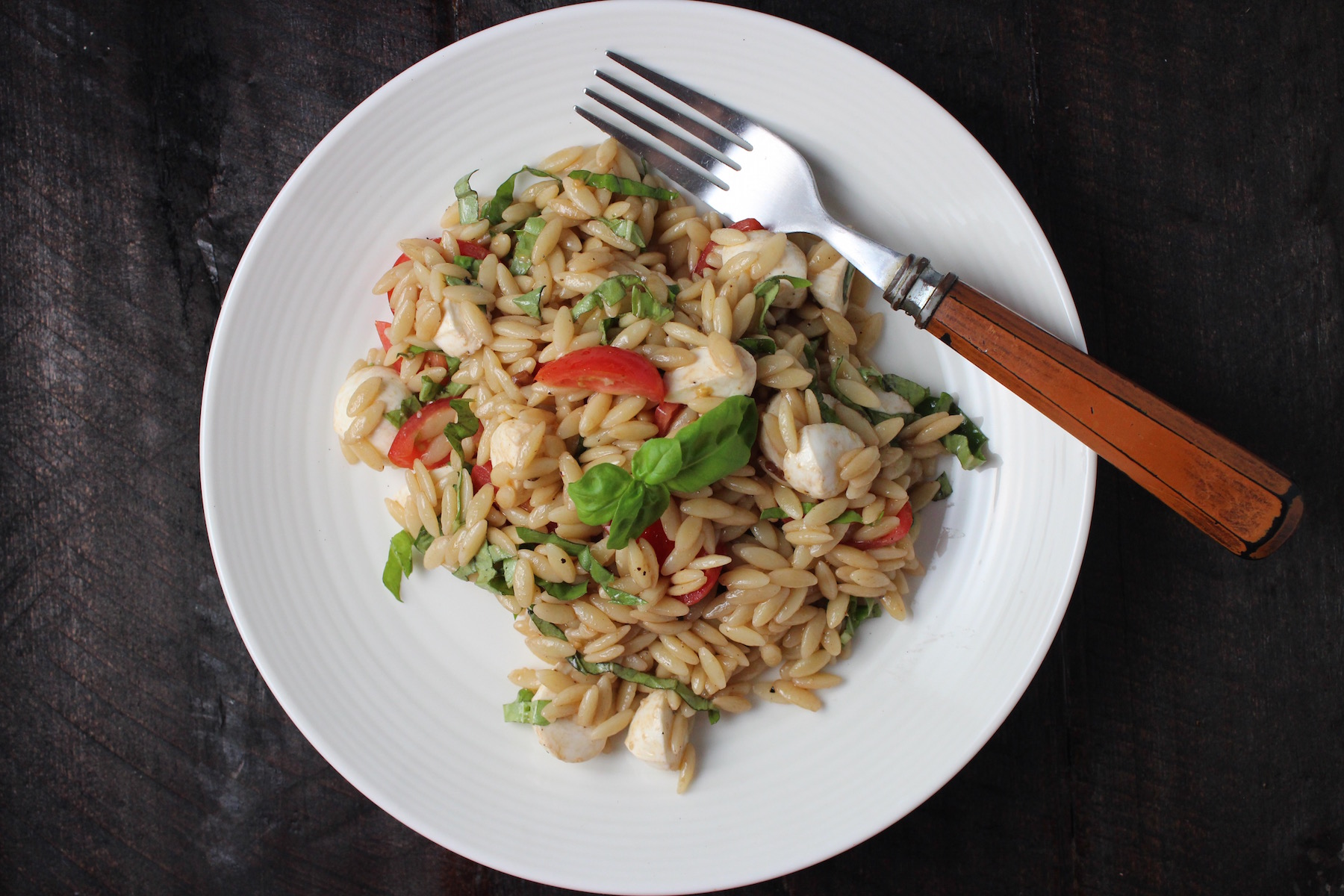 Orzo Salad with Tomatoes, Basil & Balsamic
Orzo (rice-shaped pasta) works nicely with tomato, mozzarella and basil, all in a tasty balsamic dressing.
Author:
My Delicious Blog
Ingredients
Salad:
2 c. uncooked Orzo (about 4 cups cooked)
1 pt. cherry or grape tomatoes, halved
8 oz. bocconcini (small mozzarella balls), halved
½ c. chiffonade of fresh basil (i.e., sliced thinly)
¼ c. toasted pine nuts (optional)
Balsamic Dressing:
¼ c. balsamic vinegar
1-2 cloves fresh garlic, minced
2 tsp. lemon juice
½ tsp. kosher salt
¼ tsp. freshly ground black pepper
½ c. olive oil (or a mix of olive & vegetable)
Instructions
Follow package directions to cook orzo.
While orzo cooks, prep tomatoes, mozzarella, basil and pine nuts. Set aside.
Combine dressing ingredients (except olive oil) in small bowl; slowly whisk in oil to emulsify/thicken. OR, toss all ingredients into a lidded jar and shake vigorously. Set aside until ready to use.
When orzo is cooked through (but not mushy), pour into a colander and lightly rinse with water. Cool about 10 minutes.
When cool, transfer orzo to a large mixing bowl. Add a few tablespoons of dressing, along with tomatoes & mozzarella, and mix. Add a tablespoon at a time of the dressing, to taste (*). Allow to sit 10-15 minutes to absorb the flavors. Mix, taste for seasoning and adjust according to preference. Add basil and mix well.
If using pine nuts, add just before serving.
(*) you'll likely have leftover dressing - simply refrigerate what you don't use.