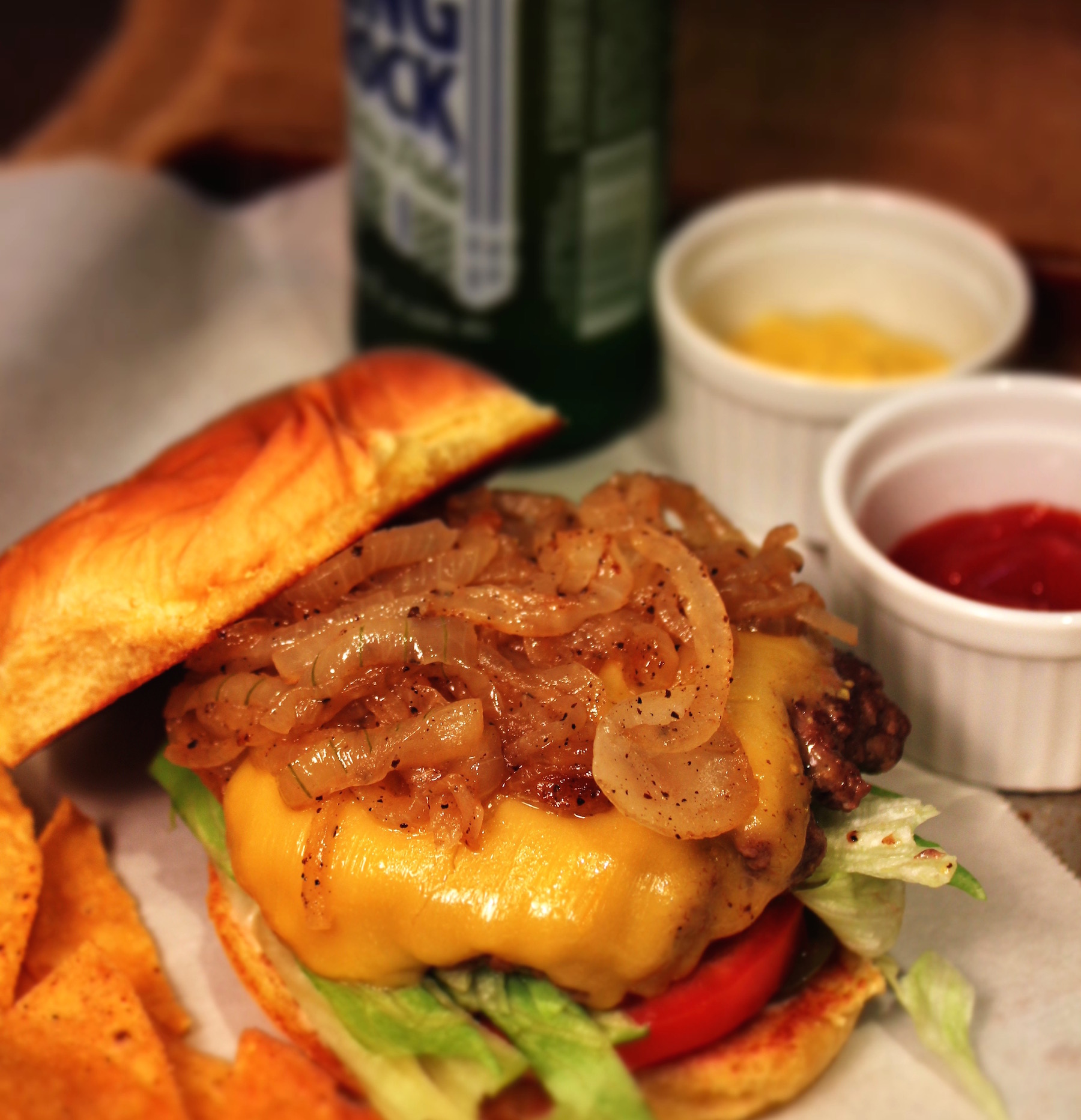 "If steak is the tuxedo of meat, and bacon is the candy of meat, then a good cheeseburger is the mother's hug of meat."
― Jim Gaffigan, Food: A Love Story
My husband and I were craving cheeseburgers recently and decided to make something a little more zippy than a simple grilled burger with lettuce, tomato, cheese and onion (even though that IS pretty delicious).  Rave reviews from online chowhounds and foodies pointed us to In-N-Out Burger's Double-Double, Animal Style burger.  Friends who have visited the California-based chain have also shared how yummy they are, but since we live in Florida, we don't have access.  So, making them at home is an easy alternative, with delicious results.
Through extensive research, we learned that "Animal Style" is part of the "not-so-secret" menu at the famous chain.  The standard onion slice gets replaced with caramelized onions, an extra stack of pickle chips goes under the tomato, and the beef patties get cooked with mustard, directly on a griddle.  Wow.  For two burger-hungry folks like us, this sounded way too delicious. We found In-N-Out's Double-Double, Animal Style recipe on Serious Eats (thanks guys!) and followed the instructions exactly.  Ok, we didn't actually grind our own meat, but I'm sure that would have made them even better.  There was really no need to mess with perfection by making our own modifications, so we just followed the recipe on this one.
SO GOOD.  Moist, savory (that yellow mustard did the trick), gooey (from the melted cheese, of course), with lots of texture and flavor from the caramelized onions. . .I could go on and on.  You know that feeling you get when you're approaching the last 2 bites of something really good?  You know — that little bit of sadness that wells up inside you, because you know it will soon be gone?  Well, that's the feeling we both had.
Now that you know how good these are, and that the Fourth of July holiday is upon us, you should race to the supermarket to get the ingredients.  Don't let anyone stand in your way.  Go!
P.S. I just want to clarify that my husband and I don't eat this sort of thing regularly, but now that we know about it, it's our go-to burger when we want to stray from our healthy diet 🙂