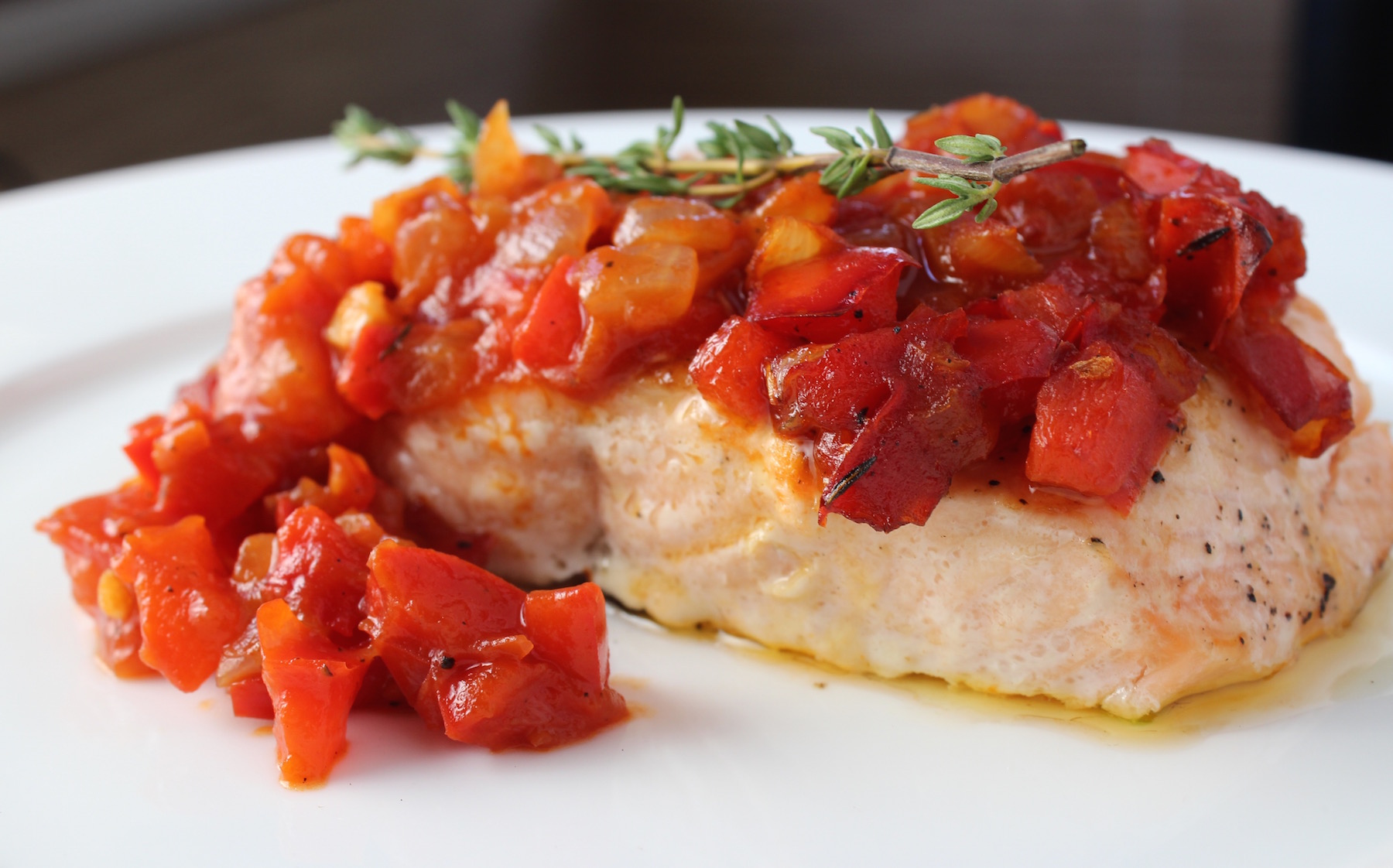 I find myself regularly thinking of new ways to serve salmon, probably because I try to incorporate it into my diet 1-2 times per week and don't want to get bored!  I love it simply seared or grilled, but it's sometimes nice to have a sauce to accompany that yummy, healthy fish.
While considering what to do with my tomatoes, onions and red peppers, I got to thinking about my great aunt Estelle. She was a strong, smart, progressive-thinking and God-fearing French woman who never married, even though she was proposed to on at least one occasion. She was also a great cook and seamstress, and was known for her charitable work. All that wonderful stuff aside, I'll always remember her for wearing those sweet cat's eye glasses (I wish I had a picture to share) and for making her amazing piccalilli! If you're not familiar with it, piccalilli is a tasty relish and, in the Northeast, folks usually made it with pickled sweet peppers, tomatoes, onions and spices. I haven't had it in years, but I still remember its distinctly sweet and vinegary flavor and its slightly soft but crunchy texture. It was great on hot dogs and hamburgers in lieu of traditional pickle relish. My aunt's was so good that my dad ate it right out of the jar without waiting for anything to put it on. I don't believe anyone in our family got their hands on her recipe, but I hope to replicate that flavor one of these days. . .
Armed with good memories, inspiration and fresh produce, I got busy. I used the red peppers, tomatoes and onions as my base, then started adding stuff, shooting for that sweet/savory combo and a little bit of crunch so it wasn't mushy (much like that piccalilli). But I resisted my temptation to put a little heat in there, so this dish avoids the heat and focuses on the sweet!
The sweetness of the peppers, Vidalia onion, tomato paste and honey created a mild and flavorful combo, and the vinegar cut a bit of that sweetness, so it wasn't overwhelming. It was really yummy with the salmon, but I'm sure it would be quite tasty on any fish, poultry or pork.
I popped my leftover relish in the fridge and tomorrow I'm going to try it cold on a sandwich — maybe some whole grain bread, roasted chicken, a little lettuce and a bit of mayo.  Sounds good, huh?!? I'll let you know how it turns out.

Tomato & Sweet Red Pepper Relish w/Salmon
This sweet and herby concoction of tomato and red pepper pairs beautifully with roasted salmon.
Author:
My Delicious Blog
Ingredients
1 Tb. olive oil
1 clove garlic, minced
1 medium sweet onion, chopped (I used Vidalia)
1 bay leaf
2 sprigs fresh thyme
1 red bell pepper, small dice
2 medium tomatoes, seeds partially removed, small dice
2 Tb. tomato paste
1 tsp. honey
3 Tb. red wine vinegar
Splash of Worcestershire sauce
½ tsp. kosher salt
¼ tsp. freshly ground black pepper
Instructions
In a sauce pan over medium heat, warm up olive oil, then add garlic, onion, bay leaf and thyme. Cook for a minute or two, until the onions start to sweat.
Add bell peppers and tomatoes and cook for about 2 minutes, until everything combines and starts to break down.
Add tomato paste, honey, red wine vinegar, S&P, Worcestershire sauce; mix well.
Simmer for about 5-6 minutes. Taste for seasoning and remove thyme sprig. Set aside until fish is cooked.
Grill or roast fish (I used 2 servings of salmon) and spread the relish over the cooked fish.
Top with a little olive oil and fresh lemon juice just before serving.
Notes
This relish can be made ahead and heated just before serving.