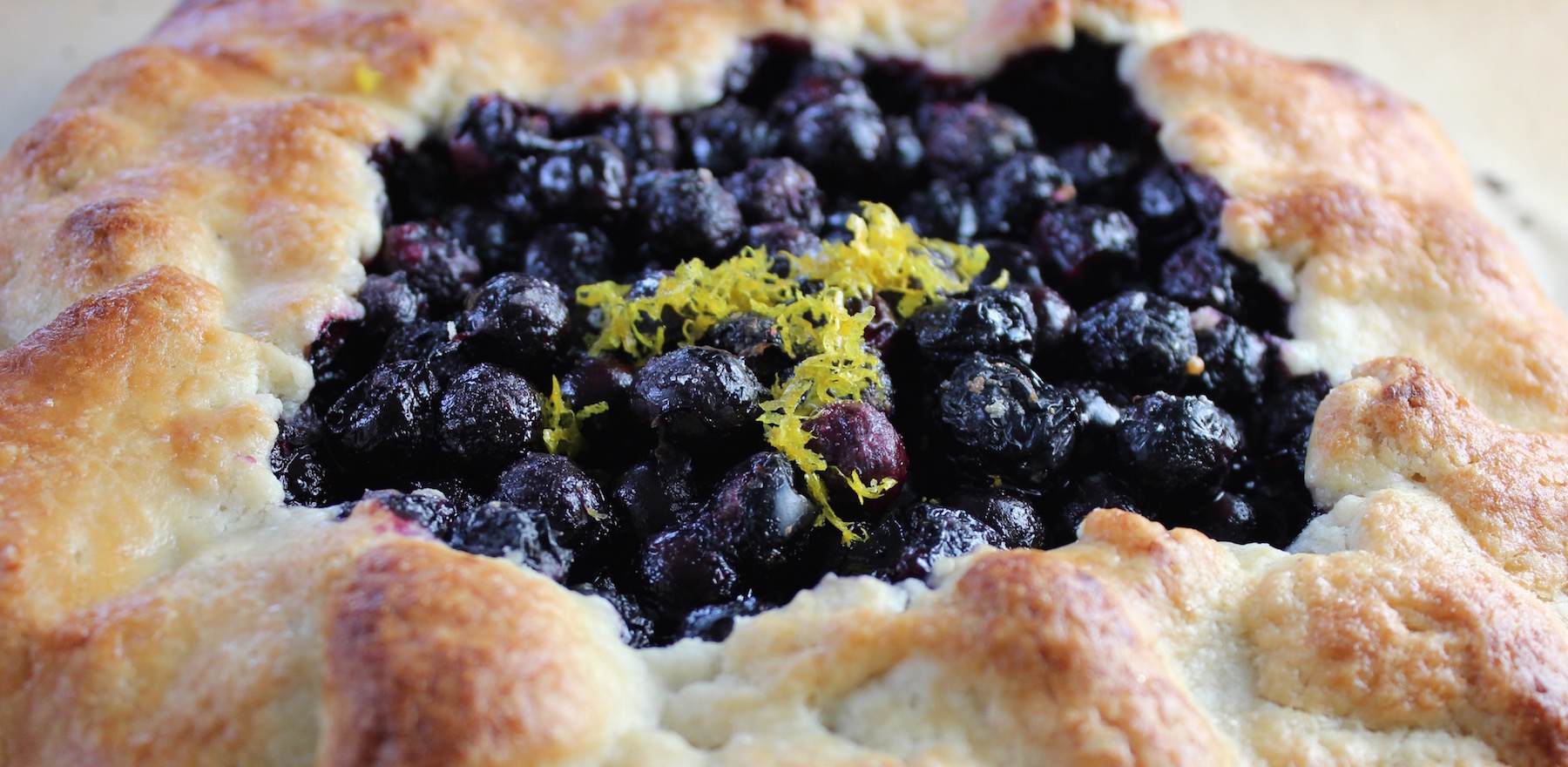 A galette has to be one of the easiest desserts you'll ever make. It's rustic, yet elegant.  If you're not familiar with it, "galette" is a French term for any free-form, flat, round cake or pastry.  It's sometimes used interchangeably with "crostata" (which is Italian for a baked tart or pie).
It's made with one disk of rolled-out dough that's placed on a baking sheet, and the edges are folded up and around a (sweet or savory) filling.  This easy format eliminates the need for making a top and bottom crust that each have to be rolled to fit a baking dish, requiring the cook to desperately ensure the edges don't tear. Galettes are especially great with summer fruits, even allowing you to use up the ones that are getting too soft to be enjoyed by themselves. This free-form dessert is also forgiving — even if you have spillover from the cooking juices, it still looks pretty (i.e. rustic) and you can even hide that with whipped cream or ice cream, making it even better! If these weren't all good enough reasons to make a galette, here's another: making one in the summer provides you with free time to head to the beach, go for a bike ride, enjoy a good book or take a nap 🙂
When I host friends or family for dinner, this is one of my go-to desserts in summer because it's easy, can be made ahead, makes a nice presentation at the table and it's yummy. I made this blueberry galette several weeks ago for some friends and planned to post it on the blog around that time, but it turns out the folks at Bon Appetit Magazine had the same idea, because they showcased a gorgeous one on their cover! Not wanting to compete with such a big dog, I figured now would be a good time to share mine — 'cause it's blueberry season, for heaven's sake!
For the crust, I used my go-to sweet dough recipe (similar to Julia Child's classic "Sweet Short Paste") — it's tender and flaky, due to the cold butter and ice water. The filling is a blend of fresh blueberries, lemon juice, lemon zest and a little sugar. Classic, simple, and delicious. Serve it up with vanilla ice cream and you're in for a treat. Enjoy!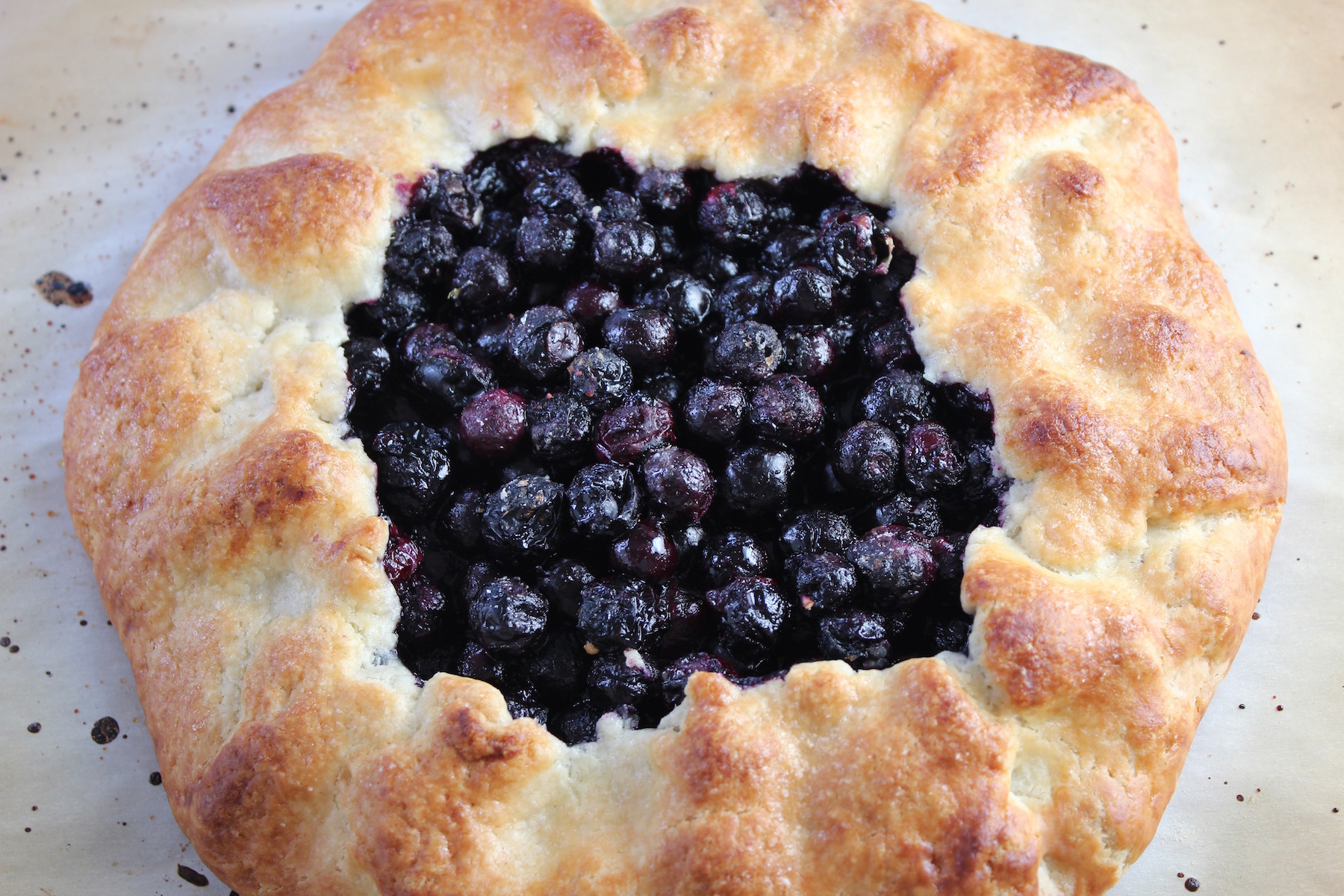 Blueberry Galette
Fresh blueberries are super delicious in this one-crust classic.
Author:
My Delicious Blog
Ingredients
Crust:
1 c. all-purpose flour
⅛ c. sugar
¼ tsp. kosher salt
1 stick unsalted butter, cold, diced small (keep refrigerated until ready to use)
3 Tb. ice water
Filling:
1 pint fresh blueberries
1 tsp. sugar
1 tsp. lemon juice
1 tsp. lemon zest
Light sprinkling of all-purpose flour
Instructions
For the Crust:
Fill a small bowl with about ½ cup water and add a few ice cubes; set aside.
In the bowl of a food processor, add flour, sugar, salt. Pulse a couple of times to combine then add butter and pulse several times until you get coarse meal consistency.
Measure out 3 Tb. ice water. Through the feed tube, slowly add the water and pulse a few more times until the dough just starts to come together.
Transfer the dough onto a floured counter.
Shape dough gently into a ball (don't over-work it). Flatten into a disk, wrap in plastic and refrigerate one hour.
Combine the Crust & Filling:
Heat oven to 450 degrees.
Line a baking sheet with parchment paper.
Remove dough from refrigerator and allow to sit for a few minutes.
Flour a flat surface and roll out the dough using a rolling pin.
When the dough gets to 10-11" transfer it carefully to the baking sheet.
In a small mixing bowl, combine berries, sugar, lemon juice/zest and flour and pour into the middle of the dough, leaving 1-2" around the outer edges.
Fold edges of dough toward the berries, going all around until all edges surround the berries.
Brush milk or cream over edges of dough and sprinkle with sugar (for extra color & crunch).
Bake for 20-25 minutes; remove when edges are golden and filling is bubbling.
Serve warm or at room temperature.
Notes
This recipe makes ONE galette but it serves about 6 people.