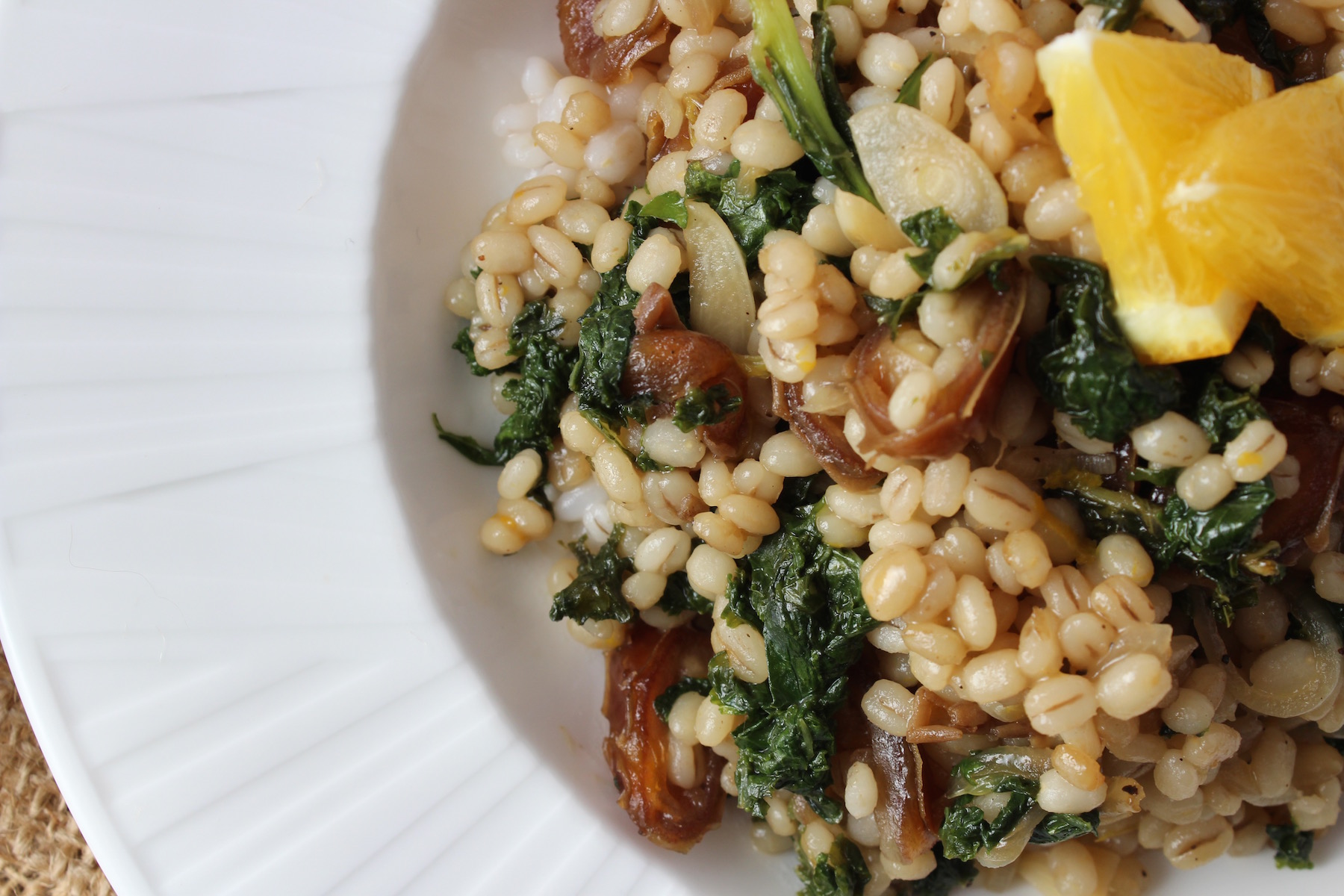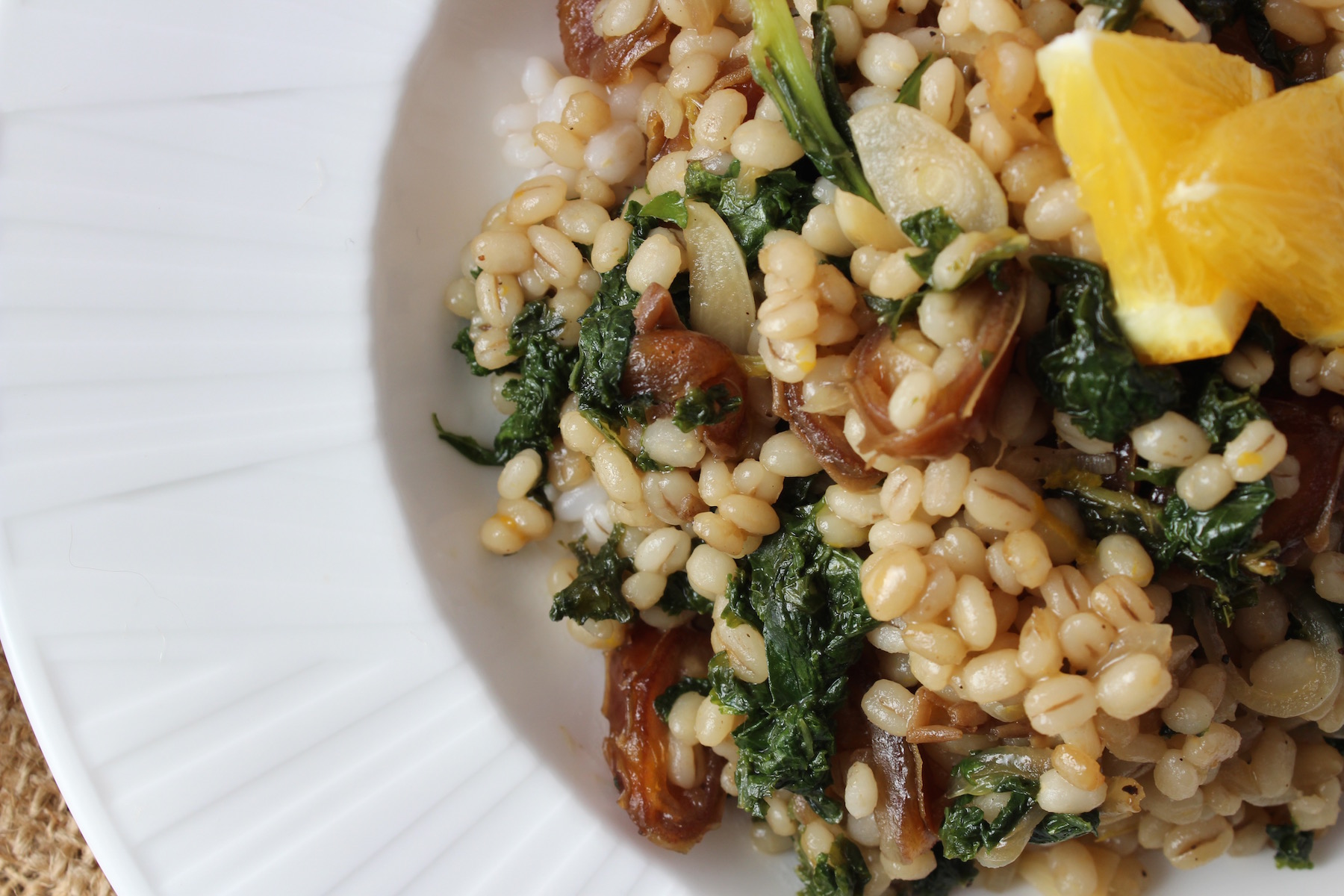 I was working furiously at my desk this morning, only to realize that my tummy was growling because it was almost 1:00 and I had nothing prepared for lunch! Plus, I anticipated my artist hubby coming out of his studio any minute, eagerly asking "what's for lunch?", so I had to get something in gear pretty fast.  Unfortunately, my refrigerator was kind of bare and I really didn't know what to make to feed two hungry souls. But I did have kale, onions, garlic, a few dates, one orange and a package of dry barley I've been meaning to use. Time was ticking away, and my gears kept churning, but I finally decided on a warm salad with tasty flavors and textures.
It's great having a variety of grains in your pantry for occasions such as this. Barley is one of those versatile grains that adds so much to any dish. If you're not familiar with it, it has sort of a nutty flavor, it's chewy (kind of like pasta) and it's very satisfying. I love it in soup, but it makes a nice addition to side dishes and salads. It's high in fiber, protein, B vitamins and niacin, and even though it's a carbohydrate, it's got a low glycemic level. Unfortunately, barley does contain gluten, so if you're sensitive to that, this recipe isn't for you (but you might be able to replace it with quinoa, millet or amaranth – whatever works best for you).
To get started, I cooked the barley first (it takes about 30+ minutes). While it was cooking, I chopped the kale, "massaged" it with olive oil (a necessary step to ensure tender kale) and sliced onions, garlic and dates. When the barley was just about cooked, I heated olive oil in a pan, tossed in the onions and garlic, then the kale and dates and let the flavors blend together. I added in 2 cups cooked barley, a splash of soy sauce, some honey and fresh orange zest/juice, salt & pepper and, voila, a yummy lunch that basically came together in the time it took to cook the barley.
Doesn't this look good?!?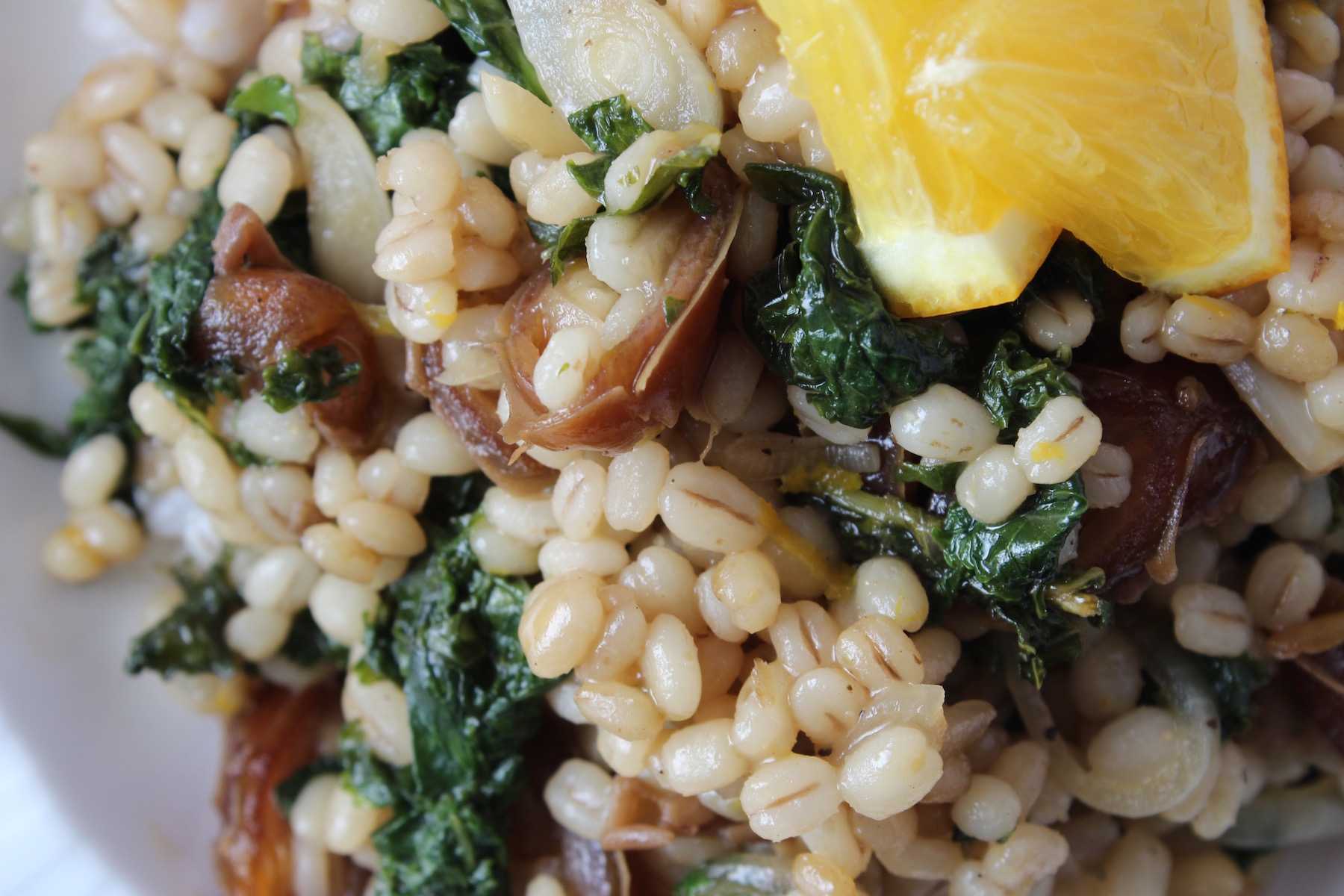 Well, it was REALLY good. I love it when flavors and textures complement each other — chewy and satisfying barley, tender kale flavored with a touch of garlic, sweet dates and orange. It was a satisfying, tasty and meatless meal.
Another good thing about this is that you don't have to use exact measurements — add flavors to taste, or just toss in a splash of something — whatever sounds good to you. And, while I didn't have any on hand, I bet this would be yummy topped with toasted almonds for a little crunch — maybe give that a try if you take on this recipe 🙂

Warm Barley, Kale & Date Salad
Warm barley with dates and fresh kale are a perfect combination.
Author:
My Delicious Blog
Ingredients
2 c. cooked barley
3 Tb. olive oil
4 c. kale, ribs removed, chopped
1 medium yellow onion, sliced
1 clove garlic, peeled & sliced thinly
Handful of dried, pitted dates, sliced
1 tsp. honey
1-2 Tb. reduced sodium soy sauce
1 tsp. orange zest
Juice from half an orange
dash of kosher salt
dash of freshly ground black pepper
Squeeze of fresh lemon juice (before serving)
Handful of toasted walnuts (optional)
Instructions
Cook the barley according to package directions.
After chopping the kale, sprinkle a little bit of olive oil over the pieces and 'massage' with your fingers to work the oil into the leaves; set aside.
Heat a non-stick skillet to medium.
Saute the onion and garlic about 2 minutes (careful not to burn).
Add the kale and cook about 1 minute.
Add the dates; cook another 2-3 minutes. Sprinkle with a little salt & pepper.
Add cooked barley to the mixture and stir through.
Add honey, soy sauce, orange zest and juice.
Season with more salt & pepper, to taste, then serve warm.
Notes
One cup of dried barley will yield about 4 cups cooked, so this recipe will leave you with about 2 cups left over. Simply refrigerate it for another salad, or make into a warm breakfast cereal with cinnamon and apples, or toss into soup. So many possibilities!