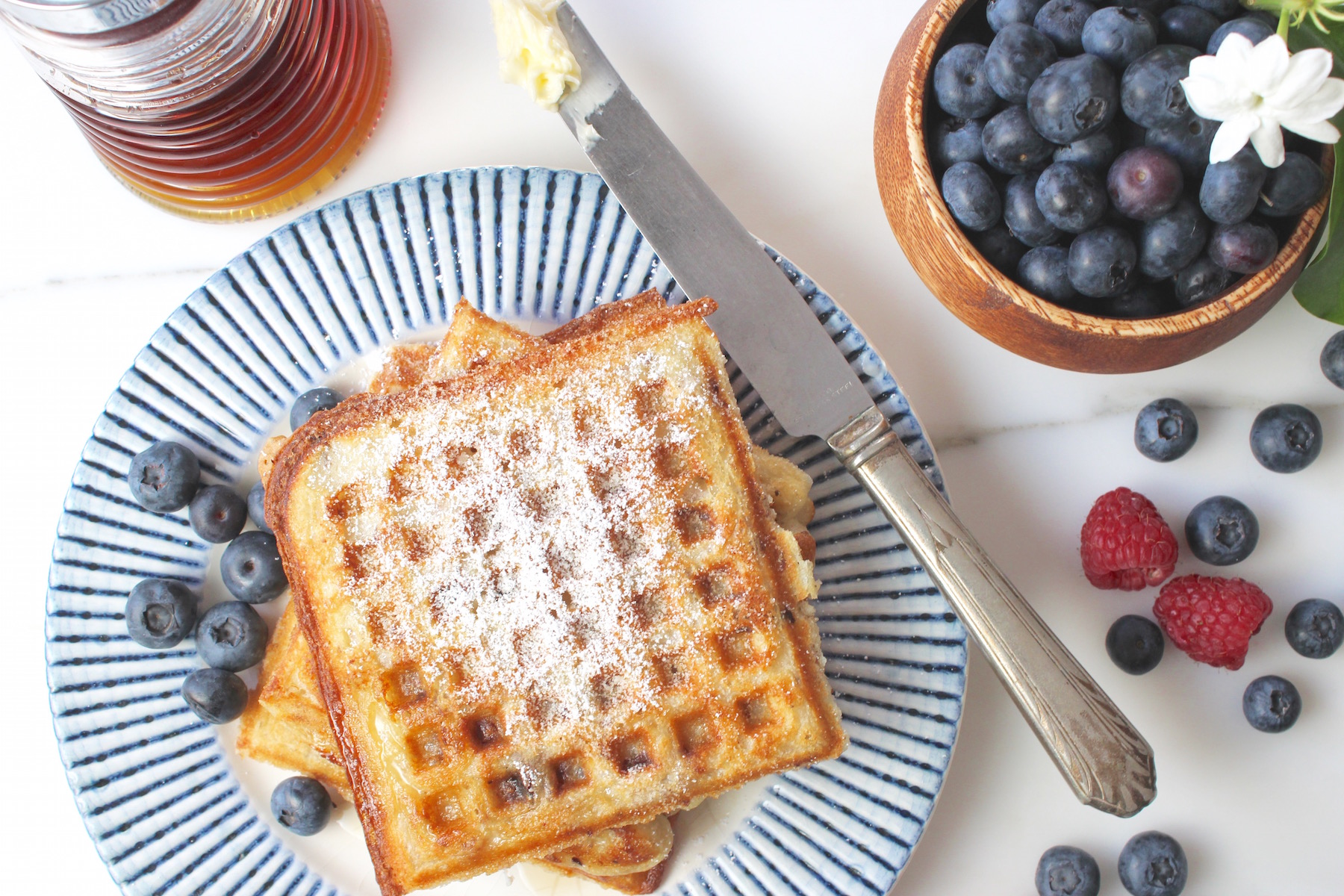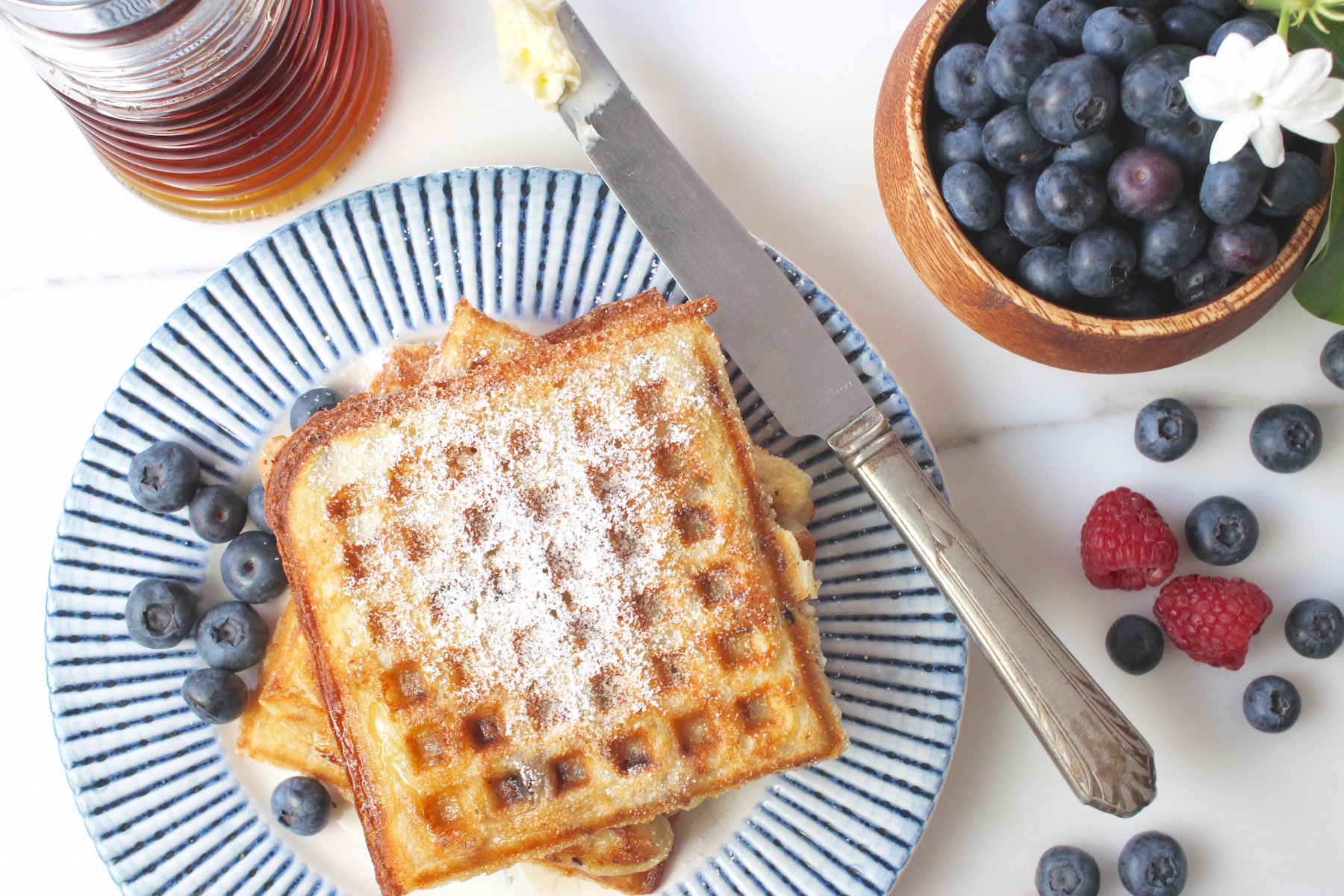 Waffles. Don't you just love saying that word?  I do. It makes me happy. Not only do I love to say it, but I also love to eat them. . .homemade waffles, that is.  My go-to recipe comes straight from my grandmother's recipe box — one that she hand-wrote vs. the many she typed on little index cards.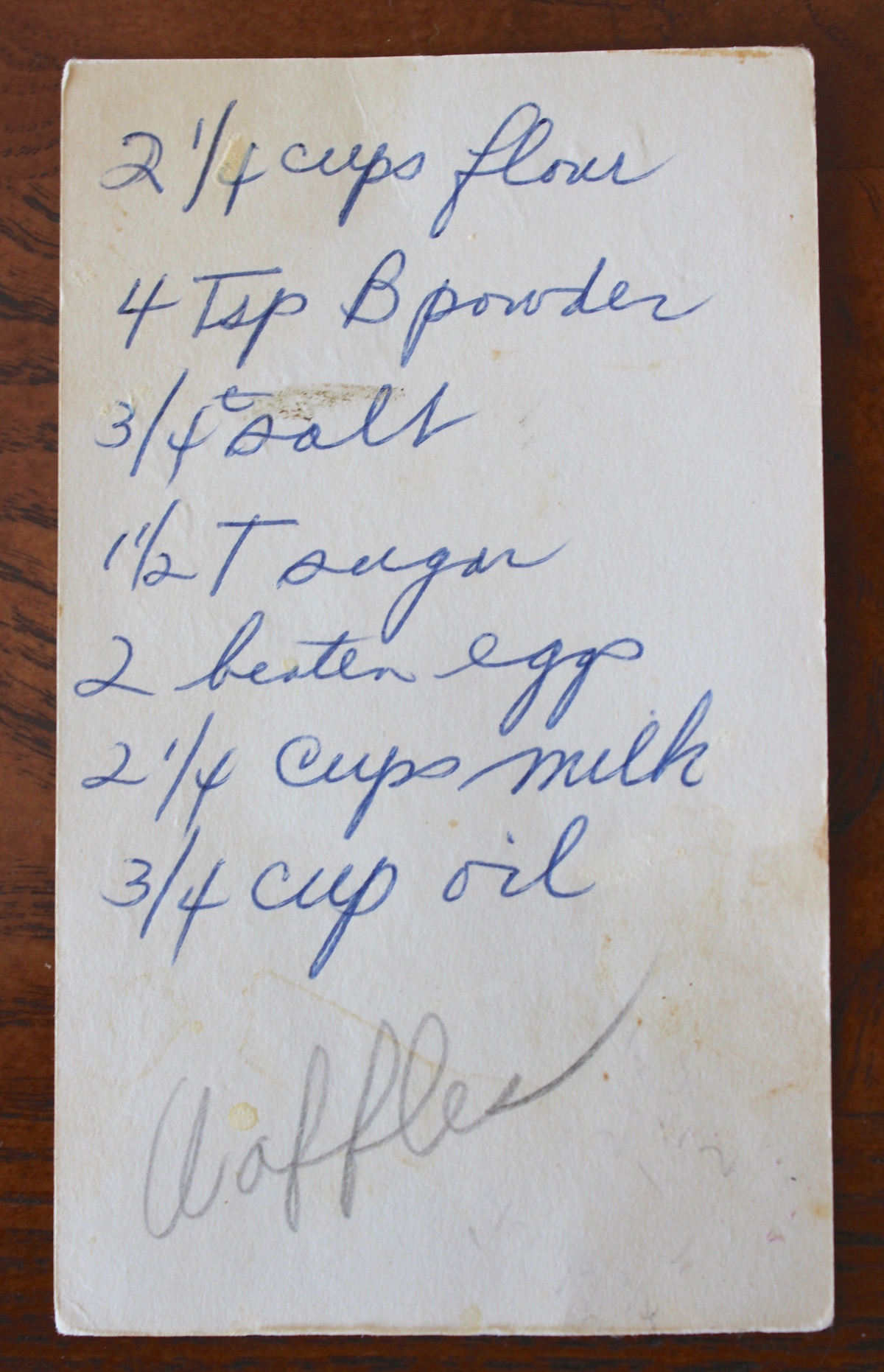 It brings back fond memories just seeing her handwriting. . .Sure, I've seen plenty of recipes that call for whipping the egg whites and folding them into the batter, or some other fancy preparation, and I'm sure those are delicious too but, for some reason, I keep going back to Lucille's recipe 🙂
I decided to make a batch last weekend, but wanted to bump them up a notch by adding something savory inside the batter.  Sausage.  Blueberry sausage, that is.
Yup. Blueberry sausage INSIDE the batter.  Whoa. . .I'm sure you're thinking that's just not possible. Oh, but it is! This sausage came from Rick's Custom Meats in Plant City, but I'm sure you can find some at a specialty meat counter somewhere near you. Even if you can't find blueberry sausage, consider using regular breakfast sausage and you'll be quite pleased with the results. I happened upon Rick's while visiting Blues Berry Farm for my recent Field Trip Friday post. The owners supply Rick's with their beautiful berries and the result is mighty tasty. I picked some up on my way back to Sarasota and finally thought of the perfect use for it!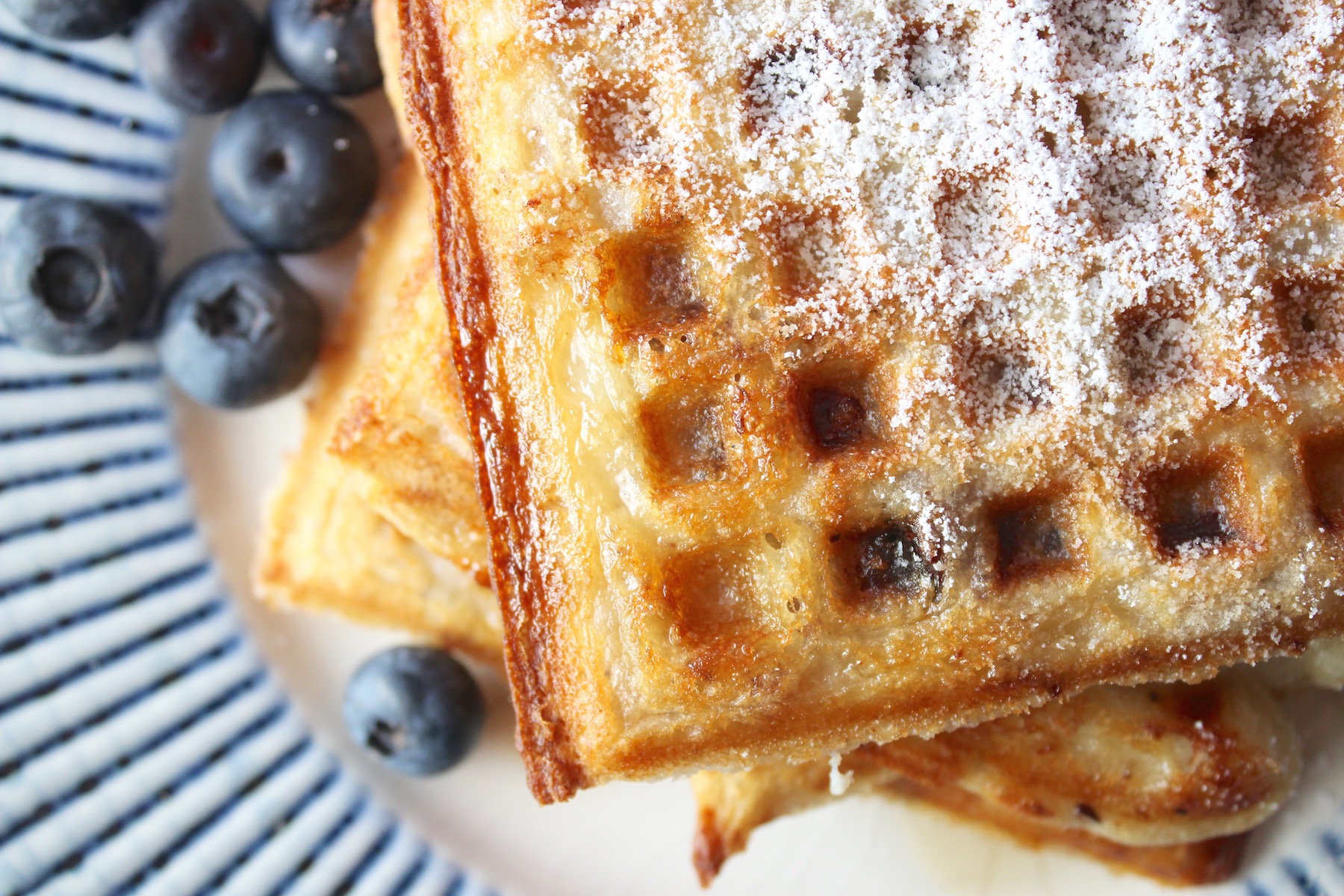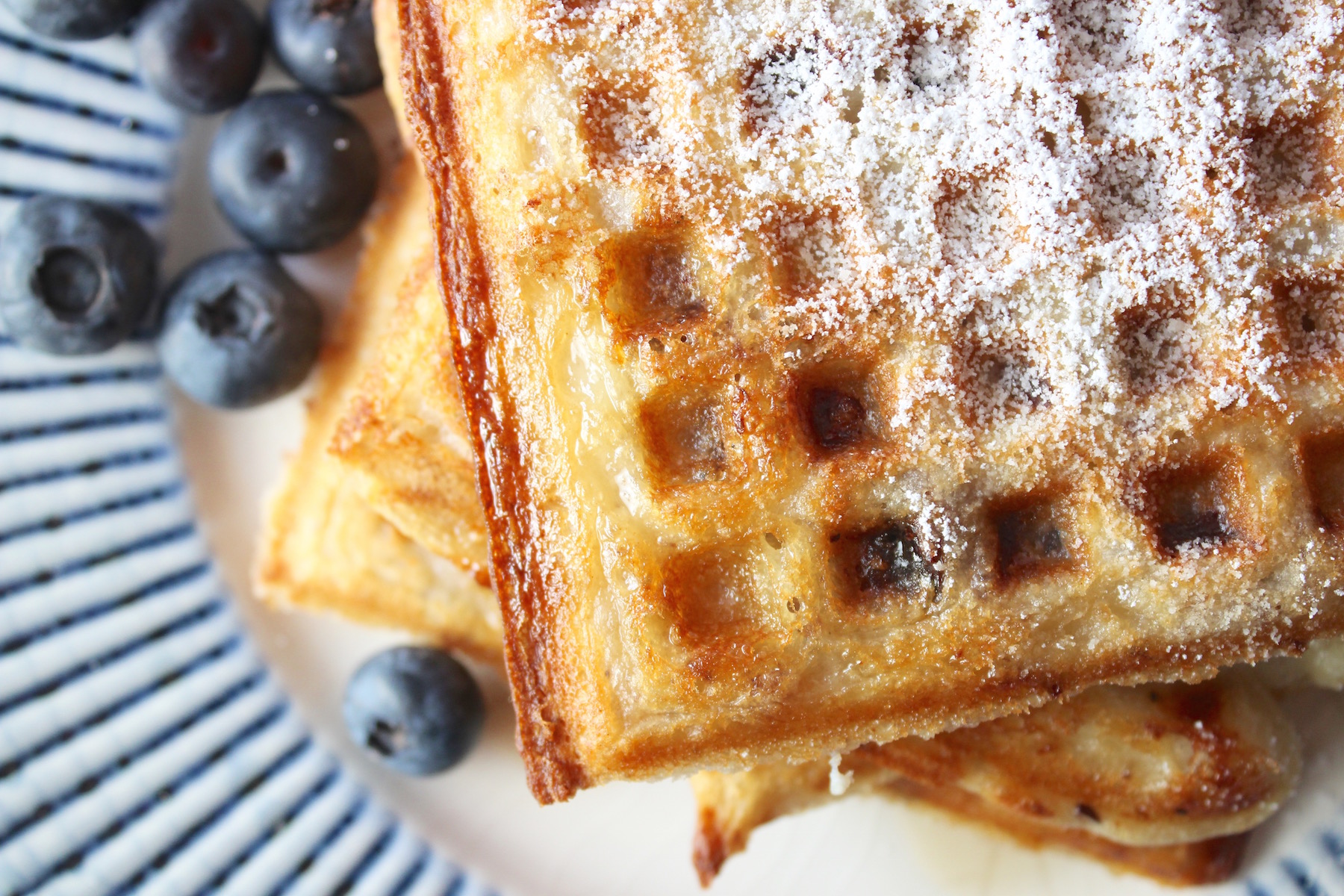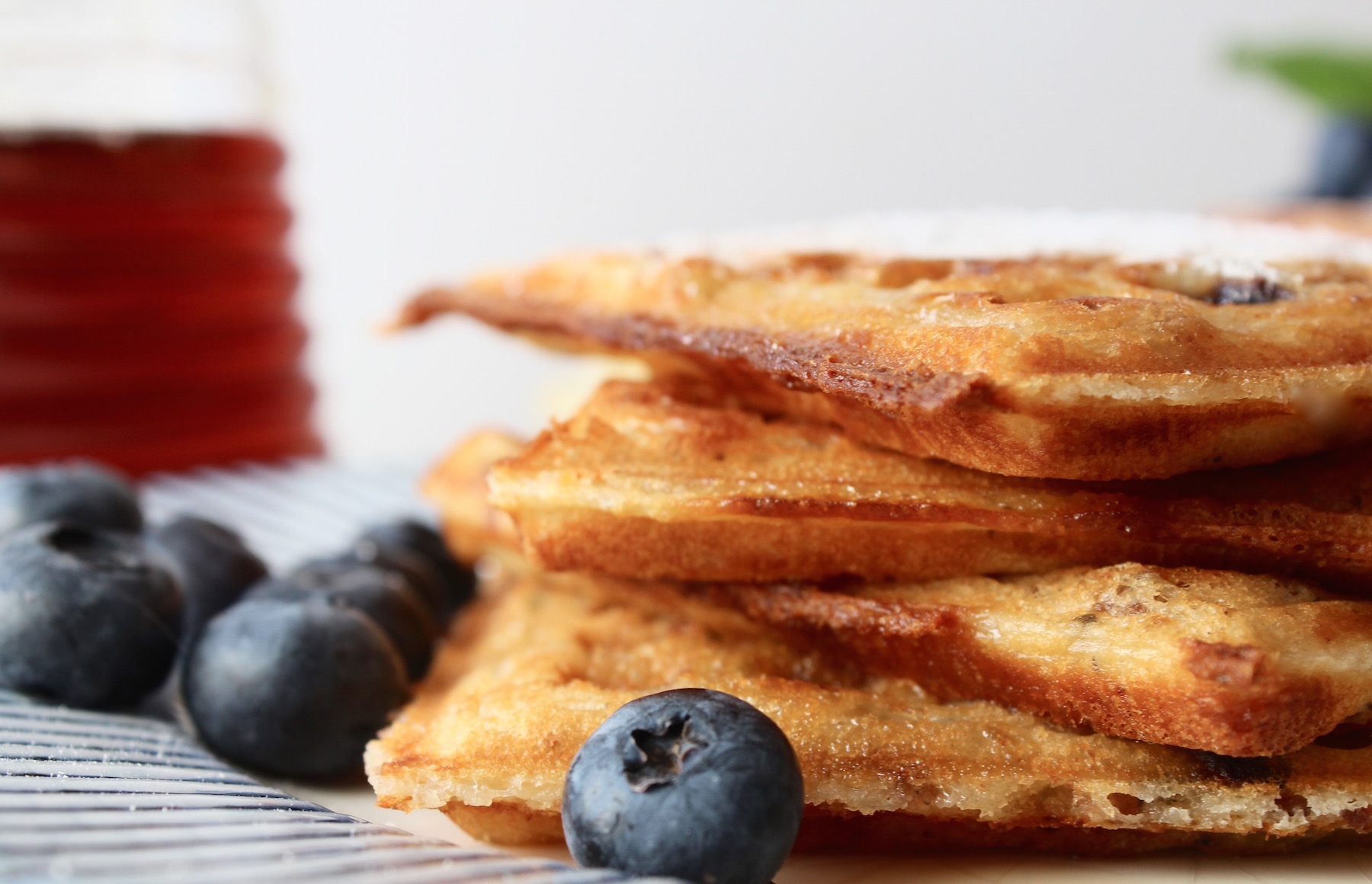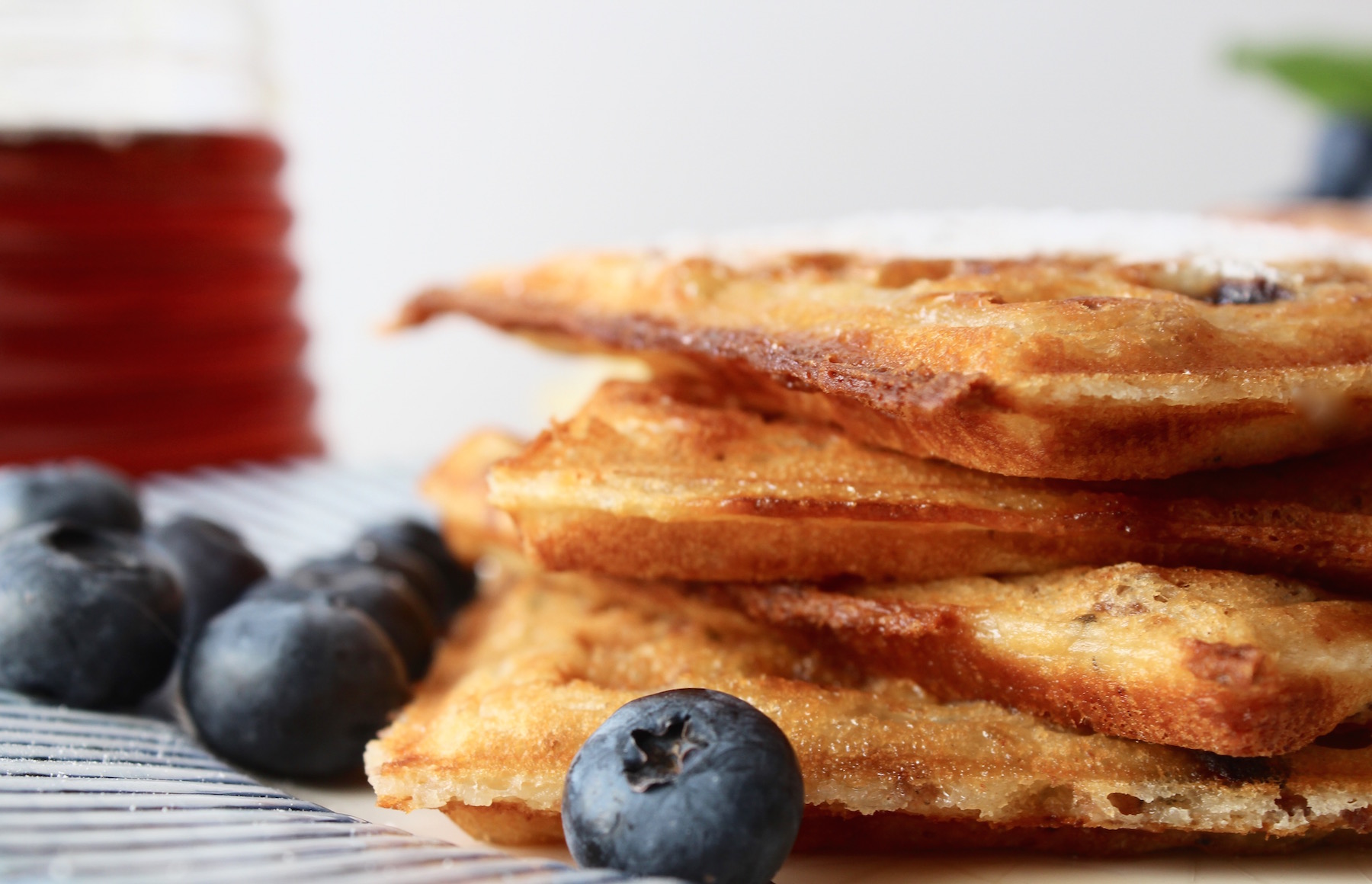 These waffles were darned tasty, crispy and tender and the sweetness of the sausage added a nice element to the standard (albeit delicious) waffle batter. Combined with fresh blueberries and some real maple syrup, it made for quite a happy Sunday morning around here last weekend.   Enjoy!

Sausage Waffles
Waffles are extra delicious when paired with fresh blueberries and real maple syrup.
Author:
My Delicious Blog
Ingredients
2 blueberry sausage (or other favorite sausage) links, with casing
2¼ c. all-purpose flour
4 tsp. baking powder
¾ tsp. kosher salt
1½ Tb. granulated sugar
2 extra large eggs
2¼ c. whole milk (or buttermilk - my favorite for a lighter waffle)
¾ c. vegetable or canola oil
Instructions
Preheat oven to 350 degrees.
Place whole sausages in a heat-proof pan or baking dish and bake in oven for 20-30 minutes, until well-browned and cooked through.
When sausage is cooked, remove from oven and allow to cool.
When cool to the touch, transfer to a cutting board, remove casing and mince the meat into very small pieces using a sharp knife; set aside.
For waffles, sift flour, baking powder and salt in a large mixing bowl. Add sugar and mix well.
In a separate bowl, beat eggs then add milk and vegetable oil. Whisk all until well-combined.
Slowly add in the dry ingredients and mix until combined.
Add minced sausage meat to batter and stir until combined (don't beat the batter - you want to have tender waffles!). The batter should be thin so if it seems too thick, just add a bit more milk or even a little water.
Heat a waffle iron according to your machine's instructions. When on high, spray some cooking spray on both sides.
Using ¾-1 full cup of batter (I used 1 full cup with mine, but it all depends on your size waffle iron), place the batter in the center of the waffle iron and close the lid.
When the waffle is brown and crispy, remove and serve with maple syrup and fresh blueberries (or other favorite fruit).