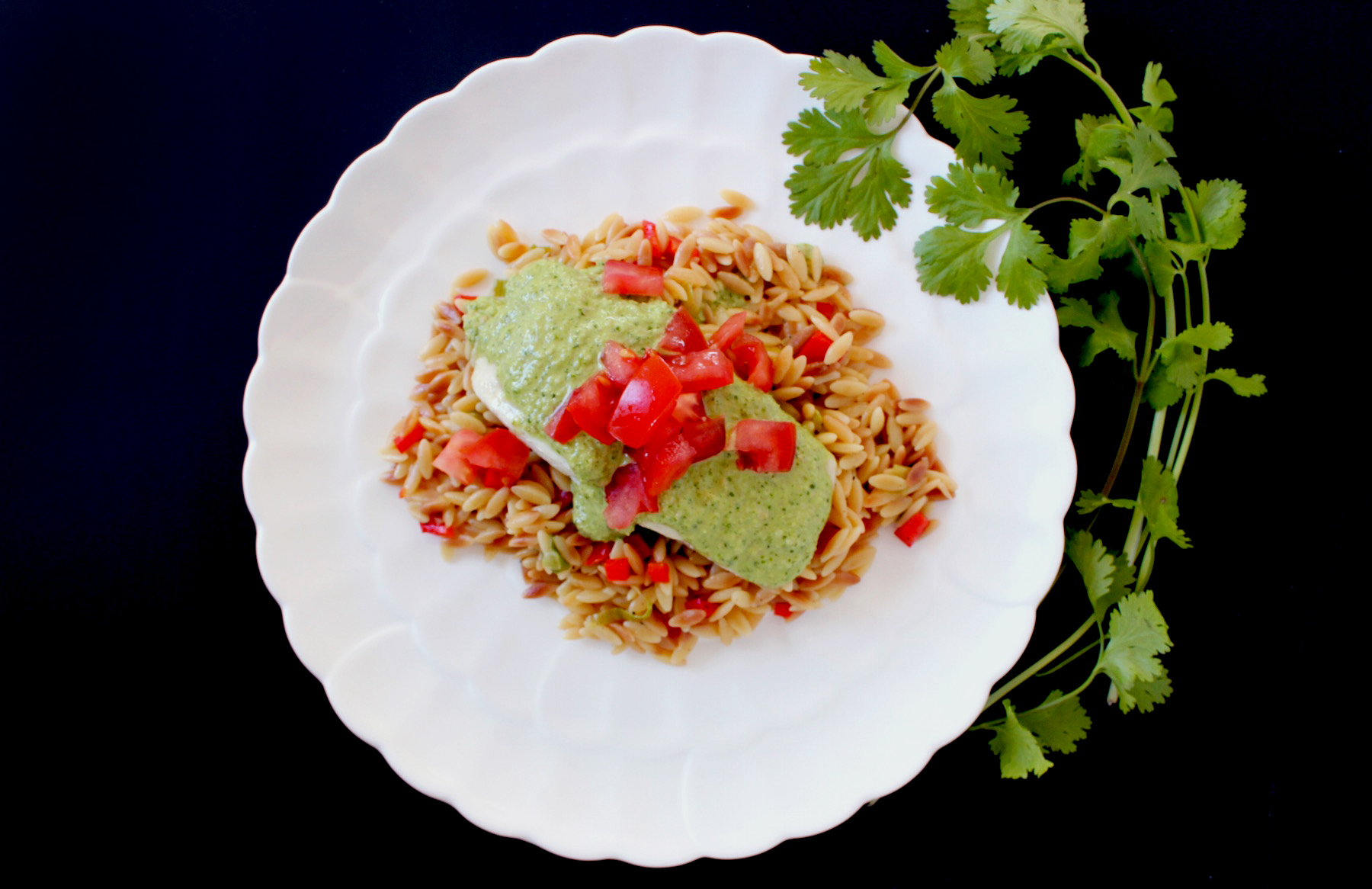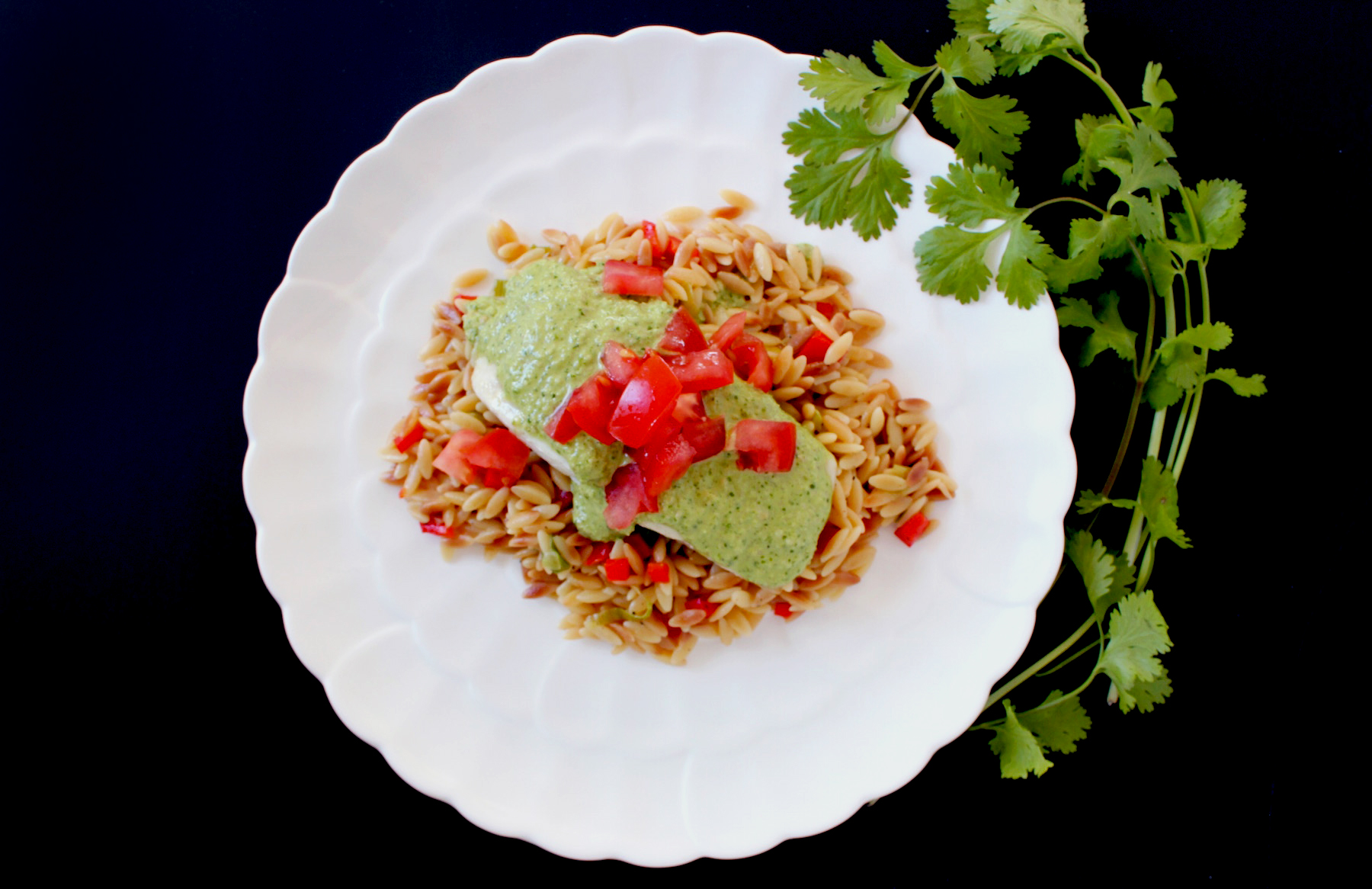 I love to read food memoirs, and one that I recently pulled off my shelf is a long-time favorite. Laurie Colwin, in her "Home Cooking" memoir, shares delightful food memories and humorous tales of the evolution of her culinary prowess, including her many cooking foibles.  One of my favorite quotes in her book is "One of the delights of life is eating with friends; second to that is talking about eating. And, for an unsurpassed double whammy, there is talking about eating while you are with friends." Clearly, she enjoyed the art of preparing food and sharing it with others 🙂
In her chapter on Fish she wrote that she didn't come from a family of adventurous fish eaters but that they had some go-to recipes depending on the season. It wasn't until later in life that she referred to herself as a "fish-lover," having gathered a cache of favorite recipes. One of them was her "green almond sauce" made with scallions, almonds, garlic, lemon juice, watercress, hot green pepper and olive oil. All she wrote was that it was delicious on bland fish like cod, but she didn't provide an actual recipe. So I, never one to leave a recipe stone unturned, dug in to find out what I could about green almond sauce.
It turns out it has origins in Latin culture and, of course, there are several recipe variations out there.  Key to a good sauce is including as many green ingredients as possible to get the most beautiful color.  It's a very easy sauce to prepare, and you can make it as 'bright' or spicy as you want, depending on how much jalapeño and garlic you put in, but the almonds mellow everything out with their sweetness. There's also a textural element and a slight crunch to this sauce due to the pureed almonds.
Once I pureed the main ingredients (it was very thick), I heated it in a saucepan with chicken broth and served it atop broiled fish (just about any light, white fish will do, but I had beautiful African Pompano in the freezer). I served it with a side of toasted orzo and topped it all with chopped tomatoes — very colorful and pretty on the dish.
Many recipes call for pouring the finished sauce into a casserole dish and nestling pre-cooked chicken or fish into the sauce, then baking until everything is heated through — I tried it and it's also a yummy way to do it.   I even tried it on roasted pork and chicken – very good, too.  So many options 🙂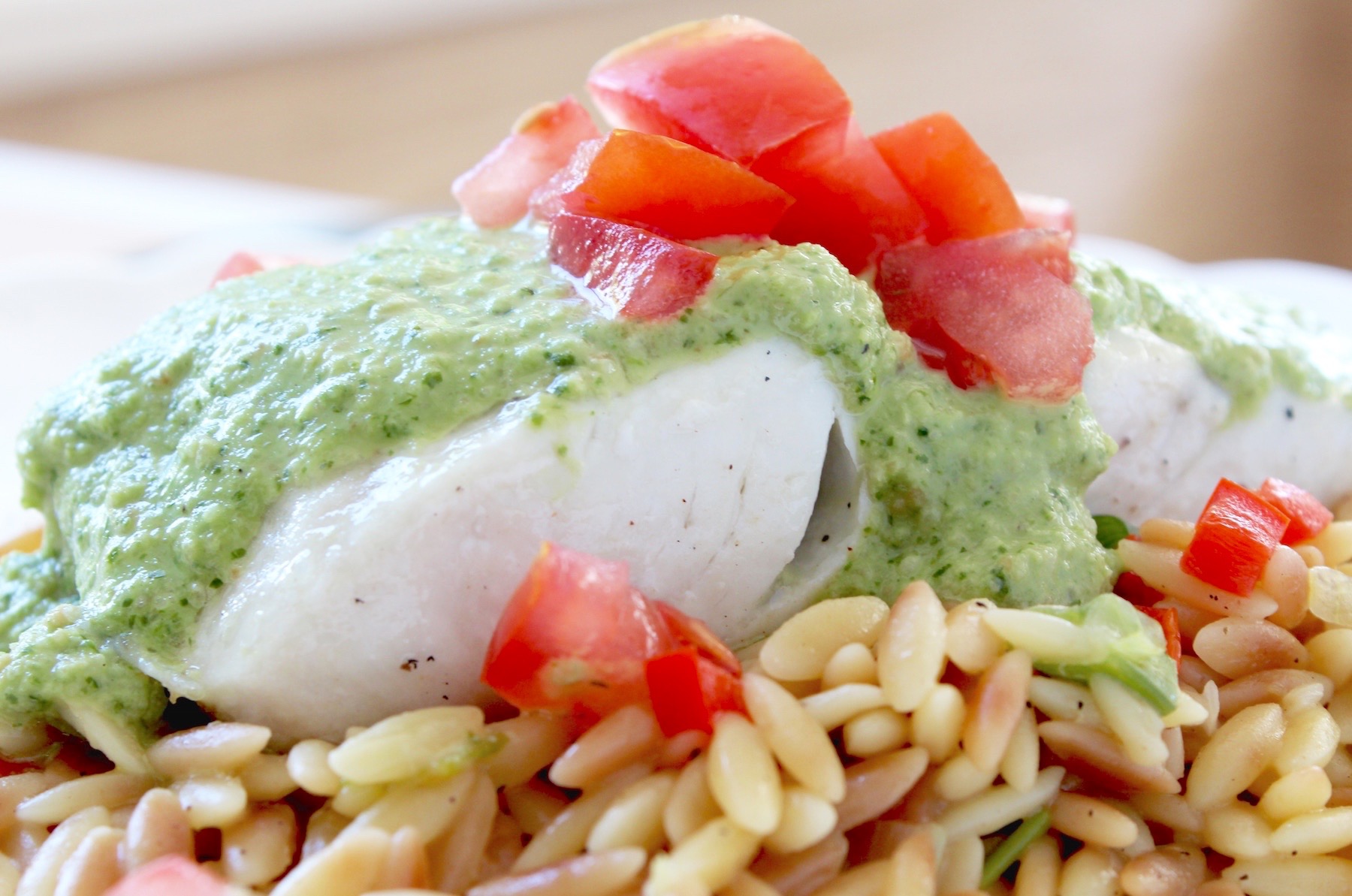 Green Almond Sauce for Fish
This delicious, fresh sauce would go well with just about anything.
Author:
My Delicious Blog
Ingredients
½ c. blanched almonds, roasted
2-3 scallions, white & green parts, roughly chopped
1 small clove garlic
1 large handful fresh cilantro
1 large handful fresh parsley
3-4 Romaine leaves
½ jalapeno, seeded
½ lemon, juiced
½ tsp. kosher salt
¼ tsp. freshly ground black pepper
3-4 Tb. olive oil
1 c. low sodium chicken broth (add more depending on preference)
Instructions
Heat oven to 350 degrees.
Place almonds on a baking sheet and roast for 7-8 minutes, until lightly toasted. OR, place them in a skillet over low heat on the stovetop and roast for several minutes until slightly browned. Remove and allow to cool for a few minutes.
In the bowl of a food processor, combine almonds, scallions, garlic, cilantro, Romaine, jalapeño, lemon juice, salt and pepper.
Pulse a few times. Add olive oil and pulse 1 or 2 more times.
Transfer mixture to a small saucepan over low heat. Gradually add chicken broth and stir until well combined and heated through. Add a little more salt, if necessary. Serve over hot fish, chicken or pork.
Notes
Since I only cook for two in our house, I frequently prepare recipes for future meals in mind. For this recipe, I reserved portion of the puree (without the chicken broth) and kept it in the fridge tightly covered for up to a few days. This way, I only had to take out a small portion of the almond puree, heat it with some chicken broth, then serve it with my fish or chicken, allowing me to have fresh sauce each time!