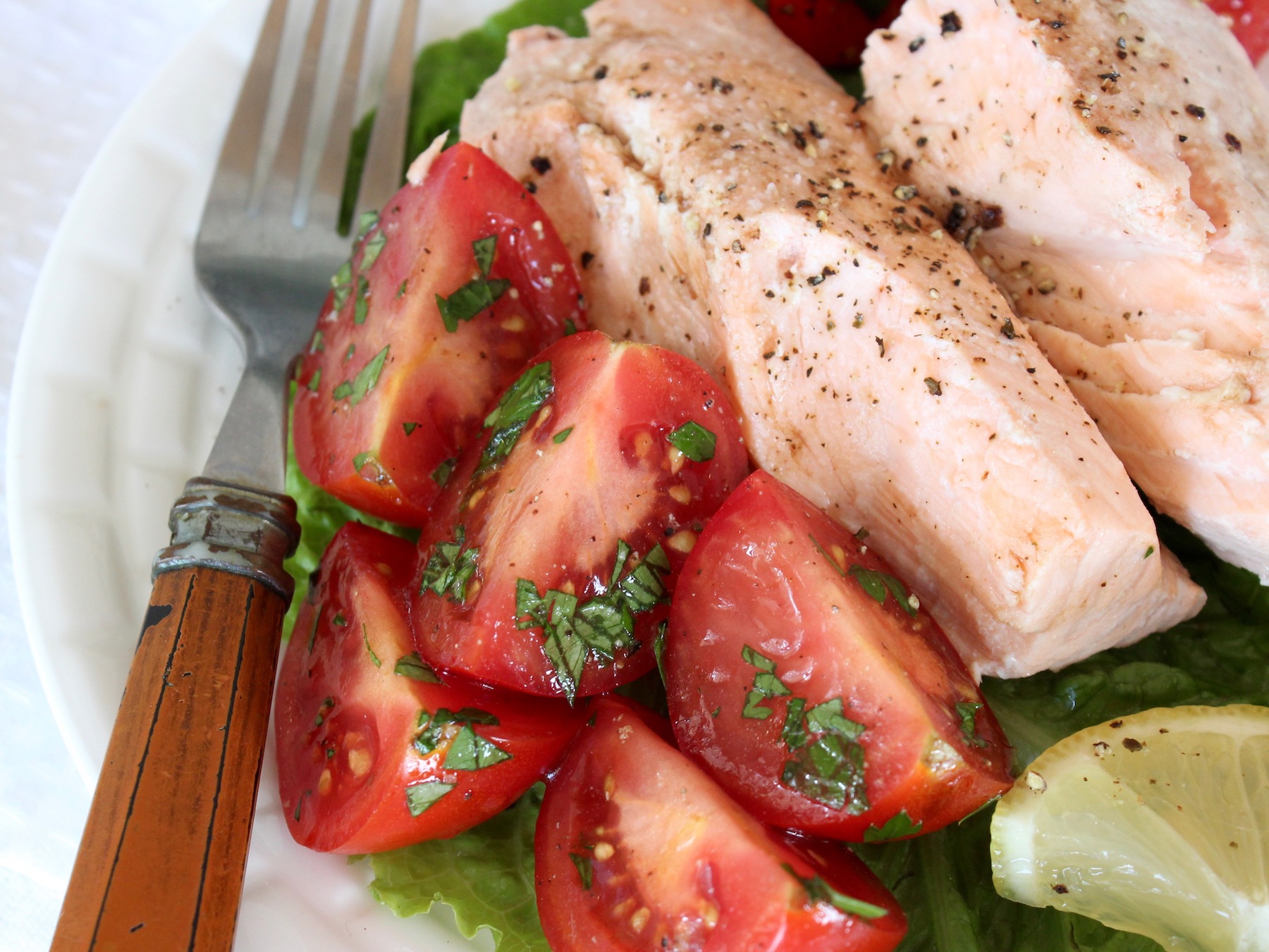 If you cook, you probably collect recipes from magazines, blogs and friends.  I have oodles of notes and clippings that I periodically go through to decide which I still like, and I recently came across a post from Daniel Gritzer at Serious Eats regarding cold-poaching, so today's the day to try it! But a little backstory first. . .
I recently attended an event at Mote Marine Laboratory hosted by its
Aquaculture Research
team, all about happenings in the aquaculture (i.e., farm-raised seafood) field.  If you like seafood, you eat it because it's a delicious and healthy source of protein. There's big demand for it in the U.S., but our oceans can only supply so much without risk of species being overfished or depleted, so suppliers rely on overseas sources to meet demand. Interestingly, today, 91% of the seafood we consume in the U.S. is 
imported, 
and a good percentage of that (I've heard around 50%) is from farm-raised sources.  Wow.
But aquaculture (especially for gill fish, not so much bi-valves like clams/mussels) is a topic that leads to assumptions about taste or conditions in which fish are raised (need I mention stories about Indonesian or Chinese fish in less-than-pristine conditions?).  It can be a tough concept to wrap our heads around. Wouldn't we prefer our food to be harvested in the wild, not by 'artificial' means?  And there have been problems like breaches in ocean pens that allowed farmed fish to mingle with wild fish; quantity/quality of feed needed to raise the fish; and use of antibiotics to prevent disease. But technology and innovation continue to evolve, and things are far better than they were even 5 years ago.  And many organizations and countries are doing it right, in controlled conditions, with strict oversight.  Here in the U.S., to lessen dependence on overseas suppliers, more aquaculture operations are underway because keeping it local also means lowered costs and reduced carbon footprint.  So please stay tuned in, because aquaculture is a good solution to feeding a global population.
And since it's good to know where our seafood comes from, here are the sources I watch, and I encourage you to check them out: 
Seafood Watch
, 
Marine Stewardship Council
 and 
Best Aquaculture Practices
.  Also, ask your fishmonger where/how the fish was harvested, how it got here and time it took to get it here — all to make an informed purchase.
Ok.  Enough of the backstory.
Today's recipe is poached salmon in one pot, with ingredients you have on hand, finished in as little as 10 minutes! Poaching is a gentle way to cook delicate proteins, but you've probably used the traditional method that starts with warm liquid.  This cold method Mr. Gritzer experimented with brings all ingredients up to temperature at the same time to avoid overcooking. All you need is a medium saucepan, onion (or scallion), celery, lemon, maybe a carrot, and enough water and white wine to cover it all. You could also use lemongrass, fresh dill/parsley or ginger — aromatics to enhance the fish.  Here's mine just as the liquid starting heating up in the pan: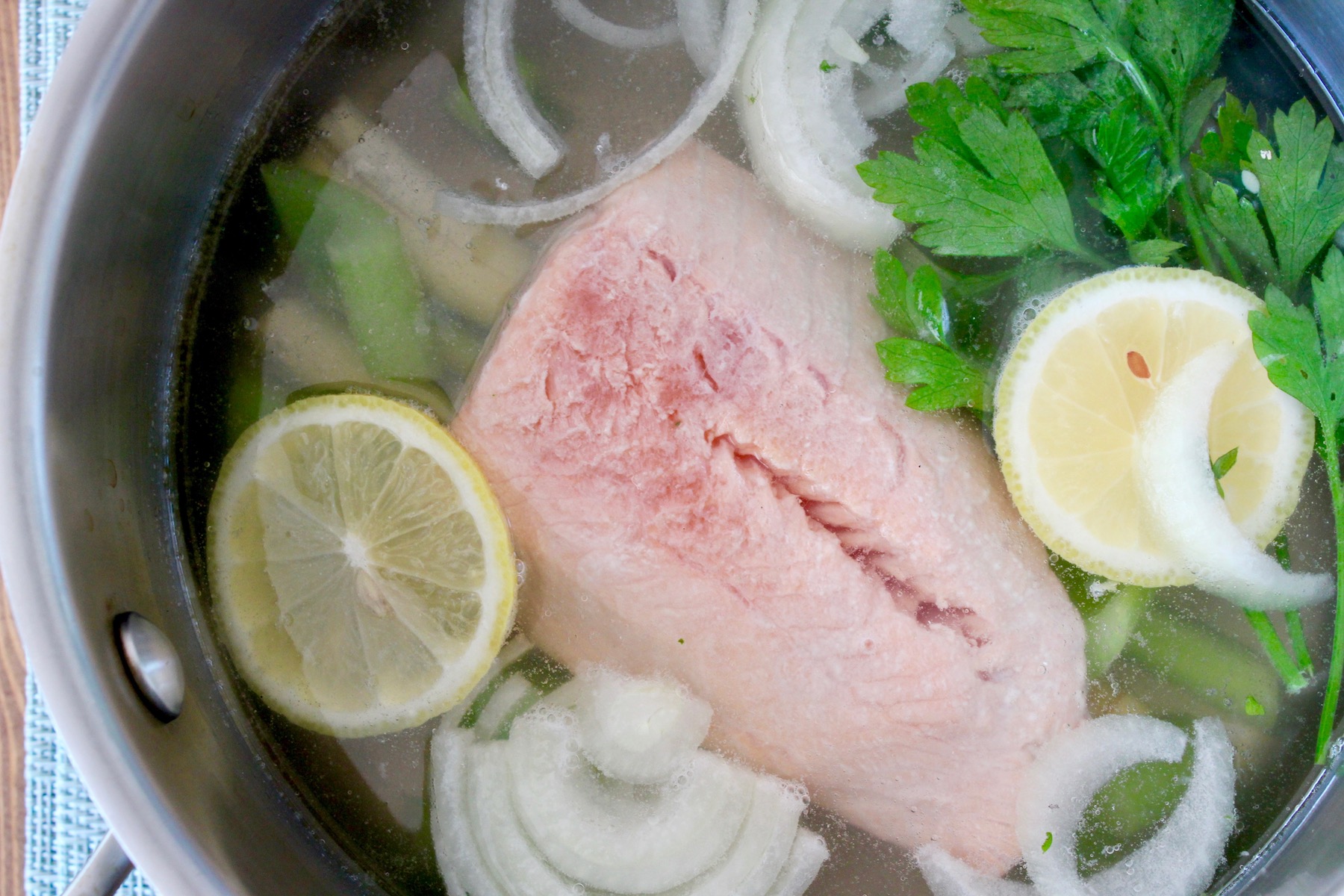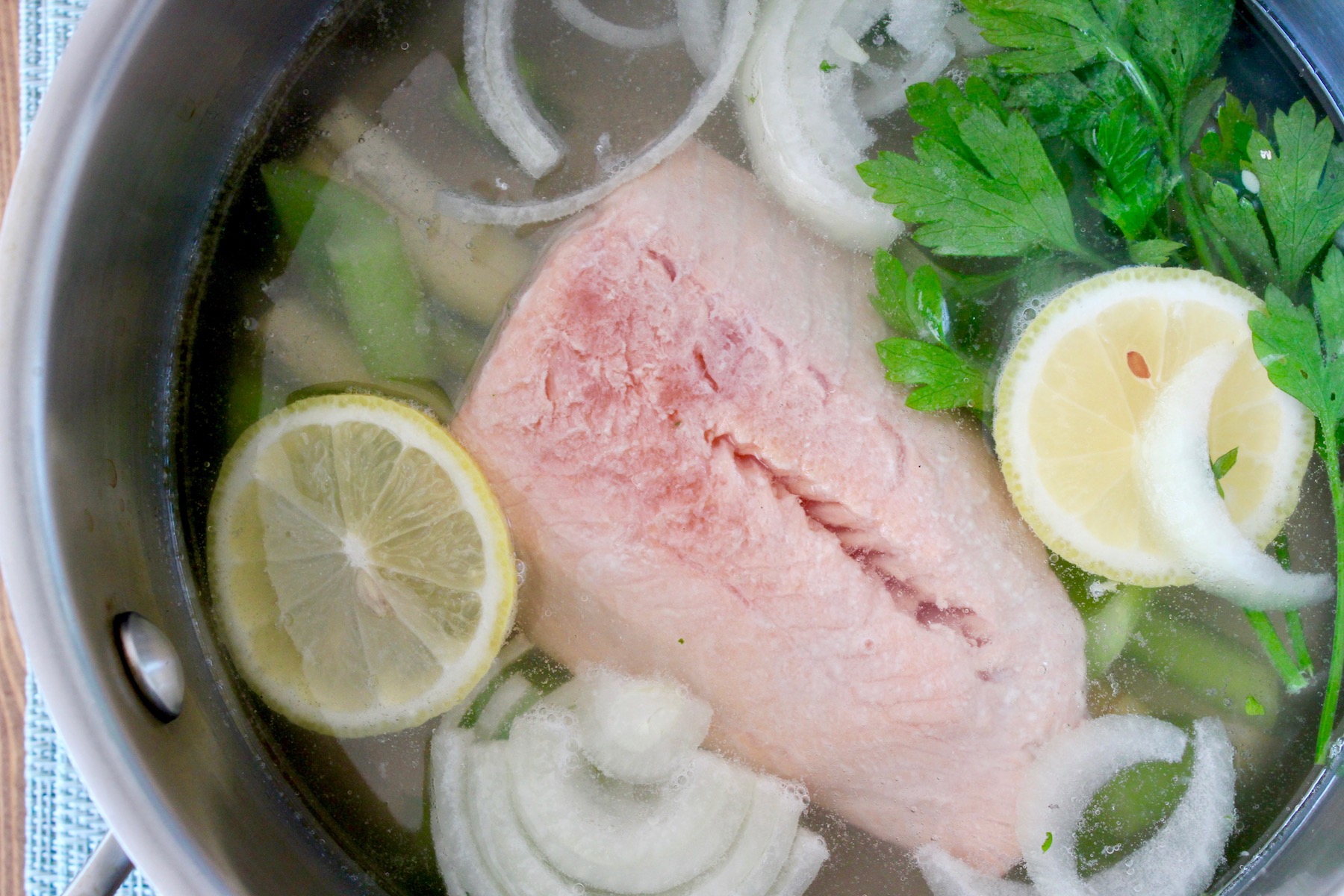 I used farm-raised salmon for this recipe.  No, it's not my preferred, wild-caught salmon from the cold waters of Alaska, but when out of season or prices are steep, farm raised is a healthy, budget-friendly option. I'm always on the lookout for the best farmed fish I can find, and this variety (from Ireland) is new to me, so I decided to give it a try for this post, but I'll continue to research the supplier, as I always recommend you do.  The cold method of poaching produces a perfectly cooked, delicately seasoned, tender piece of fish. I served mine with fresh tomato salad, but it would also be delicious with a creamy dill sauce or anything else you love. Enjoy!
Note: In Sarasota, one of the places you can find farm-raised salmon is Big Water Fish Market on Siesta Key. They sell it as fresh fillets, smoked, or Poke. They'll also prepare it for you as a delicious platter with steamed veggies 🙂
Cold Poached Salmon
A delicious and easy method of cold-poaching salmon!
Author:
My Delicious Blog
Ingredients
1 lb. salmon fillets, skin removed, cut into 2 pieces
1 stalk celery, chopped
1 small onion, sliced
3-4 slices of lemon
Small handful fresh parsley or dill
2-3 lemongrass stalks (optional)
1 carrot, chopped (optional)
1 c. white wine
2-3 c. water
Instructions
Add the vegetables and aromatics to a medium saucepan.
Place fish on top of the vegetables, then add liquid (if the liquid does not cover the top of the fish, add more water).
Turn the heat to medium and allow the liquid to slowly warm (if you'd like, get out your thermometer out to test it for about 170 degrees, which is a very low simmer). You'll notice some bubbling, but don't allow it to boil - reduce the heat if it's bubbling too much.
Depending on the thickness of your fillets, it may take as little as 7 minutes, or as much as 15-20 minutes to poach. When the fish looks light pink and slightly firm, turn off the heat and remove the fish.
Taste for seasoning (sprinkle a little sea salt or fresh black pepper, if desired).
Serve warm, at room temperature, or chilled, with your favorite side or dressing.