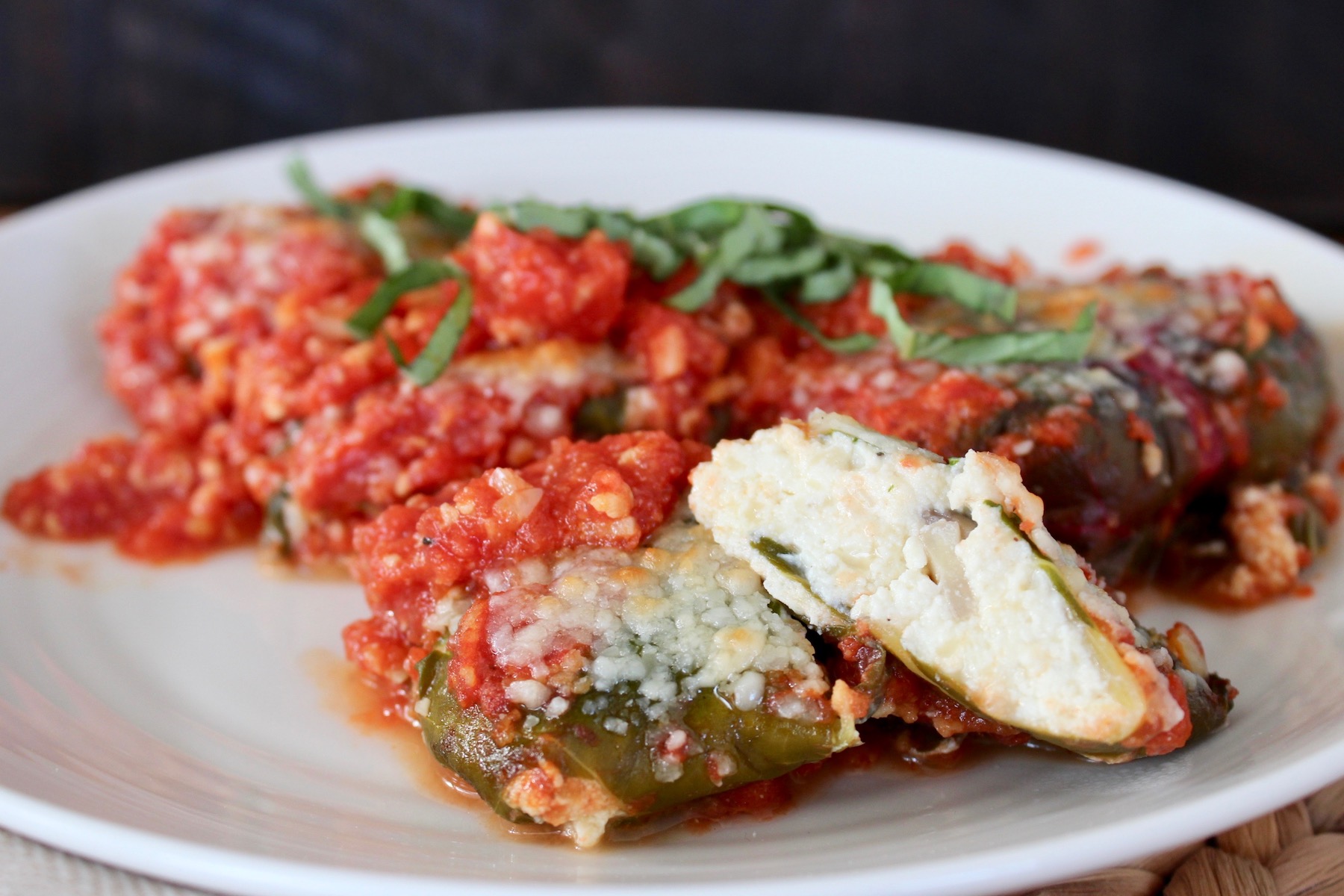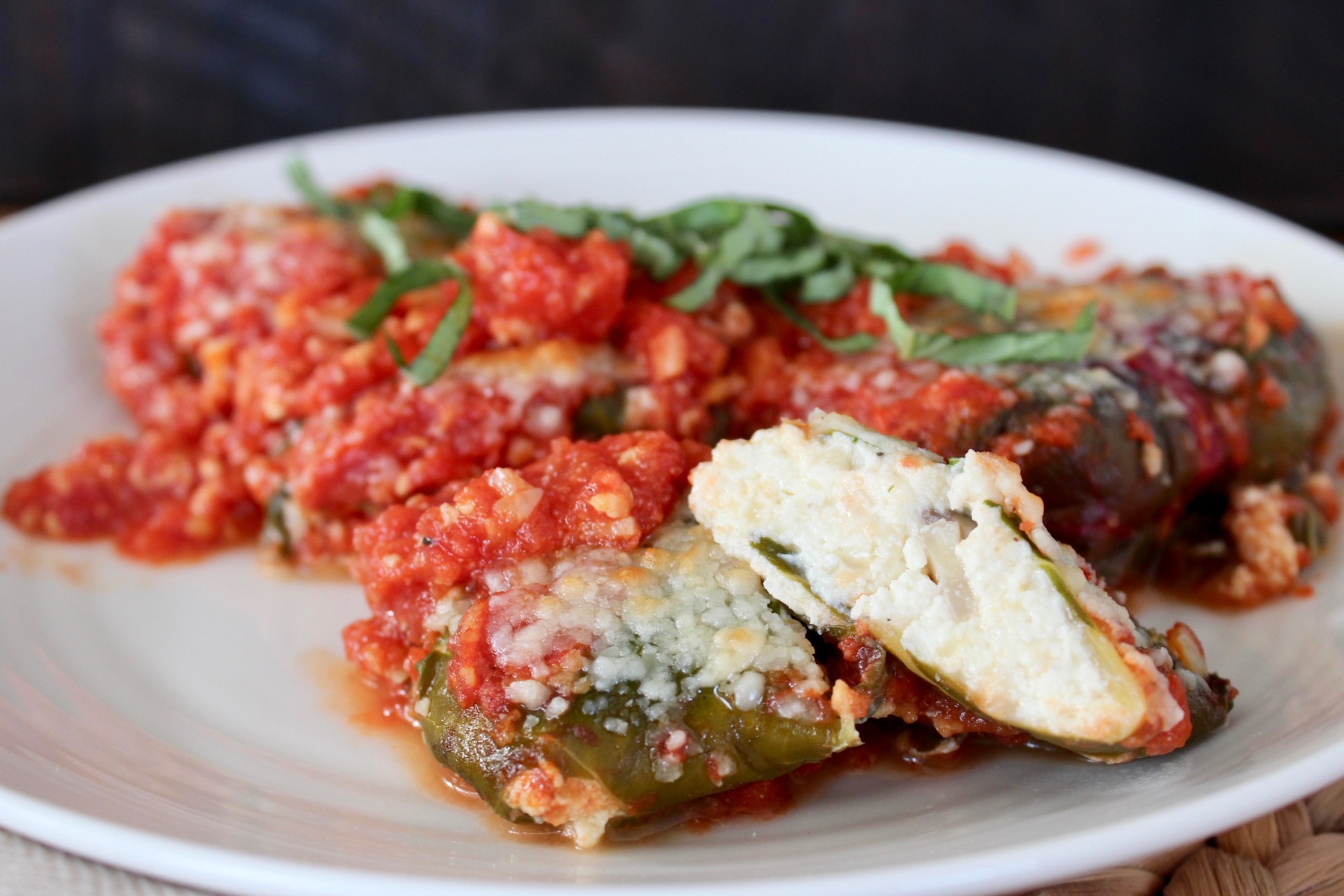 Many years ago I enjoyed delectable manicotti at a tiny Italian restaurant in Charlotte, NC.  I thought it was a little 'interesting' that there could be such an amazing dish in the southern city I called home for a short time, but when I learned that the chef originated from Italy, it all made sense 🙂  They were pillowy-soft and melted in my mouth; the tomato sauce was simple and brightly flavored; the ricotta filling was heavenly, and there was just enough basil to make everything sing.
Sounds good, huh?
Well, today's dish is not actually manicotti, it's a healthier version, and it's pretty darned yummy.
It's the season for leafy greens here in southwest Florida, my favorite time of year to visit markets and farms, because fresh greens are everywhere.  Lettuce, chard, kale and collards are all being harvested, thanks to mild, cool temps, and hard-working farmers.
When it comes to chard, there are several varieties and colors (including some beautifully-colored stems):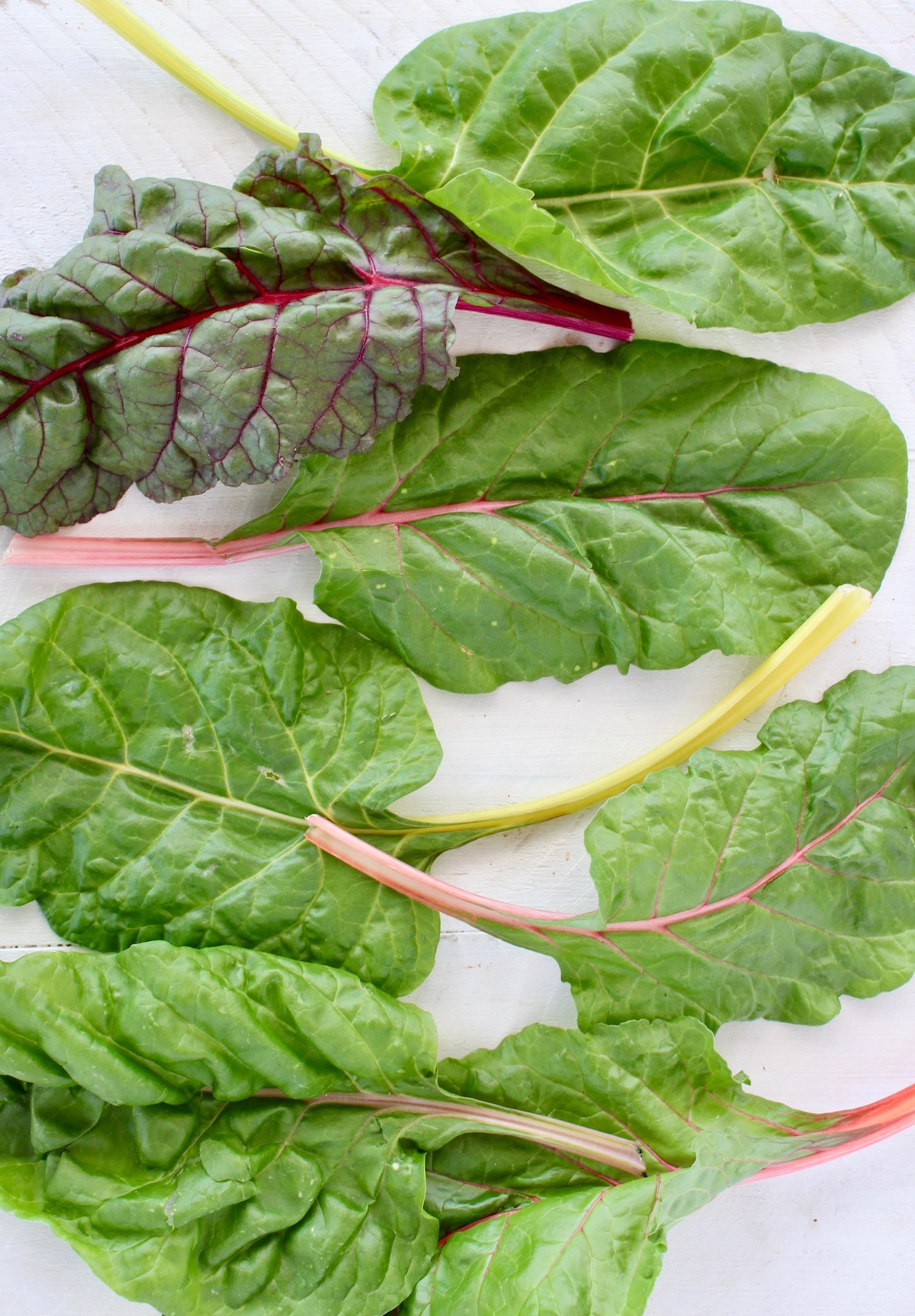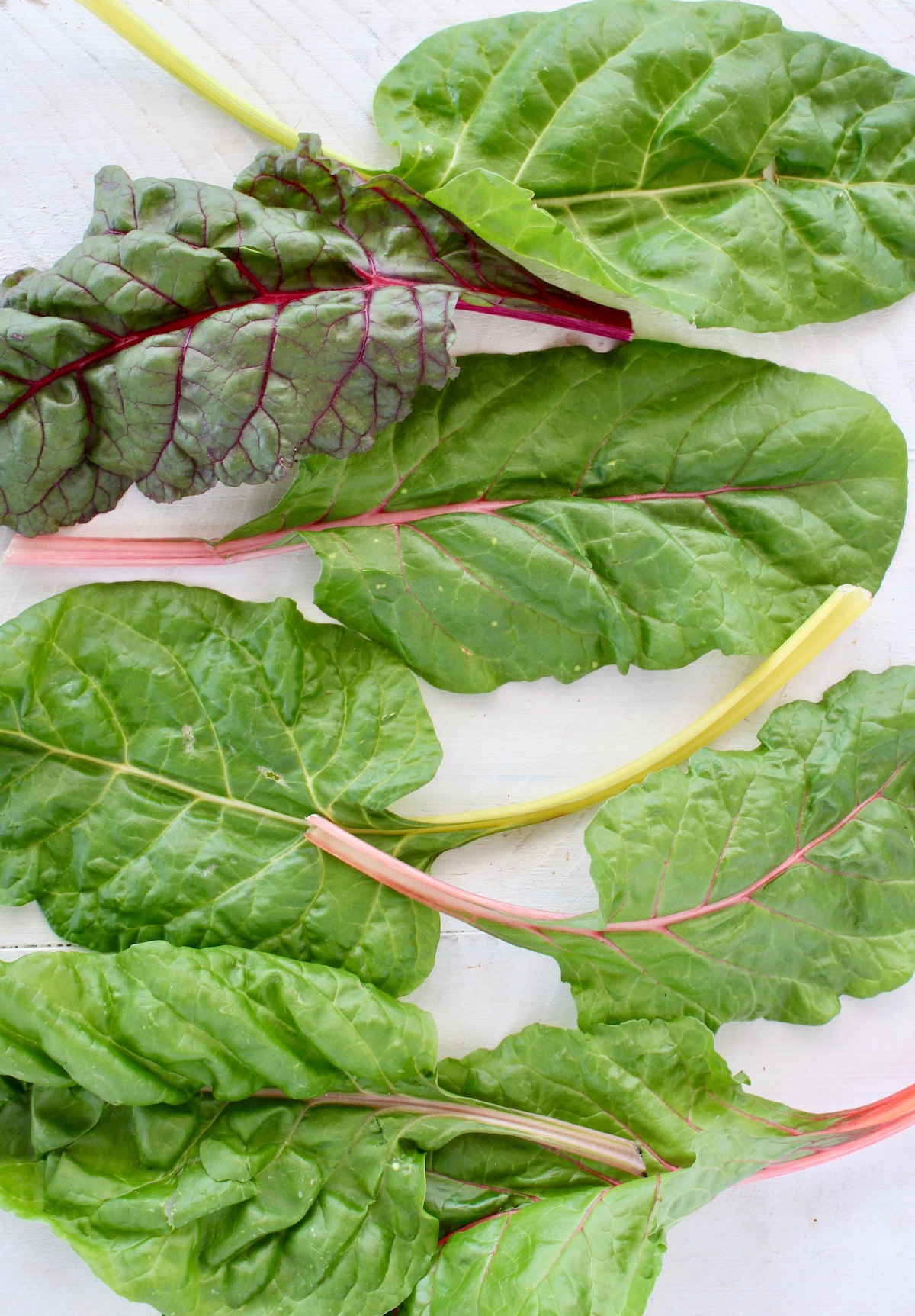 The leaves are tender and sweet, packed with calcium, iron, potassium, vitamins C and A, and other good stuff.  You can cook chard like spinach (sautéed in a pan with olive oil, garlic, or whatever), toss it in soups, mix it into pasta or salads, pickle the stems, and more.  I've grown it in my garden – it's easy and beautiful.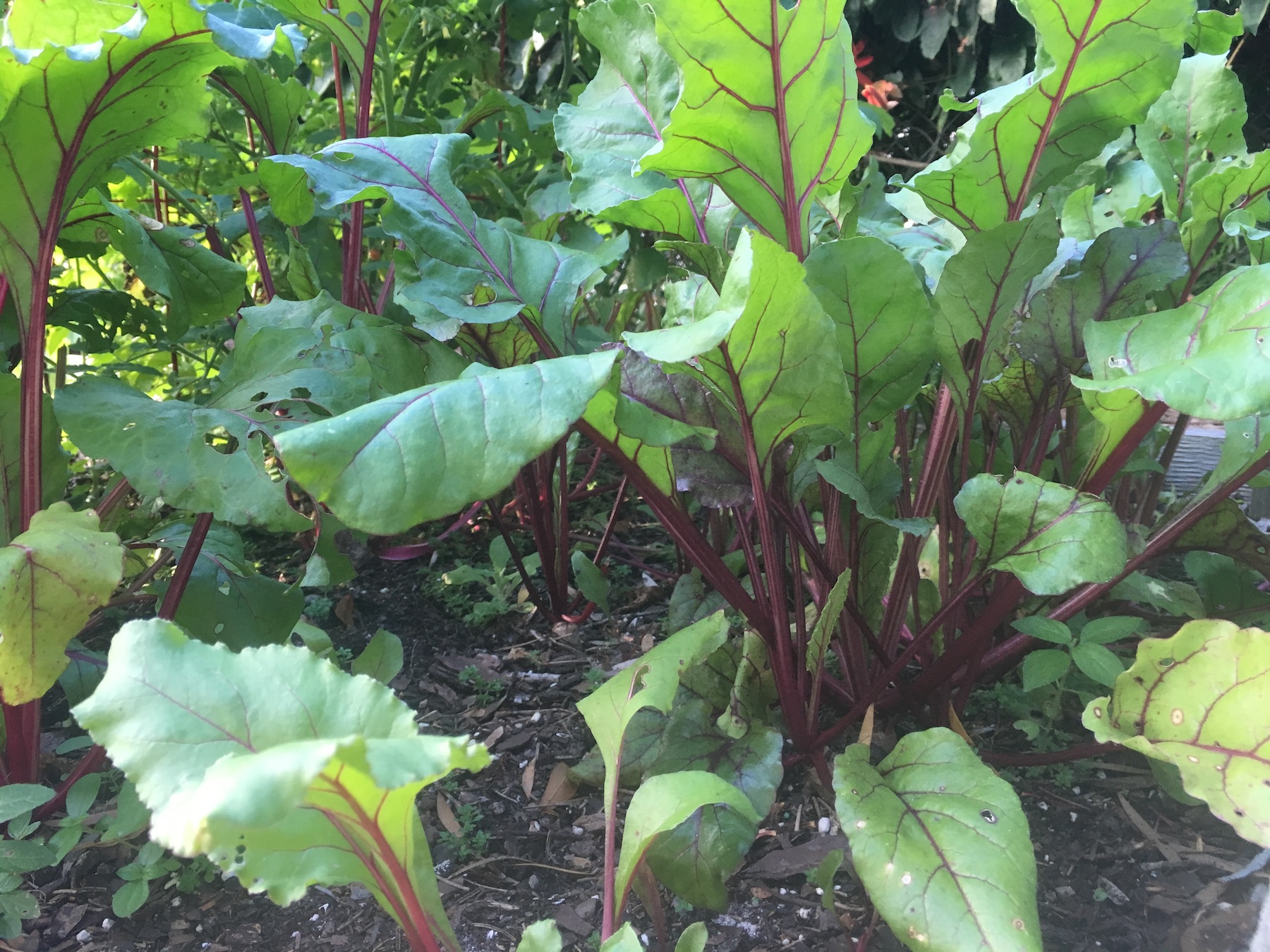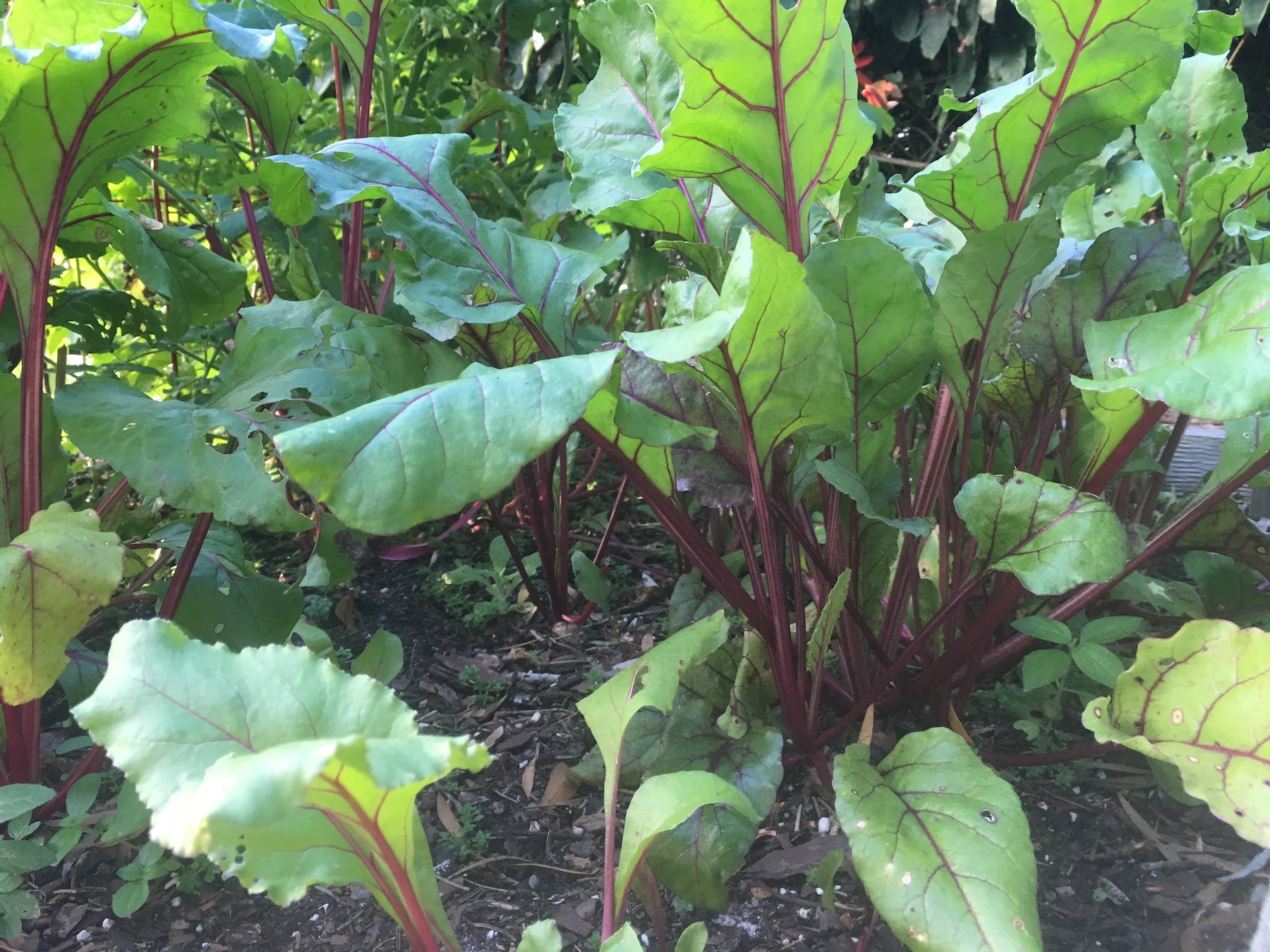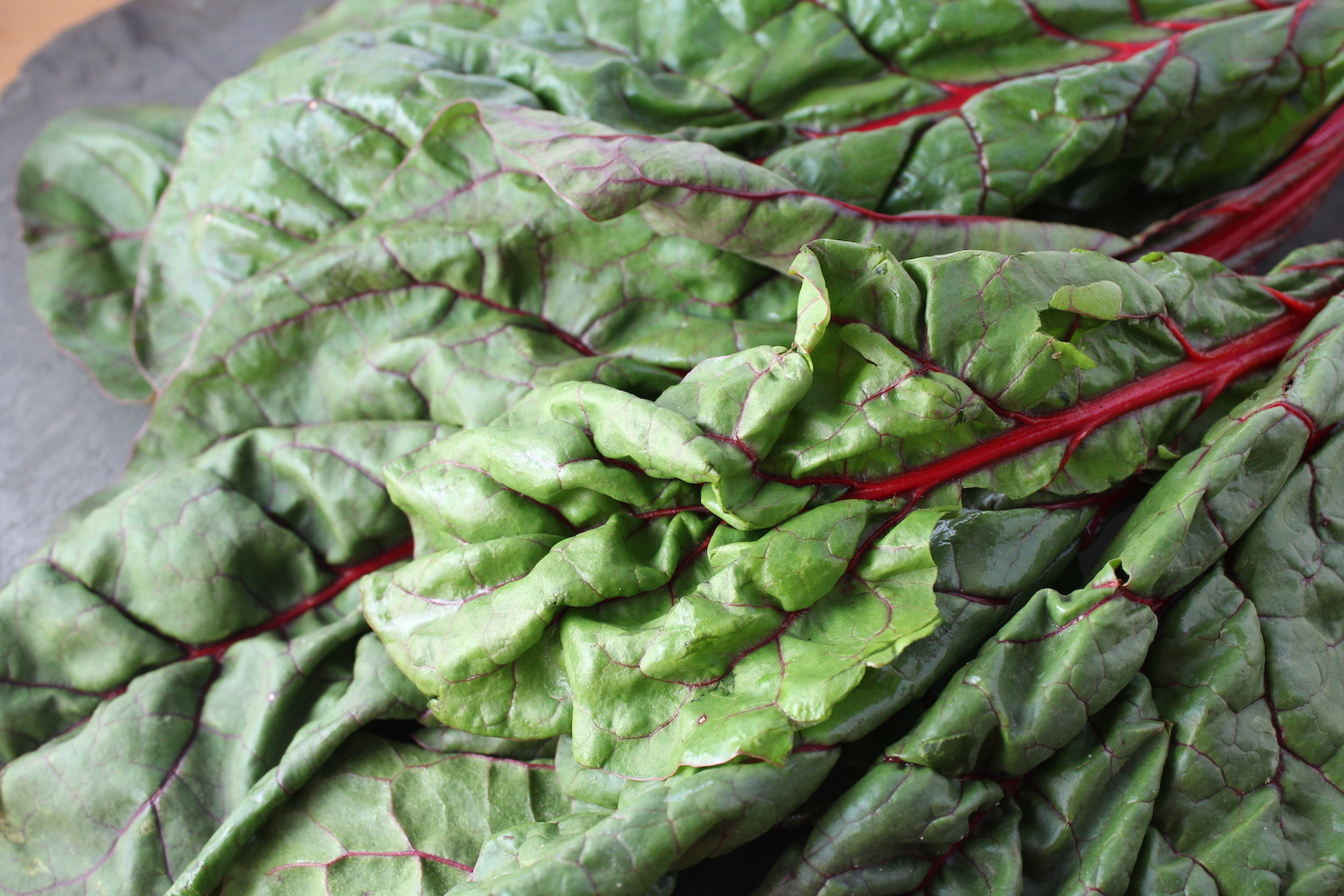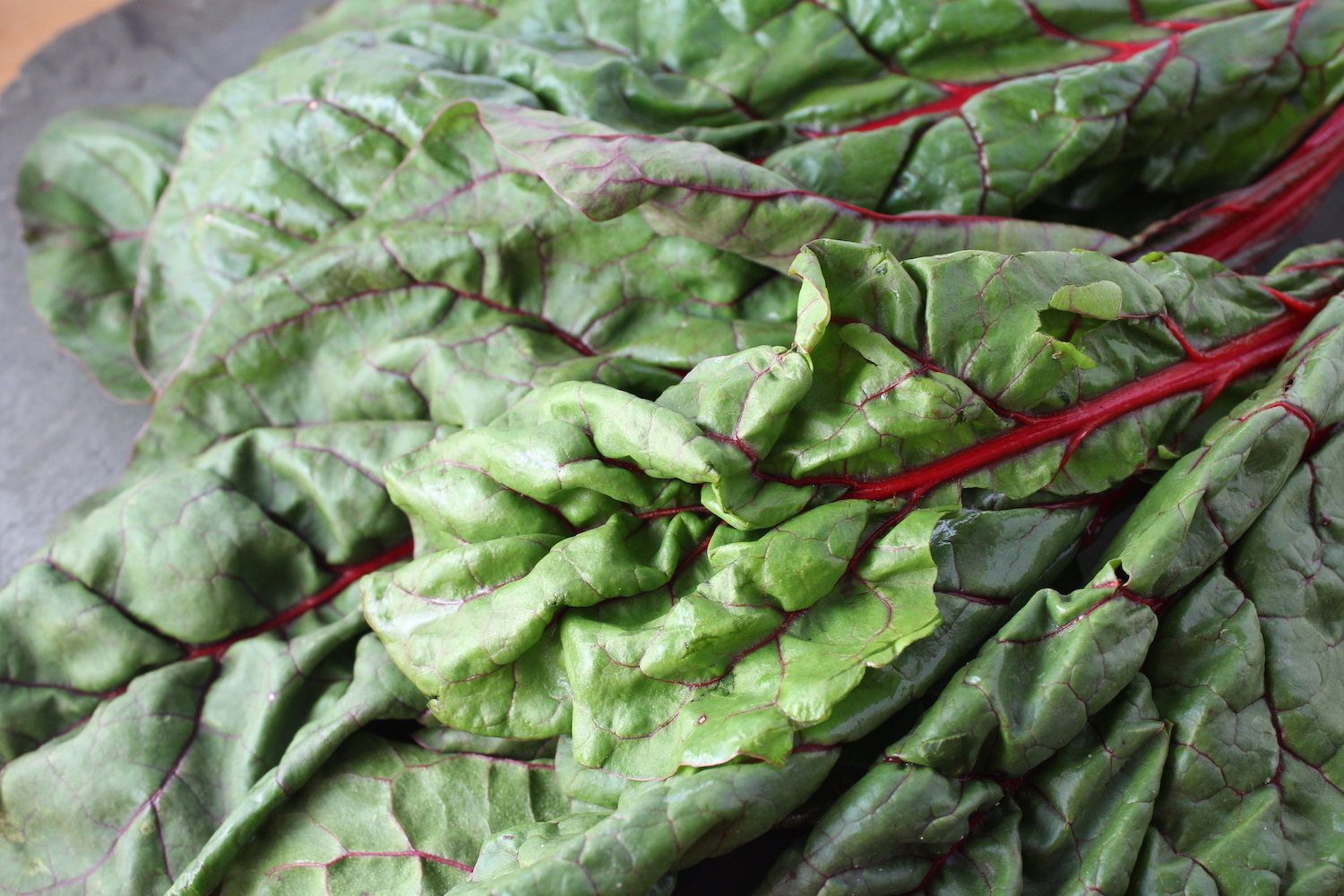 Today I'm making little bundles using leaves I got at
Jessica's Organic Farm
, and some that a dear gardening friend gave me.  I filled them with ricotta and bathed them in a simple tomato sauce, topped with tasty parmesan and fresh basil.  This version is meatless, but feel free to fill the leaves with what you like – maybe even forego the ricotta and go with standard cabbage roll filling like ground beef and rice.  These little bundles are tender and flavorful, and don't offer all the guilt of manicotti 🙂
A few notes:  1) You don't have to make the tomato sauce (although, it is quite yummy) because any favorite sauce will work (even jarred), which cuts down on time if you're in a hurry. 2) If you don't love mushrooms, just omit and replace with other veggies, or stick with just the ricotta filling. 3) Don't toss the stems!  They're packed with nutrients, so keep for soups, stir-fries, or even chop/sautée and toss into this ricotta mixture!  If none of those work, try composting 🙂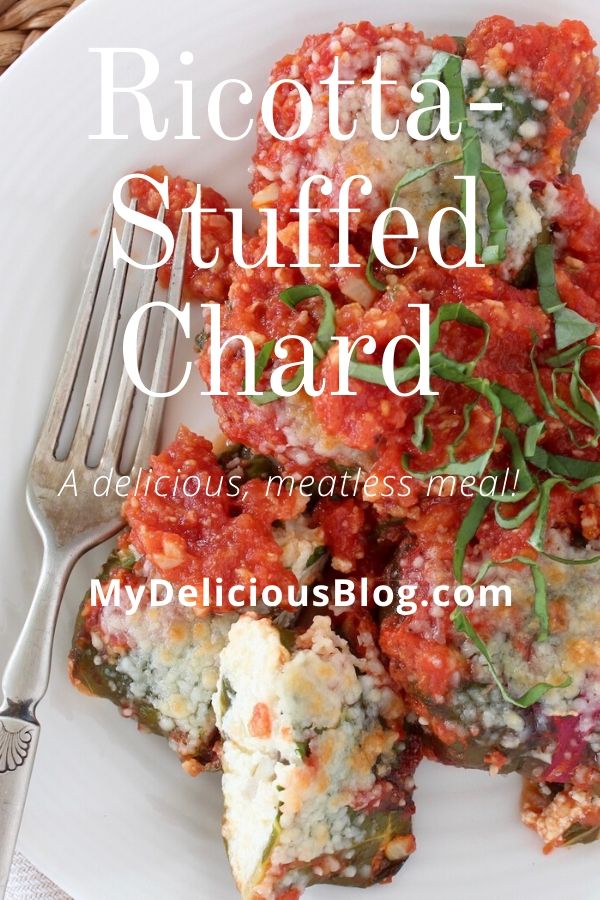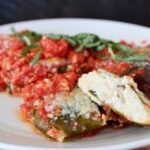 Print Recipe
Ricotta-Stuffed Chard
A delicious alternative to manicotti, using fresh and healthy chard leaves, with a delicious red sauce.
Ingredients
12

Large chard leaves, cleaned & dried
Filling
1

lb.

Whole milk ricotta

1/2

c.

Grated parmesan

(plus 1/2 c. more for topping)

2

Large eggs, lightly beaten

1/2

tsp.

Lemon zest

6-8

Fresh basil leaves, chopped

1

cup

Cremini or white mushrooms, sliced

(optional)
Sauce
2

Tb.

Olive oil

1

Clove garlic, peeled & minced

1

32-oz. can

Whole, plum tomatoes

6-8

Fresh basil leaves, chopped

Pinch

Granulated sugar

1/2

tsp.

Kosher salt

1/4

tsp.

Freshly ground black pepper

1/4

tsp.

Ground nutmeg
Instructions
Heat oven to 350 degrees.

Fill a medium pot with water and bring to boil.

Fill a medium/large bowl with water and a handful of ice cubes.

When water boils, reduce to medium heat and place whole chard leaves in water to blanch for about 30 seconds (hold them by the stems so they're submerged in the water). Remove from water, drop into ice water bowl for 30 seconds, then remove, carefully pat dry with paper towel and trim off stems. Set aside until ready to use.
Make Filling
Place a mesh strainer over a small bowl and add ricotta to the strainer (this drains the excess liquid into the bowl, which you'll discard when done).

While ricotta strains, add a little olive oil to a skillet over medium heat. Add mushrooms in one layer and cook until slightly browned. Remove from heat and allow to cool.

Once ricotta has shed its liquid (about 10 minutes), add the ricotta to a mixing bowl, along with 1/2 c. parmesan, eggs, lemon zest and basil. Add the cooled mushrooms and stir well.
Make Sauce
Puree tomatoes in a food processor, then heat a skillet over medium heat. Add 2 Tb. olive oil and garlic and heat garlic until fragrant (about 1 minute). Add tomato puree, basil, sugar, salt, pepper and nutmeg and simmer about 15 minutes. Remove from heat, then spoon half the sauce into the bottom of a 9X13 baking dish.
Assemble Bundles
Lay each leaf flat and place about 2 Tb. of the ricotta mixture into the middle of each leaf. Fold in the sides toward the filling, then roll up from the bottom to make a little bundle/roll.

Place each bundle into the sauce, cover with remaining sauce and top with remaining 1/2 c. parmesan.

Bake about 25 minutes until bubbly and cheese is browned. Garnish with basil, if desired.