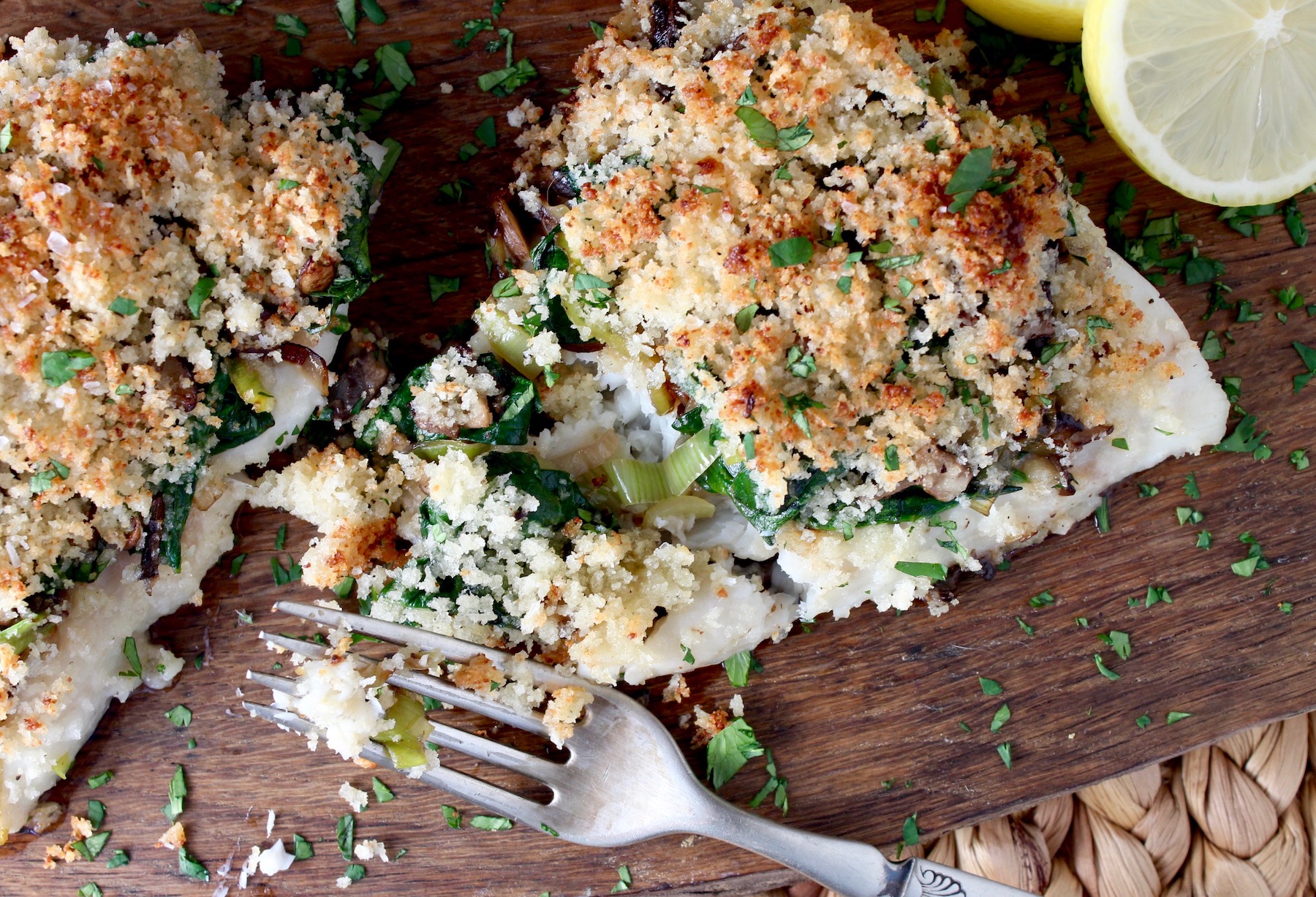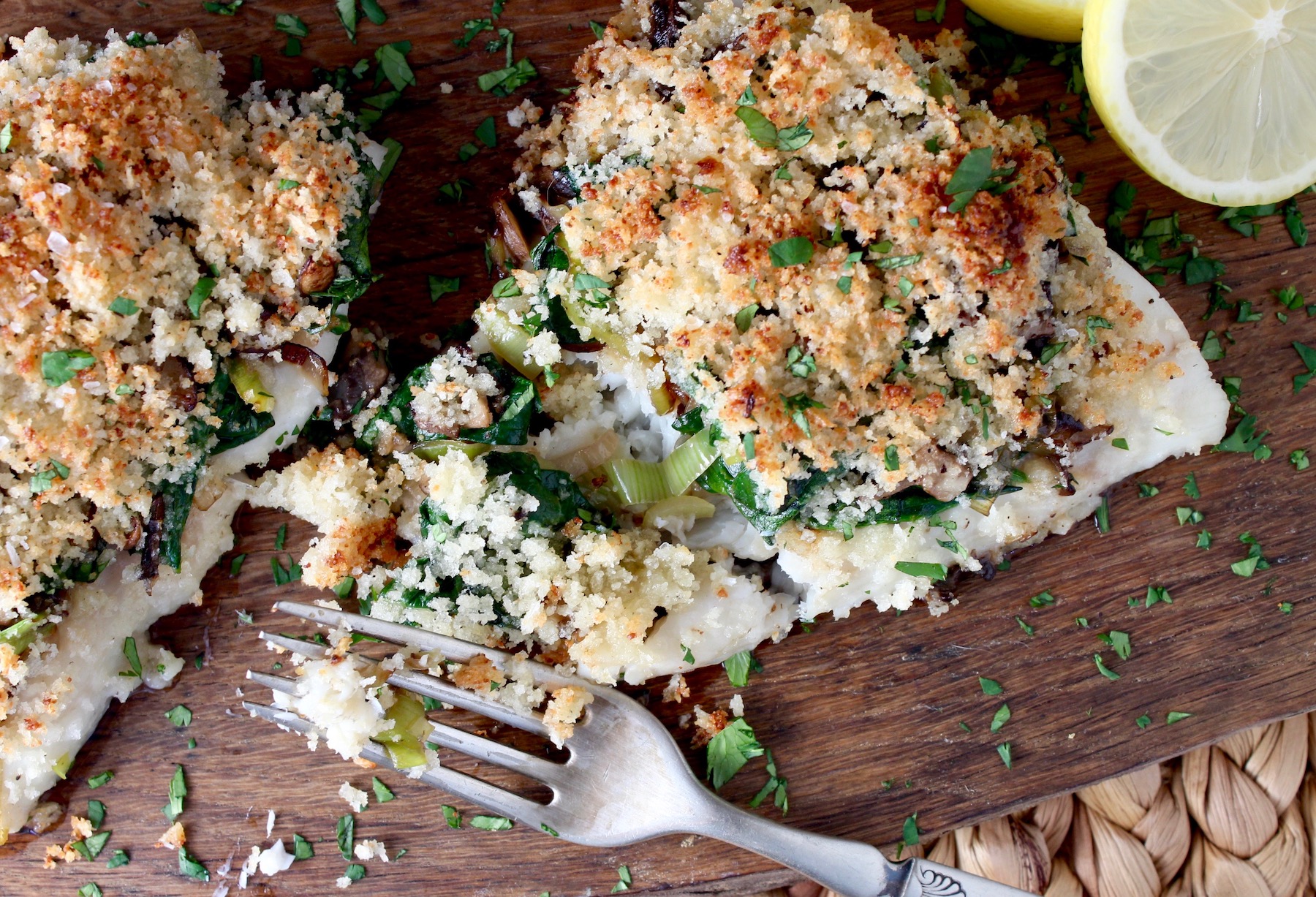 I haven't had time to fish lately, so I've been living vicariously through friends, some of whom have been catching Tripletail.
These fish like to hang out under crab floats, in weed patches and under structures.  They resemble Flounder because of their mottled brown and cream coloring, and the fact that they swim and float on their side.  Here's one I caught oh-so-long ago: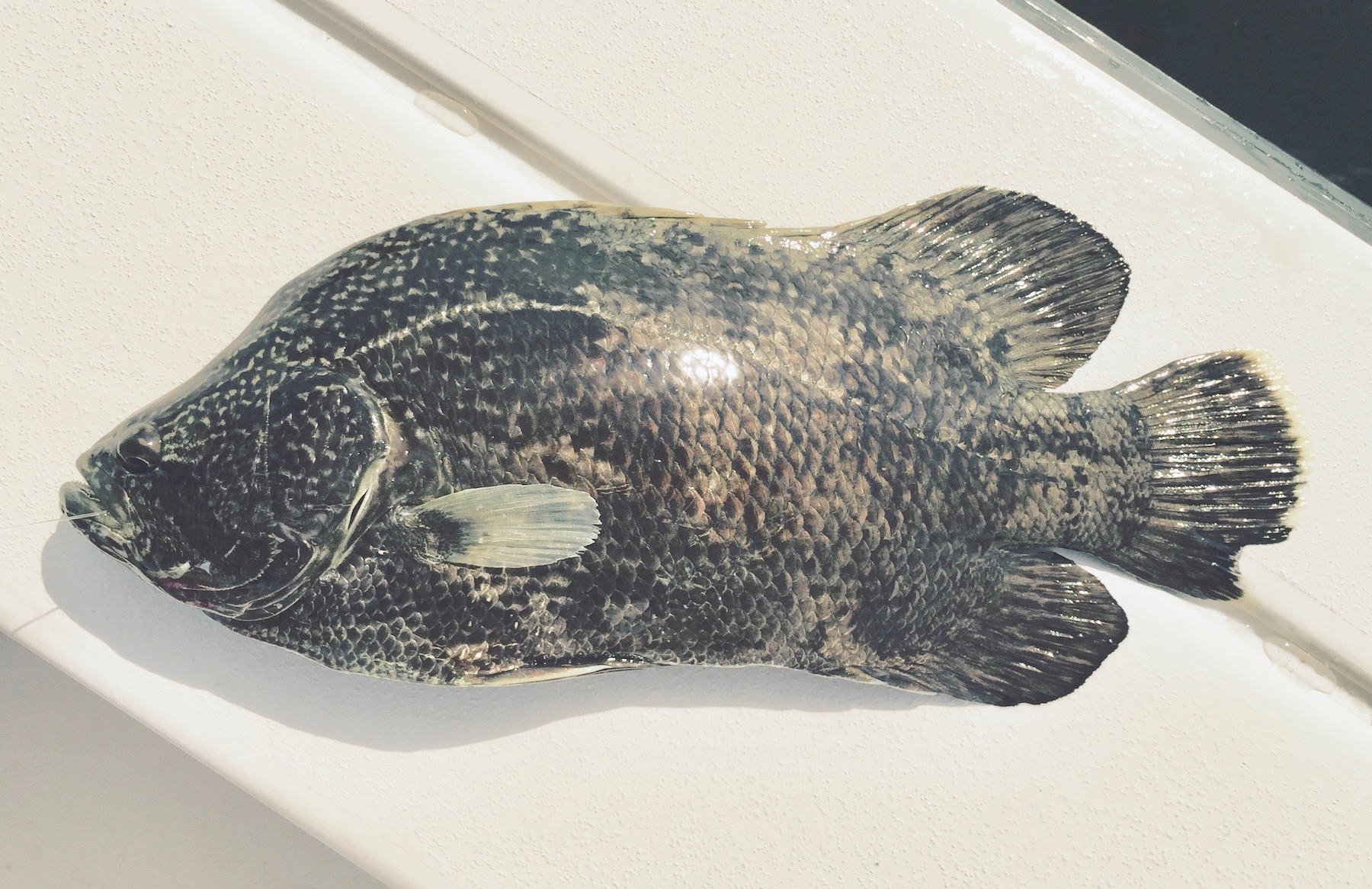 The name is attributed to their elongated dorsal and caudal (bottom) fins, which make them look like they have three tails.  You can always tell when folks are searching for them – their boats slowly go from one crab float to the next, hoping to see a fish nibbling on the rope that's loaded with tasty crabs and other creatures.  It takes patience, but when you see a fish, things get exciting.
My favorite memory about Tripletail is from many years ago when Brendan and I fished a charity tournament.  The day started out great because I caught a nice Specked Sea Trout and was ready to put it on ice, but Brendan insisted I toss it back because the day was young, and he was certain we'd catch more, bigger fish.
Six hours later, we hadn't caught another fish.  But we were newly engaged, and I didn't want him to question his choice of life partner, so I remained silent. . .
As we headed to the dock (with no fish), we spotted a floating bait box and Brendan started turning the boat around, saying "There's a Tripletail under that box!"  We stopped, he baited his hook with our last shrimp in the bait well, headed to the bow and loudly proclaimed "One shrimp, one Tripletail!" He tossed out his line and that shrimp landed right on the box.  As he slowly dragged it across the box, I could see that the Tripletail spotted it, because he righted himself and headed to the surface. . .
That fish won us an honorable mention in the tournament, even though it wasn't on the list of targeted species!  Plus, we enjoyed him for dinner 🙂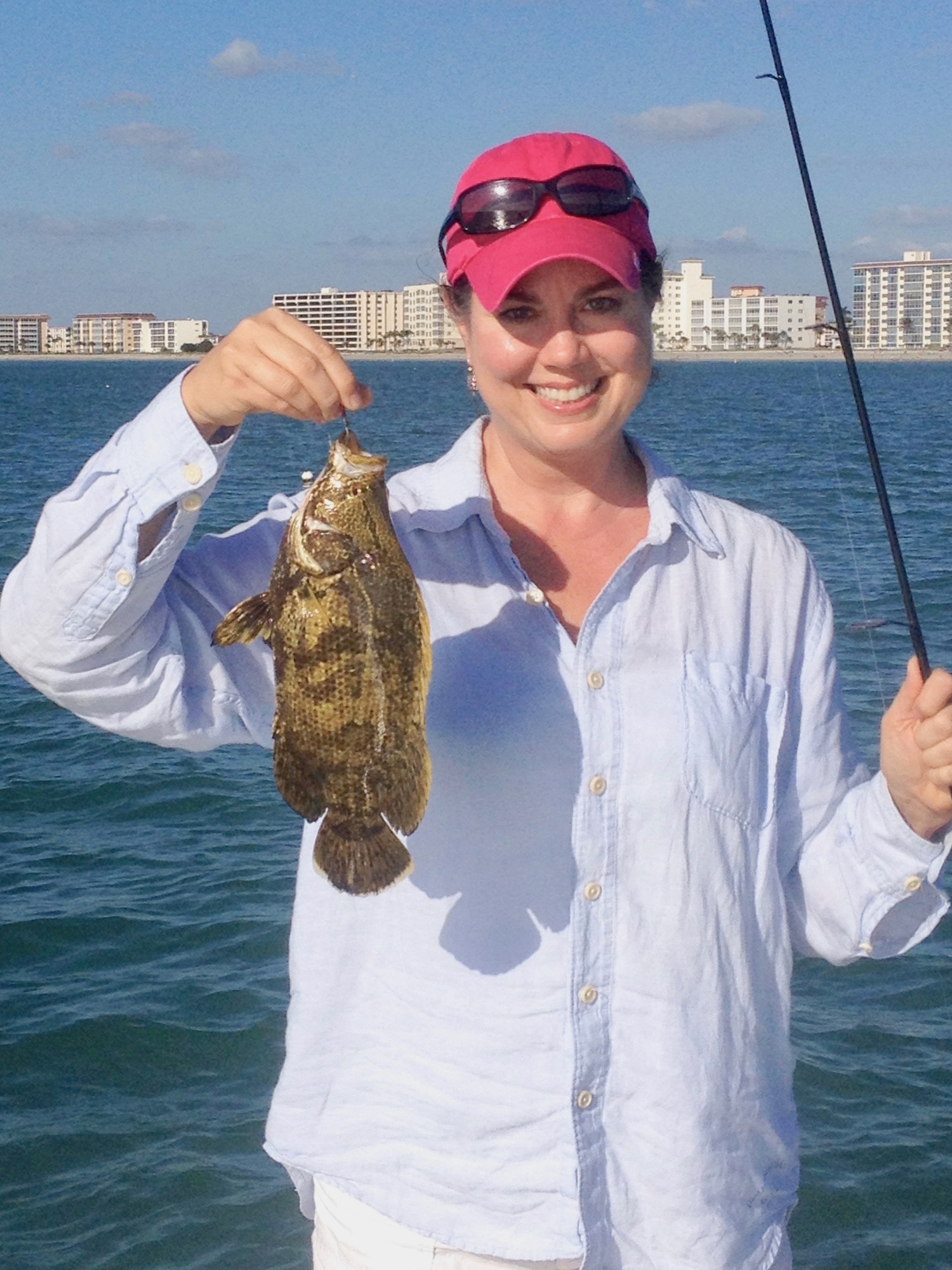 Tripletail is sweet, flaky and white, much like Tilefish or Hogfish, and it even has flavors of crab, since it regularly eats tasty crustaceans.  Our long-time friend Marcus, who works at
Walt's Fish Market
in Sarasota, calls it "
Tripleicious
" and we couldn't agree more.
I usually like to cook it simply, with butter, salt and pepper.  But this recipe combines the delicate flavors of fresh leeks, mushrooms and spinach, along with a crunchy topping of Panko, grated parmesan, and melted butter.  It's really flavorful, but doesn't detract from the fish.
Hopefully you'll have opportunity to catch one some day or, at least, find a nice fillet at your local market.  And if they don't carry Tripletail, choose Flounder, Snapper or Grouper and you can't go wrong with this preparation 🙂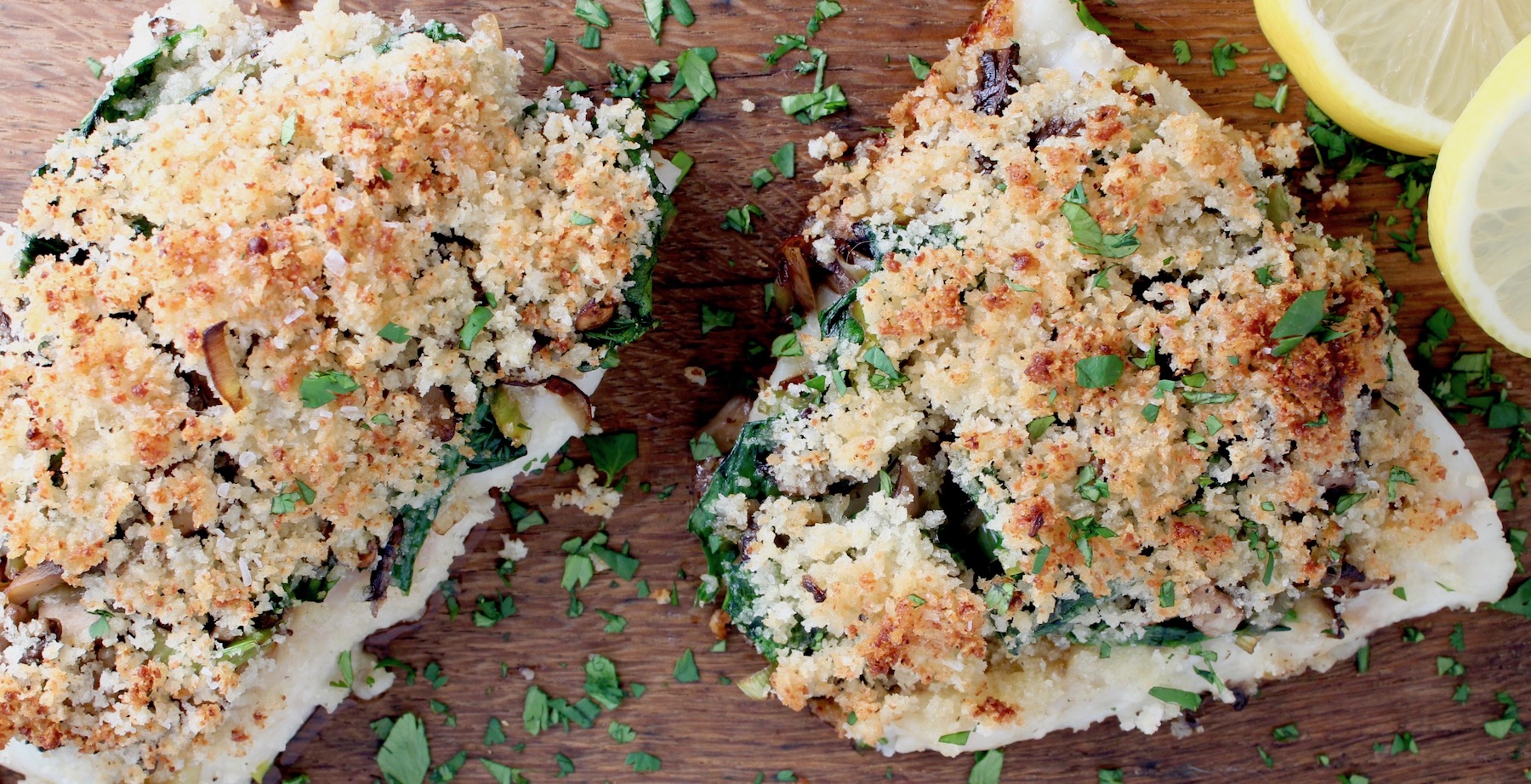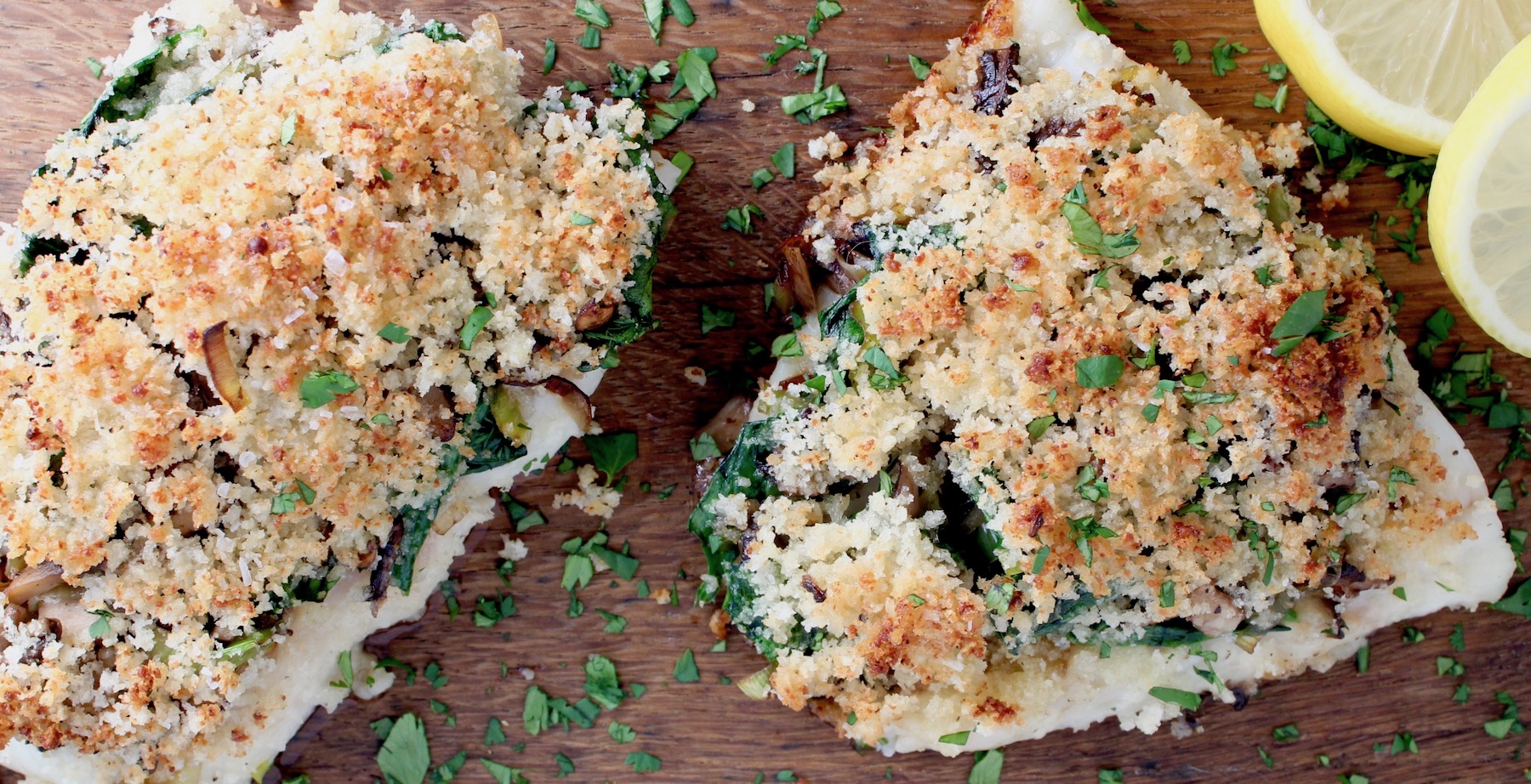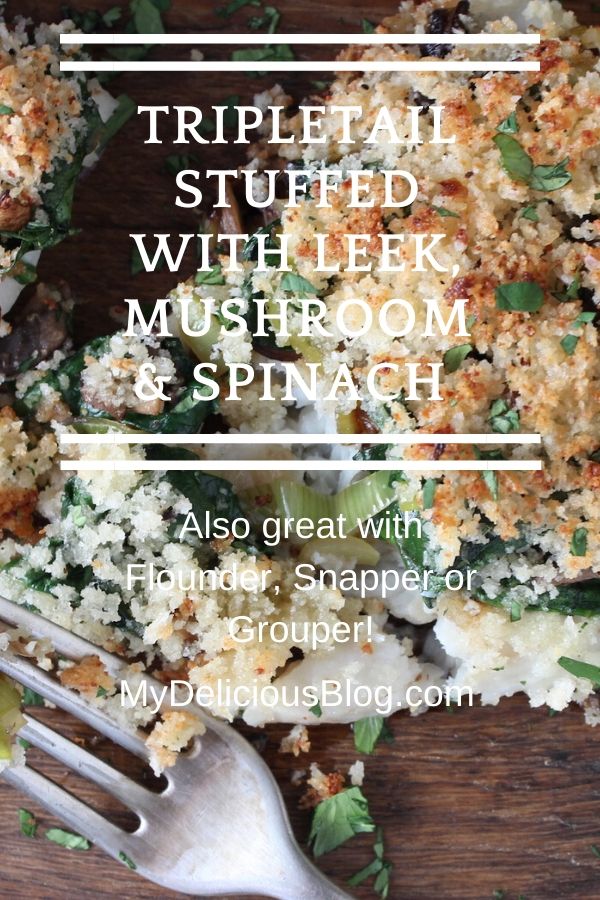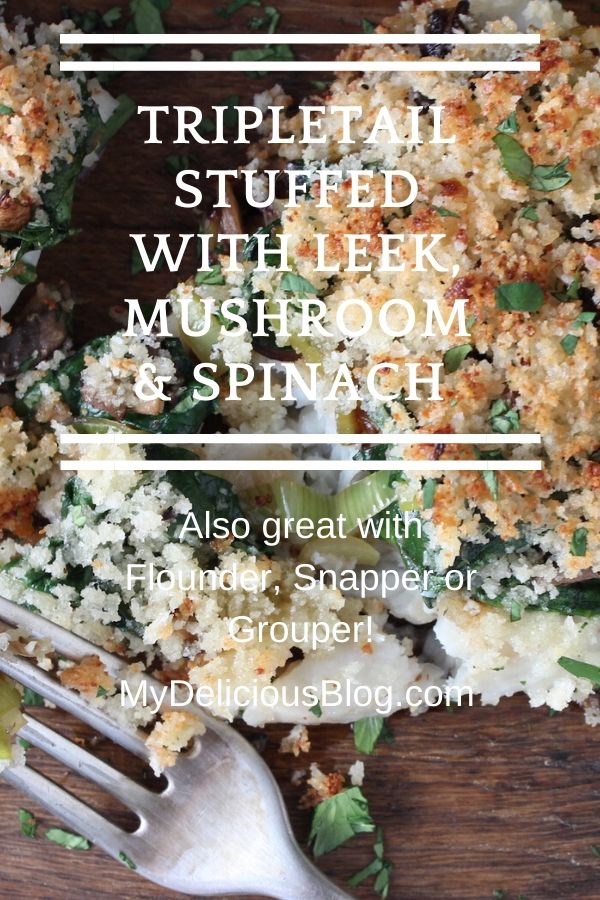 Print Recipe
Tripletail Stuffed with Leek, Mushroom & Spinach
This delicious fish pairs beautifully with the delicate flavors of leek, mushroom andn spinach, and it's all topped with a crunchy Panko and parmesan mixture.
Ingredients
Parmesan/Panko Topping
1/2

c.

Panko bread flakes

1/4

c.

Grated parmesan

1/8

tsp.

Freshly ground black pepper

1

Tb.

Melted butter, unsalted
Fish
1

lb.

Tripletail fillets, cleaned & patted dry

(alt: Flounder, Snapper, Grouper)

1

Tb.

Unsalted butter

1

Tb.

Olive oil

8+

Cremini or white mushrooms, chopped

1

Leek, cleaned & sliced (white part only)

2

c.

Baby spinach (large stems removed)

1/4

tsp.

Kosher salt

1/8

tsp.

Freshly ground black pepper

1

Tb.

Melted butter, unsalted
Instructions
Combine Topping ingredients in small bowl; mix to combine then set aside until ready to use.

Heat oven to 400 degrees, then butter the bottom of a 9X13 baking dish.

Cut fillets into 4 portions and place in baking dish; sprinkle with a little salt and pepper.

Heat a non-stick skillet to medium. Add 1 Tb. butter and 1 Tb. olive oil. When warm, add chopped mushrooms and leeks and sprinkle with 1/4 tsp. salt and 1/8 tsp. pepper. Cook until soft (about 5 minutes) and stir frequently. Add spinach and combine the leaves with the warm mixture so they wilt. When the spinach looks soft (about 1 minute), remove from heat.

Top each fillet with some of the vegetable mixture, then sprinkle each with Panko mixture. Melt the butter, then sprinkle a little over each bundle.

Bake about 15 minutes (depending on thickness of fillets). Check around the 10 minute mark to ensure the coating is browning, but not burning. The fish will be bubbly, bright white and flaky when cooked. If it's still opaque, leave it in a bit longer.