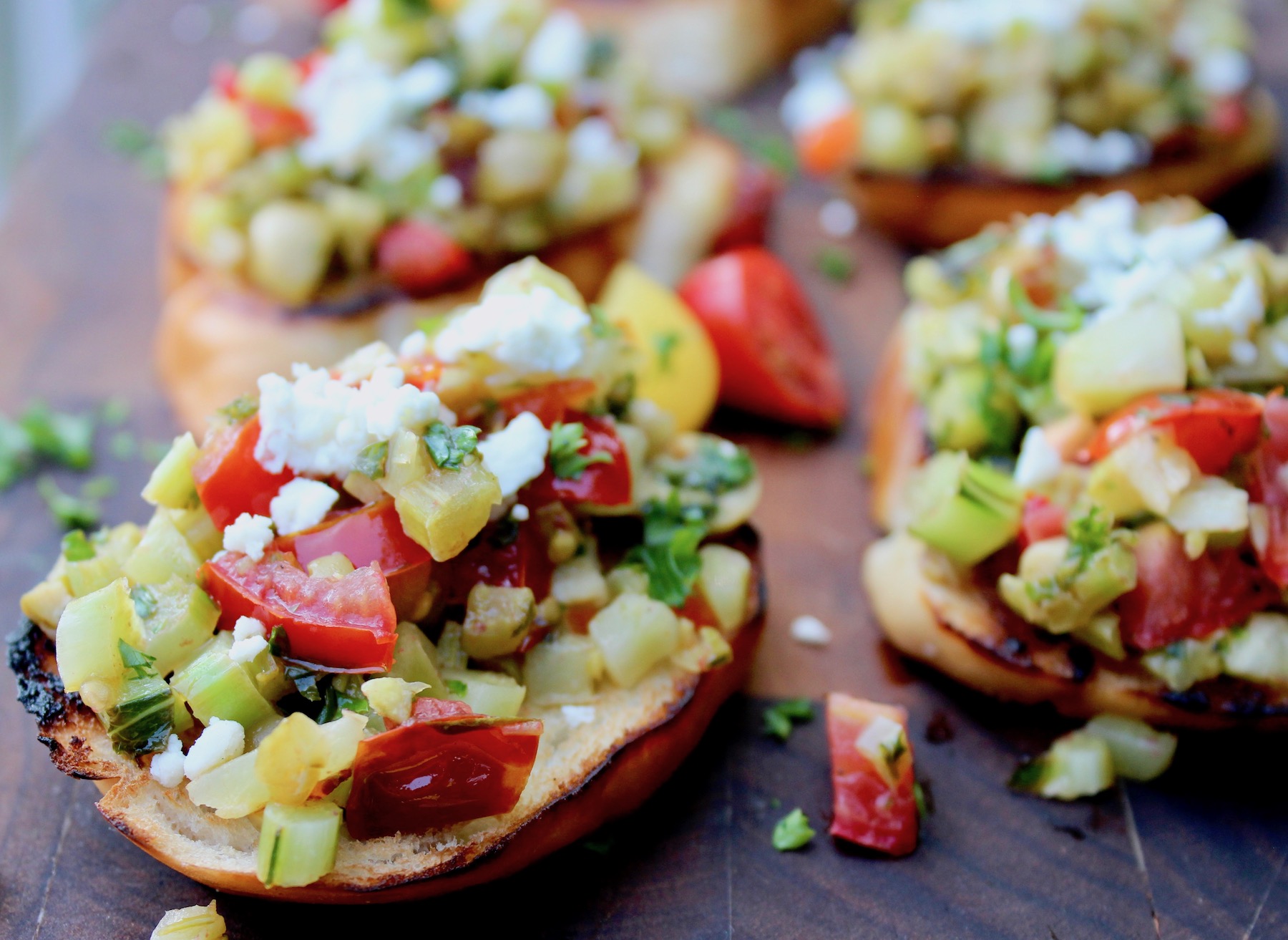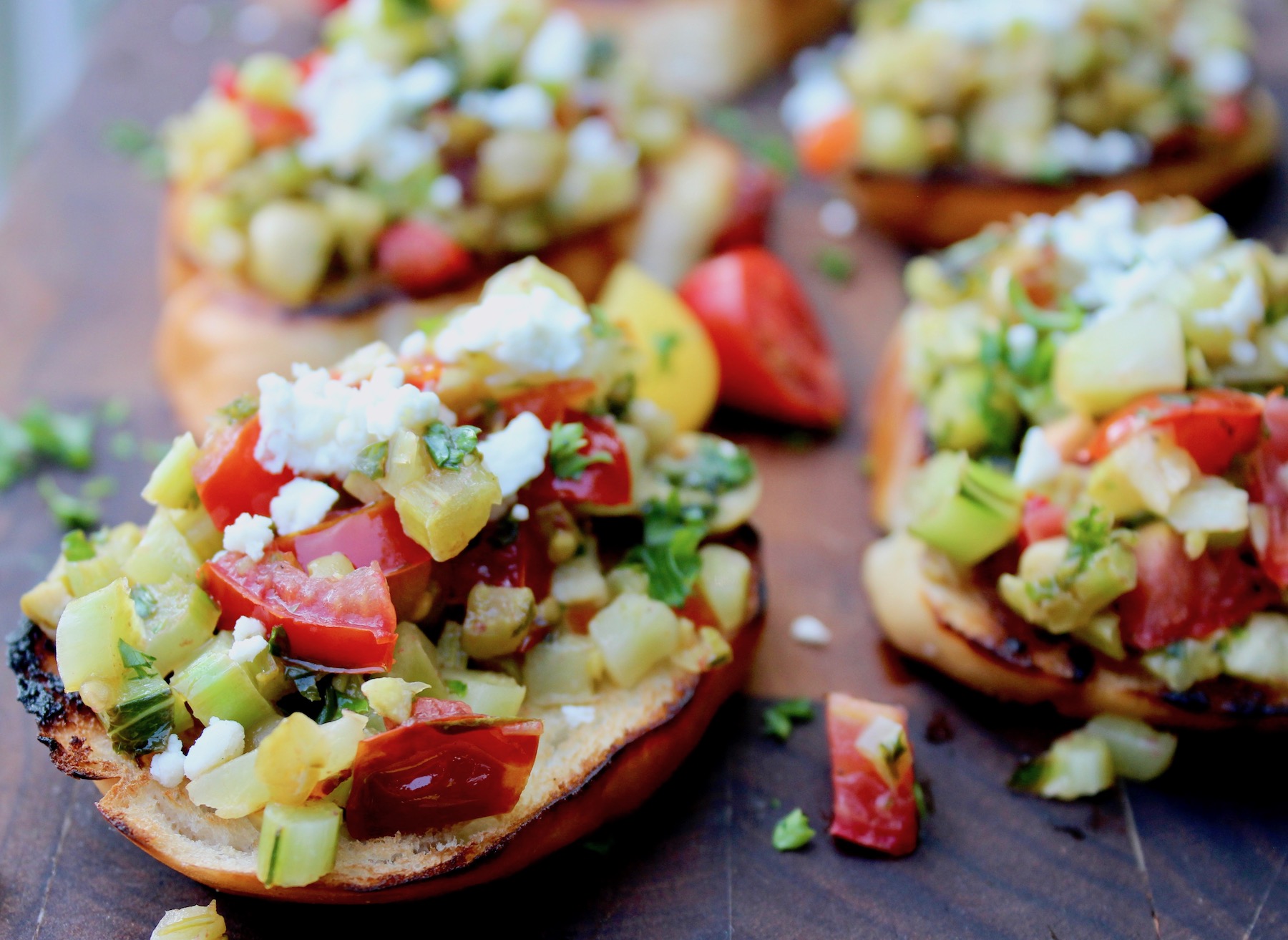 In Sarasota this week, Sunshine Community Compost is hosting a "Compost-A-Thon," a special event for folks to try composting.
It's a cool concept – pay a small fee, get a bucket, save your kitchen scraps all week, then bring the bucket to the event, weigh it and transfer to a bin to start the composting process.  It brings attention to our humble kitchen scraps and how they, along with help from yard debris, water, time and bugs, can be transformed into soil that nourishes gardens and produces healthy food.  I recently wrote a
Field Trip Friday
about it, so check it out when you get a chance.
But today's post is about creative ways to put some of those kitchen scraps to good use BEFORE they end up in the compost (or trash) bin.  With a little creativity, we can use 'non-glamorous' ingredients like vegetable scraps, bread heels, overripe fruit, onion skins and shrimp shells for new purposes, so here are a few ideas to inspire you:
Instead of tossing tough broccoli stems after chopping off the tender florets, peel them, slice them thinly and sautee in garlic and butter (or mix in other veggies, brown rice and fresh herbs for a more substantial side dish or main course).
Use bruised or freezer-burned fruit in a cobbler — you won't notice the difference once it's mixed with sugar and citrus zest.
Instead of throwing away that hard parmesan rind, toss it into soup/stew or tomato sauce to add amazing flavor.
Add beet or carrot greens to smoothies; or steam them and toss with butter, salt & pepper.
Make delicious seafood stock with shrimp shells and trimmed fresh fish pieces; or a veggie stock with squash, onion, potato and other scraps.
Chop and quick-pickle kale, collard or chard stems for a yummy topping on a sandwich.
Make crumbs with stale bread heels, then mix with herbs, butter or olive oil to top fish or veggies; then bake to crispy perfection.  Or make croutons!
Don't toss those clean strawberry tops, watermelon rinds, lemon scraps or cucumber ends – they're still full of flavor, so add them to cool water, along with fresh mint and/or basil to make a delicious flavored water that you can sip all day.  I've even heard you can use those strawberry pieces or apple peels to make yummy jams. . .
Today's recipe is a healthy bruschetta made with kale and broccoli stems, green olives, tomatoes and fresh herbs — an easy and delicious way to use some scraps.  It's also colorful and makes a nice conversation starter at cocktail parties 🙂
The recipe, along with one for carrot-top pesto, and celery leaf salad with a yummy honey-mustard dressing, was featured in the "
Waste Not
" article I wrote for the April, 2018 issue of Edible Sarasota.  I hope you try them all 🙂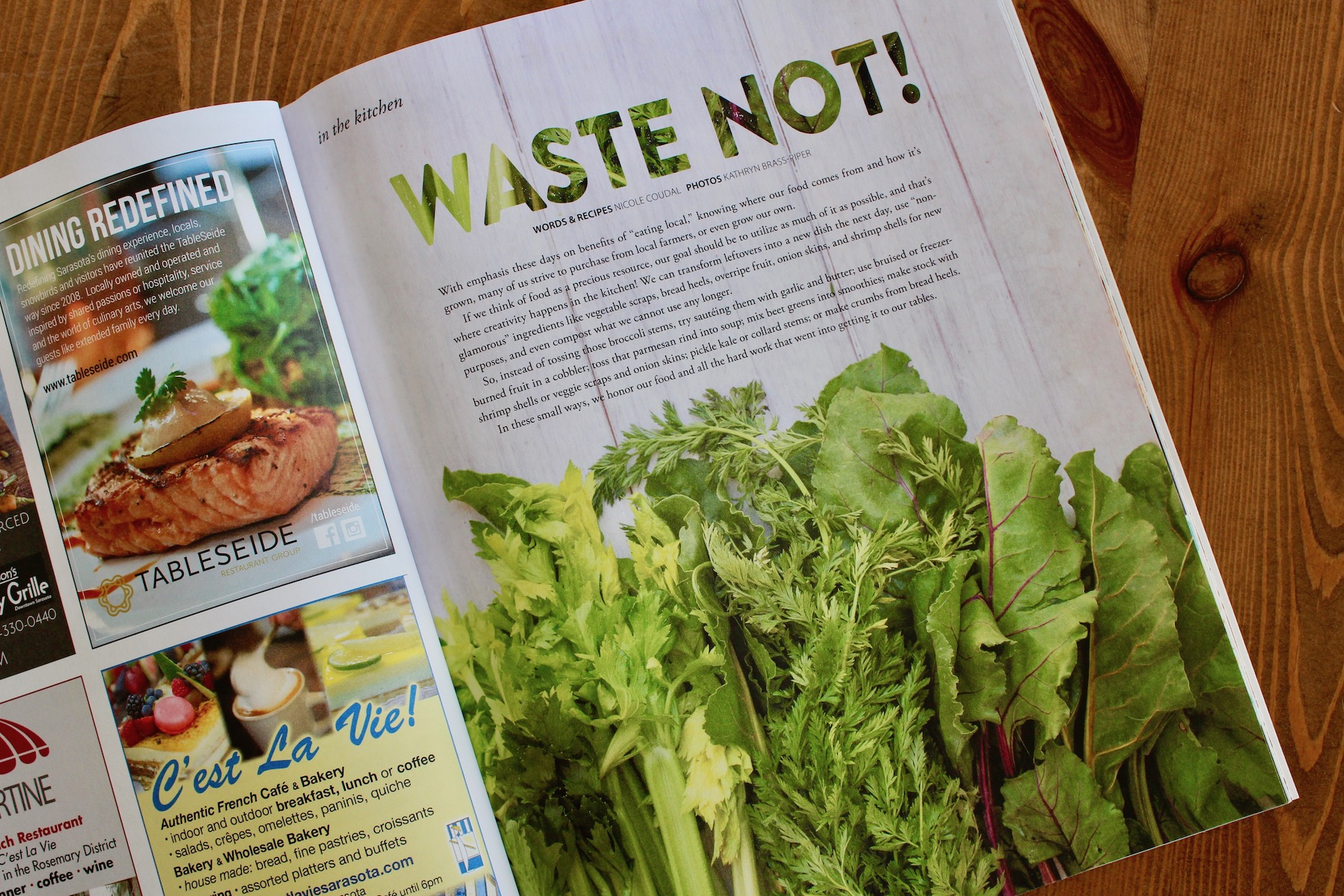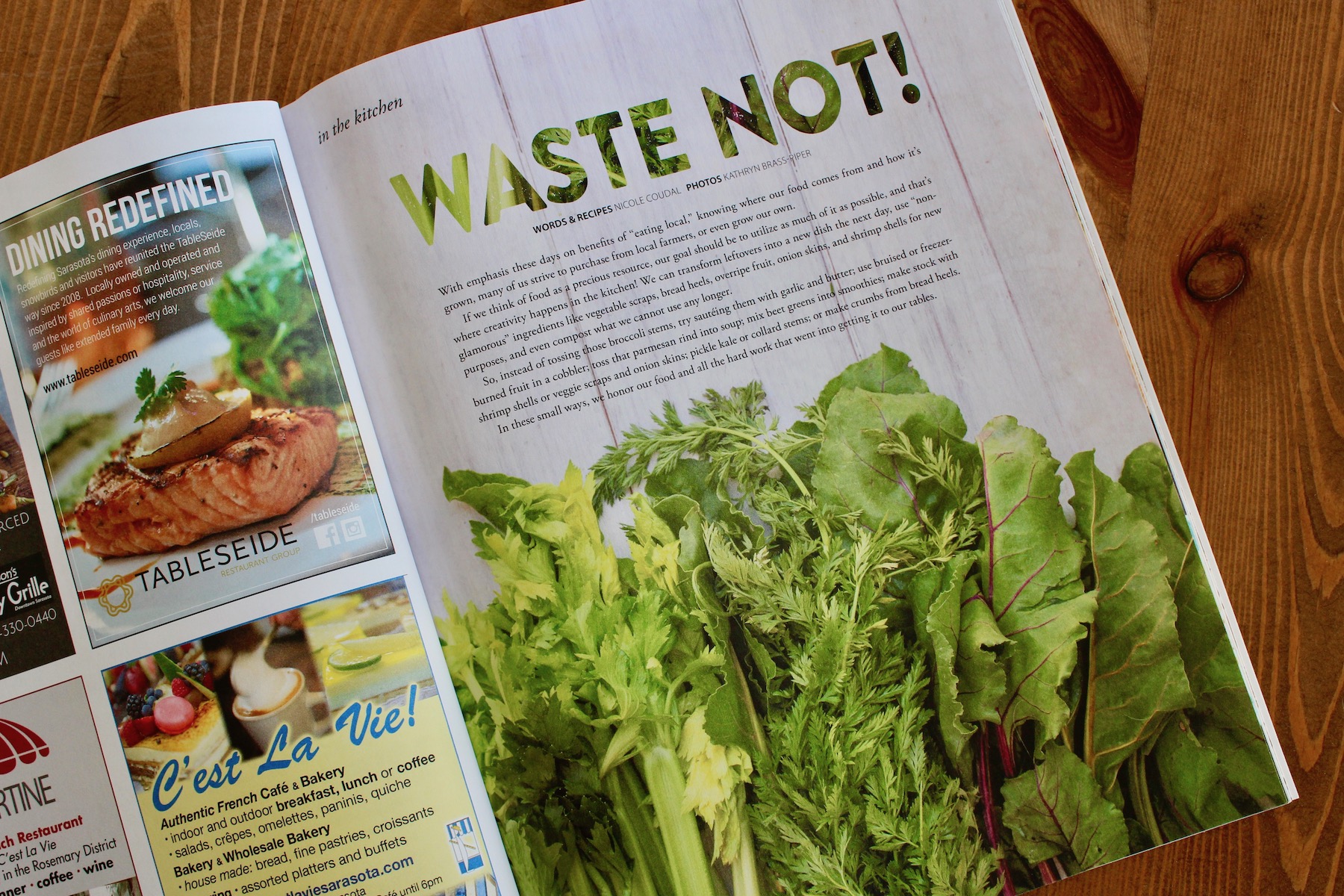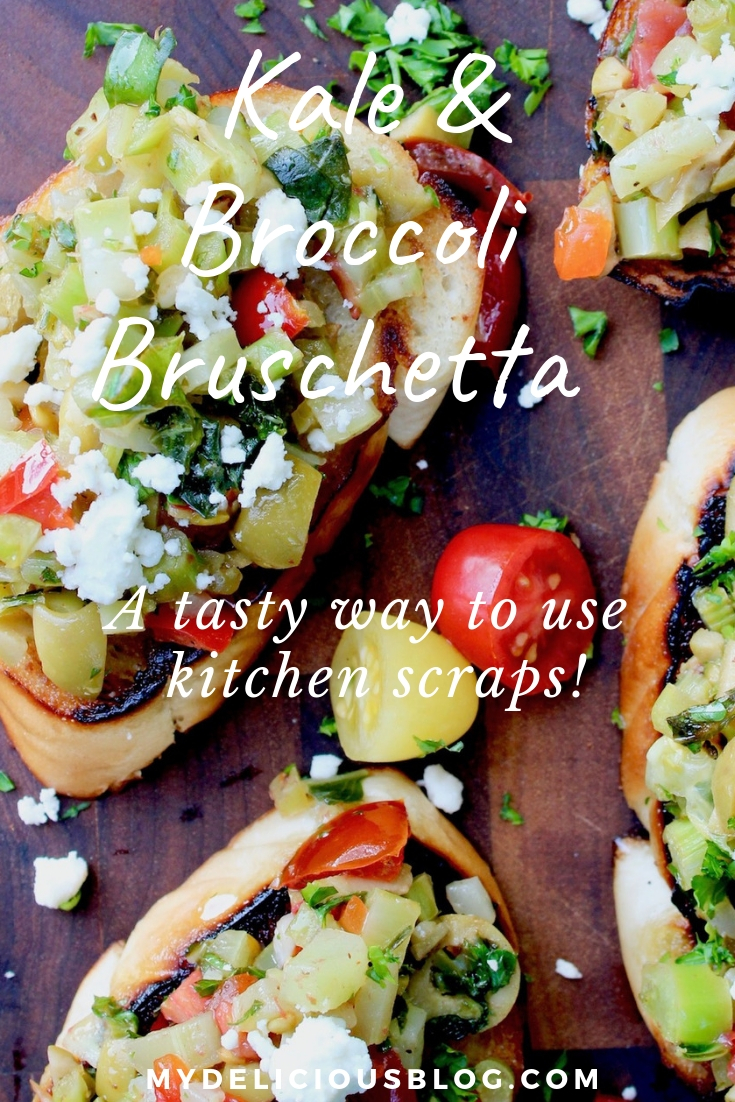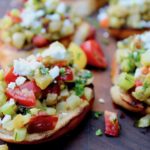 Print Recipe
Kale & Broccoli Bruschetta
Use up some of those kitchen scraps, including kale and broccoli stems, and mix with savory olives, fresh tomatoes and herbs to create this delicious and healthy bruschetta.
Ingredients
1

cup

peeled/finely chopped broccoli stalks

(use vegetable peeler for easier peeling)

1

cup

kale ribs, finely chopped

5

Tb.

extra-virgin olive oil

1/4

tsp.

kosher salt

1/2

cup

chopped herbs (parsley, rosemary, basil)

(use whatever you have)

1/4

cup

green olives, minced

4-6

yellow & red small tomatoes, diced

1

small

garlic clove, peeled & finely minced

2

tsp.

fresh lemon juice

1

pinch

black pepper

(add more to taste)

1

medium

baguette, cut into 1/2" slices

1/4

cup

Feta or goat cheese crumbles

(optional)
Instructions
In a medium saucepan, bring water to boil. While waiting, fill a medium-size bowl with water and a few ice cubes; set aside. Once water boils, carefully drop in broccoli/kale pieces and blanch (see notes) for about 30 seconds.

Using a slotted spoon, transfer broccoli/kale to ice water and soak about 1 minute. Drain and pat dry the pieces with a towel, then transfer to a non-stick skillet and mix in 2 Tb. olive oil and 1/4 tsp. kosher salt.

Cook the mixture over medium/low heat for 6-7 minutes, until soft. Turn off heat and add remaining olive oil, olives, tomatoes, garlic, herbs and lemon juice. Mix and season to taste.

Toast or grill bread slices. Top with the warm mixture, drizzle with olive oil and/or sprinkle with cheese then serve.
Notes
Blanching reduces toughness/bitterness and helps to retain the bright green color of your veggies.  If you don't have time, though, cook the finely chopped greens over very low heat with an additional tablespoon of oil and little more salt, for a longer time, to achieve softer, less bitter pieces.
Feel free to toss in whatever you have - beet greens, collard stems, broccoli leaves, spinach, different herbs, some cheese, etc.