Waffles. Just writing the word makes me happy.
I read somewhere that waffles date back to ca. 6000 BC, when grains were made into pulp and cooked on hot stones. But it was the Greeks, ca. 1100 BC, who cooked little cakes between two hot metal plates. The first 'waffle iron'?!?
After many iterations of devices and folks (notably the Dutch) modifying the ingredients, America finally got waffles when the Pilgrims landed in 1620, bringing with them those Dutch-influenced treats. And when GE introduced the electric waffle iron in 1911, we were all able to make waffles any time we wanted.  Pretty awesome, right?
Did you know that National Waffle Day is August 24? Hopefully this post will inspire you to make a batch 🙂
These aren't typical waffles like those my
grandmother
made because they have 2 important things: 1) they're made with yeast and 2) the batter soaks overnight. Letting it develop overnight, at room temperature, allows the yeast to slow-rise, resulting in a cooked waffle that's sweet ('yeasty'), tender inside and crispy outside – more complex, and SO worth the effort. Here's the batter, after soaking all night: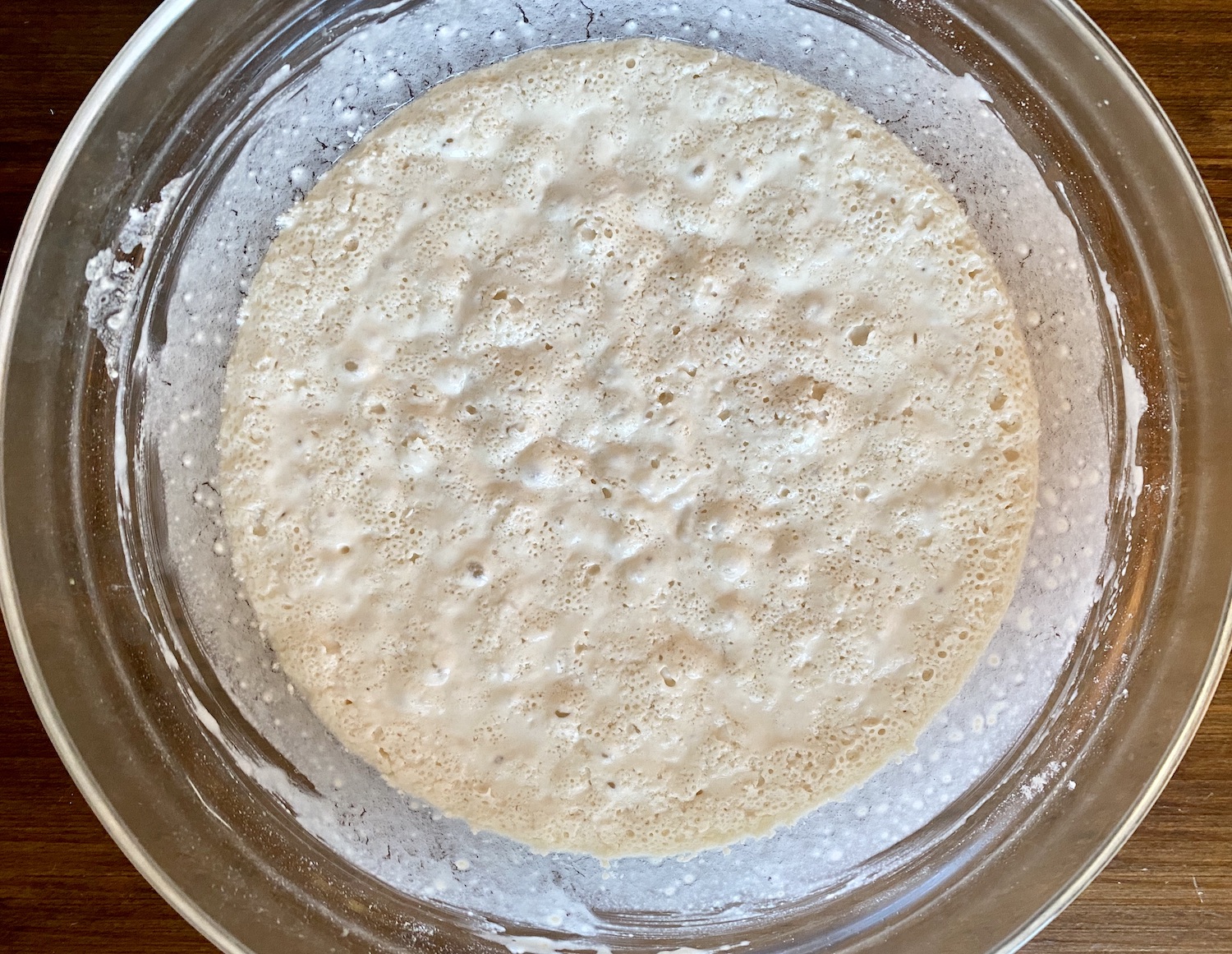 The recipe itself is from the book
Mollie Katzen's Sunlight Cafe
(you may recall her from
Moosewood Cookbook
fame). Many have written about or adapted her recipe, including Amanda Hesser in
The Essential New York Times Cookbook
(where I spotted these "
Amazing Overnight Waffles"),
who introduced them as: "
Like a warm pretzel, these waffles have the consummate balance of sweetness, yeast and salinity
."  Yup.
Since we're in peak peach season, I paired my waffles with warm fruit sautéed in butter, brown sugar, cinnamon and lemon. This is optional, of course, but the real maple syrup is not.
Try these waffles. You'll be glad you did 🙂
Print Recipe
Mollie Katzen's Overnight Waffles
Looking for a new way to make waffles? Try these overnight waffles from the book "Mollie Katzen's Sunlight Cafe" - they're yeasty, crispy and SO yummy.
Ingredients
Overnight Waffles
2

c.

All-purpose flour

1

tsp.

Active dry yeast

1

Tb.

Granulated sugar

1/2

tsp.

Kosher (or sea) salt

2

c.

Whole milk

1

large

Egg, beaten lightly

6

Tb.

Unsalted butter, melted
Sauteed Peaches (optional)
2

large

Peaches, halved, pitted & sliced

1/8

tsp.

Kosher (or sea) salt

1

Tb.

Fresh lemon juice

1/8

tsp.

Ground cinnamon

2

Tb.

Unsalted butter

2

Tb.

Light brown sugar, packed
Instructions
Add flour, yeast, sugar and salt to a large mixing bowl.

Whisk in the milk until well combined, then cover the bowl tightly with plastic wrap. Let stand overnight, at room temperature.

The next morning, plug in your waffle iron and bring it up to high heat (or until your 'ready' light appears, depending on your manufacturer).

Lightly beat the egg and melt the butter, then add both to the batter and whisk to combine (it will be a thin batter).

Spray the hot waffle iron with nonstick spray and pour about 1 cup of batter into the hot iron. (Tip: spread the batter into the corners with an offset spatula, in order to get a fully square waffle.)

Cook until nicely browned (approx. 2-3 minutes). Serve with maple syrup (and sauteed peaches, if desired).
Sauteed Peaches (optional)
Add peaches, salt, lemon juice and cinnamon to a mixing bowl and stir gently with a rubber spatula to combine. Let sit ~5 minutes so peaches exude some juice.

In a medium saucepan or large skillet, melt butter over medium heat; add brown sugar and let it melt into the sugar. Add peach mixture, then cook ~5 minutes over medium heat, until nice and bubbly and thickened a bit. Serve warm or at room temperature.
Notes
I used a Toastmaster waffle maker with square, 8.5'X8.5" plates, making 4 thin waffles per batch (total yield 16 thin waffles, using ~1 cup of batter each). If you have a Belgium-style waffle maker (i.e., with deep wells), you will definitely have different yield results.
In Amanda Hesser's version, she suggests adding a dab of butter to the hot waffle iron before spreading the batter (for more flavor). But I found that by doing so, my waffle iron just scorched the butter and the cooked waffle was overly dark, so I just used non-stick spray and later spread a little salted butter on my cooked waffles, which was especially delicious.