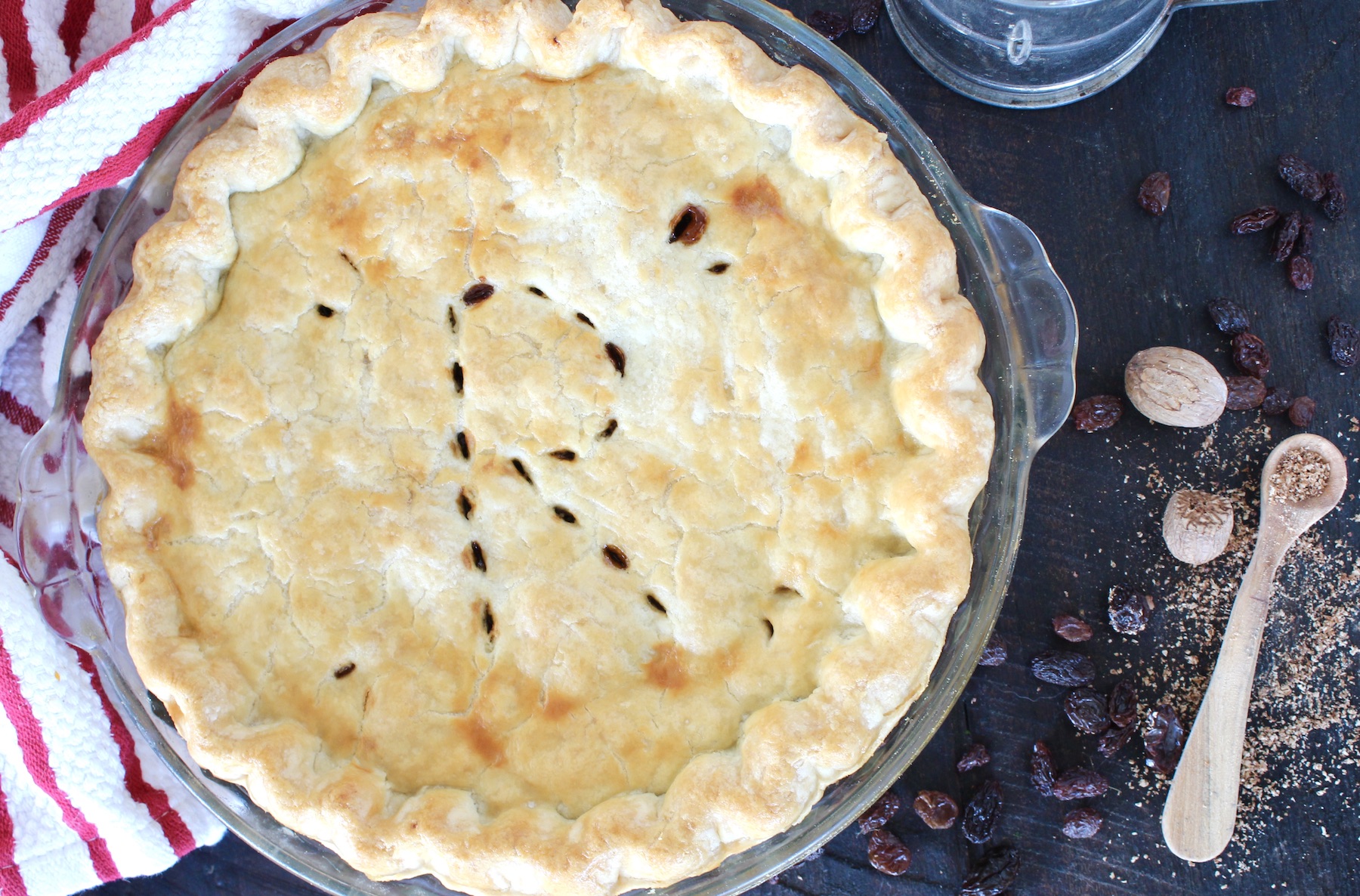 It's holiday time and that means baking lots of family favorites!  For me, I look forward to meat pie (a French Canadian fave), homemade caramel with pecans, gingerbread cookies and raisin pie, to name a few.
Raisin pie was always at Christmas gatherings when I grew up.  It was easy to spot on the buffet because it had a big 'R' chiseled into the crust so you couldn't mistake it for apple or mincemeat.  There are lots of recipes for it – some have cinnamon or vinegar/lemon juice, others add butter or rum or brandy (those sound delicious), orange peel or nuts, and if the recipe came from the Pennsylvania Dutch area, there was usually some dairy in it, making it more custardy.   Interesting fact – raisin pie has also been called "funeral pie" because folks usually had dried fruits in their pantry and if they needed to bring something to a funeral at the last minute, they'd usually have the ingredients to make a delicious pie that didn't require refrigeration.  The name doesn't sound very appetizing, though, so we're sticking with "raisin pie" 🙂
My family recipe for this filling has only 3 ingredients – raisins, water and nutmeg (the emphasis is on those raisins, as my mother reminded me when I told her I was writing this post!).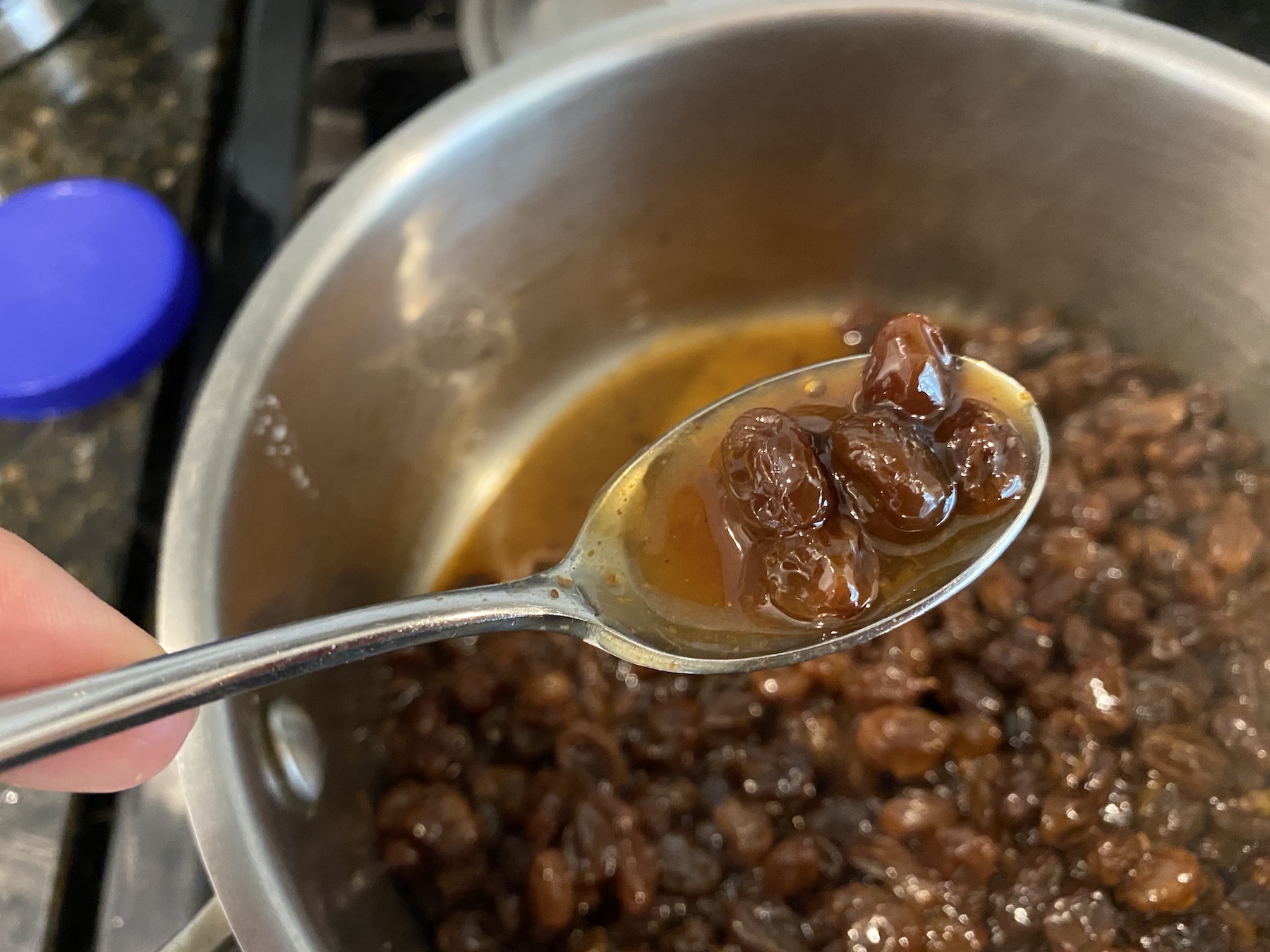 Because raisins are inherently sweet, there's no added sugar (but you could add a couple of tablespoons if you like things extra sweet), and the nutmeg provides a subtle undertone to those iron-rich dried fruits.  It's a two-crust pie, and you can use any crust you love.  For this one, I used Julia Child's recipe for Pate Brisee – a butter and vegetable shortening-based crust that's delicious.  You could even buy pre-made crust at the grocery store, because life is short and there are no rules!
The first bite of this pie reminds me of home and the many happy family gatherings we've shared.  I don't have a pic of myself enjoying this pie, but here I am at age 7, sipping a cream soda cocktail at my grandmother's house on Christmas Day.  It wasn't long after this was taken that we had dinner, and I couldn't wait for all the delicious pies I knew were coming!  This year, even if you can't spend time with some loved ones, be sure to make a favorite holiday dish that reminds you of them – it honors not only family traditions, but also, those special folks.
Print Recipe
Raisin Pie
Raisins and nutmeg pair beautifully in this delicious pie that's great around the holidays.
Ingredients
16

oz.

Raisins

1/8

tsp.

Ground nutmeg (fresh if you have it)

1-2

tsp.

Cornstarch

2-crust pie dough

(homemade or store-bought)

1

Egg, for egg wash (optional)
Instructions
Prepare your favorite pie dough (or get a 2-crust store-bought dough). If homemade, be sure to refrigerate it at least 1 hour before baking.

Add raisins to a sauce pan and cover them with water (just enough to ensure all raisins are submerged). Bring to a boil then reduce heat to medium/low and simmer for a few minutes. Add nutmeg and simmer a few more minutes to reduce the liquid so you have mostly raisins, not too much liquid.

Add 1 tsp. cornstarch and 1 tsp. water to a small bowl; stir to make a thin liquid.

Reduce the raisin mixture to low heat, then add the cornstarch mixture and stir to see how it thickens (every batch is different!). If, after a minute or so, the mixture is still very thin, add more cornstarch and water. The liquid should ultimately coat the back of the spoon. When thick enough, remove from heat and allow to cool.

Heat oven to 350 degrees.

Remove dough from refrigrator. Roll out the bottom crust and place into a 9" pie/baking dish. Add raisin filing, then cover with the second crust. Add some vent/steam holes in the crust (along with brushing an optional egg wash), then place in the oven to bake for about 1 hour. It will be ready when the filling starts to bubble out of the vent holes, and the crust is nicely browned. Remove and allow to cool before serving.