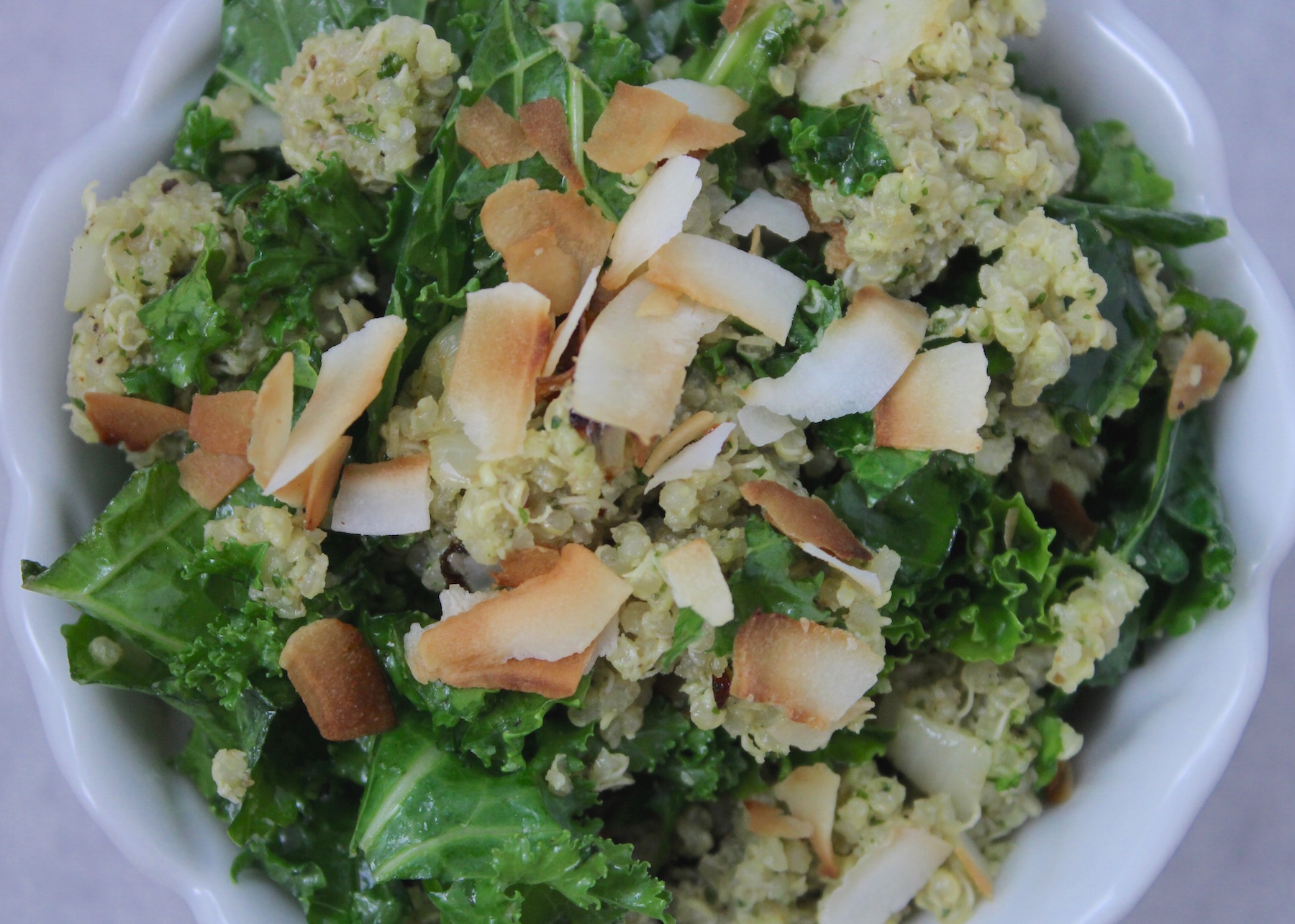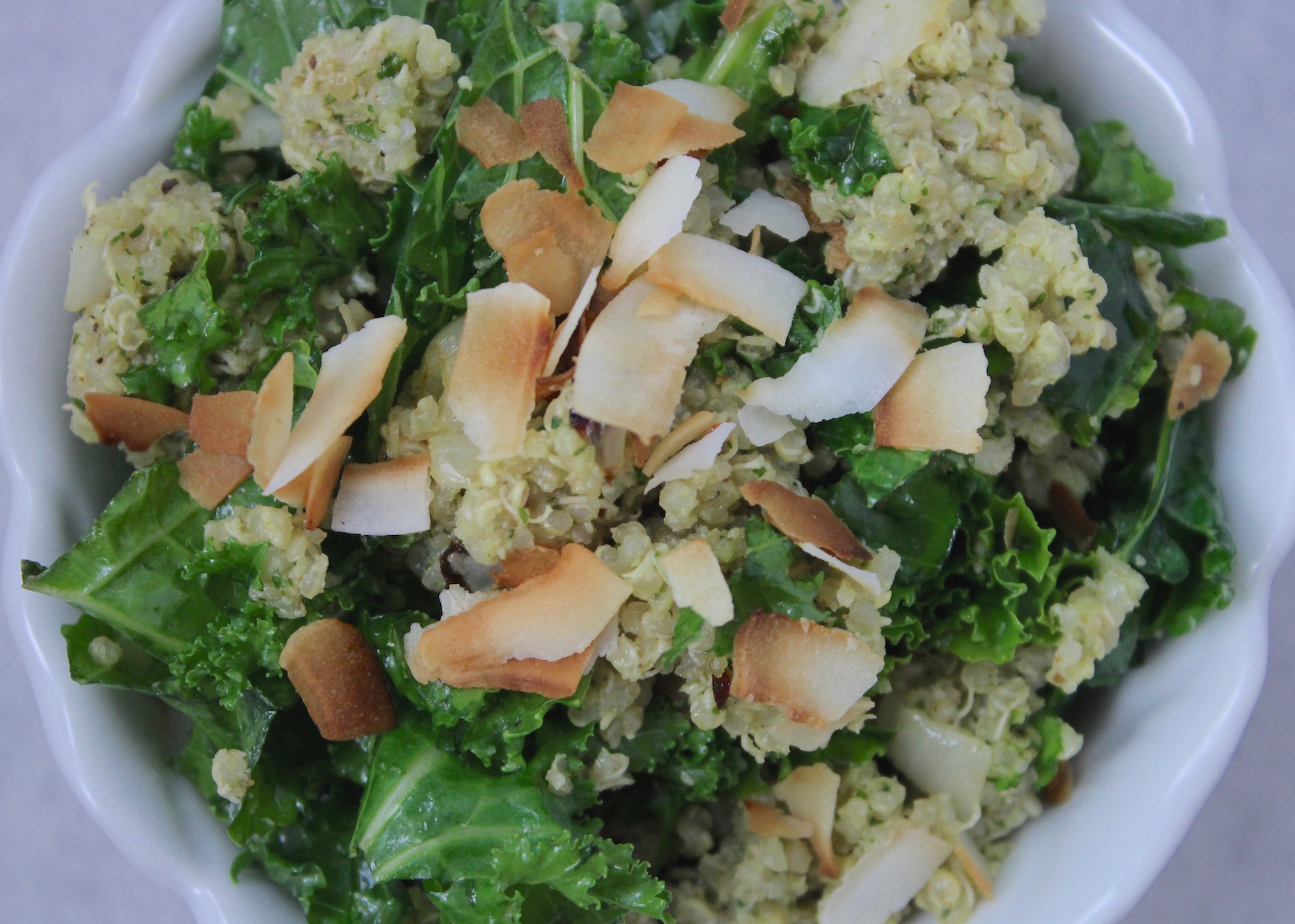 Today I had a lot of projects to get done and I simply lost track of time, so when I realized it was 6:00 pm and I hadn't even started dinner, my "starving" husband got nervous.  Gosh, even the cats looked hungry.  I did remind my dear hubby that he was pretty adept in the kitchen, but that's another post. . .
Ever have one of those days when inspiration just doesn't hit until the last minute, when everyone, including yourself, is about to faint from hunger?   I stood in front of my refrigerator and pantry to take stock of what was available.  I had a handful of cilantro, parmesan cheese, some unsweetened coconut flakes I was planning to use for a granola recipe, a bunch of kale that needed to be eaten, and just one cup of dry quinoa in the pantry.  My first thought?  Pesto!  I thought it might be tasty to combine cilantro pesto with quinoa, then add kale and top with toasted coconut.  I didn't know for sure if it would work, but gave it a try.  The result?  A winner, per "starving" husband.
The chewy kale works nicely with the flavorful pesto and the delicate quinoa, and the toasted coconut gives a welcome crunch and sweetness.  All in all, it's a hearty dish that can be used as a main meal, or a nice side salad.  Enjoy!

Kale & Quinoa with Cilantro Pesto
Kale and quinoa make perfect partners in this healthy salad.
Author:
My Delicious Blog
Ingredients
2 c. raw kale, chopped into small pieces
1 c. quinoa, dry
Handful of scallions, sliced
½ c. unsweetened coconut flakes, toasted
Pesto:
1 c. cilantro
1 clove garlic
¼ c. walnuts, toasted
¼ c. parmesan cheese, grated
¼ tsp. jalapeno, minced (or dried red pepper flakes - whatever you have on hand for spicy)
1 tsp. lemon zest
¼ tsp. kosher salt
⅛ tsp. freshly ground black pepper
¼ c. olive oil (add more if it looks a bit dry)
Instructions
In a food processor, make the pesto by tossing in cilantro, garlic, walnuts, cheese, jalapeño, lemon zest, salt & pepper. Whiz a few times in the blender, then pour the olive oil in slowly until all is combined and "pesto-like".
Prepare the kale by removing the stems, chopping in to small pieces and placing in a large bowl. Sprinkle kale with a little bit of kosher salt and olive oil and "massage" with your fingers (literally, massage each leaf so they all combine with the oil and salt), which makes the leaves more tender; set aside.
Prepare the quinoa by mixing 1 cup of dry quinoa with 2 cups water in a small saucepan. Once it boils, cover, turn off the heat and allow to sit for about 10 minutes. Fluff with a fork.
Toast the coconut flakes, slice the scallions and set aside.
When the quinoa has cooled, mix in the pesto , then combine with the kale and scallions. Top with the toasted coconut. Season with salt & pepper as needed.
Notes
We enjoyed this tasty salad while it was still a little warm. My husband wanted a bit more protein, so he sautéed a chicken breast to go along with it and it was quite delicious. The next day, the cold salad was still delicious - I just added a bit more salt.