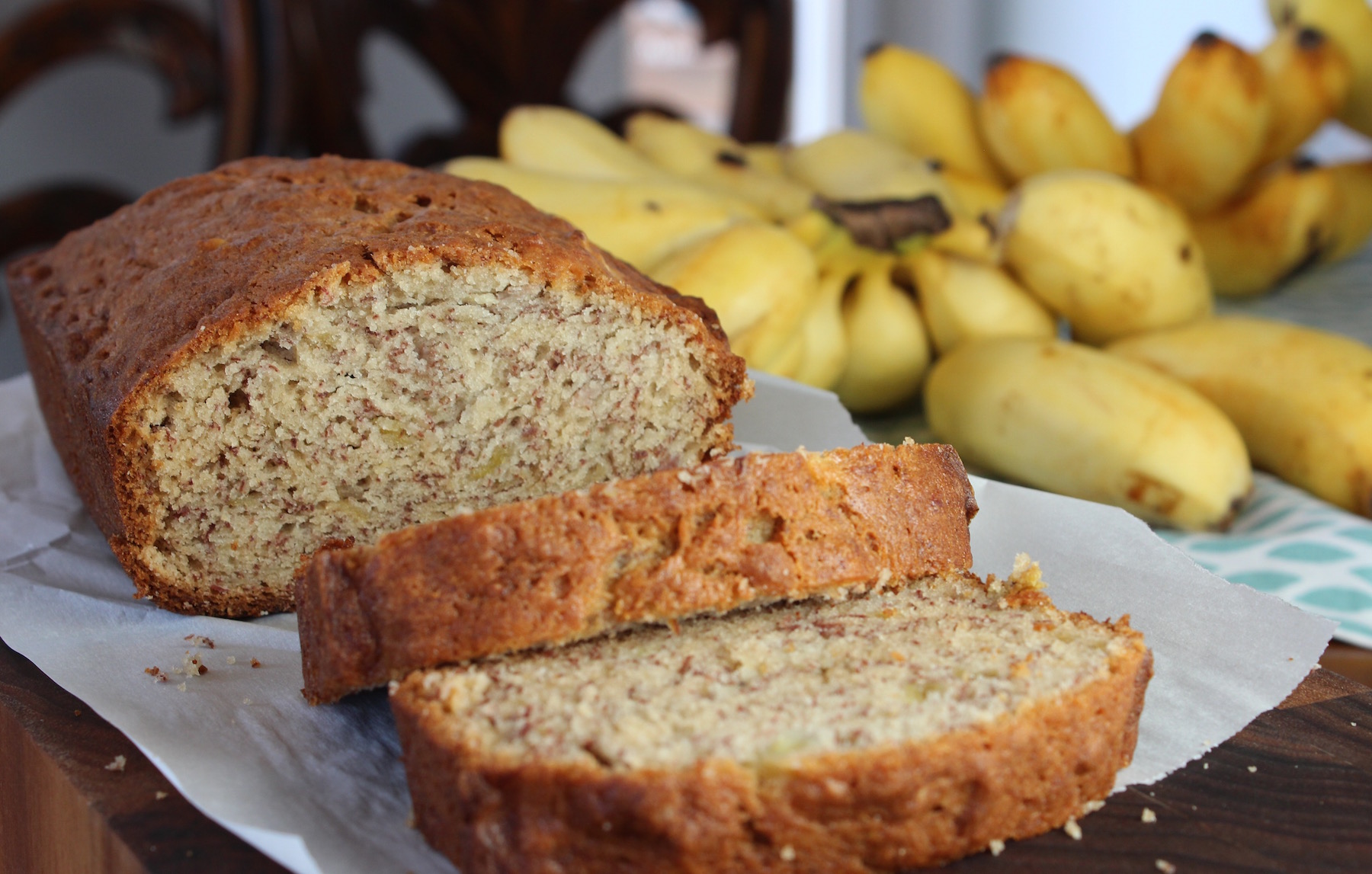 My banana trees recently produced a huge bunch that have finally ripened after many weeks of watching them closely to keep the squirrels away. This variety is sometimes called 'apple' banana (I think the origin is Cuban) — they're not only sweet, but they also reveal hints of delicate apple.  Their skin is thinner than that of a regular banana, and the longer you leave them on your counter, the richer their flavor becomes. You can buy these little gems at the supermarket or farmer's market, but I'm lucky to have a healthy bunch of trees in my own backyard that regularly produce them!
Here's a pic of the hanging bunch while ripening, along with a cute little guy we found hiding inside: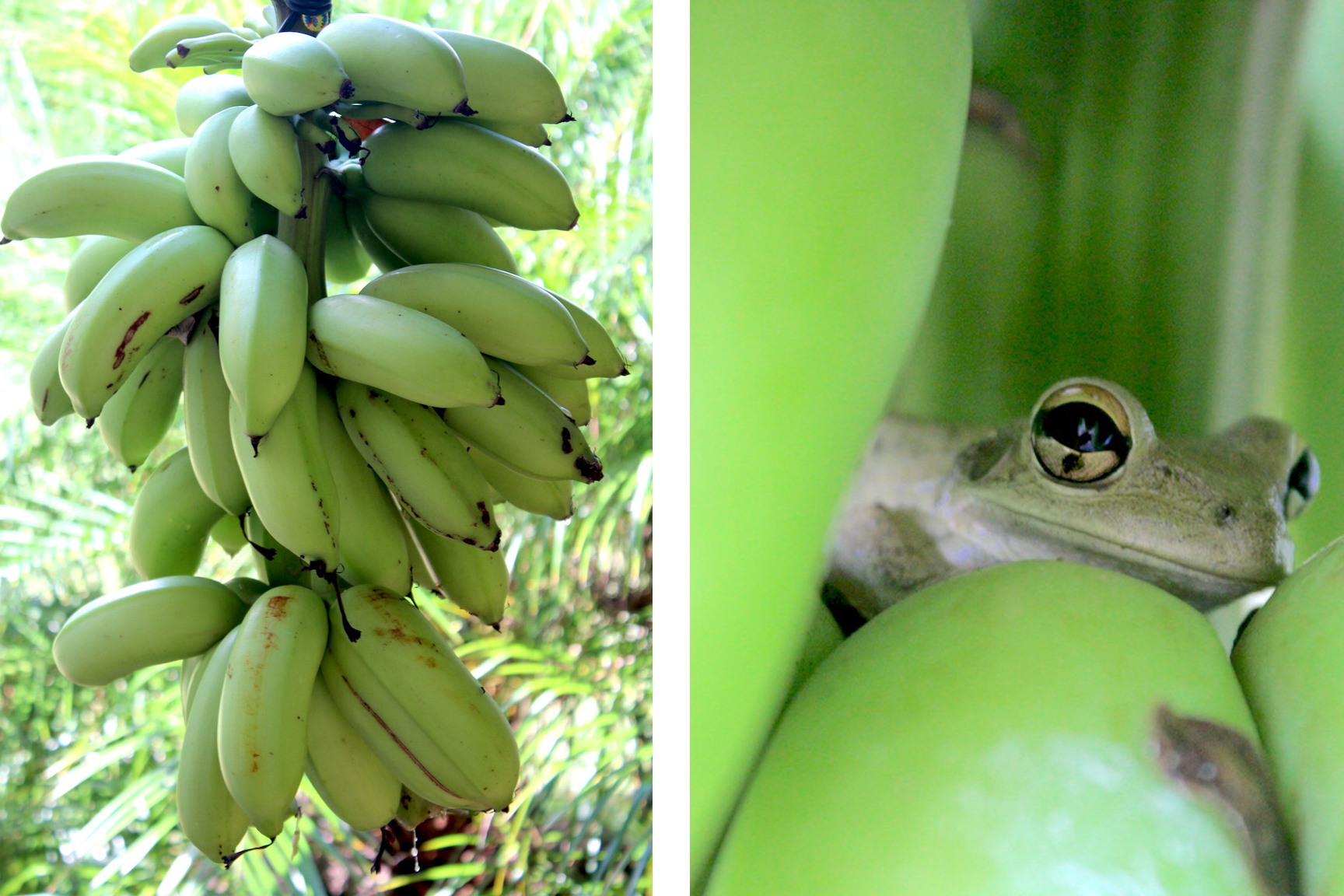 Over the years, we've tried many methods of picking and ripening these little bananas. If you pick them too soon, they don't seem to ripen and just remain hard and green. Wait too long, and the squirrels start munching on them and you're left with stubs. What works best for us is to wait until some of the bananas just start to turn yellow while on the tree, then we quickly cut the bunch from the tree, remove the seed 'tail' and hang them from a bungee cord in a sunny spot, safely away from squirrels (but we've still had incidents of squirrels leaping from a stationary spot to try to reach the hanging bunch — so fun to watch!). From there, it only takes a few days for them to get fully ripe: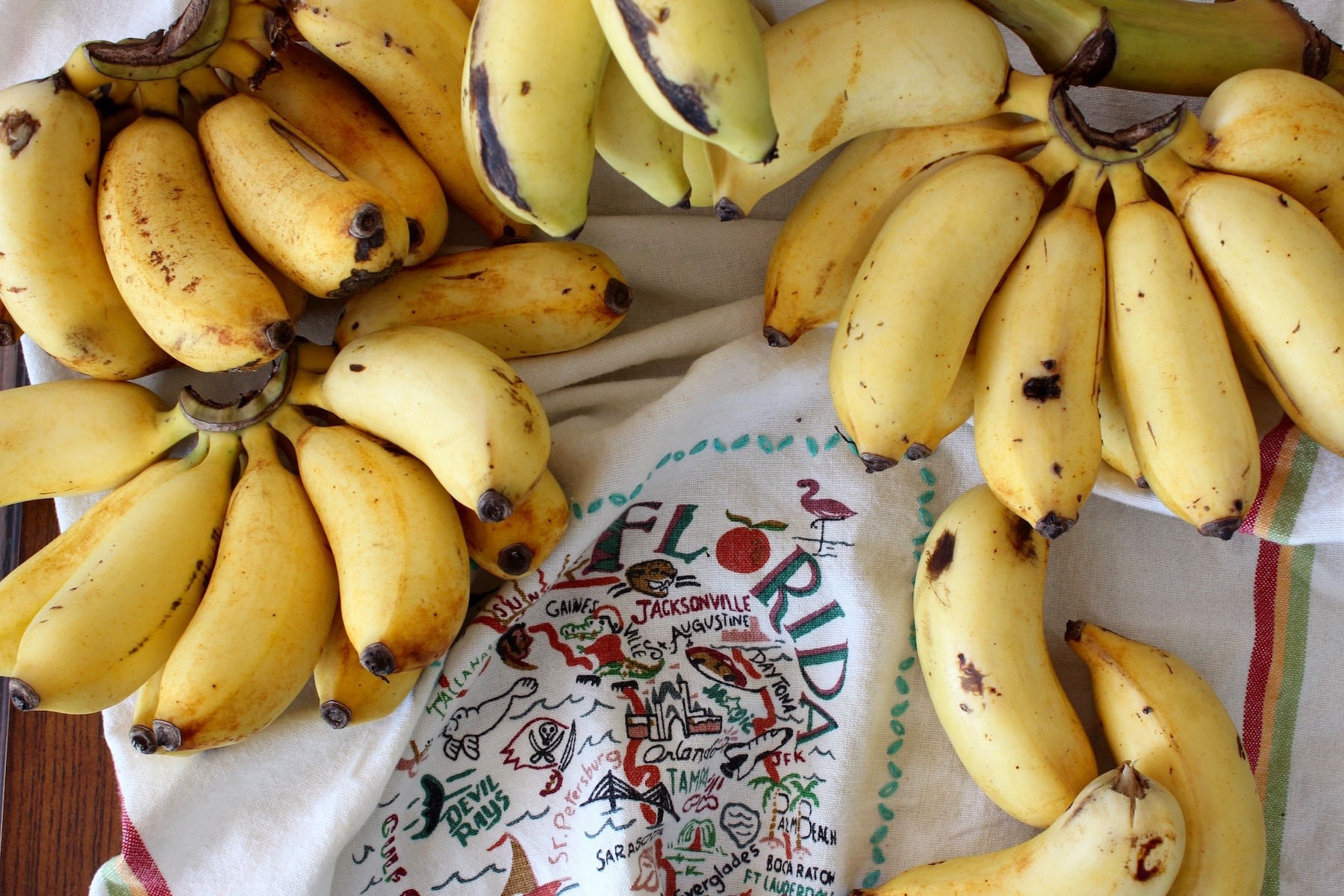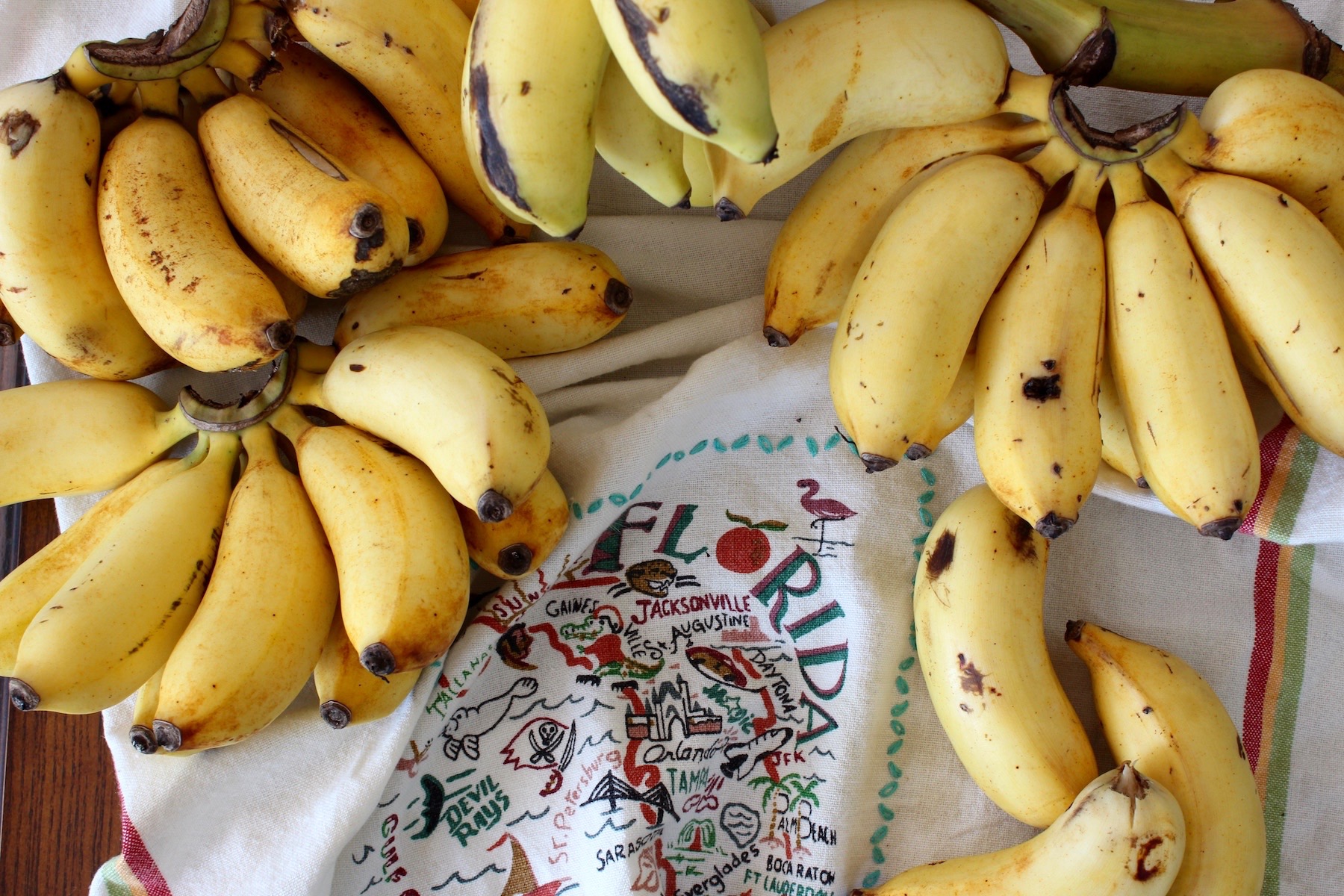 Today I decided to make banana bread – one for my hubby and one for a dear friend — so I dug out my grandmother's recipe card. I can tell she used this recipe A LOT because the card is dog-eared and full of spots.  As a matter of fact, I think one of those spots is an actual banana remnant.  It's a basic recipe and it always produces good results.
I hope you make banana bread soon because it's such a treat.   And if you want to try a different recipe for another yummy banana bread, check out my post for Banana Nut Muffins — the bread recipe is from Flour's Bakery in Boston.  Soooo delicious 🙂

My Grandmother's Banana Bread
Classic banana bread, made with my very own bananas in my yard!
Author:
My Delicious Blog
Ingredients
½ c. vegetable shortening (room temperature)
1 c. granulated sugar
2 eggs (room temperature)
1½ c. all-purpose flour
½ tsp. baking soda
⅓ c. toasted nuts
3 small (or 2 large) bananas, mashed
Instructions
Heat oven to 325 degrees (if using a metal pan, increase temperature to 350).
Grease an 8.5" X 4.5" loaf pan (or 8"X8" baking dish) with cooking spray. See Note below.
In a large mixing bowl (or stand up mixer), add shortening and sugar. Mix on low speed until the two combine and become fluffy (a few minutes).
Add one egg at a time to the mixture; allow each to incorporate before adding the next. Mix until light yellow and smooth (a few minutes).
Add mashed bananas to the mixture and blend another minute or two until combined.
Sift dry ingredients then slowly add to the wet mixture, one large spoonful at a time. When just combined, turn off (or remove bowl from) blender. Add in nuts (if using), and stir with a rubber spatula until well-combined.
Pour batter into loaf pan and place in oven for approx. 1 hour (check at 50 minutes to see how it's doing, as every oven cooks differently).
Notes
If your loaf pan is larger than mine (8.5" X 4.5"), place all the batter in it. If using the same size as mine, I find it helpful to remove about 1 cup of batter before pouring into the baking dish. I pour that batter into a very small (greased) baking dish or 2 (greased) muffin cups. This reduces the likelihood that the loaf will be in the oven too long, which may burn the bottom. If you use an 8X8 baking dish, this won't be a problem, but a loaf requires longer baking time because the center batter needs to cook longer. And, if you reserve some batter, you'll then have 2 banana muffins 🙂