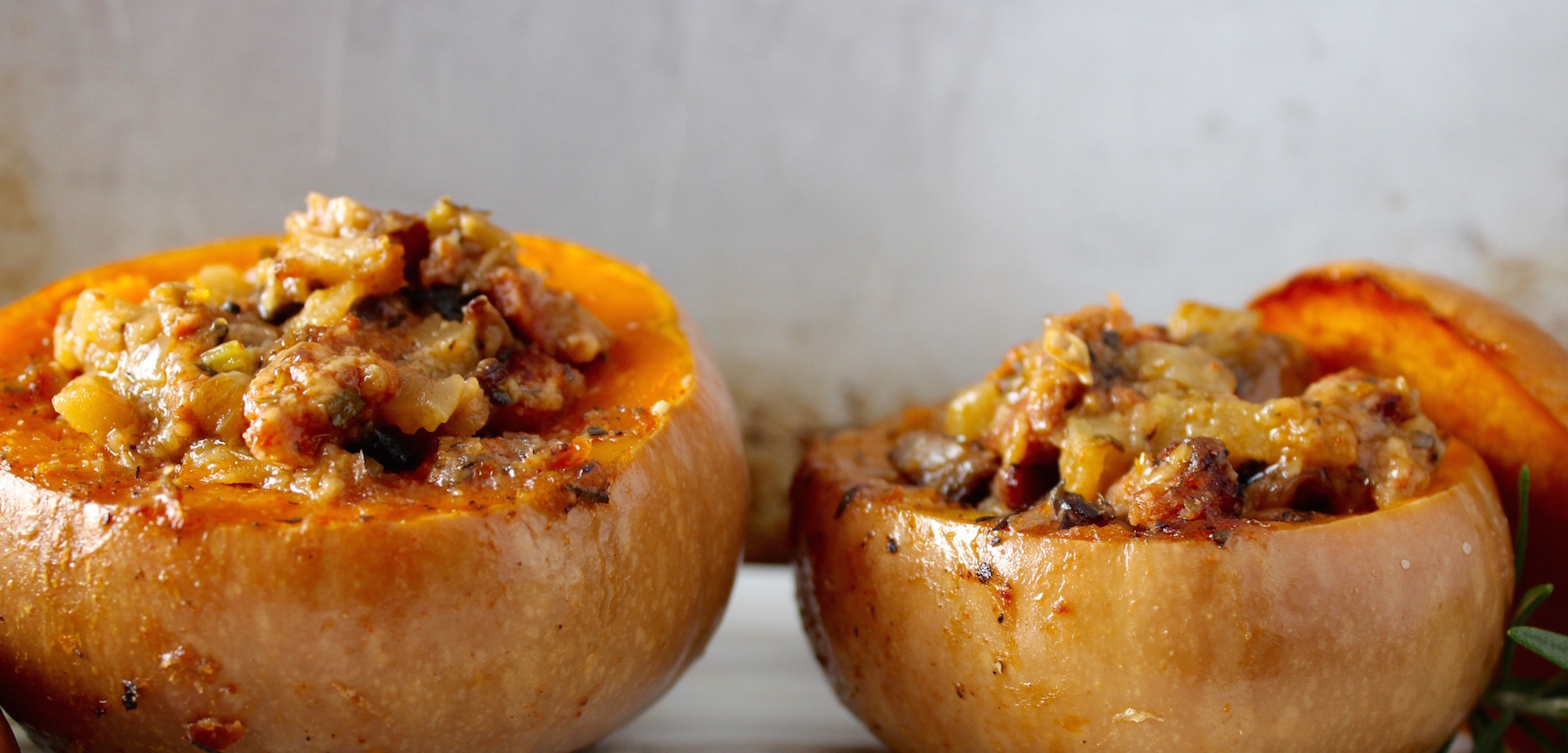 It's the time of year when we can find plenty of winter squash varieties at supermarkets and farmer's markets. And it's just one of the reasons I love Fall!
I grew up eating lots of winter squash in New England (especially Butternut and Blue Hubbard) because our neighbor grew them, and we had a standing order for a bushel every year (which we stored in our root cellar all winter). Mr. Linn was a big, burly and oh-so-friendly Scot who loved to work in his garden and our family (along with many others) was happy to take off his hands all the delicious stuff he grew. His winter squashes were especially sweet and delicious — the best I've ever had — and our family had lots of recipes to use up every morsel of it. Breads, pies, purees, cakes, soups, sautéd or roasted — you name it, we made it. One of my favorite memories of living next to that farm was watching Mr. Linn's cat follow him around the garden, sometimes even sitting next to him on the tractor while he tilled the soil. I often spotted that cat dashing out of corn rows or squash blossoms carrying a little critter — he was the perfect pest control system 🙂
I miss having access to that wonderful squash, but I can still find tasty varieties here in Florida. At the farmer's market last week I picked up these little cuties. They looked like a mix between a Butternut and a pumpkin. Unfortunately, it was pretty busy that morning, so I couldn't find out exactly what variety they were, but thought I could easily figure it out online when I got home. Not so. Turns out I couldn't find one reference photo to confirm what these little guys are, so we're just going with "winter squash" for now. If anyone knows what variety this is, please write me!
Because they're small, I decided to stuff them for an additional texture. I lobbed off their tops, scooped out the seeds, spooned in some stuffing and popped them in the oven. Very easy! The squash paired well with our grilled chicken for dinner, but I think it would be great with anything, really. You could even have one of these little guys with a salad and call it a day for a hearty meal. And certainly, if you don't have this particular variety, you can stuff any regular-size winter squash with this filling — just cut the squash into halves or quarters and follow the below instructions. Butternut, Blue Hubbard, Kabocha, Carnival, Sweet Dumpling and Buttercup would work well.
This particular squash's texture, color and flavor is very similar to Butternut.  It isn't as sweet as I'm used to with Butternut, but it was definitely dense, rich and delicious with my savory and sweet chourico/apple stuffing. You can modify the stuffing based on whatever you have on hand — you really can't go wrong with butter, onions, celery and sausage of some kind 🙂  And exact measurements are really necessary – just toss in whatever you think will work and season to your taste.  Enjoy!

Stuffed Winter Squash
Small winter squashes are just begging to be stuffed with this tasty concoction.
Author:
My Delicious Blog
Ingredients
4 small winter squash (or 2 larger size like Acorn, Buttercup, etc.)
2 Tb. unsalted butter
1 small yellow onion, chopped
1 stalk celery, chopped
4-6 small mushrooms (cremini or white), chopped
dash kosher salt
dash freshly ground black pepper
½ Granny Smith apple, chopped
1 tsp. fresh rosemary, minced
½ c. Spanish Chourico OR Italian sausage (casing removed, crumbled)
10-12 Ritz OR saltine crackers
3-4 Tb. chicken broth
Instructions
Heat oven to 375 degrees.
Prepare the squash - if using small sizes, cut off the tops and scoop out the seeds. Reserve the tops to roast alongside squash. If using larger squash (like Acorn), cut the squash in half (lengthwise) and scoop out the seeds.
In a small skillet over medium/high heat, melt butter then add onion, celery & mushrooms. Sprinkle with salt and pepper and stir to combine. Reduce heat to medium and allow the mixture to sweat - about 2-3 minutes - then remove from heat.
In a small bowl, add chopped apple and rosemary then add warm onion/celery mixture to bowl.
In the same pan, toss in crumbled Chorizo (or sausage) and cook on low for a few minutes. When done, add to bowl.
Add crushed crackers to bowl.
Add 1 Tb. at a time of broth to mixture and stir after each addition -- you just want enough broth to hold everything together, but not be mushy and wet.
Taste and add more salt and pepper, if needed.
Mound each squash cavity with as much filling as it will hold.
Place the squashes in a 9X13 baking dish and add about about 1 c. of water to the base of the dish. Be sure to place the squash lids flat in the dish (they'll make nice toppers for the cooked squash).
Cover with foil and place into hot oven.
After about 40 minutes, remove foil and test squash with a small knife. If it comes out clean, they're cooked. If not, return to oven, uncovered, until soft (total cooking time is about 50-60 minutes). Check periodically to ensure they're not overcooking.
Remove and cool before serving.