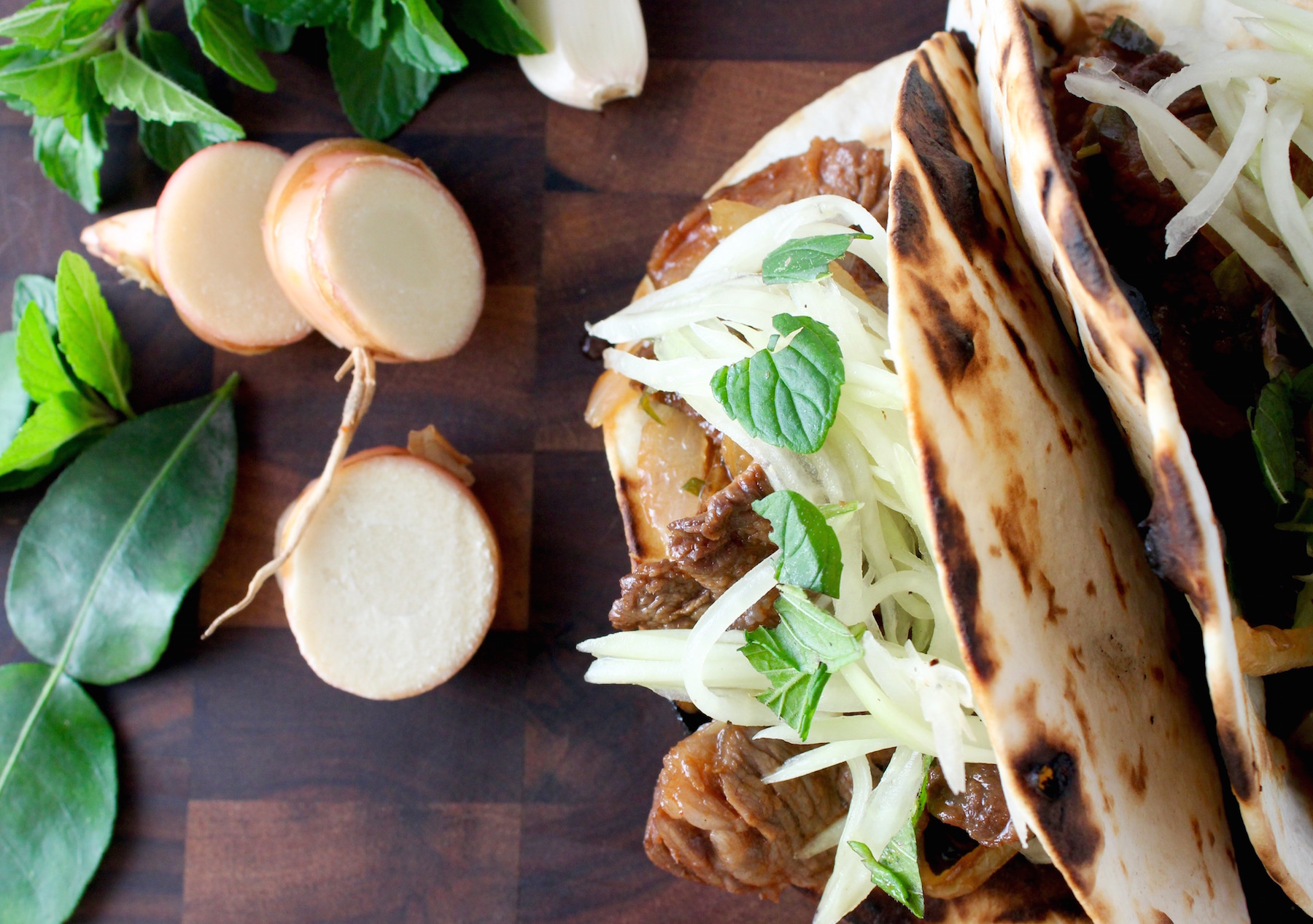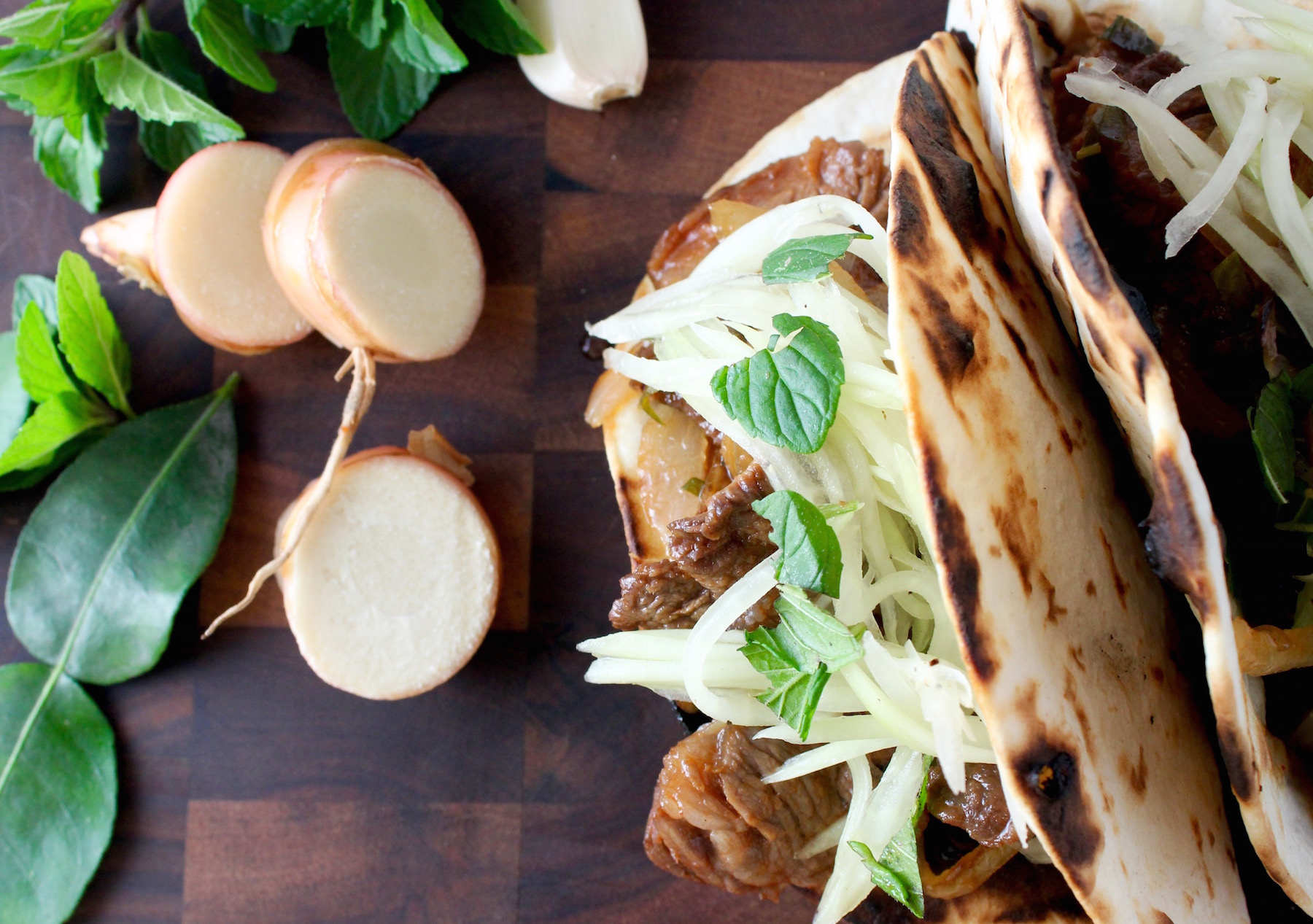 If you read my recent Field Trip Friday about Mustang Flea Market, you know that this long-time market in Florida is a treasure trove of produce, mostly Asian.  As you know by now, I love to try new foods (well, fish eyes and feet of any kind might be off my list), but pretty much anything else. So, when I came across a lovely Asian woman shredding green papayas, I had to stop. I'm sure she was perplexed as to why I was SO excited about her green papaya, but she nonetheless allowed me to take her picture, then happily took my two dollars and sent me on my way.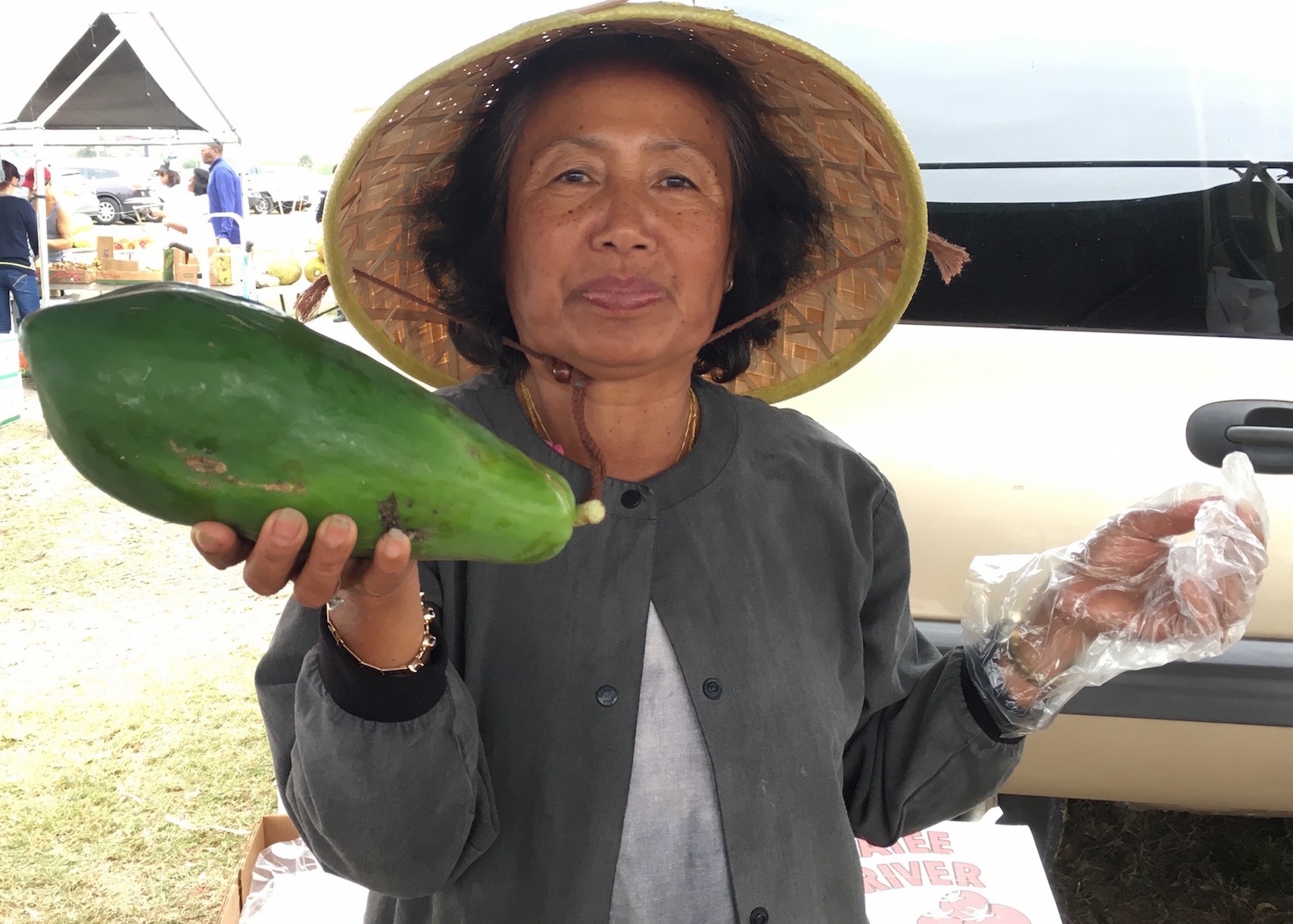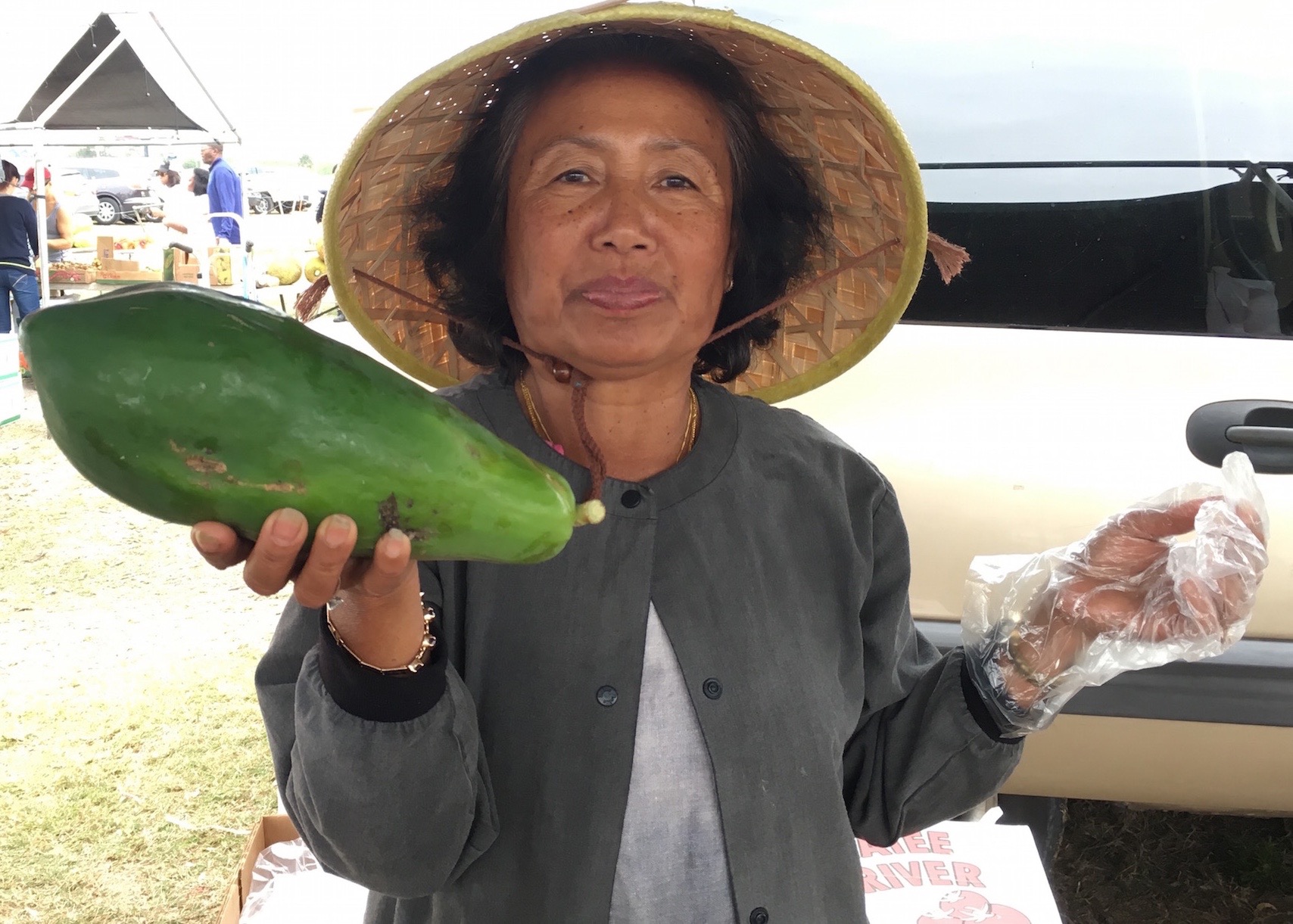 Green papaya is basically an unripe papaya. If you have a papaya tree in your backyard, you're quite lucky. But I've heard stories about all those huge fruit ripening around the same time, which can be a little challenging to keep up with (eating-wise, that is).  But there's a way to slow down that sense of overwhelm — start eating the unripe fruit!  If you don't have a tree, you can either ask a neighbor to share, or find them yourself at an Asian market or farmer's market.
The firm, pale green and bright flesh can be prepared pickled, or in slaws, salads and soups. When fresh, it's crunchy, and sometimes a little on the sour side, so I think it works very well with vibrant flavors like lime and spicy peppers. In Thailand, popular green papaya salad is called 'som tum' and usually includes dried shrimp or salted crab (for that yummy umami flavor), sometimes crushed peanuts, tomatoes, and of course, a tasty sauce including soy or fish sauce, garlic, lime, sugar and spicy peppers — the tasty flavorings are usually mashed with a mortar and pestle, then combined with the papaya. It sounds delicious, and something I'd like to try in its true form some day. But today, I needed to whip up a dish using what I had in the fridge (plus I don't have a mortar and pestle any longer. . .long story that I won't get into), so my papaya slaw is inspired by that classic dish.
I paired the slaw with a tasty beef that I marinated with fixins from my Sriracha, Makrut Lime & Ginger Shrimp. I piled the slaw over that beef and nestled it all into a crunchy flour tortilla. The combination of cold, fresh and zingy slaw atop the warm, spicy beef was SO delicious, and hubby and I were very pleased with this new food concoction.
Now, if only my papaya tree would start growing!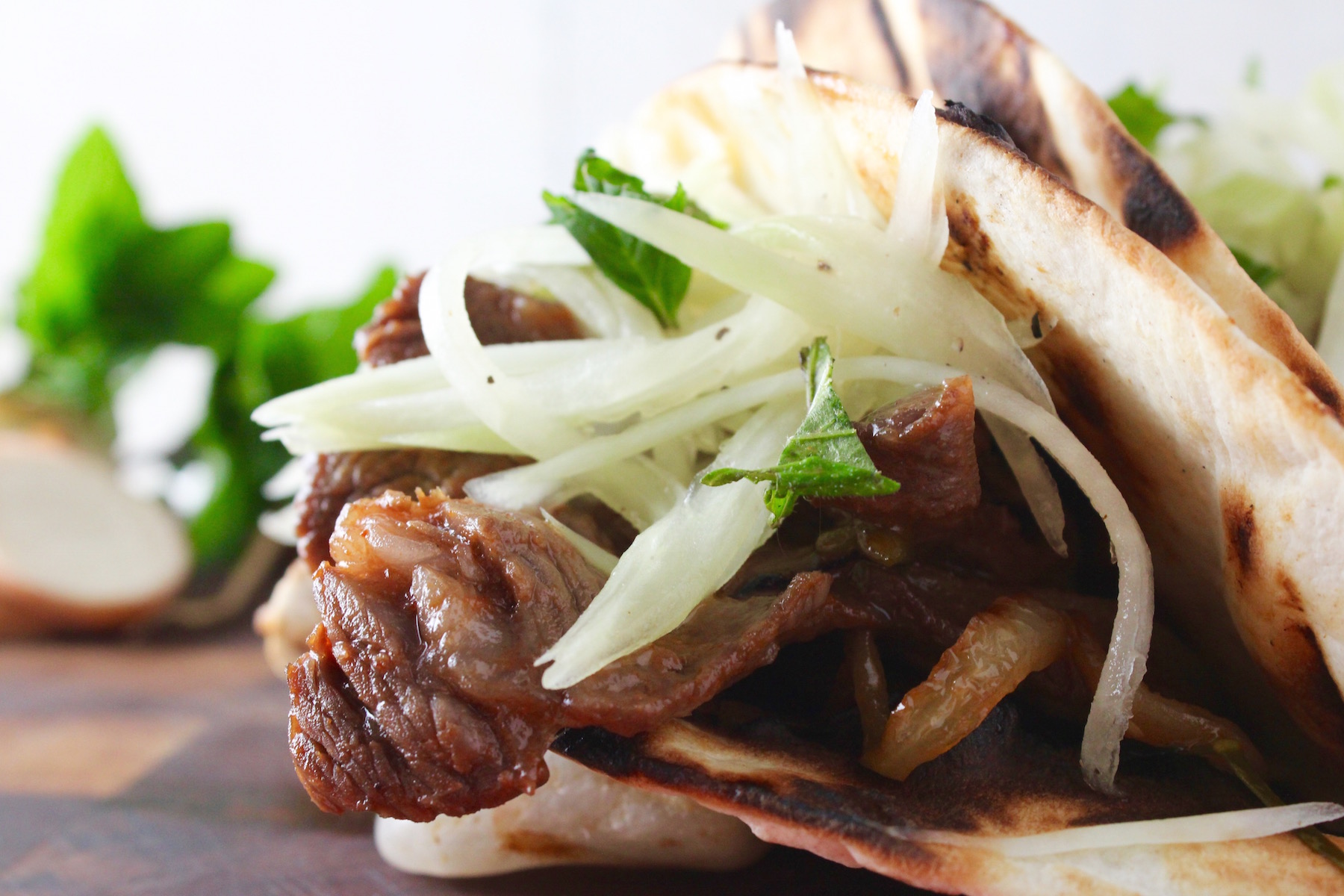 Spicy Beef with Green Papaya Slaw
Fresh green papaya makes the perfect slaw with this spicy beef all wrapped in a tortilla shell.
Author:
My Delicious Blog
Ingredients
Marinated Beef
1 lb. flank or skirt steak, thinly sliced across the grain
¼ c. Sriracha sauce
¼ c. olive oil
¼ c. packed brown sugar
2 Tb. rice vinegar
3-4 green onions, sliced thinly
~10 Makrut lime leaves, shredded (or 1 tsp. lime zest if you can't find them)
1 clove garlic, minced or mashed
1" piece ginger, peeled & grated (or galangal)
6+ flour tortillas
Vegetable or coconut oil
Green Papaya Slaw
2 c. shredded green papaya
1 clove garlic, minced
1 small chile (red or green), seeds removed, sliced thinly
¼ c. fresh lime juice
1 Tb. brown sugar
2-3 scallions, sliced thinly
1 Tb. vegetable oil
Handful fresh mint, chopped
Handful fresh parsley, chopped
Dash kosher salt
Dash freshly ground black pepper
Instructions
For the Beef Marinade
Combine flavorings and meat in a 1-gallon plastic sealable bag. Ensure all pieces are coated well, then seal and refrigerate at least 4 hours.
For the Green Papaya Slaw
If you can't find pre-shredded green papaya, just peel the papaya then cut into large pieces; discard seeds and inner membrane.
Shred pieces in a food processor fitted with the shred attachment OR use a box grater.
Combine sauce ingredients then mix with papaya. Refrigerate at least 1 hour to combine flavors.
Preparing the Beef & Tortillas
Place a large skillet (cast iron is ideal) on a grill over high heat. When hot, place a small amount of vegetable or coconut oil in the pan, then layer the beef strips in the pan in one layer. If they don't all fit, that's ok -- you don't want the pieces to steam, so don't overcrowd them, so you might need to work in two batches. The beef won't take long to cook since they're thin pieces, and you don't want them well-done. As soon as they look to your desired doneness, remove from pan, then cook the second batch (if applic).
In the meantime, place tortillas on the grill and allow them to scorch a bit so they're nice and toasty on both sides. Keep an eye on them, as they can burn quickly.
Place some beef in the tortilla, then top with the green papaya slaw. Top with fresh mint or parsley, whatever you have on hand, or maybe some fresh lime juice. Enjoy!
Notes
One large papaya should yield about 4-6 cups. Store what you don't use in the fridge for a few days for more experimentation.