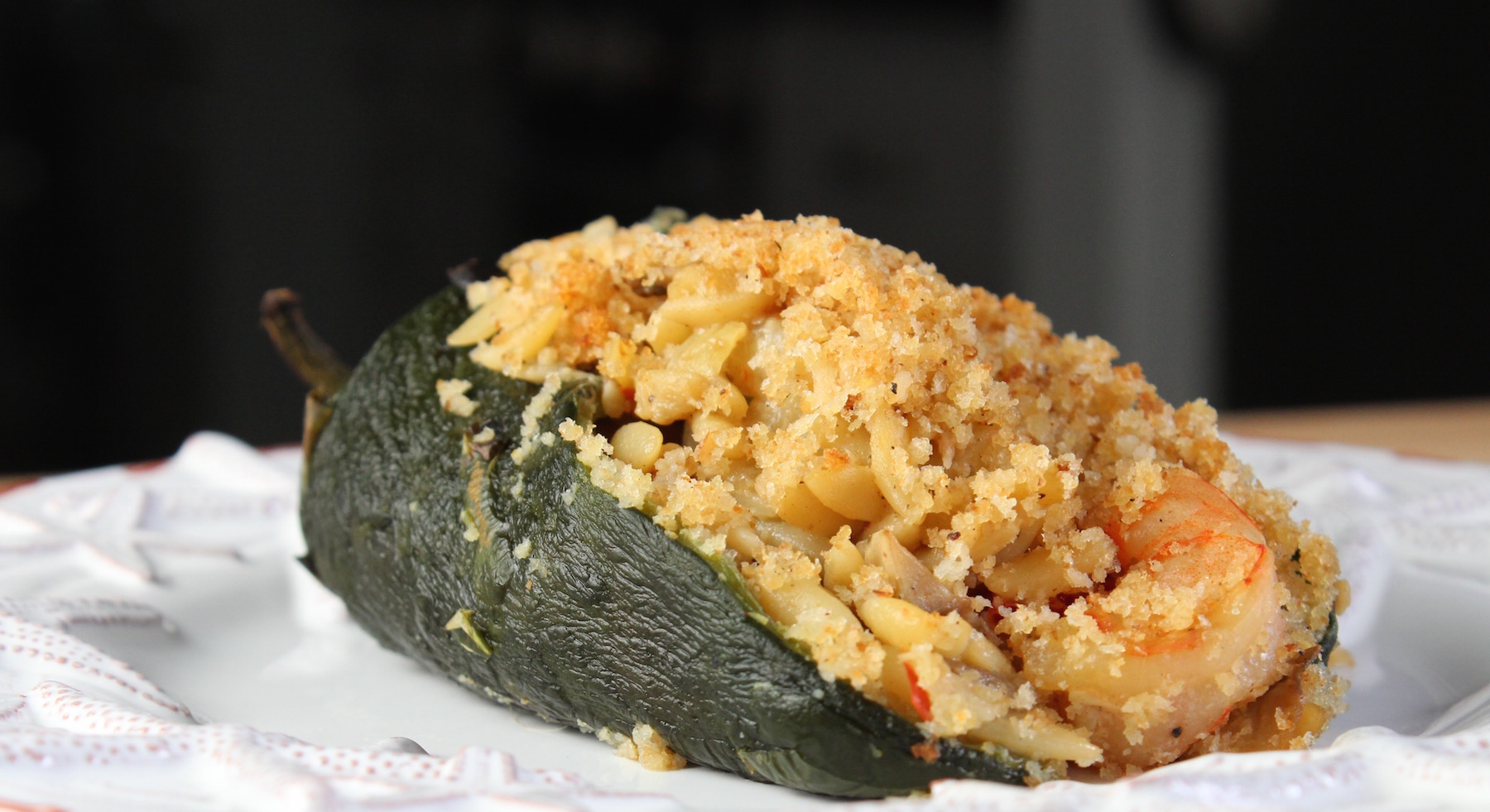 When I was in college I got a job as a waitress at a Mexican restaurant. I had no idea what I was doing and prayed that my manager wouldn't figure it out and send me packing because I really needed cash! Surprisingly (for me), I picked it up pretty quickly and really enjoyed the job.
Prior to this new cultural experience, I had studied French and Latin in high school, but never Spanish. Consequently, I was a little concerned when the manager told all the new recruits that we had to memorize all the menu items and talk about them with an 'authentic' flair. Really? But, being one of those conscientious, plan-ahead type people, I learned every piece of that menu, just in case there was a test. Fortunately, there was never an actual test, but I did gain a healthy appreciation for how this wonderful food is prepared and I definitely learned how to pronounce the names of the dishes! I also learned to love Poblano peppers, especially when they were prepared as chile rellenos — roasted whole peppers stuffed with cheese, tossed in a fluffy batter then fried. True comfort food.
Poblanos taste best best when they're roasted, resulting in a rich, mild flavor that pairs well with so many ingredients. For this dish, I decided to roast and stuff them with a filling made up of shrimp, orzo, creamy Boursin cheese, spinach, mushrooms and roasted red pepper. Sounds good, huh? Well, it was and my #1 taste tester wholeheartedly endorsed this dish.
This is another one of those flexible recipes. You can make it as spicy as you want, and you can mix in just about anything you have on hand. If you don't have time for roasting your own red pepper, use the jarred version. If you don't have mushrooms, toss in some peas or extra spinach. No orzo? Use rice. No shrimp? Use crab, flaky fish, or chicken. You can't go wrong. I do, however, suggest sticking with the Boursin because, well, everything is better with it 🙂

Shrimp Stuffed Poblano Peppers
Roasted poblano stuffed with a yummy shrimp base is really delicious.
Author:
My Delicious Blog
Ingredients
Stuffing
½ c. uncooked orzo
4 whole Poblano peppers
2 Tb. unsalted butter
¼ c. onion, chopped
1 c. mushrooms, sliced
1 clove garlic, chopped
12 large shrimp, peeled, de-veined & cut in half
½ red pepper, roasted (see note below re: how to roast OR use a jarred version), chopped
½ - 1 tsp. fresh red chili, minced (optional)
3 Tb. Boursin
¼ c. chicken broth (or water if you don't have it)
2 c. fresh baby spinach
Bread Crumb Topping
¼ c. Panko or plain breadcrumbs
1-2 Tb. olive oil (just enough to make the mixture stick together but not be oily)
dash kosher salt
dash freshly ground black pepper
Sour Cream-Lime Sauce
¼ c. sour cream
zest of 1 lime
juice of 1 lime
large dash cumin
dash kosher salt
dash freshly ground black pepper
Instructions
Prepare orzo according to package directions. Drain and set aside once cooked.
Heat oven to 350 degrees.
Roast Poblanos in one of 2 ways: 1) place whole peppers on a large baking sheet and put under a medium broiler (this works well when you have several peppers), 2) place peppers directly on a gas grill or on a stovetop gas burner. Turn them every couple of minutes so each side becomes charred. Remove from heat and place in a plastic bag, closed tightly so the peppers sweat. After about 10-15 minutes, remove the charred skin from each and set aside.
In a large non-stick skillet over medium heat, add butter, onion, mushrooms. Saute for a couple of minutes to allow them to sweat. Add garlic, shrimp, red pepper (and chile, if using). Stir to combine and cook until shrimp turn pink.
When shrimp are cooked, add chicken broth and Boursin and allow them to melt into a sauce.
Add in the cooked orzo (it should be about 1 cup) and spinach and stir to combine. Cook until spinach is wilted, about 2 minutes.
Cut a lengthwise slit in the top of each pepper. Carefully remove seeds and ribs and discard (wash your hands afterwards).
Stuff the cavity of each pepper with filling.
Mix the Bread Crumb Topping together and sprinkle over tops of each pepper.
Place peppers in a large baking dish, uncovered, for about 20 minutes, until topping is brown and crunchy.
Serve with a small side of the Sour Cream-Lime Sauce.