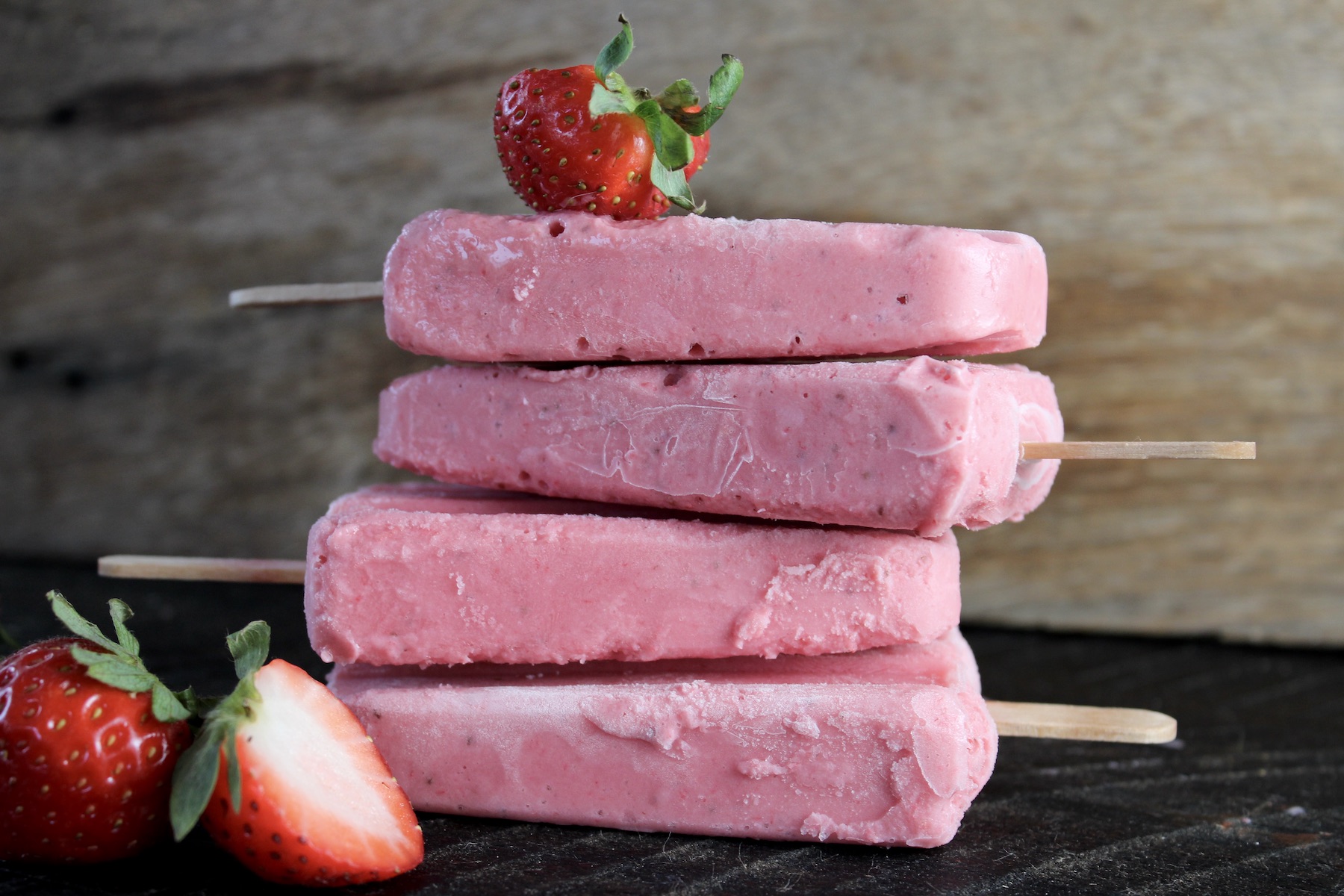 The first day of Fall is next week, but that doesn't stop me from making one last ditch effort to highlight a treat that's fruity, COLD and fun.
Now, I'm not one to have lots of gadgets in my kitchen, but I recently bought a $10 
popsicle mold
.  Just for fun.  Because, well, the
pandemic
.  I've had a great time experimenting with flavors, and I've even made a few not-so-great concoctions (especially the one with pureed pineapple, which was a frustrating lesson in the importance of straining those stringy bits).  
But I digress. . .
I remember enjoying homemade popsicles as a kid.  Back then, they weren't from fancy molds – they were usually simple, frozen confections in Dixie cups, or toothpicks stuck into ice cube trays (usually filled with simple orange juice).  The form didn't matter – it was all about slurping an icy treat after running around the yard for hours.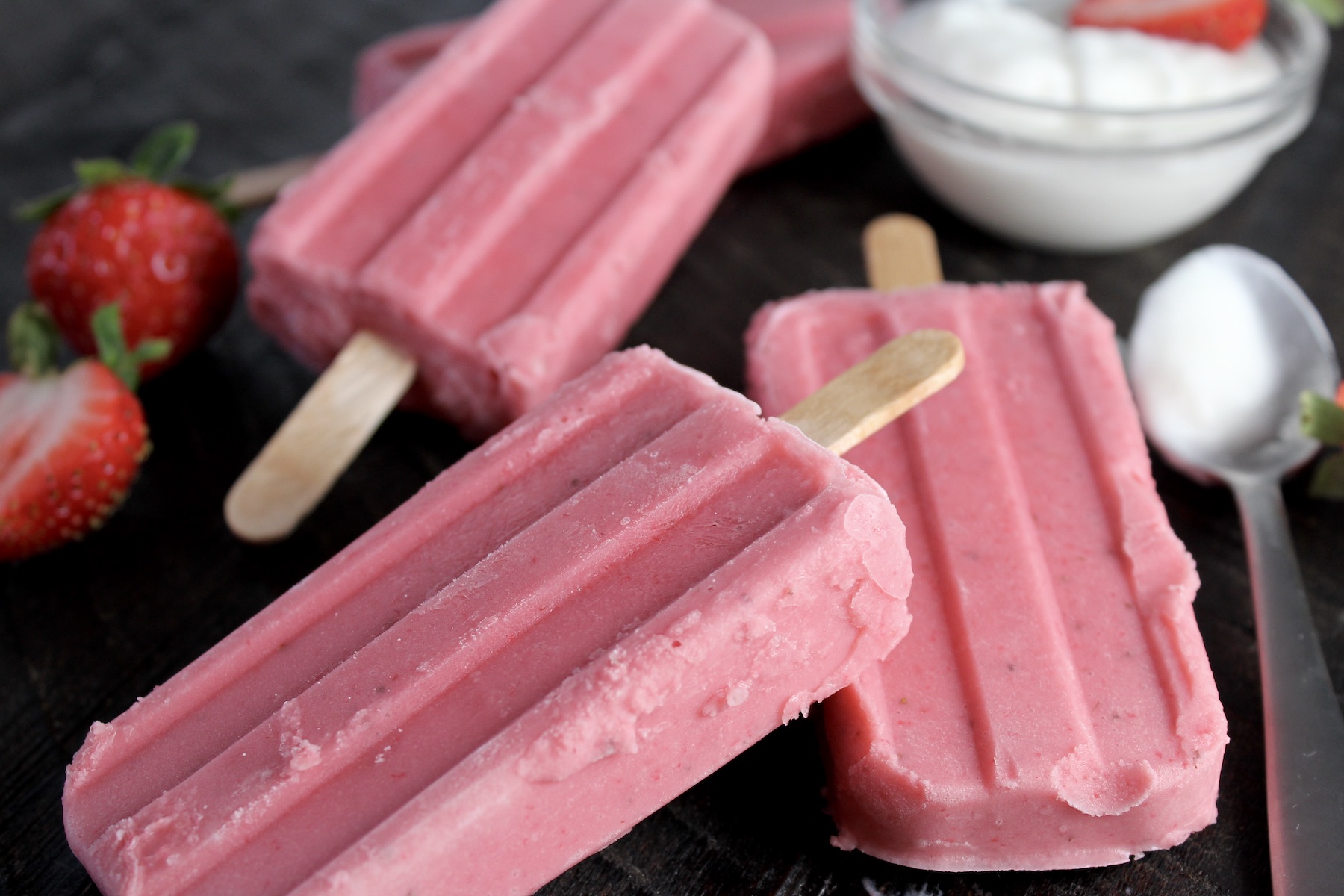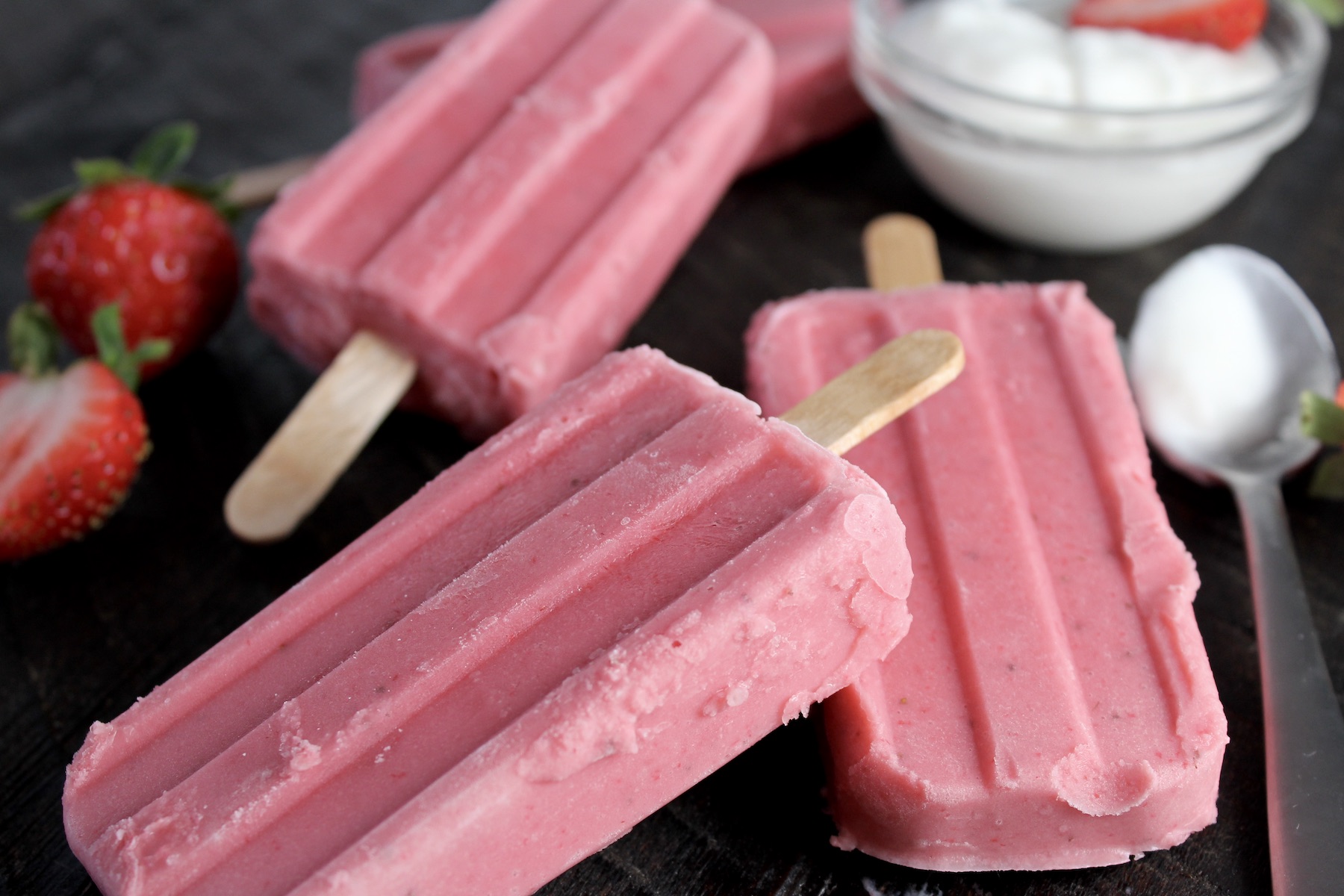 I think popsicles are easy to make and you're really only limited to your imagination when it comes to ingredients and flavors.  There are so many recipes out there for popsicles – many have big pieces of fruit in them, others have layered yogurt alongside pureed parts.  They all look great in photos, but, honestly, I don't like biting into big pieces of frozen fruit, and I certainly don't like biting into a chunk of frozen, plain yogurt.  That's why I like to puree all my ingredients, so every bite is the same 🙂
For this batch, I actually roasted my strawberries, one of my favorite techniques with fruit.  The process makes them extra sweet because the juices condense and excess water is eliminated (BTW, water is not necessarily your friend if you want a creamy popsicle, because it develops more 'icy' textures).  But if you're in a hurry and want to skip the roasting part, just whiz those fresh berries in the blender, along with a bit more honey, and I'm sure you won't have any complaints.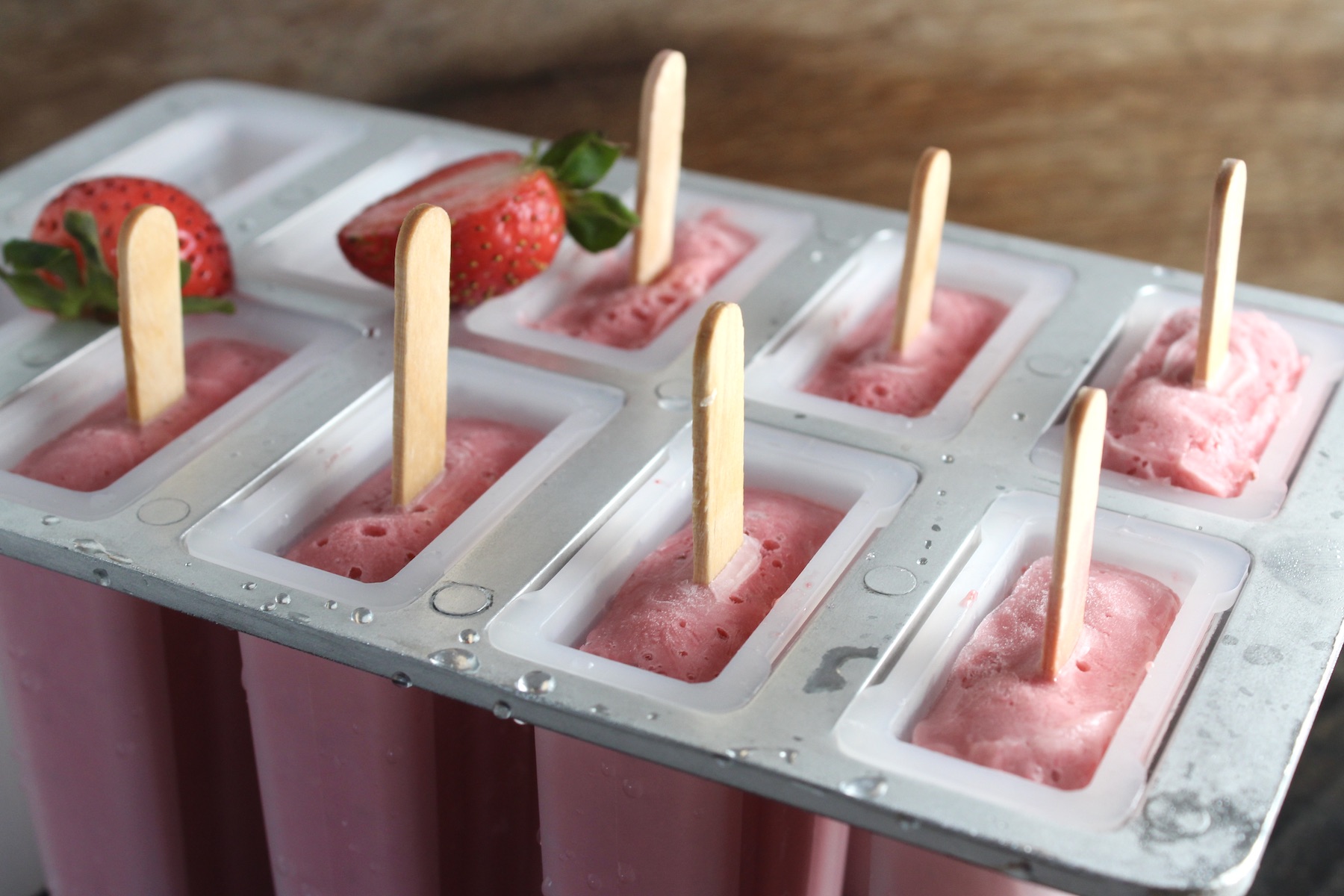 With a classic combo of strawberry-banana, along with full-fat plain yogurt (Greek or other) for creaminess, and a little honey and lemon to highlight all those flavors, you've got a tasty treat that will be ready in 4-6 hours.
P.S. even if you don't have a mold, try those Dixie cups – they work great 🙂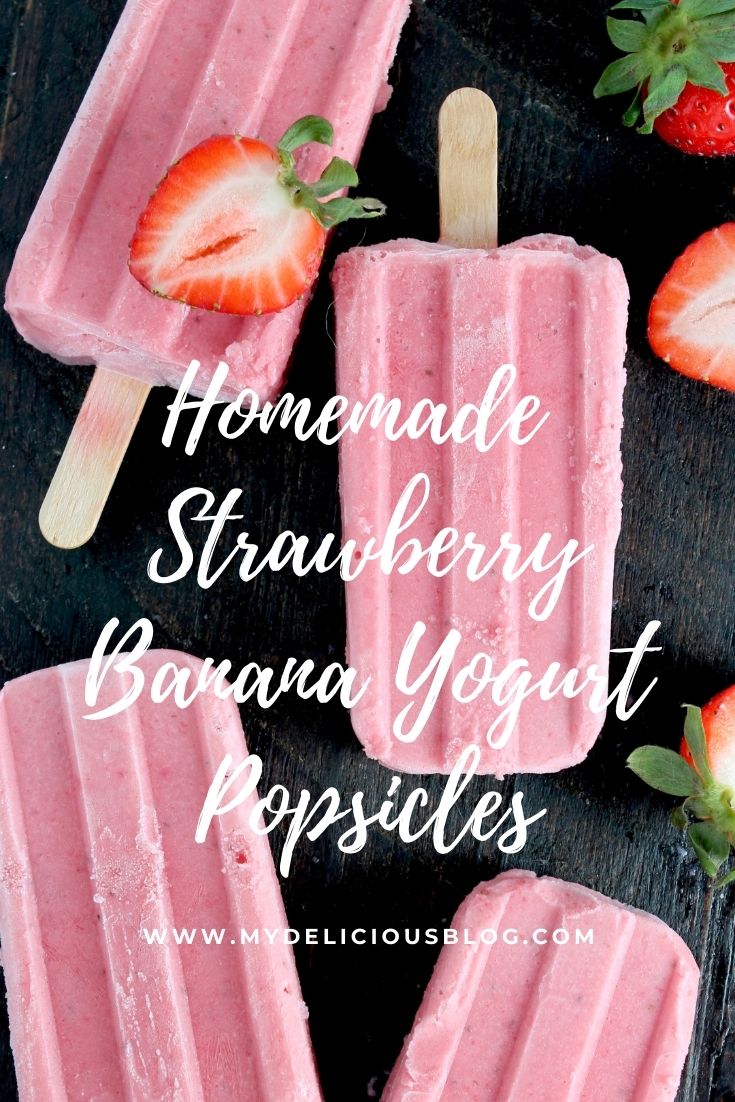 Print Recipe
Strawberry Banana Yogurt Popsicles
Summer may be gone soon, but you can always enjoy homemade popsicles made with fresh berries, banana, honey and yogurt. A creamy, delicious and healthy snack!
Ingredients
1

lb.

Fresh strawberries

2-3

Tb.

Honey

Pinch

Salt

1

Ripe (not brown) banana

1

c.

Whole-fat plain yogurt (Greek or other)

1

tsp.

Fresh lemon juice

1/2

tsp.

Vanilla extract
Instructions
If you choose to roast the berries, heat oven to 375 degrees. Remove berry stems, cut in half and place on a baking tray. Sprinkle with honey and a pinch of salt. When oven comes up to temperature, place in oven and roast about 30 minutes. Remove from oven and allow to cool.

Transfer berries to a blender, add the banana, yogurt, lemon juice and vanilla and puree until smooth.

Pour into popsicle molds (this batch makes 10), insert sticks, and freeze for 4-6 hours (overnight is ideal). Note: sometimes it's easier to spoon in the mixture to avoid spills.

NOTE: If you do not want to roast the berries, simply place chopped berries into a blender and mix with all the other ingredients until smooth. You may need to add 1-2 Tb. more honey for extra sweetness, but that's optional. Pour into molds and freeze as directed.

To unmold, run the mold under warm water for a couple of minutes (try to hit all sides of the molds so the water gets to every area). Grab a stick and try to move it side to side to loosen it up. If the popsicles are being stubborn, run the mold under warm water for another try. Sometimes they pop out easily; sometimes they require more tries, but they ultimately all come out!
Notes
Note: "Cook Time" is noted as 30 minutes, if you choose to roast the strawberries.  If not, total prep time is about 10 minutes.