If you fish in Florida, you have surely felt the exhilaration of getting a bite on your line! But that exhilaration can quickly turn to despair when you realize it's a big 'ole sailcat (i.e, catfish). . .which only grows only deeper when you notice that the fish has gotten your gear, your line, and you (most importantly), all slimy in the process. Not only that, once you confirm there are catfish out there, you know your bait will be regularly stolen, making attempts at redfish, trout or flounder even more challenging. Again, more despair (and maybe a slice of anger, too).
But I don't want to disparage catfish too much. The truth is, some folks actually like to catch (and eat) saltwater catfish, and because there are no limits imposed by the Florida Fish & Wildlife Conservation Commission, they can have as many as they want. Saltwater catfish are edible, and while they're one of those fish considered 'trash,' they do have their place on the dinner table, provided they're handled well upon being caught, and they're prepared in a tasty recipe.
That's all fine and dandy, but I'm not going to mince words. I don't like it. Even if I were to successfully navigate the messy de-sliming and cleaning process, I couldn't eat it. To me, saltwater catfish has a somewhat earthy, muddy flavor and I can't stomach it. I guess we can't all love everything. Maybe I just haven't yet enjoyed a delicious dish by a professional chef who didn't have to go through the process of catching and cleaning it (there's a challenge in there, somewhere).
So let's move on to farm-raised, freshwater catfish. I acknowledge that there are some negative impressions out there about farm-raised fish, but there are organizations doing it well.  Much of the farm-raised fish (including catfish) in the U.S. comes from Alabama, Arkansas, Louisiana and Mississippi. I've tasted catfish from that region and find it to be brighter/cleaner and milder in flavor than its saltwater counterpart. The fillets are also very clean, with white to off-white, almost translucent appearance.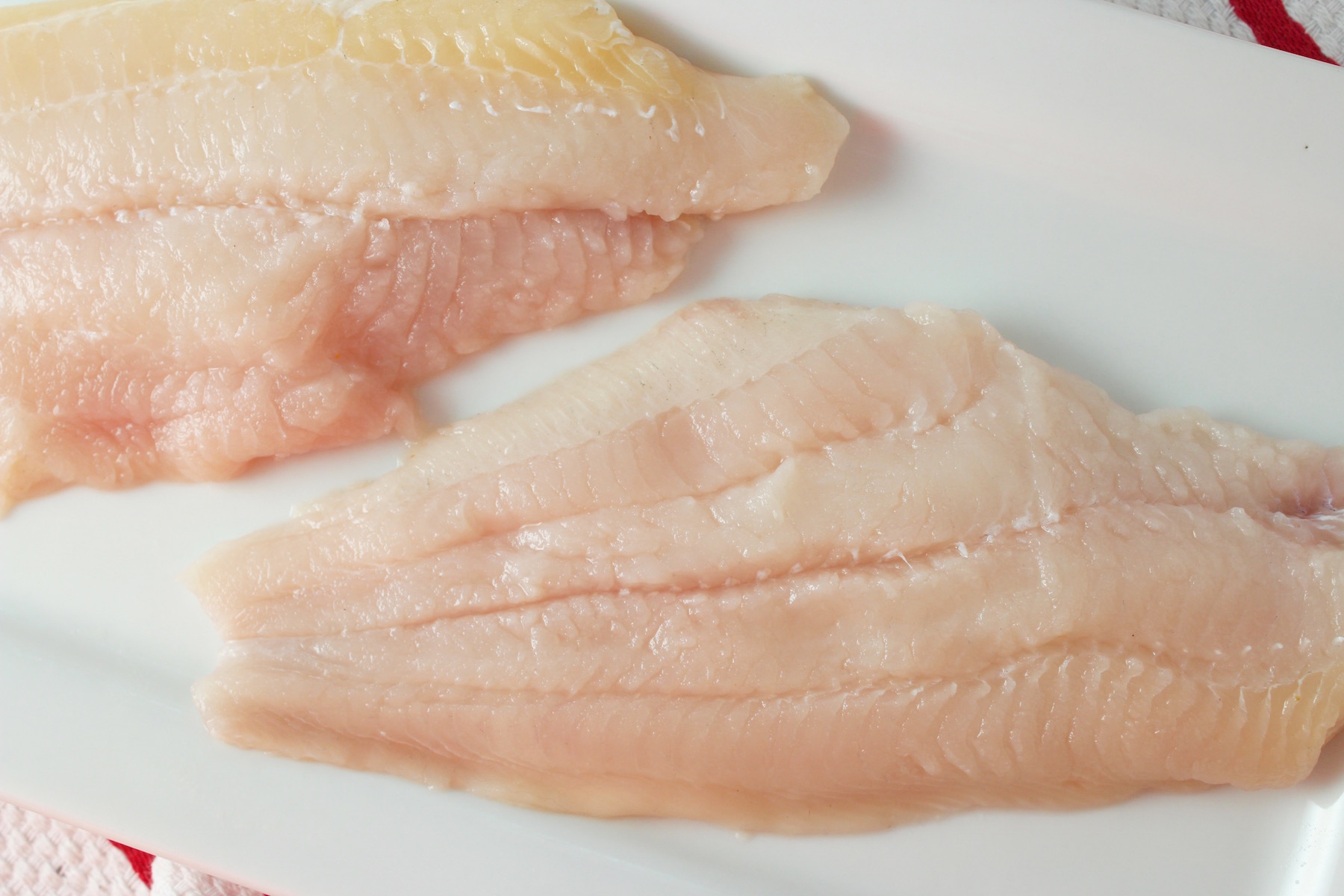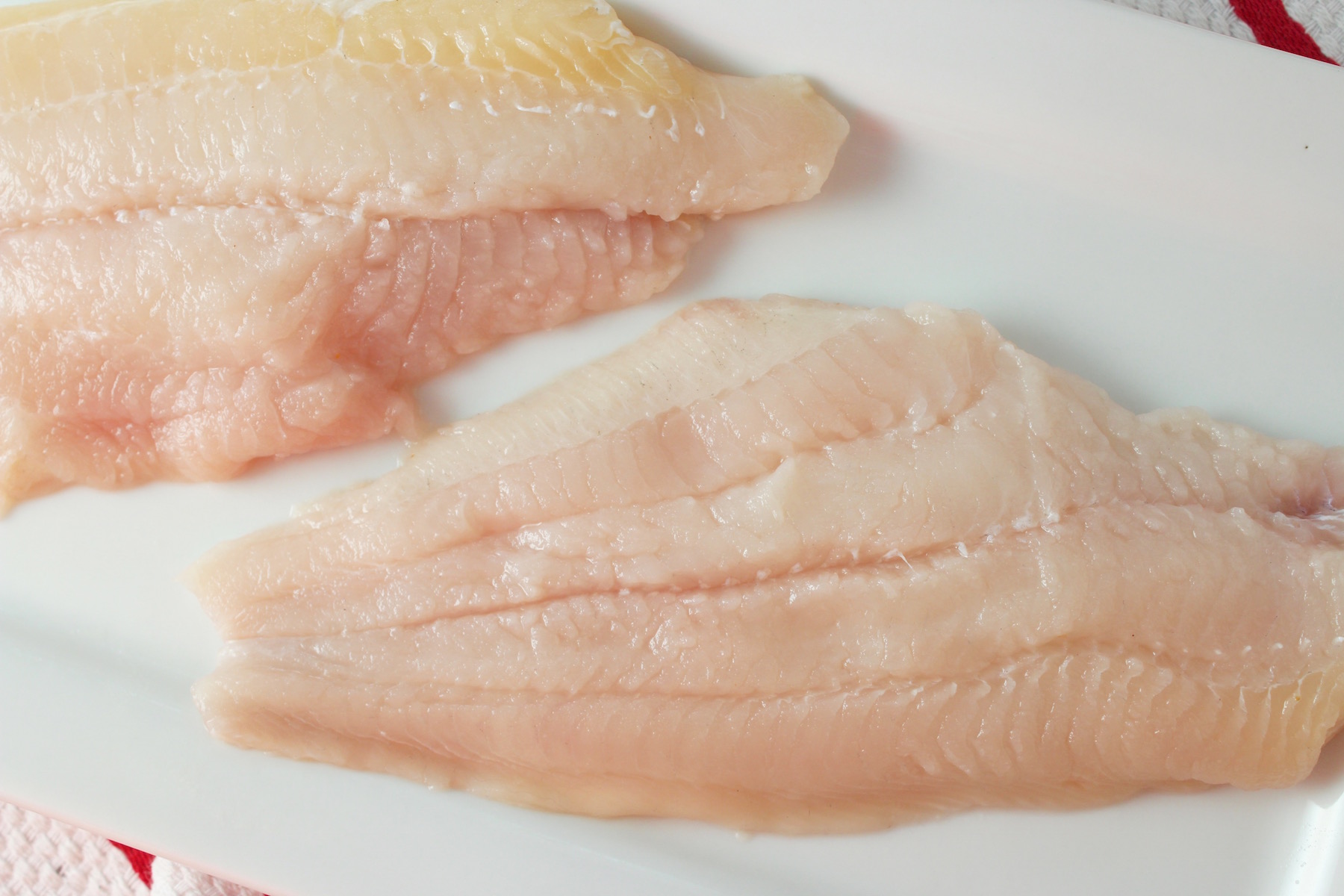 U.S. farm-raised catfish is nutritious, low in calories, low in cholesterol, and a good source of protein. It's considered a sustainable fish, available year-round, with prices unaffected by environmental challenges, so it's a good option at the market.  And did you know that June 25 is National Catfish Day? Well, I didn't either, until I started thinking about this blog post. Apparently it was proclaimed by Ronald Reagan in 1987 as a way to "celebrate the value of farm-raised catfish."
To do just that, the Coudals enjoyed some tasty, farm-raised catfish this week. I coated the fillets in spicy buttermilk, then dusted them with my favorite cornmeal-based fry mix, recipe courtesy of the folks at the Hot & Hot Fish Club in Birmingham, Alabama. Rather than deep frying, I pan fried the fillets for a few minutes on each side in olive oil and butter (they were thin, so it didn't take long). The finished fillets were crunchy, flavorful, tender and flaky, and I served them right out of the pan with a zippy sauce (basically, mayo, relish and hot sauce – very simple).
It was really delicious.  But that doesn't mean catfish is exempt from my disdain when one takes my line the next time I'm out fishing. . .

Pan Fried Catfish
Catfish is awesome when lightly fried in this cornmeal batter.
Author:
My Delicious Blog
Ingredients
1+ lb. catfish fillets
1 Tb. unsalted butter
1-2 Tb. olive oil (add more if the pan seems dry once the fillets are in there)
Fry Mix (*)
1 c. finely ground yellow cornmeal
1 c. corn flour
1 c. all-purpose flour
2 Tb. + 1 tsp. kosher salt
½ tsp. cayenne pepper
½ tsp. freshly ground black pepper
(*) Make the full batch - use about ¼ c. for this recipe and store the remainder in an airtight container in the fridge.
Fish Marinade
1 c. low-fat buttermilk
Several dashes Sriracha or other hot sauce (add more if you like it really spicy)
Dipping Sauce
½ c. mayonnaise
1 Tb. sweet relish
Few dashes Sriracha or other hot sauce
Squeeze fresh lemon juice
Dash kosher salt
Few grinds fresh black pepper
Dash chile sauce or ketchup, for sweetness - optional
Instructions
For the Fry Mix, combine all ingredients in a small bowl. Set aside until ready to use.
In a shallow dish, stir hot sauce into buttermilk for the Fish Marinade.
Mix ingredients for Dipping Sauce and refrigerate until ready to use.
Heat a non-stick skillet over medium heat. Add butter and oil.
Dip fish fillets into buttermilk mixture, then into Fry Mix. Keep turning/pressing into the mixture so the fillets are thoroughly coated.
When butter/oil is melted, add fillets. Cook first side until golden brown (about 3 minutes -- be sure it's nice and brown before flipping). Flip and cook other side until golden brown. Lower the heat to medium/low if it seems to be scorching the fish.
Remove from pan and serve with Dipping Sauce.