(Field Trip Fridays capture interesting, fun, food-related and/or fishing adventures that I like to share with you!).
If you haven't yet visited Pine Avenue on Anna Maria Island, please add it to your list of must-see spots in Florida. It's a lovely business district with 2-story, historic-looking buildings designed to honor the area's history, and it's now referred to as "The Greenest Little Main Street in America." It's a walkable village where residents are business owners who provide goods/services to the community — they live on the upper floors of the buildings and run businesses from the lower levels. Buildings were constructed with energy efficient and environmentally responsible materials that can handle extreme weather (like hurricanes), solar heat gain windows, on-demand hot water systems, spray foam insulation, and more.  The grounds are covered with Florida native and edible plants, fed by captured rainwater, and everywhere you look, there are sustainable practices in place. It's an inspiring place where home/business owners can see products and systems in use.
Now that you know a little about this special place, here's an interesting project in which it played a key role:
The University of South Florida's Patel College of Global Sustainability/Sustainable Tourism Program is led by Dr. David Randle. In 2014 he invited a liaison for the United Nations World Tourism Organization (UNWTO) to visit Pine Avenue. That liaison was so impressed that he recommended the area, including several organizations like the Chiles restaurants and the UCC Whale Center in St. Petersburg, become a Global Sustainable Tourism Observatory — a designated locale where folks monitor international indicators/metrics of sustainability (environmental, social and economic) within the tourism industry. The group's first step was to become an Affiliate organization (called the Blue Community Consortium), then they got approved as an official Observatory in 2016, led by the Patel College. Member organizations are from Pinellas and Manatee counties and include the City of St. Petersburg Renewable Energy Program, Tampa Bay Watch, Robinson Preserve, Historic Cortez Fishing Village, Mote Marine Aquaculture Park, Ft. De Soto Beach, The Chiles restaurants (The Beach House, The Sandbar, The Mar Vista), and more.  Amazingly, this Observatory is the first one in North America among 18 others in Brazil, China, Croatia, Greece, Indonesia and Mexico. Each organization is focused on sustainable practices, recognizing the importance of stewardship of our coastal environment and marine habitats – places that not only attracts tourists, but also, support communities.
We've heard of sustainable seafood, sustainable building materials, overfishing natural resources, benefits of not using pesticides to grow food, and so much more by way protecting our environment. But the UNWTO defines sustainable tourism as "tourism that meets the needs of present tourists and host regions while protecting and enhancing opportunity for the future. . .and reducing or mitigating any undesirable impacts on the natural, historic, cultural or social environment." The aim is to reduce traffic congestion, prevent plastic in the environment, encourage sustainable food and energy sources, and minimize climate impact. Researchers look at issues like seasonal patterns, waste/water control, energy use, food production, clean marinas, and overall satisfaction with destinations, then share the data with tourism leaders/policy makers.
I recently attended portions of the Choices for Our Sustainable Tourism Future conference in Anna Maria, hosted by the Blue Community Consortium and the Bradenton Area Convention & Visitors Bureau. There were presentations from international experts about the state of sustainable tourism across the globe, future plans, opportunities to taste sustainable food, and tours of sustainable communities, and everyone was passionate about the topic.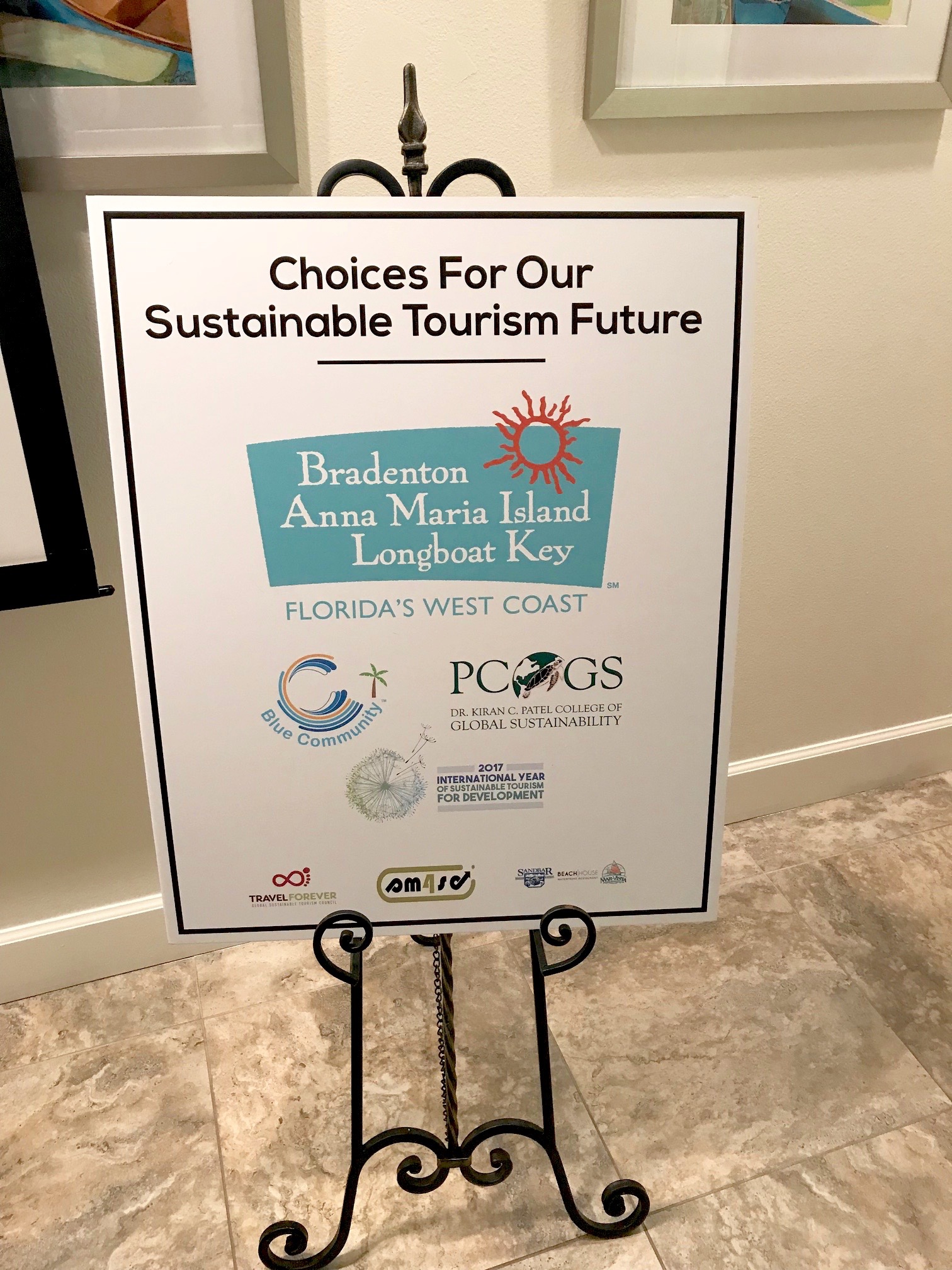 One of the Observatory's biggest supporters/members is Ed Chiles, owner of three waterfront restaurants in Anna Maria and Longboat Key. His family-owned business believes in a 'farm to fork, sea to table, pasture to plate, and crop to cocktail' approach, sourcing a healthy portion of materials from local suppliers and local farms (including their own farm, Gamble Creek, which supplies most of the restaurant's produce). They're also involved in ecologically responsible and sustainable initiatives including shellfish estuary restoration, reduction of plastics by incorporating biodegradable products into their product mix (straws, cracker wrappers, and eco-friendly to-go containers), recycling oyster shells, utilizing sustainable fish species, providing aquaculture habitats, and water management systems that avoid run-off. Ed recently unveiled The Beach House after an extensive remodel to upgrade and implement sustainable materials/systems and it's a beautiful example of what can be done if care for the environment is at the forefront of design and development.
So what does this all mean for us? At a minimum, it's good to know that organizations in Florida are paying attention to their environmental impact. And since many of us live in a community that relies heavily on tourism, it's a topic that could have significant negative impact if we're not sensitive and plan accordingly.  For each of us, hopefully the project sheds light on how we can be more aware of our individual environmental footprints, and take steps to minimize negative impact, so future generations can continue to enjoy our beautiful coastal environment.
This Blue Community Sustainable Tourism Observatory has been in place for just under a year, so they're still gathering data about key metrics but establishing itself as a best practice among other coastal communities. I'm certain the data will be helpful to community leaders as they review tourism impact and maybe even encourage more businesses to prioritize sustainability efforts.
Please check out Blue Community to learn more.  And if you'd like to learn about residential sustainability, check out this post I wrote for Visit Sarasota, highlighting The Florida House Institute, a little gem in Sarasota. We have so many great resources in our community!