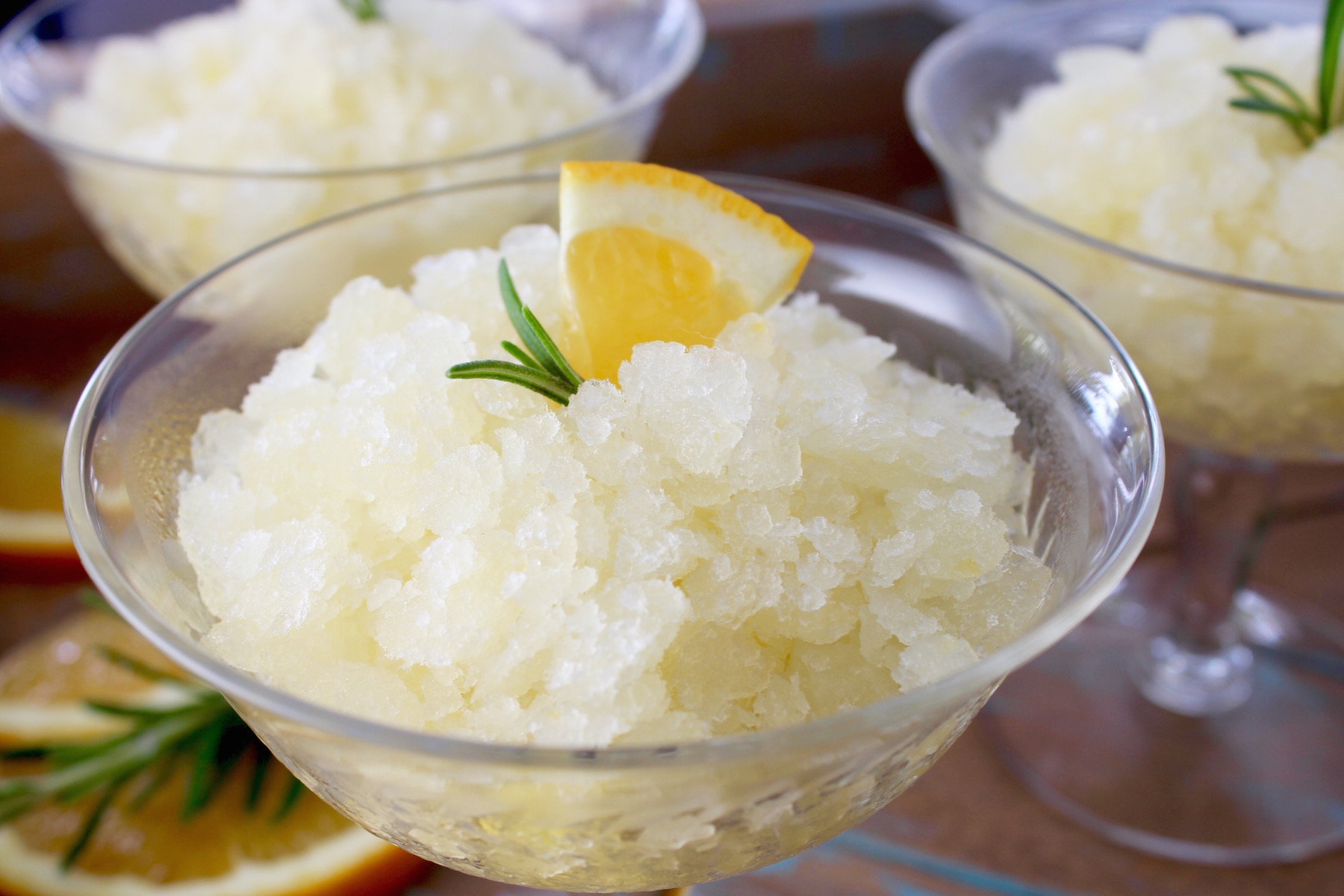 June 21 marked the first day of summer, but here in Florida it has felt like summer for the last two months.
Needless to say, it has been pretty hot, and two weeks of rain greatly increased our infamous humidity levels, making it ultimately feel like the surface of the sun. For those of us with curly hair, well, things have been a bit challenging. . .
But I digress.
I figured that making an icy, refreshing dessert would be a good substitute for sticking my whole body in the freezer, so I made a batch of granita. If you've never had it, granita is a lot like those Italian ices we enjoyed as kids – the ones in the little paper cups with the flat wooden spoons built into the lids. Remember those?  I don't know about you, but when the ice cream truck was nearby, it only took 2 or 3 musical notes for me to recognize he was heading my way. Like every other kid in earshot, I would drop anything I was doing and run to my mother to get money. Armed with my $0.25 or $.50 (prices were so reasonable back then), my go-to choices were bomb pop (with the gum ball at the bottom), strawberry shortcake, or lemon Italian ice. The Italian ice was an especially good choice because it was ice cold (i.e., hard), and when I scraped the little spoon over the top it produced the perfect amount in every bite. Plus, the spoon made it a neat snack – perfect for a kid who didn't like to get sticky hands. It was also easier to eat while lying on the warm grass, watching clouds go by.
Granita is also compared to sorbet, but coarser and flakier, and it typically has less sugar (depending on what you put in it) than sorbet.  The best part is that it's fun to make. Every 20 minutes or so, when you walk by the freezer, you scrape the liquid in the pan with a fork or spoon, and you keep doing that until it's all frozen, flaky and a little slushy.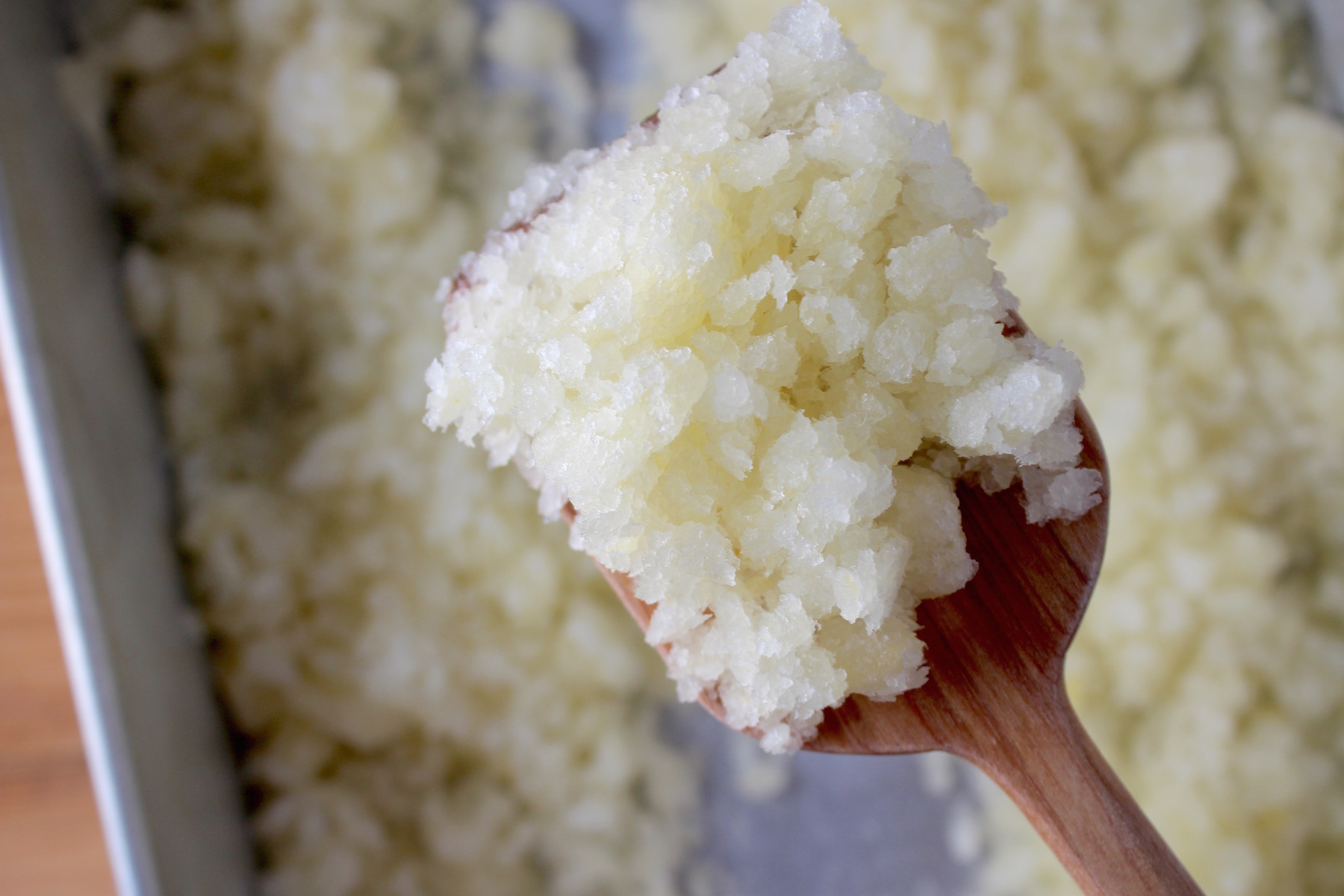 When it's done you transfer it into a pretty dish and enjoy it with a spoon. The flakes start out a little crunchy in your mouth, then melt quickly, revealing whatever flavor you put in there.
But which flavor to make? Many granitas include pureed fruit, sometimes alcohol (for that adult crowd), but I only had a bunch of citrus and tons of rosemary in my garden.  So I thought to myself 'What could be better than an icy, citrusy, herb-infused dessert on a hot summer night?'  Ultimately, your flavor(s) will depend on the quantity and type of produce you have on hand, and whether that produce is tart or sweet, ripe or overripe.  But granitas can also be made with strong coffee, green tea, or whatever your imagination can dream up.
This recipe with a lemon-orange base is refreshing, and the underlying hint of rosemary gives it a garden-fresh, almost elegant flair. It also smells wonderful. If you want to eliminate the orange and rosemary and go with pure lemon, that would also be delicious – just increase the lemon juice and add a little more sugar. The Grand Marnier is optional but, of course, it makes it even better. Basically, you can't go wrong with granita – it's very forgiving, and there are many recipes out there to inspire.  Granita is a great way to cool down on a hot summer day 🙂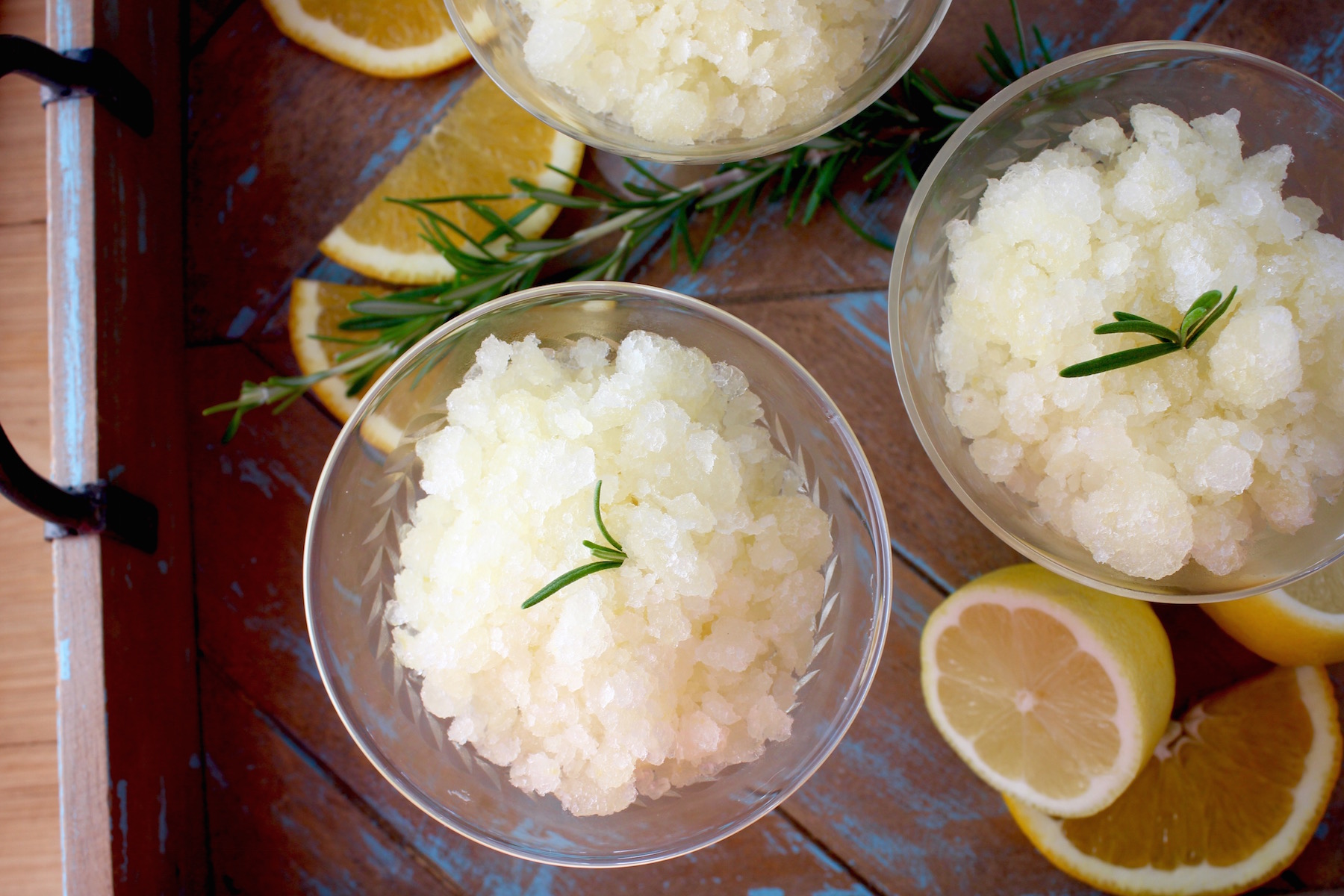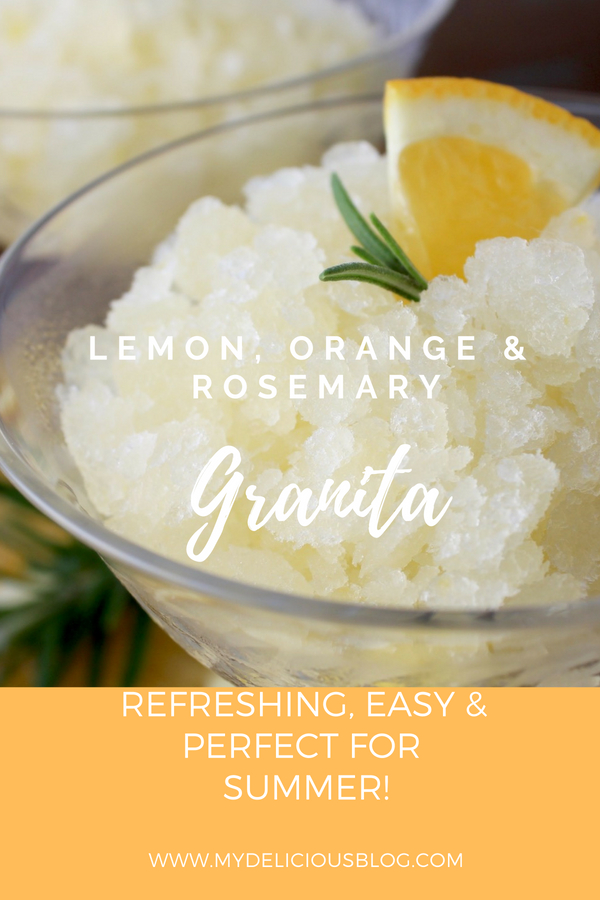 Lemon-Orange-Rosemary Granita
Icy and refreshing, with flavors of rosemary and lemon.
Author:
My Delicious Blog
Ingredients
3 c. water
¾ - 1 c. sugar
4 sprigs fresh rosemary
4-5 strips lemon zest
2-3 strips orange zest
1 c. lemon juice
¼ c. fresh orange juice
4 Tb. Grand Marnier
Instructions
Simmer water, sugar, rosemary, lemon & orange zest in a small saucepan. Turn off heat and have it sit for 10-15 mins.
In a separate bowl (glass or metal), combine lemon& orange juices and Grand Marnier and place a fine mesh strainer over the bowl.
When sugar mixture has cooled, pour it over the strainer into the juice/Grand Marnier bowl and stir.
Place bowl in the refrigerator for about an hour (cooling will allow it to freeze more quickly).
Transfer the liquid to a metal 13X9 baking pan and place in the freezer on a flat surface. Stir with a spoon or fork every 20 minutes or so. It will start to get slushy, but keep up the stirring until it's all frozen and flaky.
Spoon into serving bowls. Top with fresh fruit, or enjoy it all by itself!
Store any leftover granita in a tight fitting plastic container in the freezer. It will keep well for several days (if it lasts that long!).