Like many, I've been organizing drawers and closets lately – I guess it's what we do when we have extra time on our hands, and are trying to regain some sense of control in our lives, in spite of uncontrollable circumstances. . .
While sifting through photos, I came across these: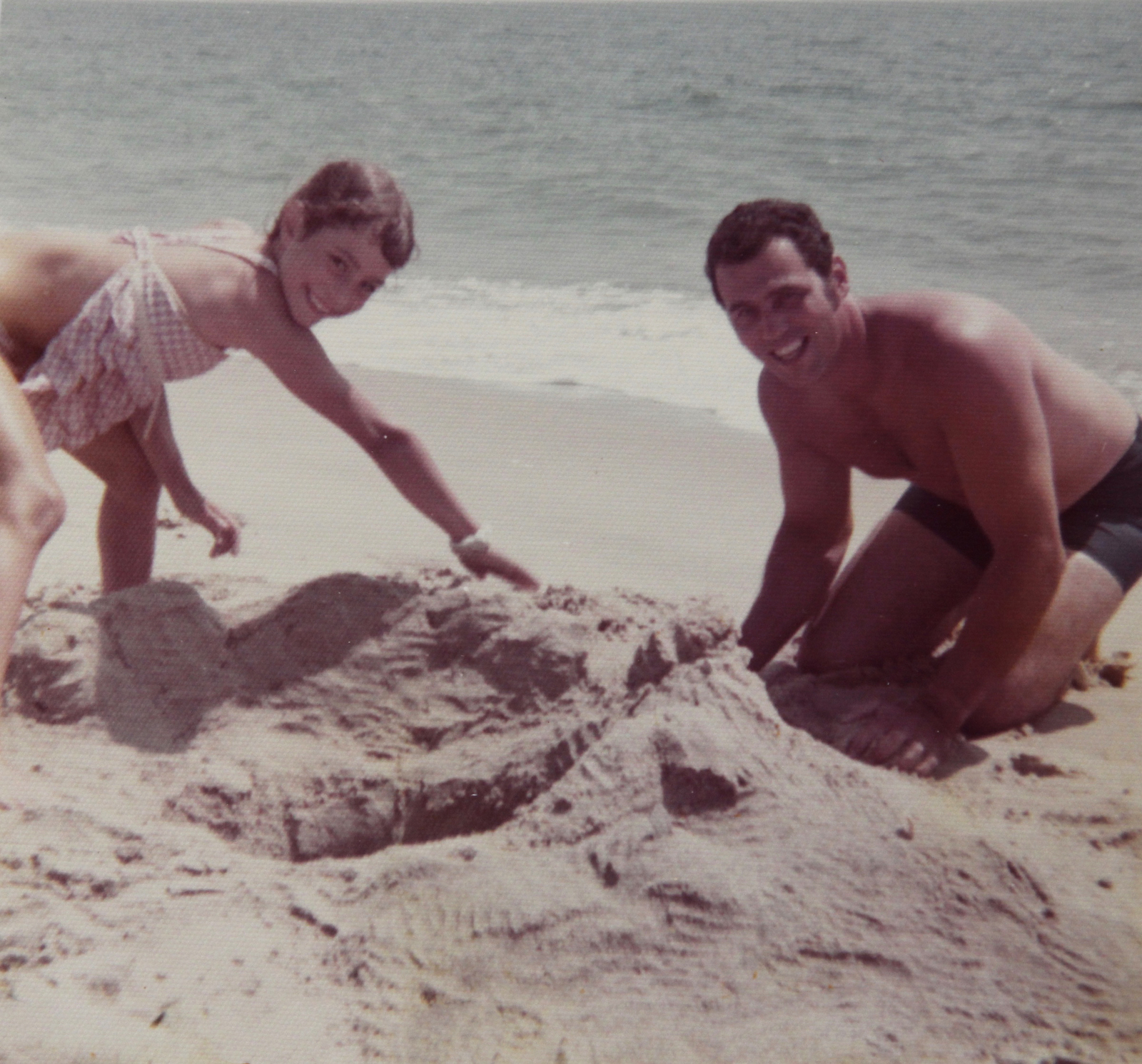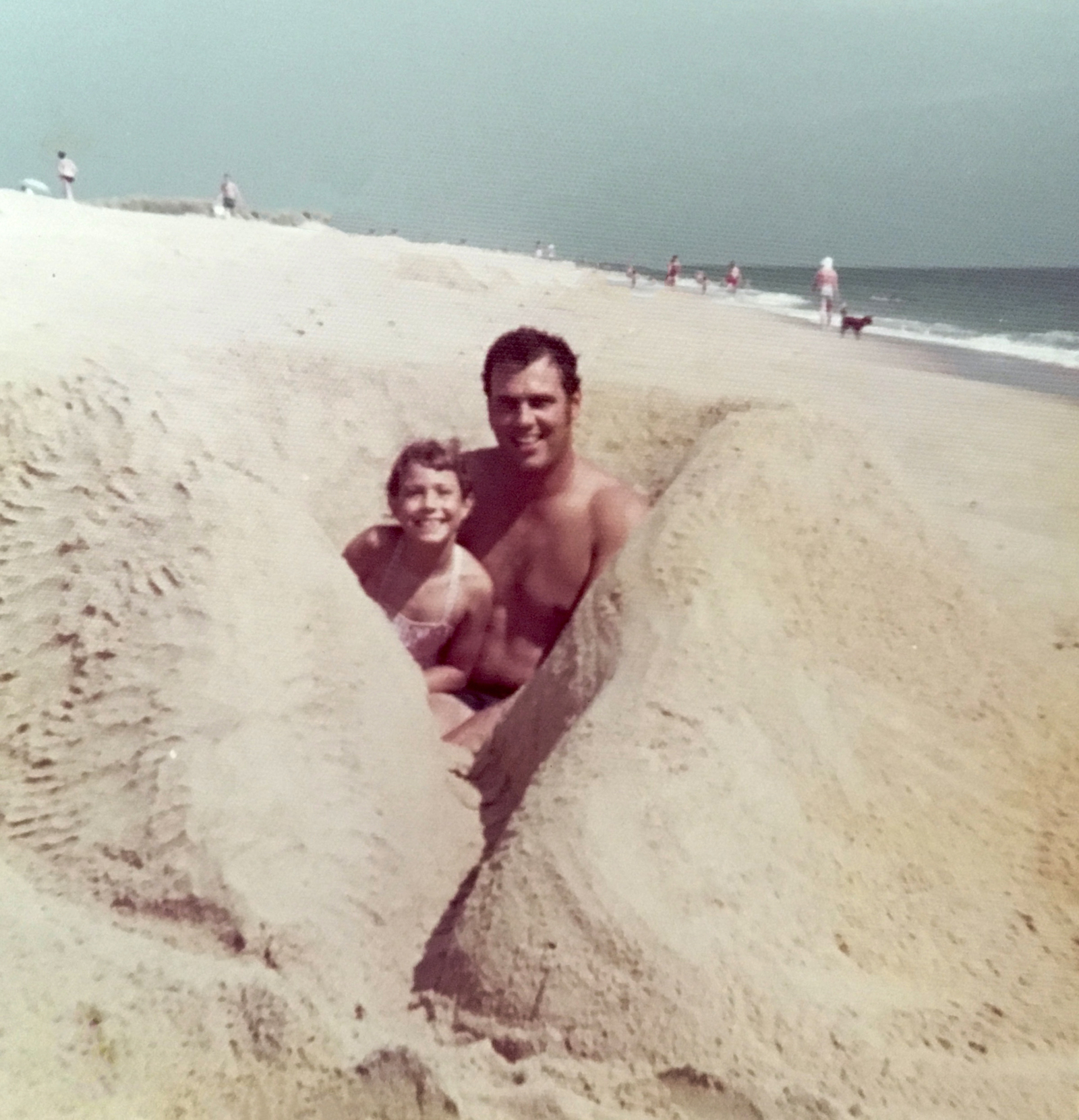 I remember the day like it was yesterday.  I was 7 years old, building a sand 'cave' with my dad. . .
Frankly, my dad has never been one to think small – he has always done things in pretty awesome fashion.  So, what started as a run-of-the-mill sandcastle quickly evolved into a huge structure with tall walls, a mote, and a pathway leading inside to accommodate us both.
This wasn't the first project he and I had tackled.  By that age, I was already his right hand girl when it came to things like sorting nails from screws, creating neat piles of scrap wood, and organizing things into boxes — things I loved to do, mainly because it meant spending time with him.  But this day was different.  We were on Martha's Vineyard, camping with my mom and brother, and it was a beautiful, Summer day.  The water was refreshing, and the sand was grainy and cool as we dug deep into it.  I also loved that purple bathing suit!  Plus, I knew we were building something amazing, unlike those sandcastles I had built using a little bucket.  Even passersby stopped to watch us building this enormous thing.  I was so focused, I didn't even take a break to eat my favorite olive loaf sandwich!  It was just one of those great days, you know?
Haven't we all got days like that?  It's these memories that sustain us, especially when we're unable to see loved ones, and even more so when they're no longer here.  So, I guess I'm feeling nostalgic, marked by the fact that my husband and I canceled our annual August trip to New England, out of an abundance of caution.  That trip is when I 'fill my well' by spending time with many dear people in my life, seeing my favorite flowers, eating some of my favorite foods, and spending time at my childhood beaches.  But not this year. . .
These are challenging times, for sure.  As we cling to our happy memories, it's also important to do the things that bring us solace, like keeping up with a hobby/craft, reading a good book, meditating (or some sort of quiet/reflective time), going for a brisk walk, and talking with friends and family.  Which is why I'm back in my kitchen this week, cooking.  That makes me happy 🙂
And since it's stone-fruit season, I've got another peach recipe!  This panzanella is great for Summer – it's fresh, citrusy, crunchy, and filled with juicy peaches, crispy cucumbers, refreshing mint and greens.  It's a great warm-weather salad that even uses up any 'not-so-fresh' crusty bread you've got lying around.  Traditionally, panzanella is made with stale bread that comes back to life when you mix it with olive oil, vinegar and the juice of ripe tomatoes.  For this recipe, use your stale bread, as is, if you have it.  But my bread was still pretty fresh, so I toasted it in some oil – I basically made croutons to dry it out.  If  you don't want to use your stove, just toast the bread over low heat on your outdoor grill, or simply wait for the bread to get dried out on your countertop.
I created this recipe for a Summer picnic issue of
Edible Sarasota
a while back, and it's still a winner.  Enjoy it all by itself, or pair it with grilled protein or veggies for a more substantial meal.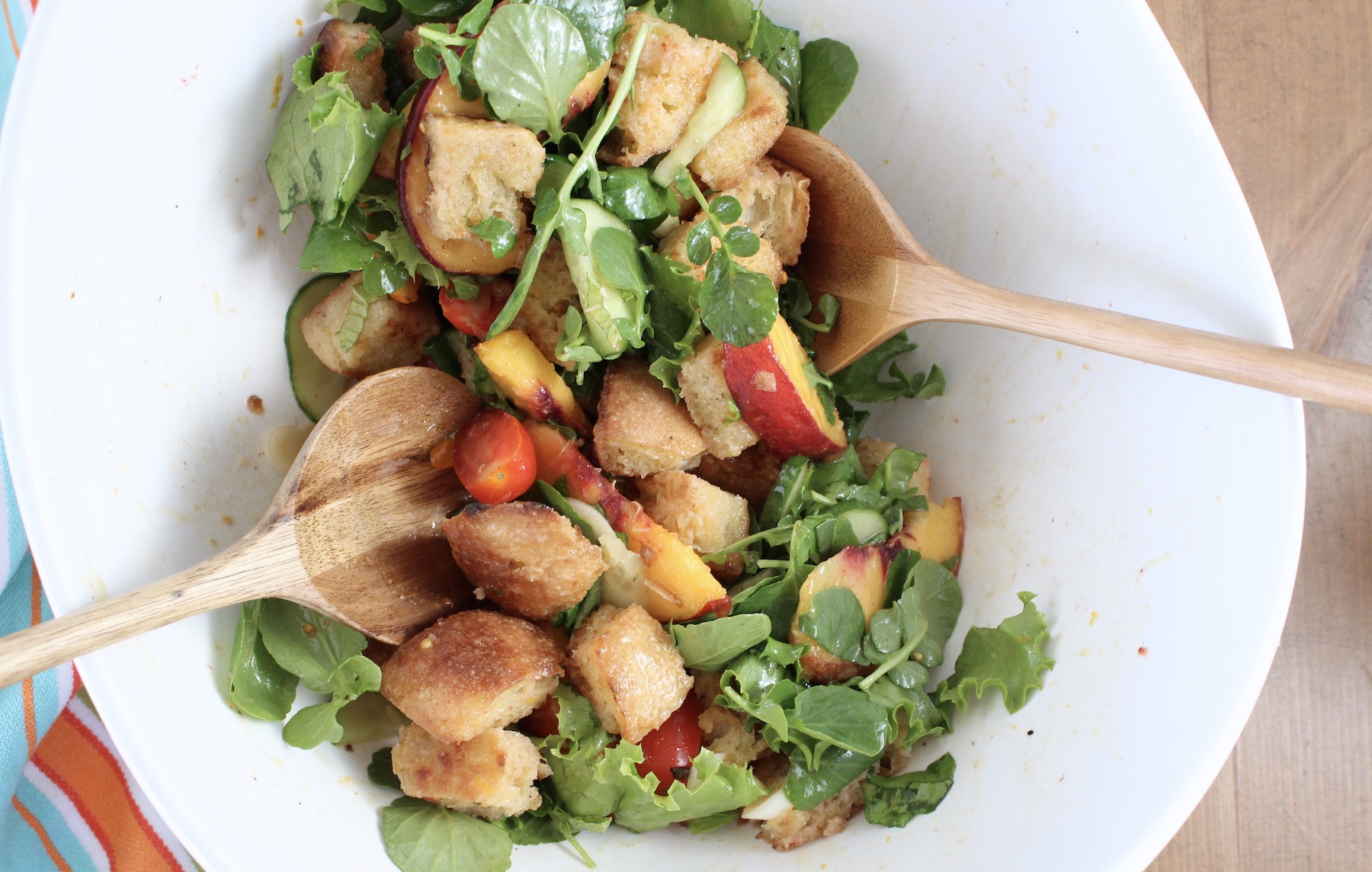 I hope you make a batch, sip some chilled wine, and enjoy Summer.  And if you can do all of that with loved ones, all the better 🙂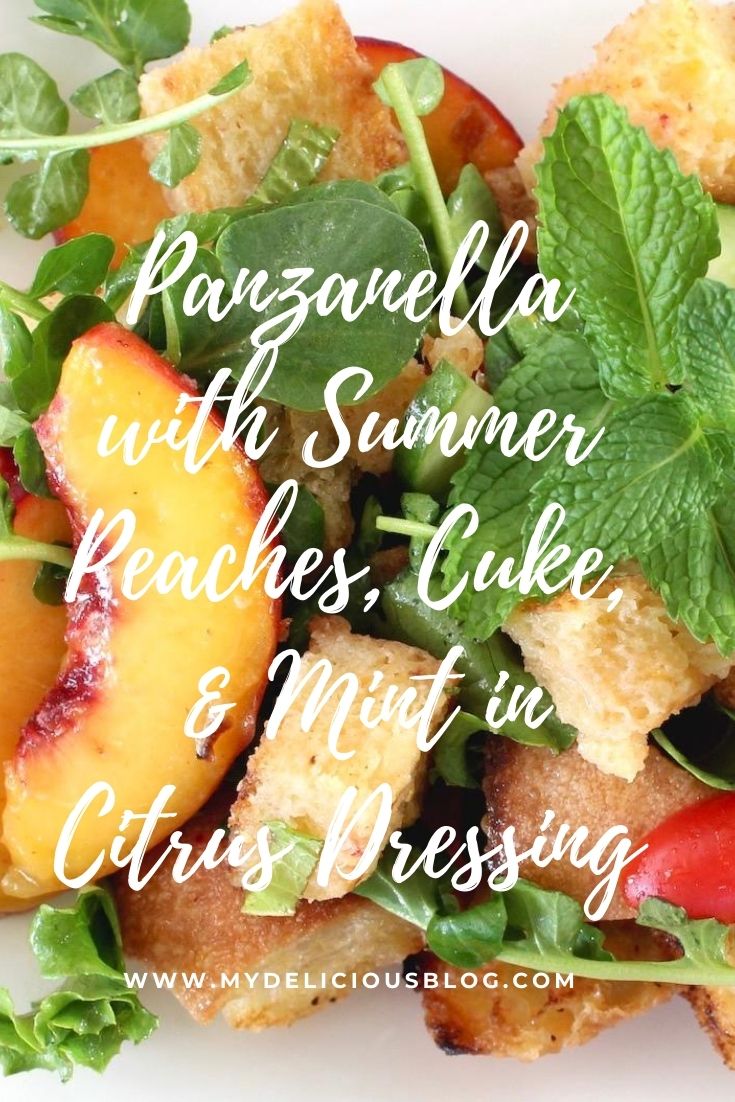 Print Recipe
Panzanella with Peaches, Mint & Cucumber
A great Summer salad, with crusty bread, juicy peaches, fresh cucumber, mint and greens, mixed with a yummy, citrus dressing.
Ingredients
Citrus Dressing
1

tsp.

Lemon zest

1

tsp.

Orange zest

1/4

c.

Lemon juice

1/4

c.

Fresh orange juice

(alt: prepared juice)

1

tsp.

Honey

1/2

tsp.

Kosher salt

1/4

tsp.

Freshly ground black pepper

3/4

c.

Extra virgin olive oil
Salad
3-4

Tb.

Extra virgin olive oil

4

c.

Ciabatta, Boule, French or other bread, 1" pieces

3

Large, ripe peaches, pitted & sliced

1/2

English cucumber, halved lengthwise, thinly sliced

1

c.

Cherry or Grape tomatoes, halved

3

Scallions, trimmed & thinly sliced

2

c.

Baby greens and/or chopped, tender lettuce

(add in some bitter greens like watercress or baby arugula for the best flavor)

1+

Tb.

Fresh mint leaves, chopped
Instructions
Add Dressing ingredients to a lidded jar and shake vigorously; set aside or refrigerate until ready to use.

If your bread is stale, simply add the 1" chunks to a mixing bowl. If not, add 3 Tb. olive oil to a non-stick skillet over medium heat, add the bread and roast until brown (8-10 mins) - keep turning so all sides get brown (add more oil, if needed); transfer bread to a large mixing bowl and allow it to cool a few minutes. (Note: you can even avoid the stove altogether by grilling the bread.)

To the bread, add peaches, cucumbers, tomatoes and scallions. Pour in 1/2 the dressing and stir gently so all the bread gets coated. Let this sit about 15 minutes, stirring periodically to blend the flavors. After 15 minutes, add greens and mint, several more tablespoons of the dressing (to taste - you don't want to drown it in dressing), mix gently again and serve!