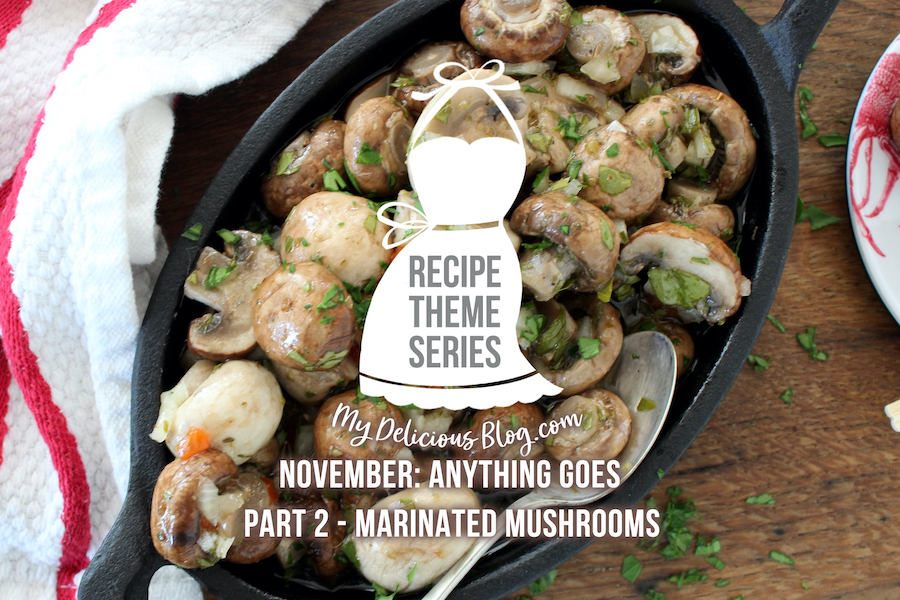 I love vintage cookbooks. They're filled with insight about the world at publish date; reflect available ingredients; and showcase the evolution of packaged goods designed to make life easier.
Of course, there were 'winning' recipes, like gelatin filled with hot dogs, and things covered in cheese sauce – here's a fun
article
I found to highlight those. But there were also staples we serve today like cakes, casseroles and sauces – recipes we've tweaked over the years.
As I prepared for this post, I looked through my books for inspiration and spotted many recipes for marinated mushrooms. Most were from the 1950s-1970s, when cocktail parties were commonplace and hostesses hunted for recipes to make entertaining easier or more fun. I also checked my grandmother's 60+ year old recipe box to see if she had one. It was there, typed on an index card – no instructions, though, so I had to apply some basics. . .
This whole process made me think about my grandparents, Lucille and Arthur. . .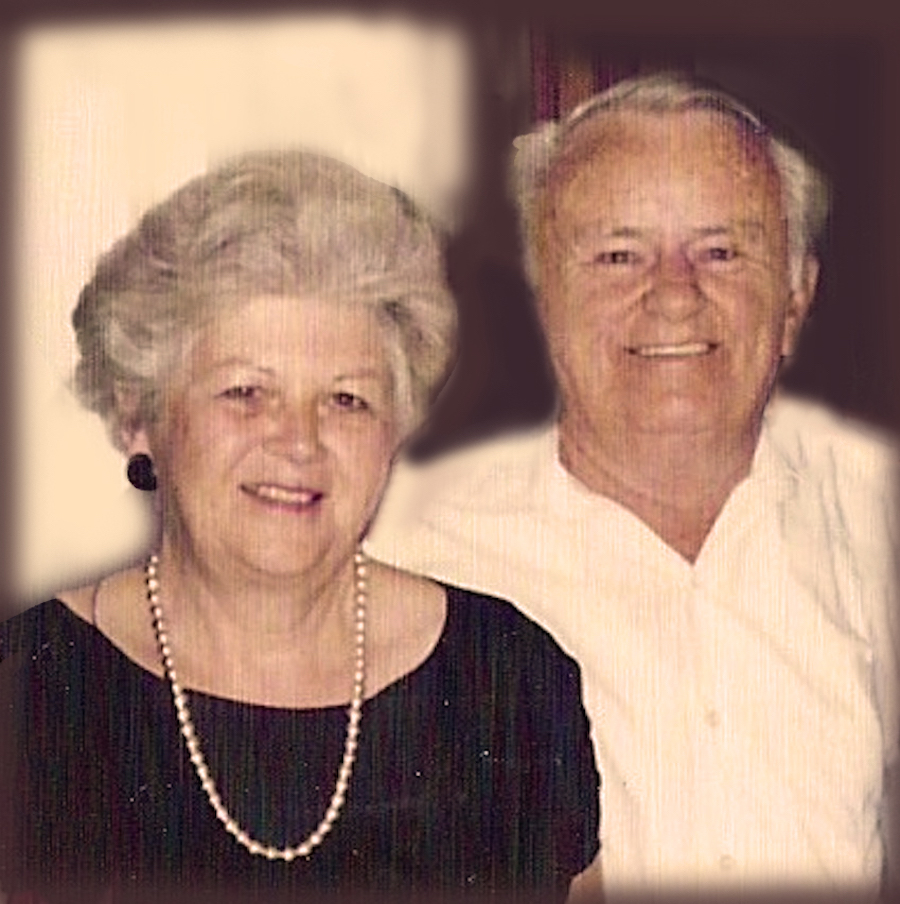 They lived in a lovely home in Fall River, MA, but it was in their basement (a.k.a. the "rumpus room") where all the spirited fun happened.The room was filled with a big bar, velvet couches and chairs, tchotchkes, and funky art on walls. There was always great music, especially when Arthur or one of his brothers played the piano – amazingly, they all played by ear! He and Lucille came from big families, so parties were packed with folks sipping cocktails (including Arthur's famous Manhattans) and enjoying Lucille's delicious food. They knew how to throw a good party, were both immensely talented and funny, and I miss them a lot. . .
From the looks of this recipe card, my grandmother made these mushrooms a lot for parties. They're easy, deliciously savory, and not filling. They also make great snacks if you're avoiding carbs, so I've been enjoying them all week!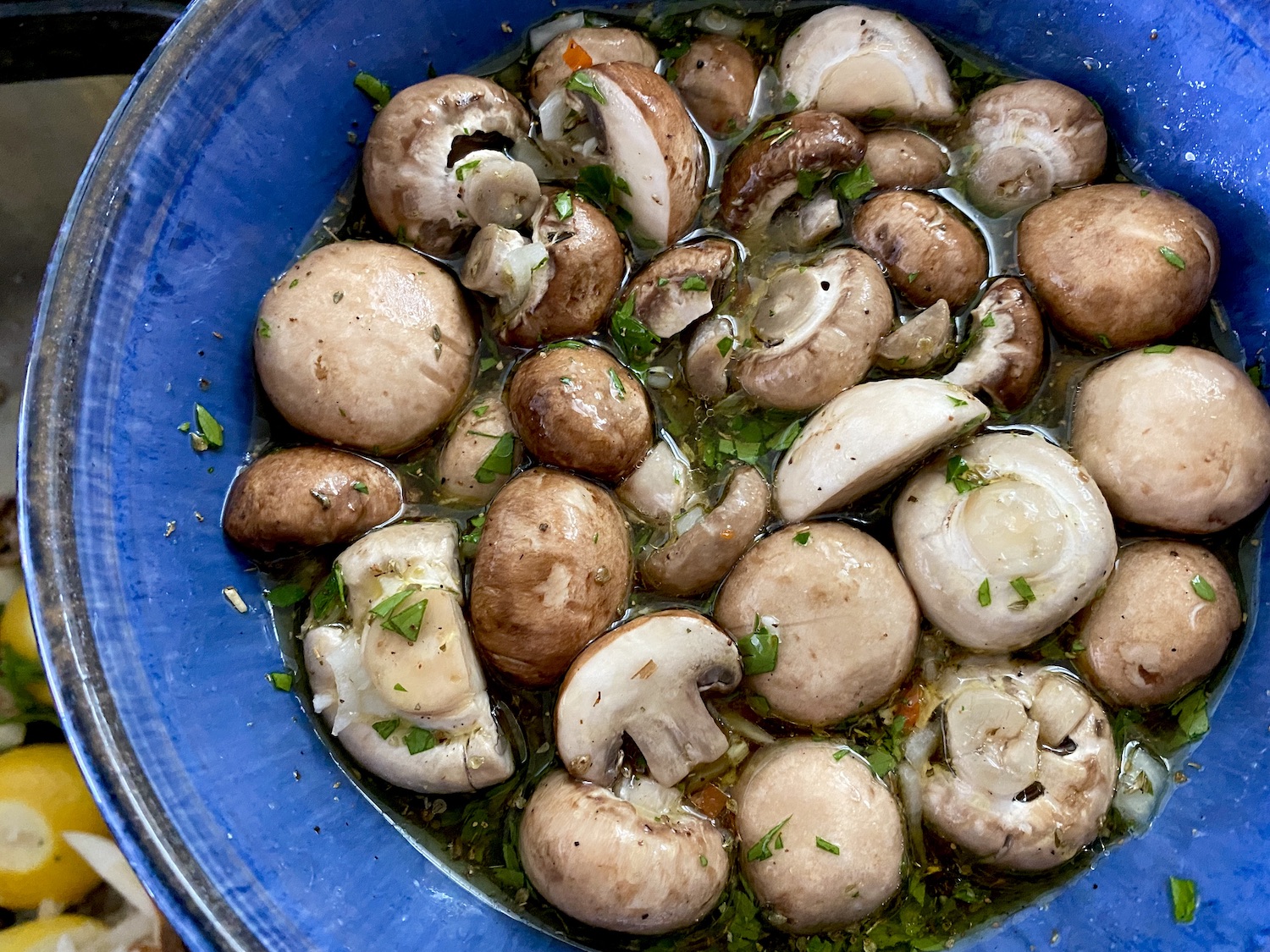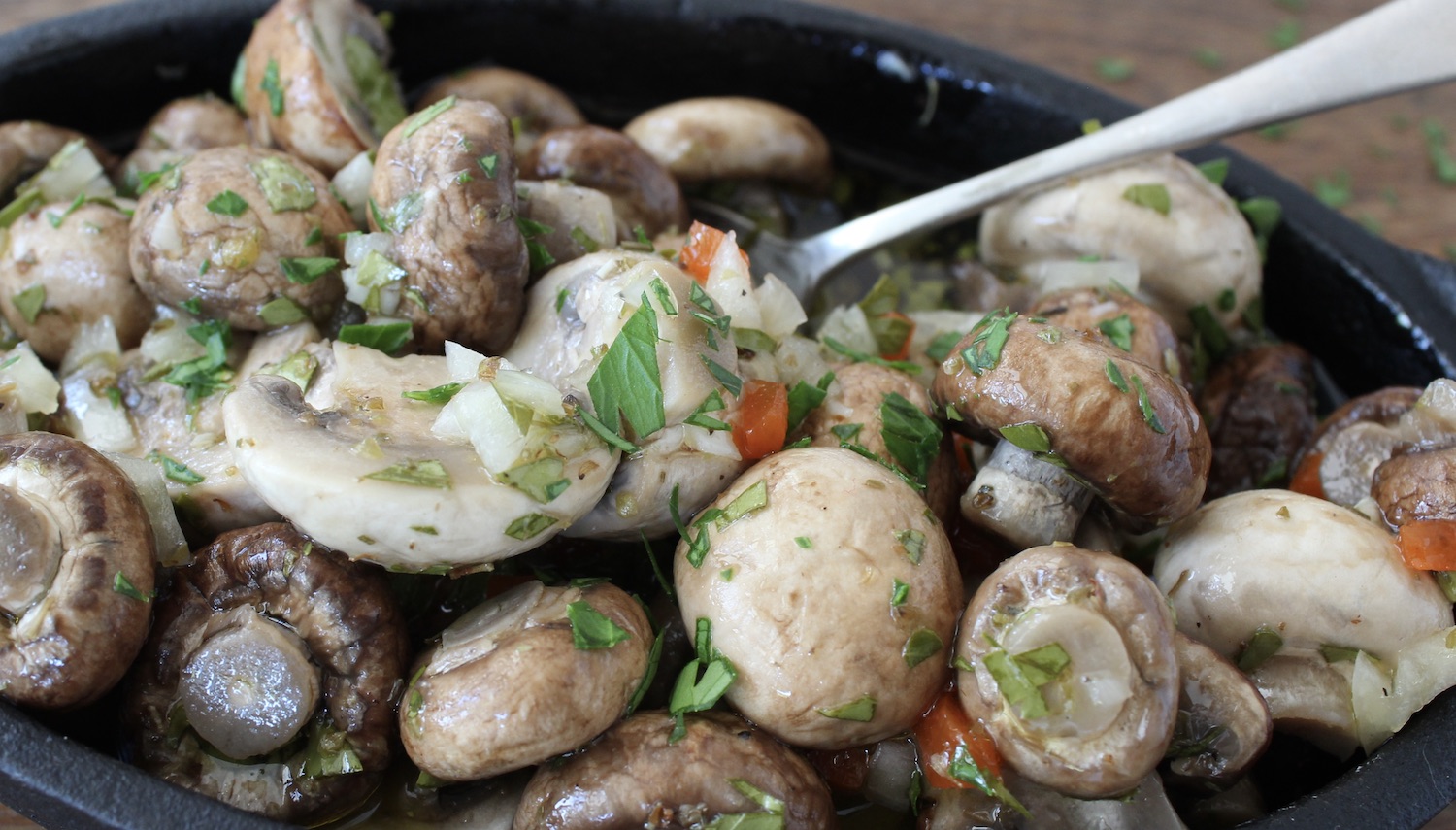 It's fun trying vintage recipes – I hope you try it for one of your upcoming holiday parties!
Vintage Marinated Mushrooms
Mushrooms marinated with onion, pimiento, garlic and oregano. Straight from my grandmother's recipe box and perfect for your next cocktail party.
Ingredients
2

lbs.

Whole, small-medium mushrooms

(Button or Portobella)

1/4

c.

Fresh lemon juice
Marinade
1

Tb.

Fresh parsley, minced

2

Tb.

Onion, minced

2

Tb.

Pimiento, minced

(alt: roasted red pepper)

1

clove

Fresh garlic, peeled and minced

1/2

tsp.

Table or Sea salt

1/2

tsp.

Dry oregano

1/8

tsp.

Ground black pepper

1/2

tsp.

Granulated sugar

1/4

c.

Water

1/4

c.

Olive oil

1/2

c.

White distilled vinegar
Instructions
Brush mushrooms with a dry towel and remove stems. If they're bigger than bite-sized, cut them in half.

Add marinade ingredients to a large bowl and whisk; set aside until mushrooms are ready.

Add mushrooms and lemon juice to a saucepan and stir. Bring to a boil then simmer only 1 minute and remove from heat. Strain out the liquid and transfer mushrooms to the marinade.

Allow mushrooms to sit at room temperature for about 1 hour in the marinade order to absorb flavor, then refrigerate them 2-3 hours before serving.
Notes
Note: "Prep Time" is noted as 2 hours, which is primarily the marinating time. These mushrooms can be prepped in less than 10 minutes, but you need them to marinate about 2 hours before serving.