Mark Twain wrote "Cauliflower is nothing but cabbage with a college education." (The Tragedy of Pudd'nhead Wilson, 1st published 1894).
True, cauliflower IS in the cabbage family, with cohorts like arugula, mustard greens, Brussels sprouts and turnip. And, sure, it isn't a trendy veggie like celery root, sun choke, chioggia beet or kale (which has had a longer 'day in the sun' than many expected).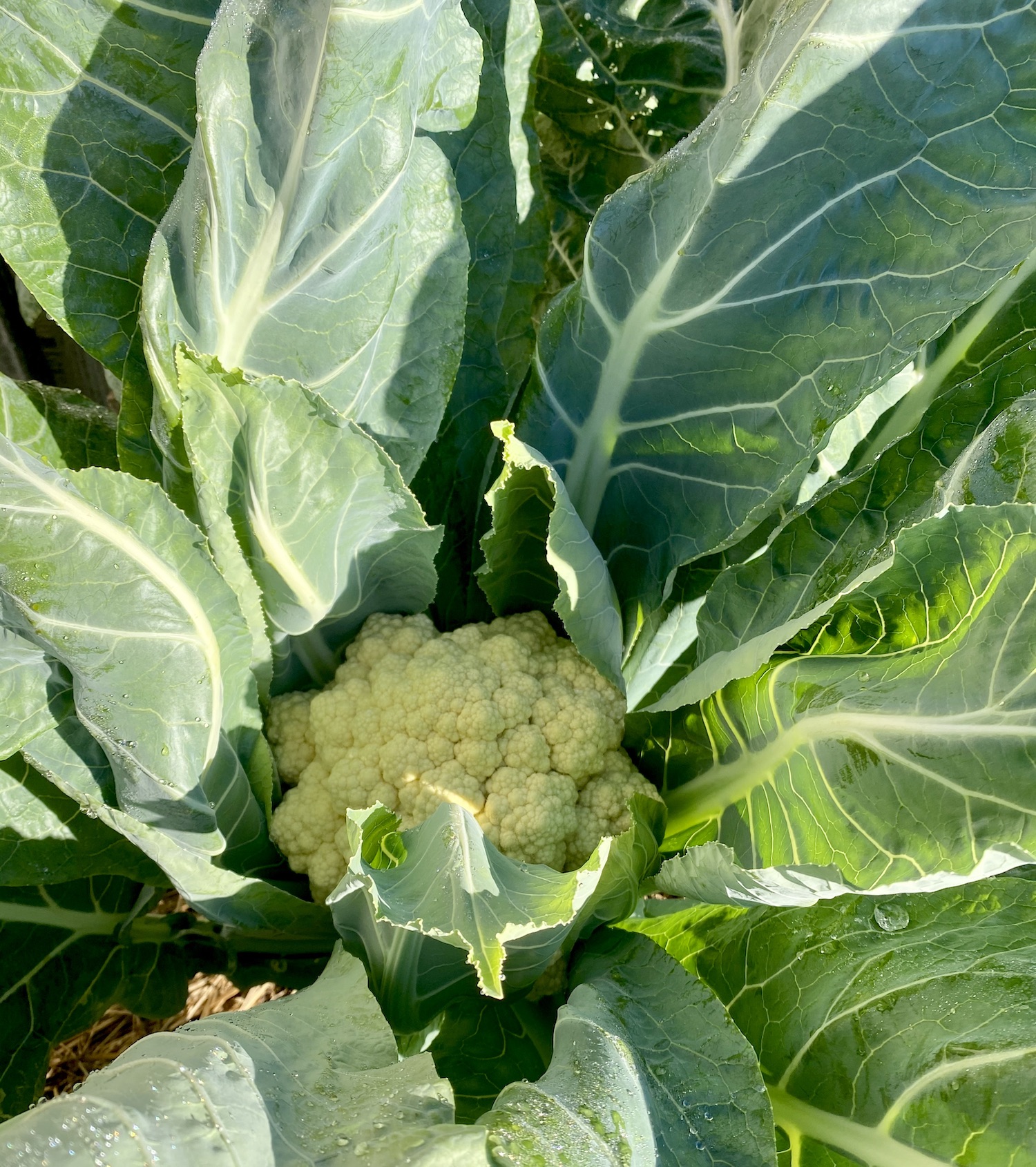 But cauliflower has a lot to offer and, lately, folks have been consuming it like crazy. You can grind it raw to make 'rice' (an alternative to potatoes), roast it, sautée it, puree it, and even hide it in baked goods to add nutrients without the kids knowing. Plus, this humble vegetable is good for you because it's full of fiber, vitamin C and antioxidants. It's also mild, taking on the flavor of anything with which you pair it.
I have several heads of cauliflower in my fridge (it's in season in Florida, so I stocked up at my favorite local
farm
) and decided to make cheesy, open faced sandwiches. I even added chickpeas to the mix, for added protein.
They're easy to make and you can serve them as appetizers or a main dish (with a nice green salad). Just roast the cauliflower, chickpeas and garlic, mix with Greek yogurt, Dijon, lemon, spices and cheese. Then slather the mixture on chunky pieces of toast and put 'em under the broiler. Look at all that cheesy goodness, right out of the oven: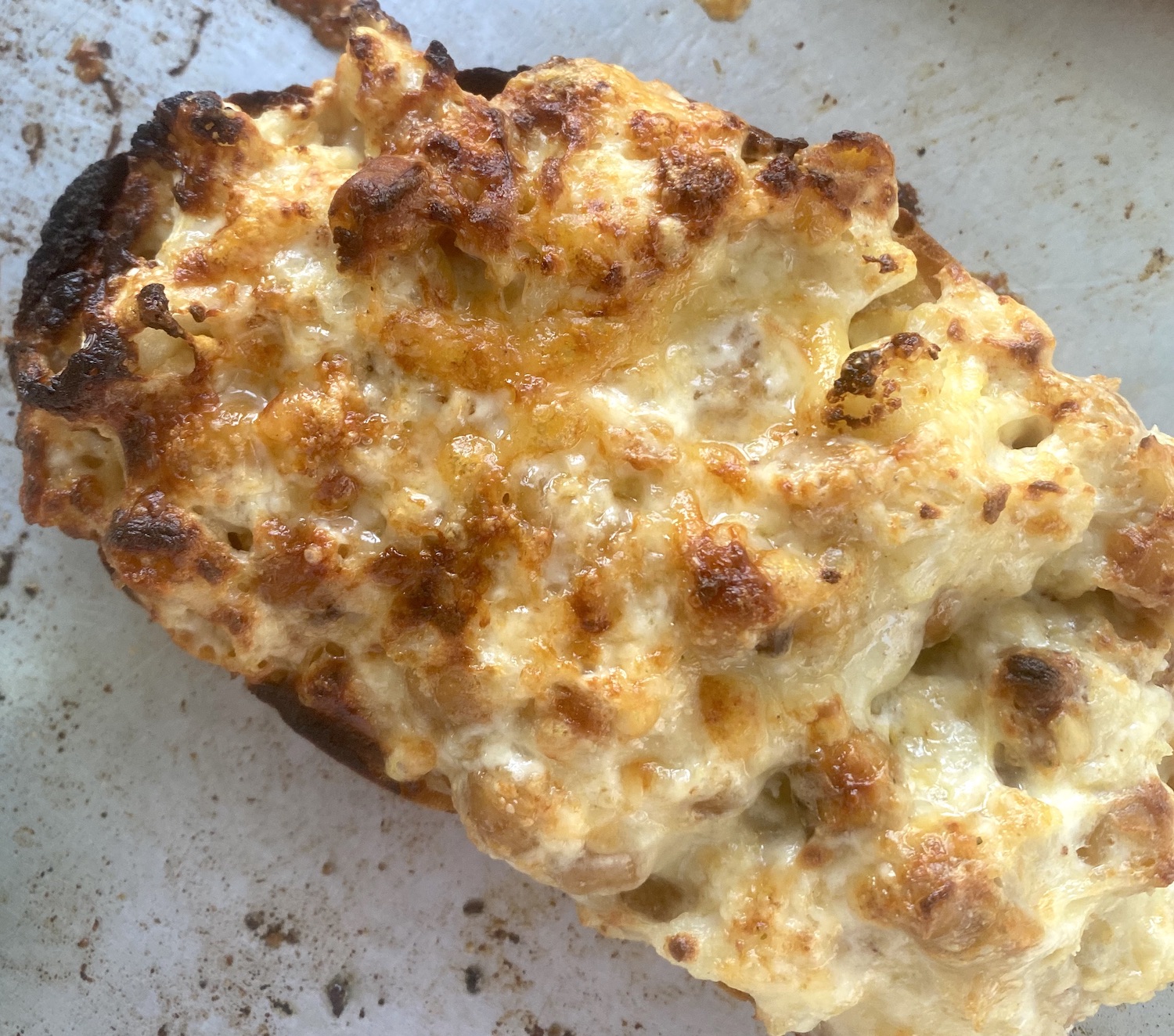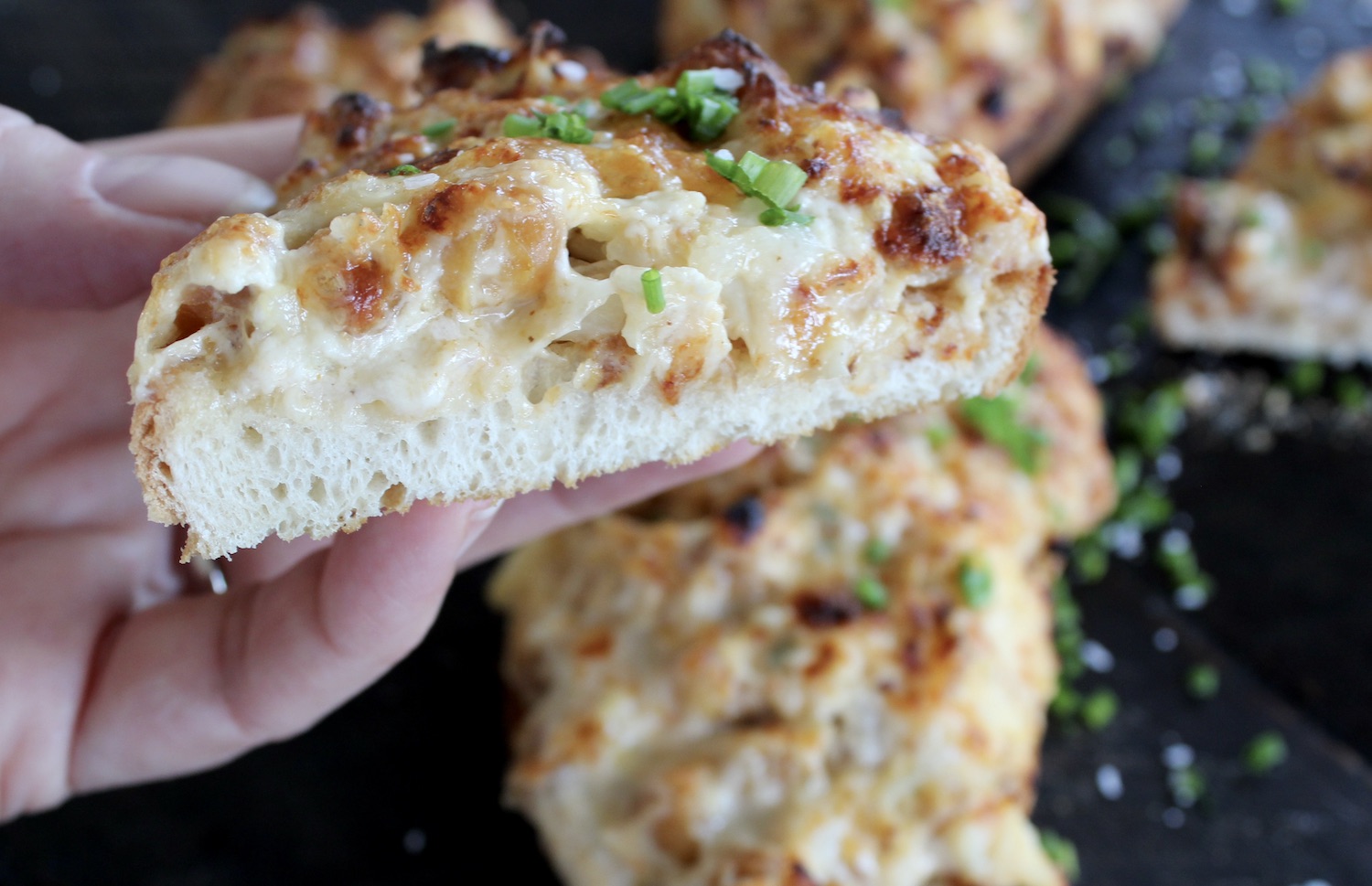 I don't care what Twain said. . .cauliflower is more than just educated cabbage. It's pretty awesome 🙂
P.S. if you adore chickpeas (like me), try this other version for flavorful 
roasted chickpeas
.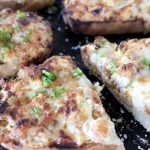 Print Recipe
Cauliflower and Chickpea Toast
Roasted cauliflower and chickpeas pair nicely with Greek yogurt, spices, herbs and cheese to make delicious open faced sandwiches!
Ingredients
1

head

Cauliflower

1

can

Chickpeas, drained

2-3

cloves

Garlic, peeled & sliced thickly

4

Tb.

Olive oil

1

tsp.

Kosher or sea salt

1/2

tsp.

Paprika

(Smoked paprika is a great option)

1/4

tsp.

Freshly ground black pepper

1/4

tsp.

Red pepper flakes (optional)

1

c.

Whole milk Greek yogurt

1 1/2

c.

Grated cheese (cheddar, Gruyere or both)

(reserve 1/2 c. for topping before broiling)

1

tsp.

Dijon mustard

1

tsp.

Lemon juice

6

slices

Thick-cut country or other rustic bread

Fresh chives or parsley, chopped (for garnish)
Instructions
Slice cauliflower in half and remove leaves and core. Break apart each floret using a paring knife then cut the florets into 1/2" size pieces.

Add cauliflower, chickpeas and garlic slices onto a rimmed baking sheet. Mix with 4 Tb. olive oil, 1 tsp. salt, 1/4 tsp. black pepper, 1 tsp. paprika and red pepper flakes (if using), until well coated.

Place baking sheet in oven and roast ~10 minutes then flip the ingredients using a spatula/wooden spoon. Continue roasting another ~20 minutes, checking periodically and turning the ingredients, until cauliflower is tender when tested with a sharp knife.

While cauliflower roasts, add yogurt, 1 c. cheese, Dijon, lemon juice and pinch of salt into a large mixing bowl and stir until combined. Toast bread slices and set aside until ready to use.

Remove cauliflower/chickpeas from oven and, while warm, combine with yogurt mixture and mix until combined. Spoon equal portions onto toasts then place on rimmed baking sheet. Top each toast with remaining 1/2 c. of cheese.

Set oven to High Broil and place baking sheet under broiler for a few minutes (watch closely!) until cheese is brown and bubbly. Remove from oven, top with fresh herbs and a sprinkle of flaky salt and serve immediately.
Notes
Feel free to make this recipe your own by adding/replacing your preferred spices, herbs and mix-ins. If you want it more 'garlicky' just add more garlic (or omit altogether).  If you don't love chickpeas, don't use 'em, but maybe add more veggies, like broccoli. Not a fan of Greek yogurt, try whole milk ricotta, or mascarpone (or a mixture of both - I've tried it and it's delicious) 🙂