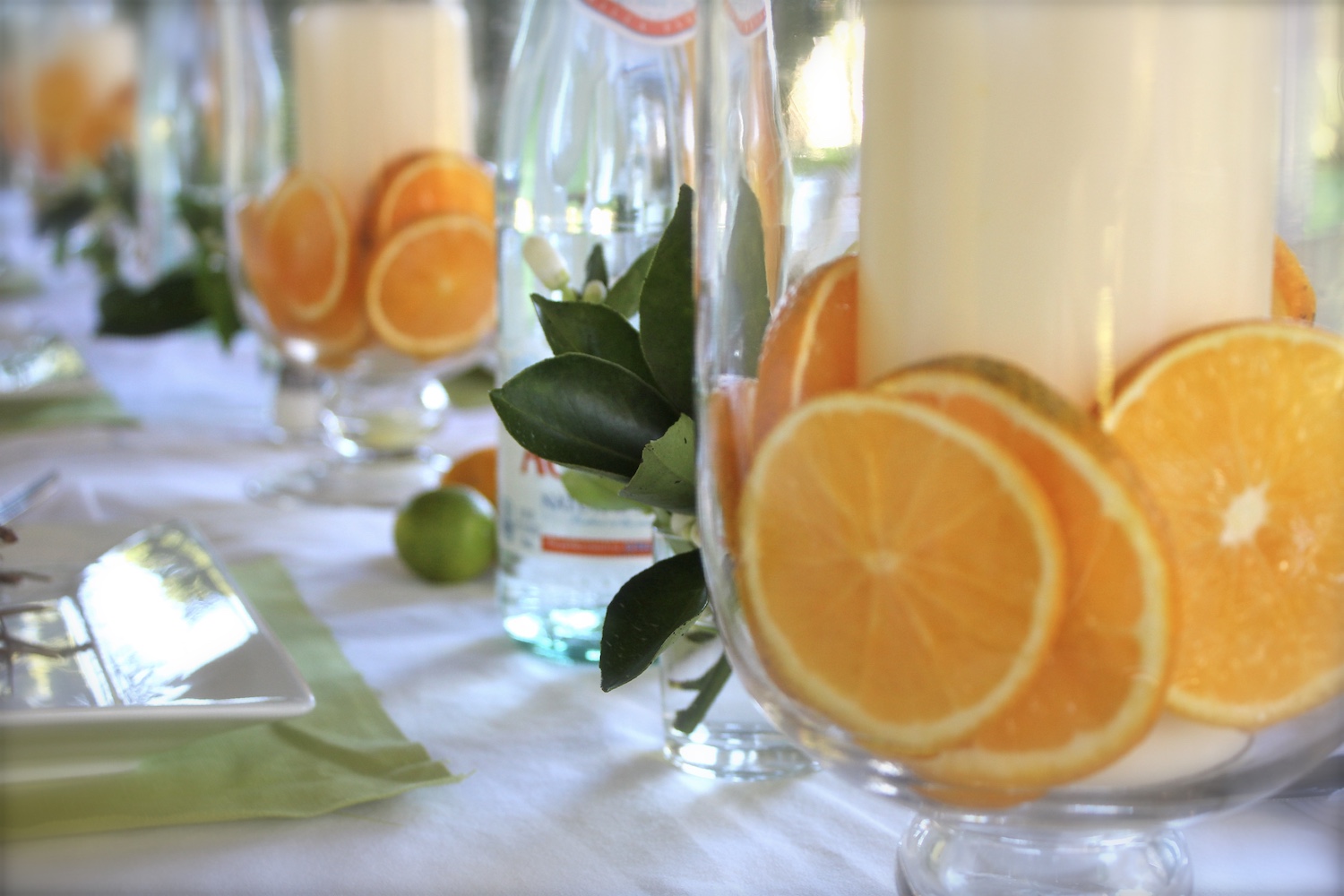 I think it was Judith Jones (you know, the famous editor of Julia Child's groundbreaking book "Mastering the Art of French Cooking") who said: "The goal of a dinner – any dinner for that matter — is to give pleasure."
Hosting friends gives me an opportunity to be creative – to think about what they would like to eat, as well as, what decor will make the evening as enjoyable as possible.   I especially love to host outdoor dinners during Florida winters – the time of year when folks come alive after the searing summer heat!
For a recent party, I decided the theme would be "Fresh Florida."  Typically, I create a menu and do all the cooking, but this time I challenged guests to bring something made with fresh, Florida ingredients.  Some were a little nervous, but soon everyone got into the spirit and their creative juices started to flow.   I provided categories (salad, meat, dessert, vegetable, starch) and prayed the overall menu would come together.
In the meantime, I got busy on my tables cape.  Since it was Spring, I was nest-obsessed and wanted little nests all around the table.  After scouring craft stores and being underwhelmed with options (and overwhelmed with cost) I decided to make my own.  My backyard is loaded with Spanish Moss and pine needles, so I scooped up a bunch and formed little nests, holding them together with medium gauge wire.  A little green moss on top, some chocolate eggs and, voila!  Cute nests for my guests (see pic below).
I love to use natural materials in my backyard — leaves, branches &  flowers — and I decided on a color scheme that always looks fresh to me: orange, green and white. So, what better material to use than Florida oranges?  I sliced up a bunch, dried them off, and slid them around tall candles in glass hurricanes.  Luckily, there's an orange grove down my street, so I nabbed a few orange blossoms, too (shhhh. . .don't tell anyone!).   For the buffet, I bought lettuce, cabbage and fruits at a local organic farm — so beautiful they were worthy of table decorations, and we could still eat them later.
Our menu came together beautifully: grilled skirt steak with chimichurri, roasted shrimp salad, rosemary roasted red potatoes, carrots with cumin & orange glaze, green papaya & raisin couscous, green salad with strawberries, asparagus & walnuts, and key lime pie.  No recipes to post for now – everyone came up with their own specialities.
It was a beautiful evening of delicious food, good friends, and great conversation.  What better way to celebrate Spring?  Hopefully my dinner party will inspire you!