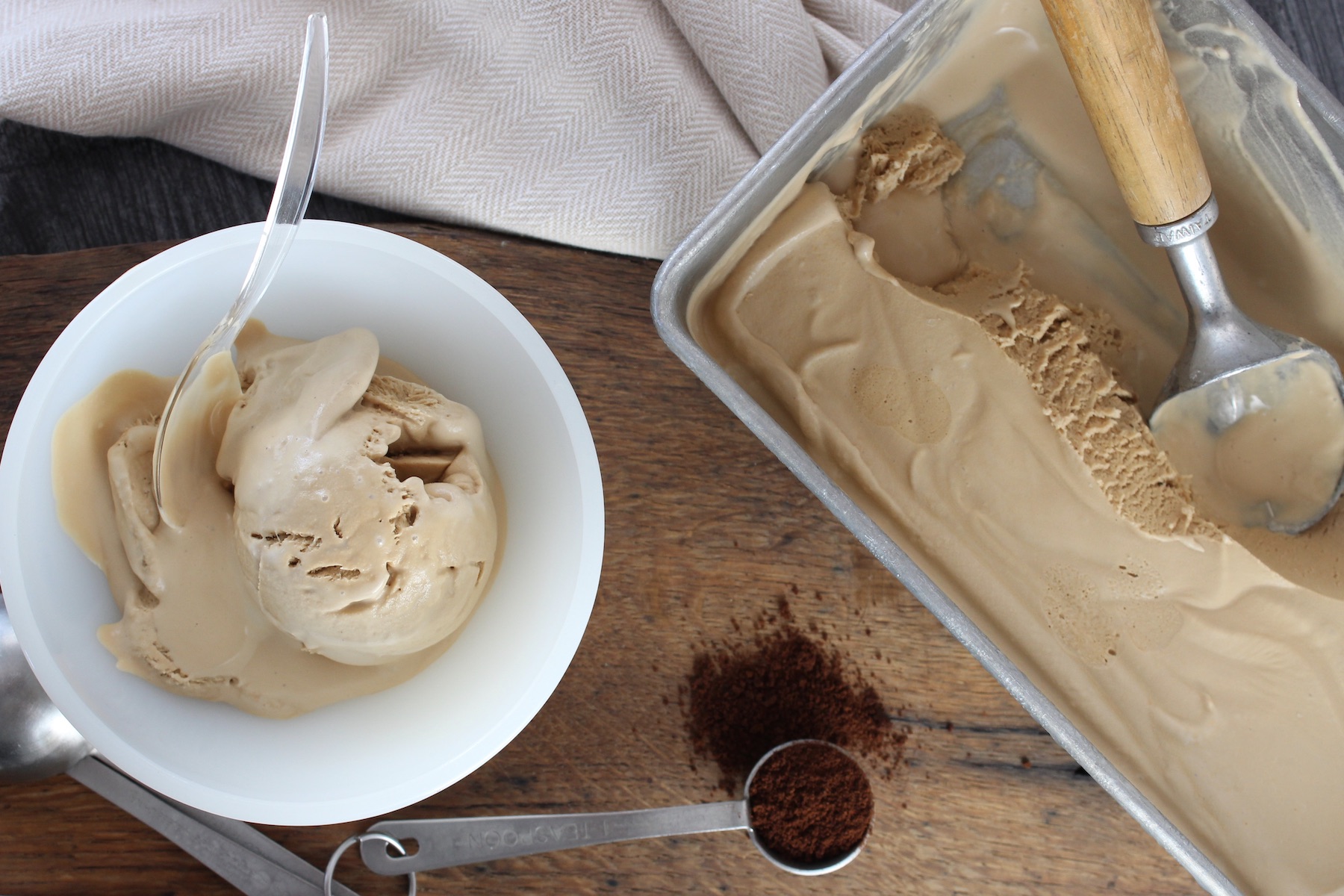 There are some things that scream Summer, like dragging a cooler to the beach, lounging on a pool raft, eating watermelon on your back porch, buying roadside-stand tomatoes, and bellying up to an ice cream shop in your wet bathing suit.
While I haven't bellied up to an ice cream shop lately, I have fond memories of doing just that.  And when it comes to ice cream flavors, well, I've got a short list.  While many go for chocolate varieties, I opt for strawberry, maple walnut, butter pecan or
coffee
.   I LOVE coffee ice cream. . .And I bet if you asked any self-respecting New Englander, he/she would say it's in their top tier of flavor choices.  Not sure why, I just know that, to me, it tastes like Summer.  Here's a batch I enjoyed at
Gray's Ice Cream
 in Tiverton, Rhode Island last year.  Even my parents have been going there since they were kids, so any time I'm nearby, I stop in.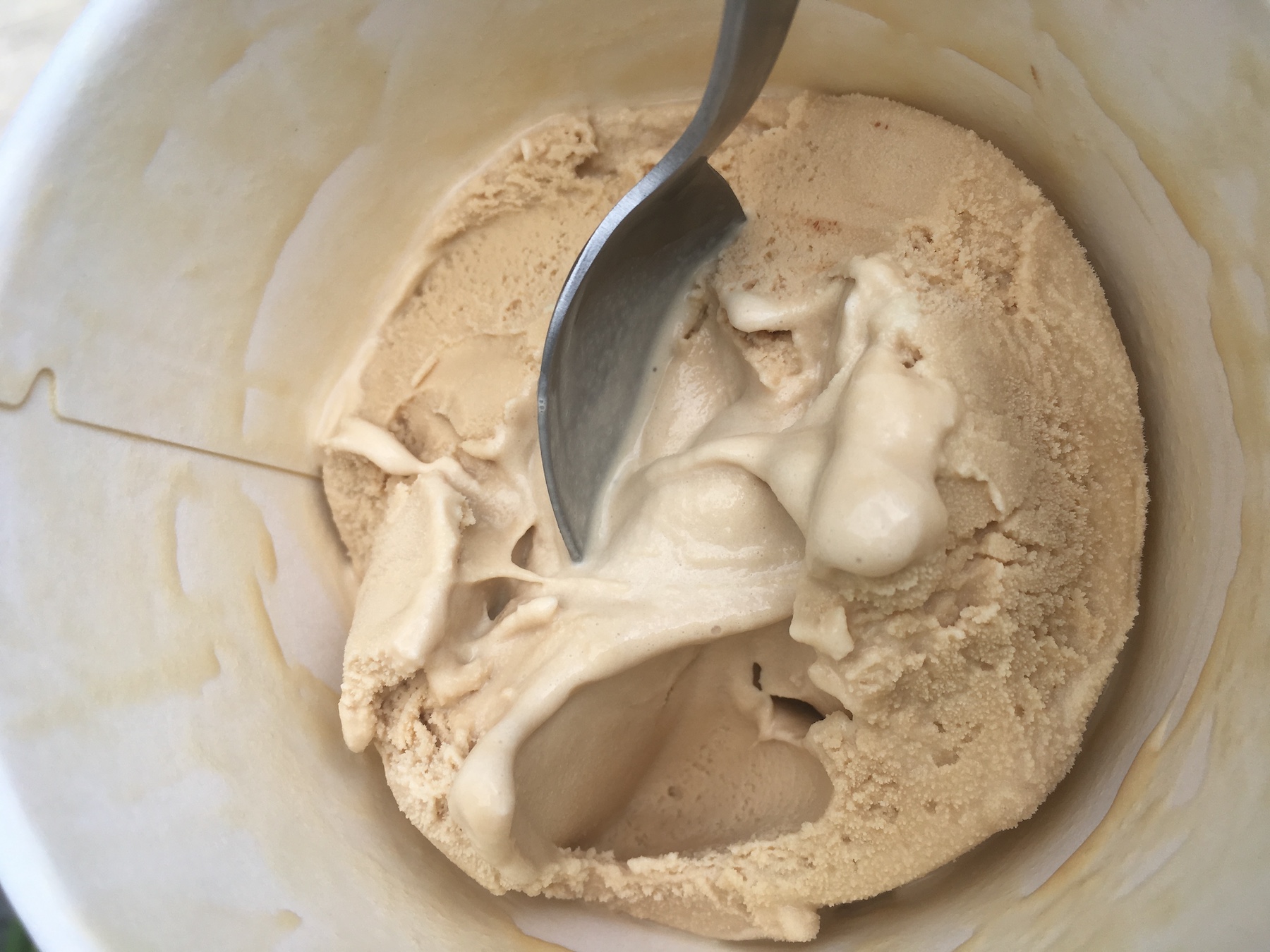 I recently shared a recipe for churn-style peach ice cream – a delicious treat, but tough to make if you don't have an ice cream maker.  So, today's recipe is no-churn style with 4 ingredients, taking less than 10 minutes to prepare before putting in the freezer!  There are lots of recipes for this style of ice cream, but this one comes from Nigella Lawson (you know, that buxom, British beauty who's a whiz in the kitchen?).  Her recipe is all over the foodie world because it's not only easy, it's quite delicious.  And because I love coffee ice cream so much, it was a no-brainer for me.
Churn-style ice cream relies on movement to bring air into the mixture while pushing out water, which reduces ice crystals that form as the mixture freezes.  The finished process results in ice cream that's light, dense and delicious.
With no-churn style, the base is usually heavy cream and sweetened, condensed milk, then you add in whatever flavorings you like.  The process involves bringing air into the cream via a whisk or blender, and getting it to soft peaks.  Adding that high-sugar milk lowers the freezing point, which means it won't get rock-hard in the freezer.  And since the milk has been 'cooked,' much of its water has evaporated, which means less opportunity for ice crystals to form, and a smoother, finished ice cream.  Finally, this particular recipe includes alcohol as one of its flavor-enhancers, and alcohol also lowers the freezing point, making this ice cream super-smooth and creamy.
Here's what it looks like when you know it's whipped just right – soft peaks with little 'trails' that form when you move the whisk through it.  And that color. . .well, that's just dreamy.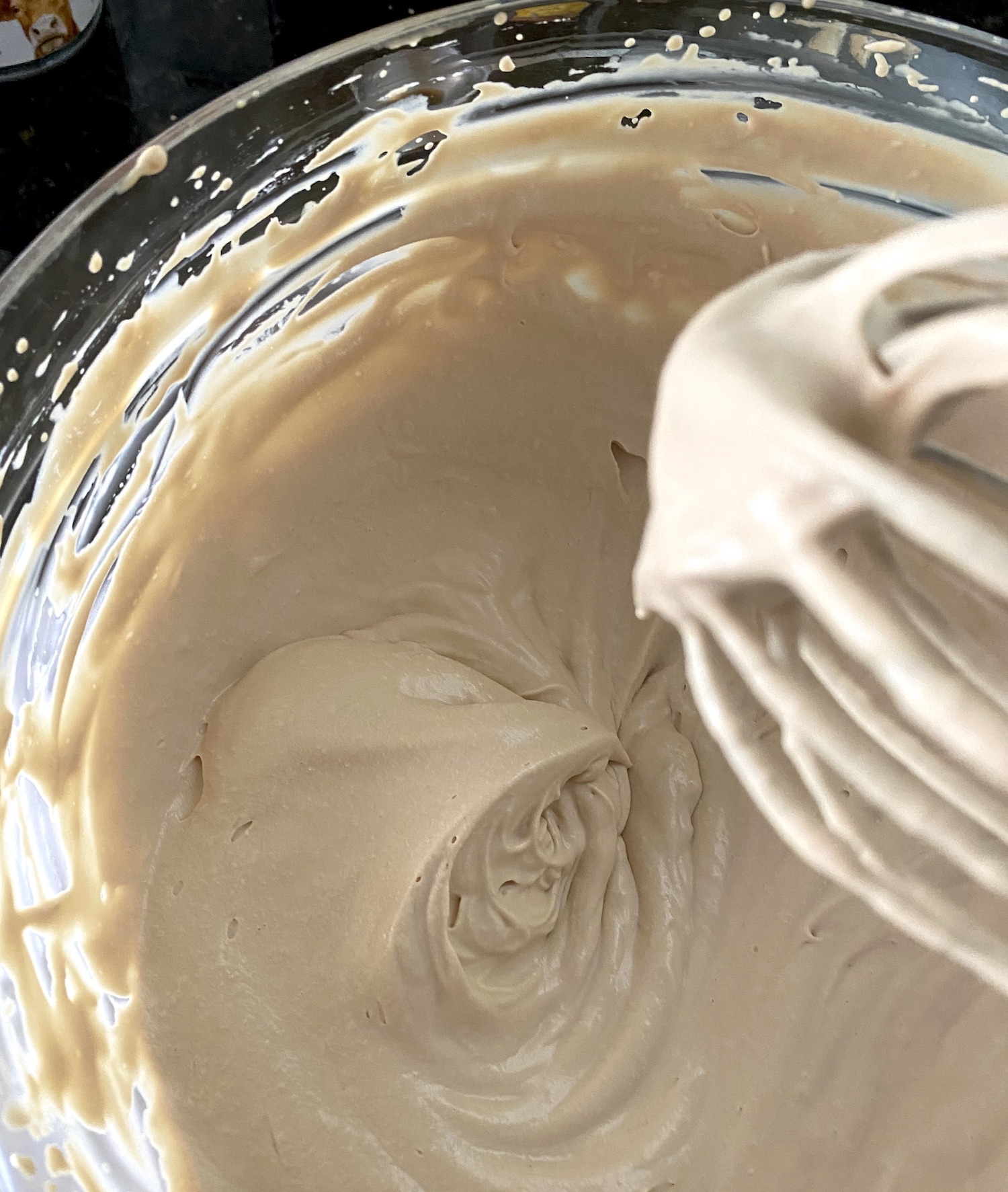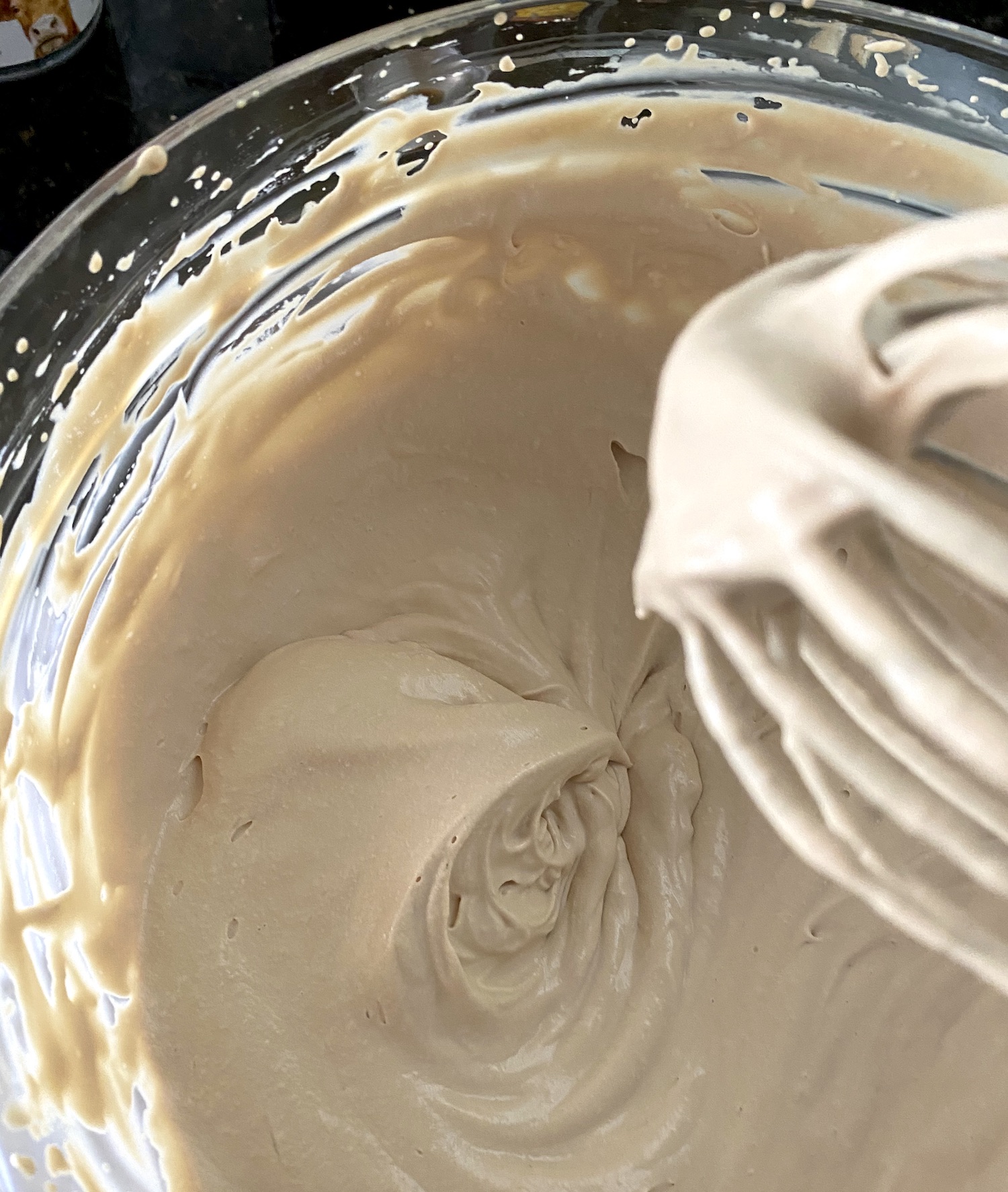 Once frozen, you can enjoy a creamy scoop all by itself OR get your paws on some cookies (I used awesome 
Tate's
 chocolate chip cookies because I didn't want to turn on the oven) and make
ice cream sandwiches
!  It's summer, so it's OK to splurge.  The rich, flavor of this ice cream goes quite nicely with the buttery, crispy chocolate chip cookies, so I highly recommend this combo 🙂   Enjoy!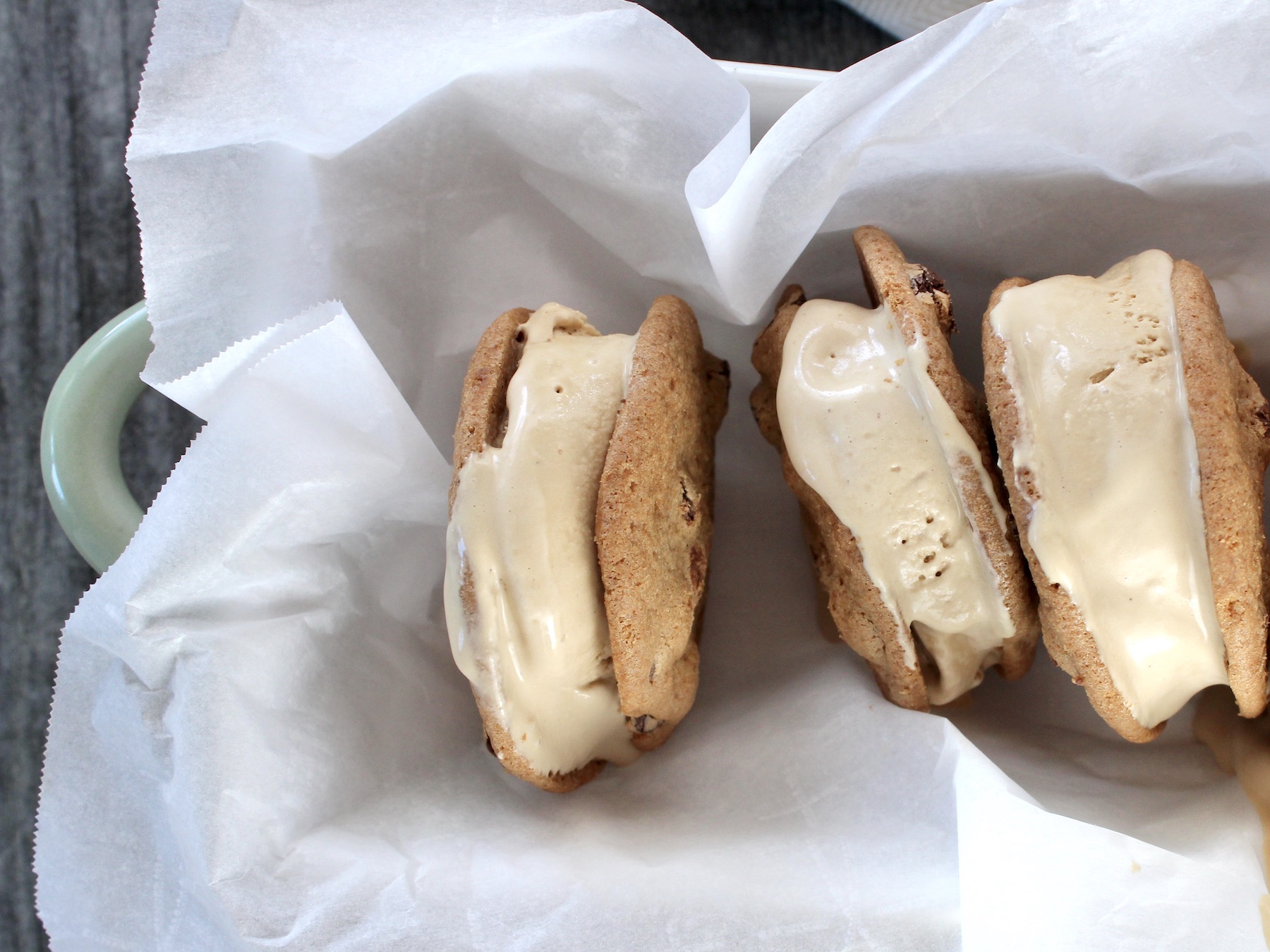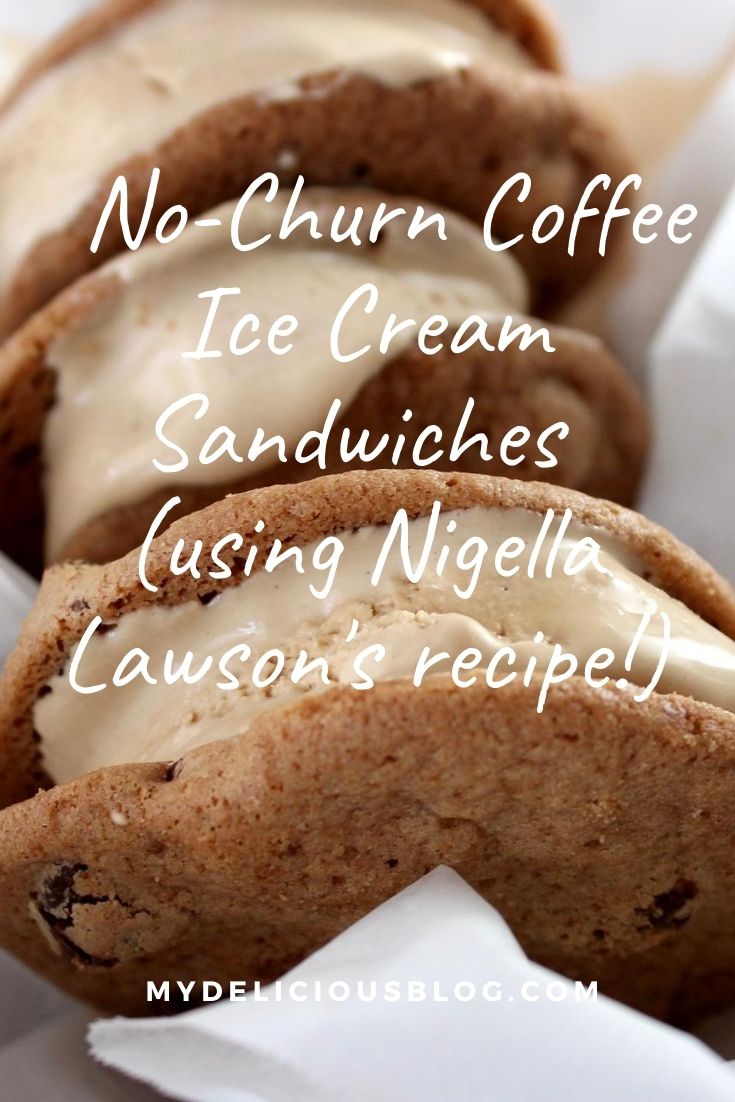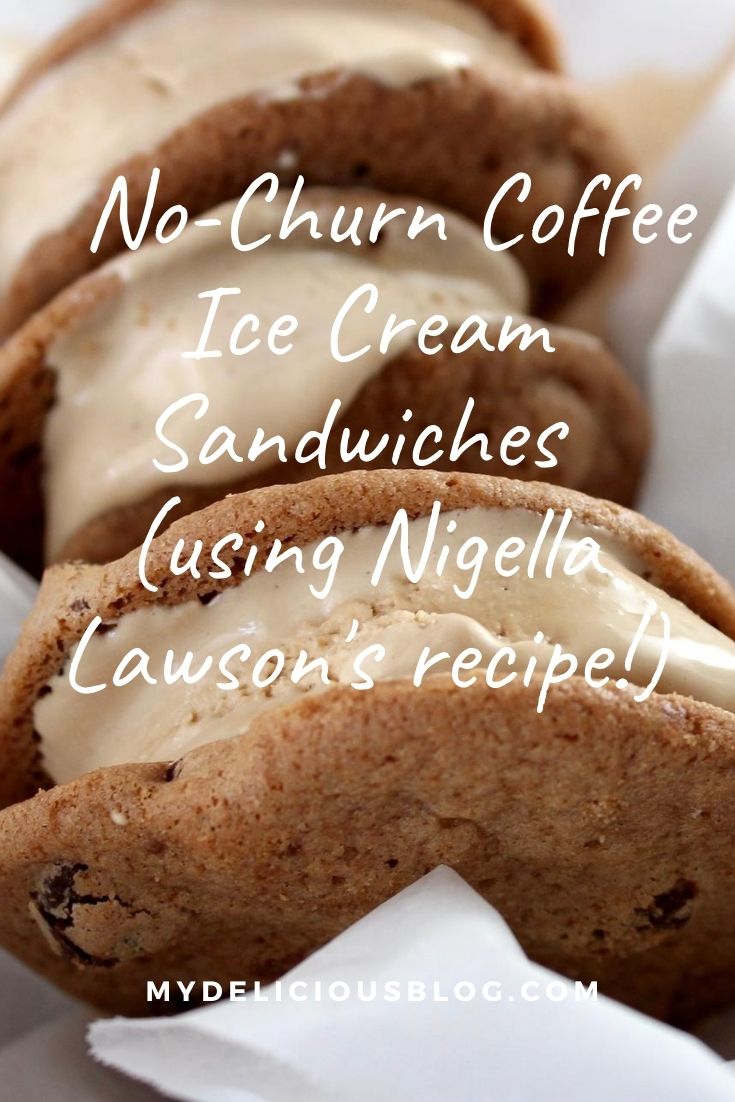 Print Recipe
No-Churn Coffee Ice Cream
Celebrate summer with an easy ice cream, using Nigella Lawson's awesome recipe (slightly adapted), with no churning involved!
Ingredients
1 1/4

c.

Heavy cream

2/3

c.

Sweetened, condensed milk

2

Tb.

Espresso instant coffee granules

(I used Cafe Bustelo)

2

Tb.

Kahlua

(or espresso liquor, as the original recipe calls for)
Instructions
Place condensed milk and Kahlua in refrigerator the night before making ice cream.

Place a large mixing bowl in the freezer for 15 minutes before making ice cream.

Add heavy cream to the cold mixing bowl. Using a large whisk, whip the cream until soft peaks form. Add condensed milk, coffee and Kahlua. Mix gently to combine, then whisk until the mixture achieves a thick, but soft and ribbony consistency.

Transfer the mixture to a loaf pan (or a lidded, quart container) and freeze for 6 hours or overnight.

Serve in a bowl OR place a scoop between two cookies for a special treat!
Notes
Note 1: when  you remove the ice cream from the freezer, you'll find that it melts super-fast, so be prepared to serve it or scoop it between cookies before it gets too 'melty' (although, that's actually not such a bad thing!).
Note 2: If making ice cream sandwiches, this mixture will make about 8 medium-sized sandwiches, depending on your cookie variety, and how much you fill them.