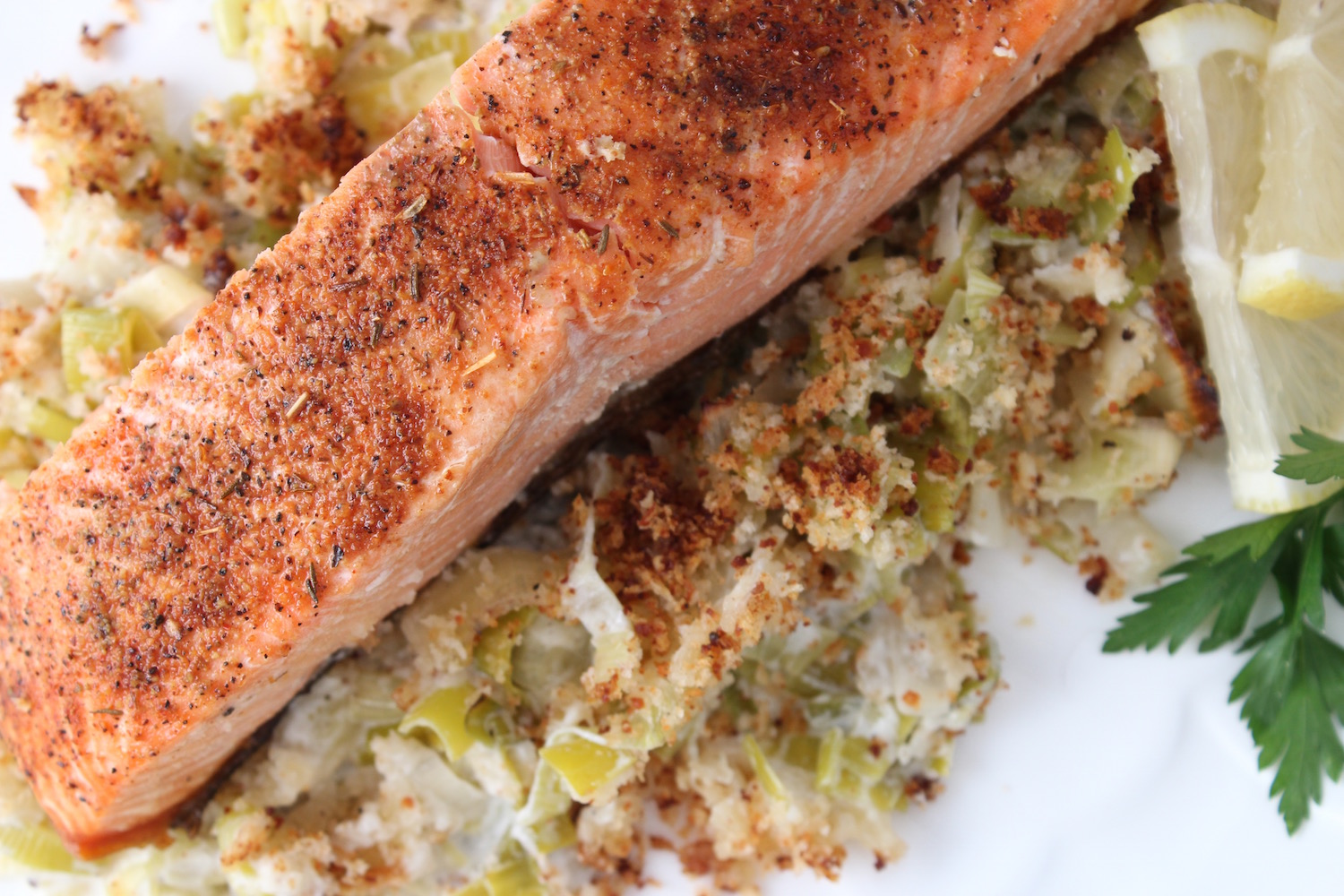 It's an understatement to say that King (Chinook) Salmon is prized in Alaska. They love it so much that in 1962 they proclaimed it their official state fish! It's the largest of all Pacific Salmon, has the highest amount of Omega-3 oil, and offers a distinctly rich, red flesh bursting with succulent flavor.
It's so good that if you see it at your fish market, grab it and run and don't even blink at the price.
I recently picked up a fillet at Whole Foods (they're currently offering frozen, but fresh fillets will be available starting in April when season starts).  As I was prepping it, I remembered something from M.F.K. Fisher's How to Cook a Wolf, in which she credits fellow food writer Sheila Hibben (The National Cookbook) as saying "The better the fish the simpler should be its preparation." King Salmon is one fish that screams for a simple preparation in order to honor its beautiful flavor and texture, so I decided to do just that!
After lightly seasoning the top of the fillet, I placed it skin-side down into a hot pan doused with a bit of olive oil. Once it had a nice sear, I transferred the pan to a pre-heated oven to finish cooking. That's it — you can't get much simpler than that!  I paired it with a casserole of delicate Spring leeks baked in cream with a hint of nutmeg, topped with a crunchy Panko-parmesan crust — also simple, yet elegant.
Check out the beautiful leeks: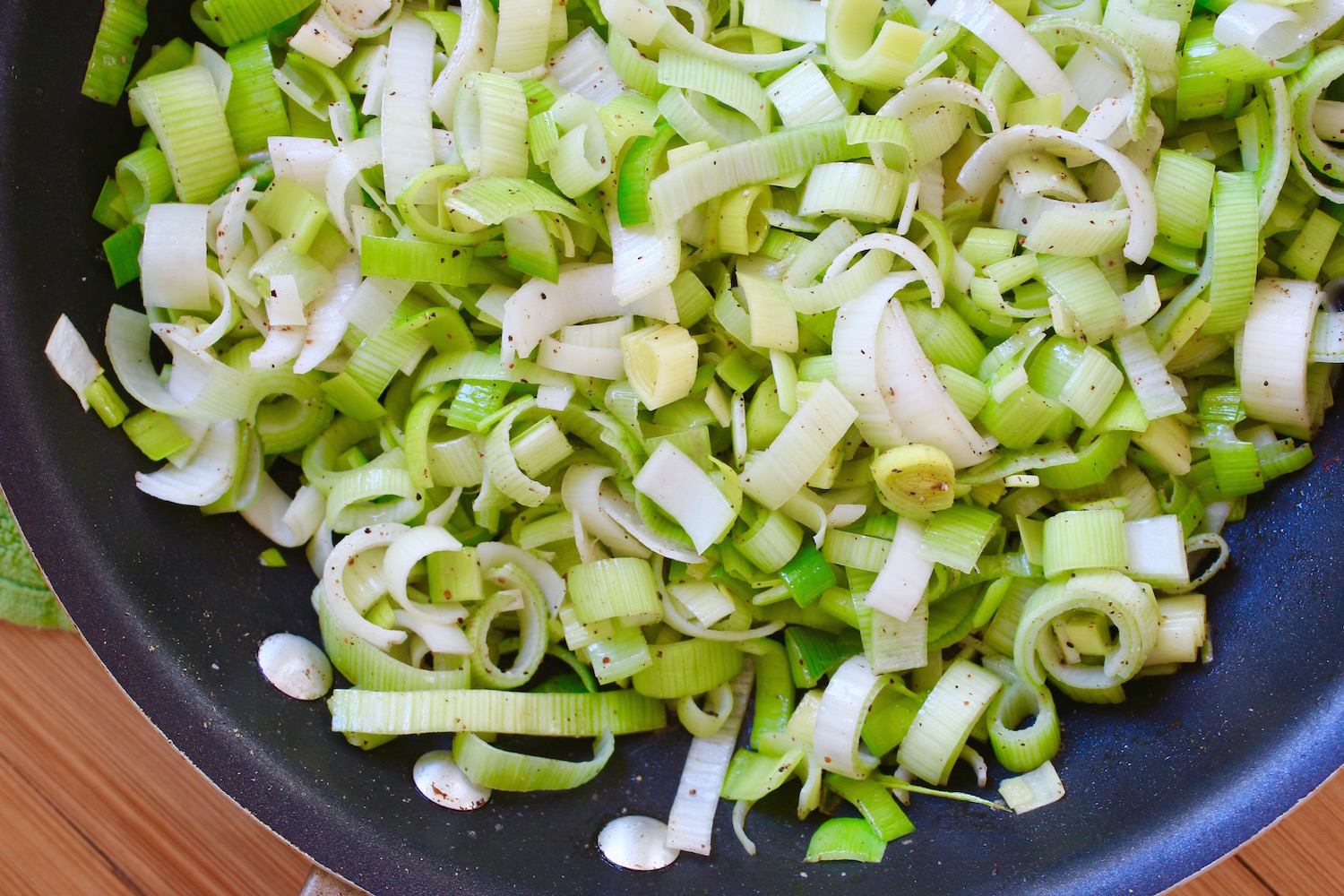 Magic happens in the oven, resulting in bubbling cream and a brown, crunchy crust covering those beautiful leeks: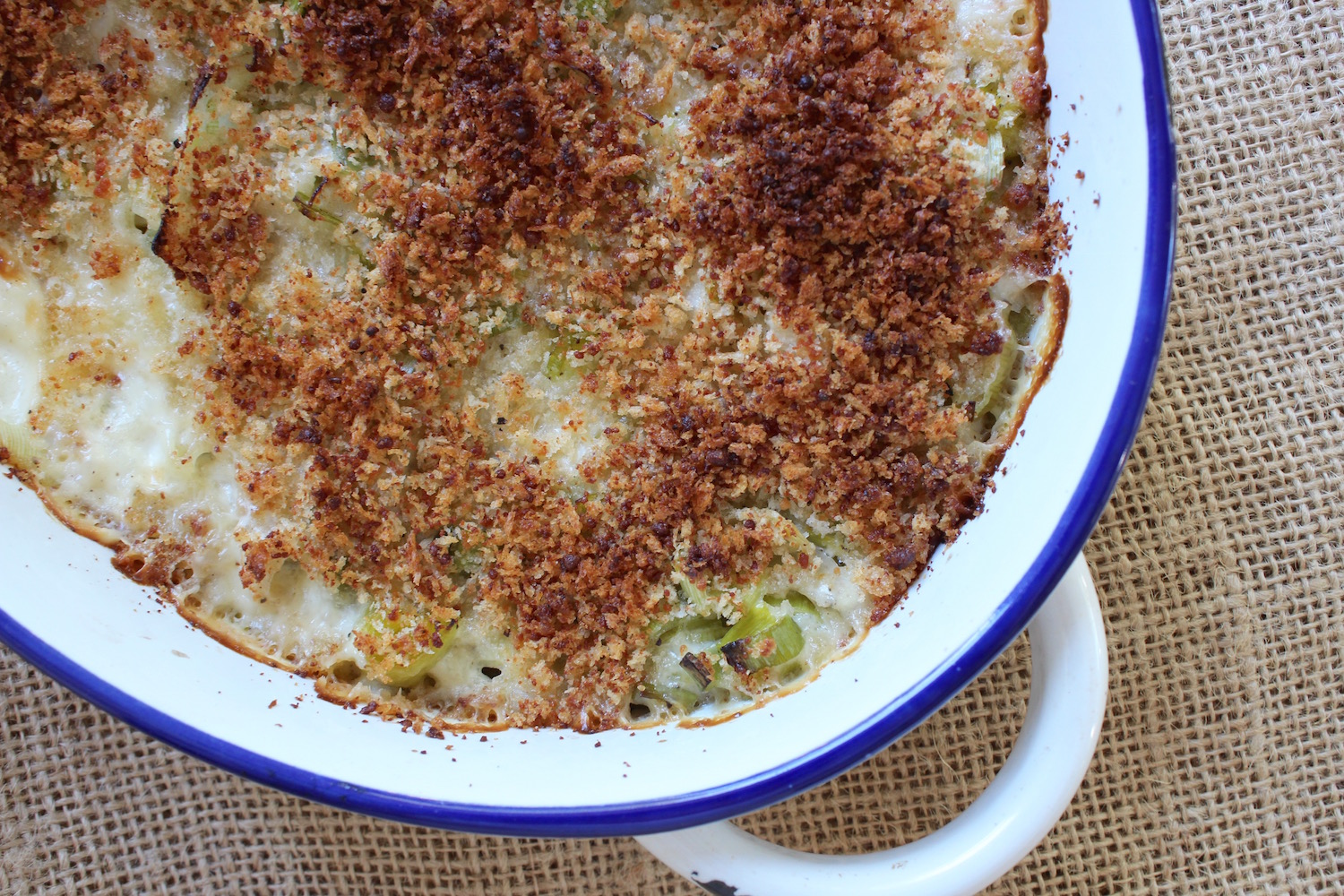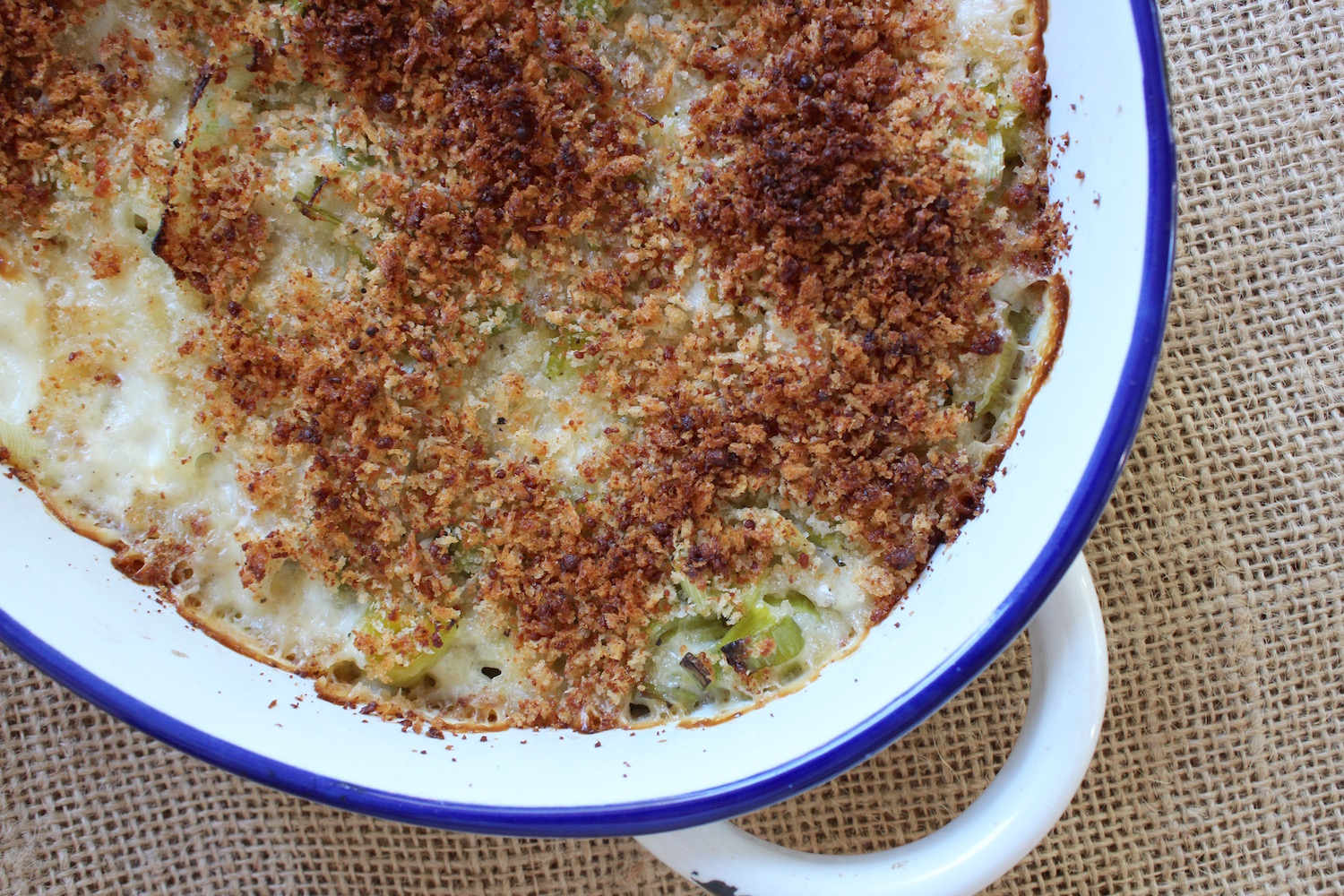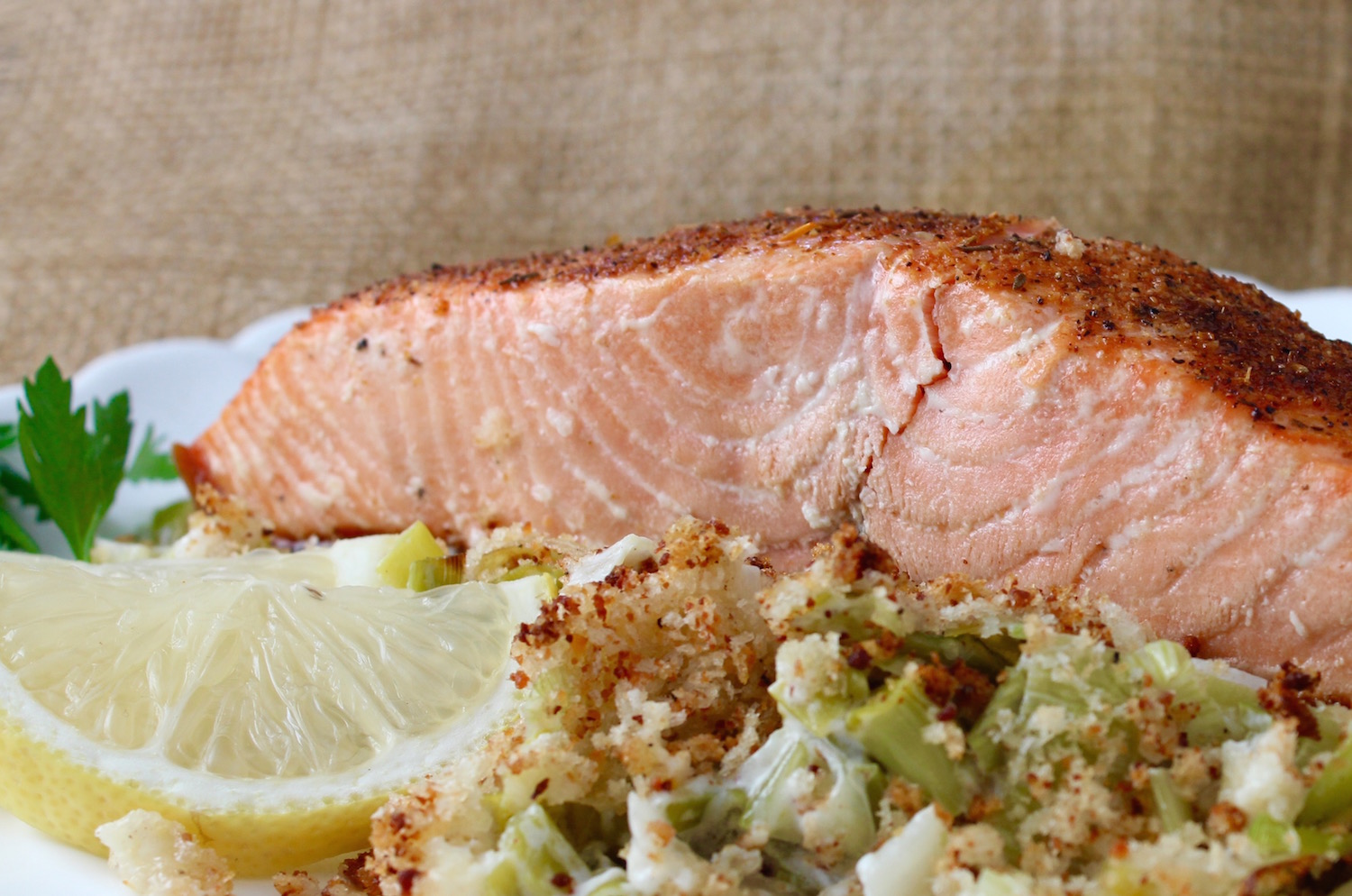 This hearty salmon pairs nicely with the delicate, creamy leeks.  It's a delicious combination sure to please hungry diners!
P.S. If you love wine or food (or both) be sure to check out the 28th Annual Florida Winefest & Auction, April 5-8 in Sarasota.  It's a great opportunity to sample amazing wines AND meet the folks who produce them.  There will be winemaker dinners and tasting events, as well as, a charity auction to bid on wines, dinners and travel, all supporting local children's charities.
P.P.S. I think this dish would pair perfectly with some of those wines available from vintners like Baldacci, Benevolo, Christopher Creek, Caymus, and Seven Stones. . .Fortunately, folks at Florida Winefest & Auction tell me that representatives from each of those vineyards will be at the events, so stop by and say hello, and maybe even have a taste 🙂

King Salmon with Creamy Leeks
King Salmon is extra delicious when paired with this creamy leek side topped with crunchy breadcrumbs.
Author:
My Delicious Blog
Ingredients
King Salmon
1 lb. fillet King Salmon (skin-on)
Dash kosher salt
Dash freshly ground black pepper
Dash Cajun seasoning (optional)
1-2 Tb. olive oil
Lemon wedges
Leek Casserole
2 Tb. unsalted butter
8 leeks (thick, green parts removed; rinsed well & chopped)
¼ tsp. ground nutmeg
½ tsp. kosher salt
¼ tsp. freshly ground black pepper
1½ c. heavy cream
Crumb Topping
1 Tb. unsalted butter, melted
½ c. grated parmesan
1 c. Panko bread flakes
Dash freshly ground black pepper
Instructions
Prepare Leek Casserole
Heat oven to 400 degrees.
Butter a medium casserole dish.
Remove stem end of leeks, as well as, tough green tops. Slice in half, lengthwise. Rinse each layer well under cold water. Place on a cutting board and cut into ¼" slices.
Melt butter in a large skillet over medium heat. Add leeks. Sprinkle with nutmeg, salt and pepper. Stir gently to coat everything then reduce heat slightly. Keep a watchful eye over it to ensure the leeks don't burn (or brown). Cook about 8 minutes, until leeks are tender.
Transfer to the casserole dish.
Pour cream over leeks.
Prepare the Crumb Topping in a small bowl by adding melted butter to parmesan, Panko and pepper. Mix to coat well, sprinkle over the leeks then place in the hot oven for 10-15 minutes (until topping is nicely browned and cream is bubbling) then remove and set aside while the fish cooks, but don't turn off the oven! Reduce heat to 325 degrees.
Prepare the King Salmon
Pat dry the fillet (you may wish to cut it into portion sizes, for easier serving).
Remove any noticeable pinbones.
Sprinkle top of the fillet with salt and pepper (and cajun seasoning, if using).
Add olive oil to a non-stick/oven proof skillet over medium-high heat. When pan is hot, place fish, skin-side down.
Allow to sear 4-5 minutes, until skin is crisp and color of the fish starts to lighten from the bottom up.
Place the pan into the oven for 5-8 minutes (depending on thickness) until cooked just-through, then remove.
When serving, leave the skin on OR remove it.
Serve with lemon wedges, alongside leeks and a simple green salad tossed in a light vinaigrette.