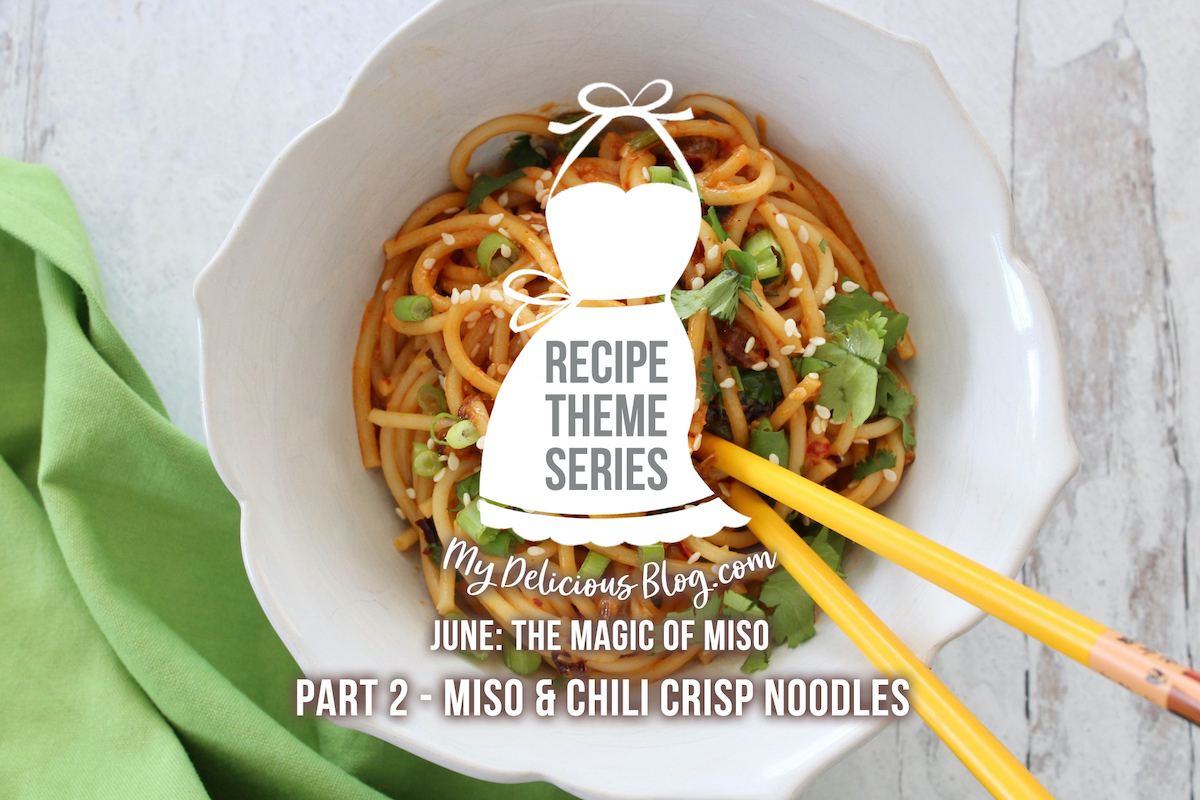 A bowl of noodles bathed in spicy, sweet, savory sauce could possibly be a remedy to all the world's ills. It's that good.
If you shy away from noodles in any form, this post may not be for you, unless you combine this sauce with zucchini noodles or roasted veggies (which would also be delicious). But for those who enjoy pasta, this post may make you happy.
For the last several months, I've been trying brands of garlicky chili oil. Yes, I could make it myself (it looks pretty easy) but why should I make it, when there are so many talented folks making delicious things I can simply purchase? So far, my favorite is Momofuku's
Chili Crunch
, with 3 types of chiles and loads of toasted shallots and garlic. It's about $12, but worth it when you need something with just the right amount of heat and crunch. There are lots of 'designer' concoctions for sale, but you can easily find a classic jar/brand in an Asian market. I ran out of my favorite before thinking of this recipe, so I picked up this classic brand which is yummy.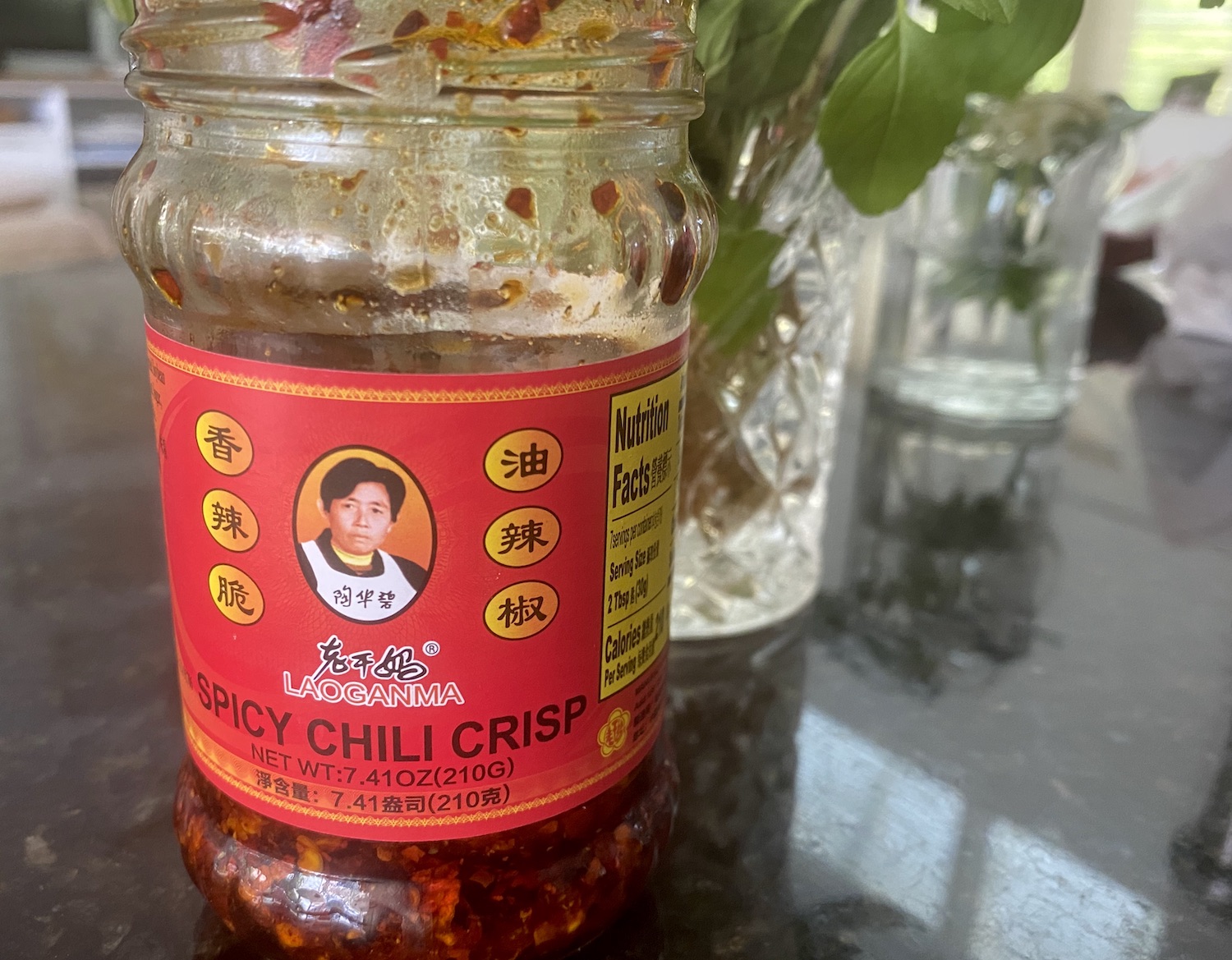 Mixing garlicky/spicy chili oil with peanut butter and mixing noodles in it is not a newfangled dish. People all over make their own versions. In mine, I decided to downplay the peanut butter and add miso paste, which offers some nice umami (savory) flavor. Plus, it's good for you! In Japanese, umami means "essence of deliciousness" and I think it's the perfect description.
Chef
Marion Grasby
inspired me to start my sauce by melting
butter
. It really makes everything better, right? Then I added garlic, chili crisp oil, miso, a little peanut butter for sweetness, and a few other things. I used thin spaghetti because it's all I had in my pantry, but go with what you like. When cooked, I plopped it in the pan with the sauce and pasta water then mixed it over low heat. It starts out liquid-y, but the heat and starchy water emulsify nicely and you're left with a creamy pile of noodles coated in that chunky sauce.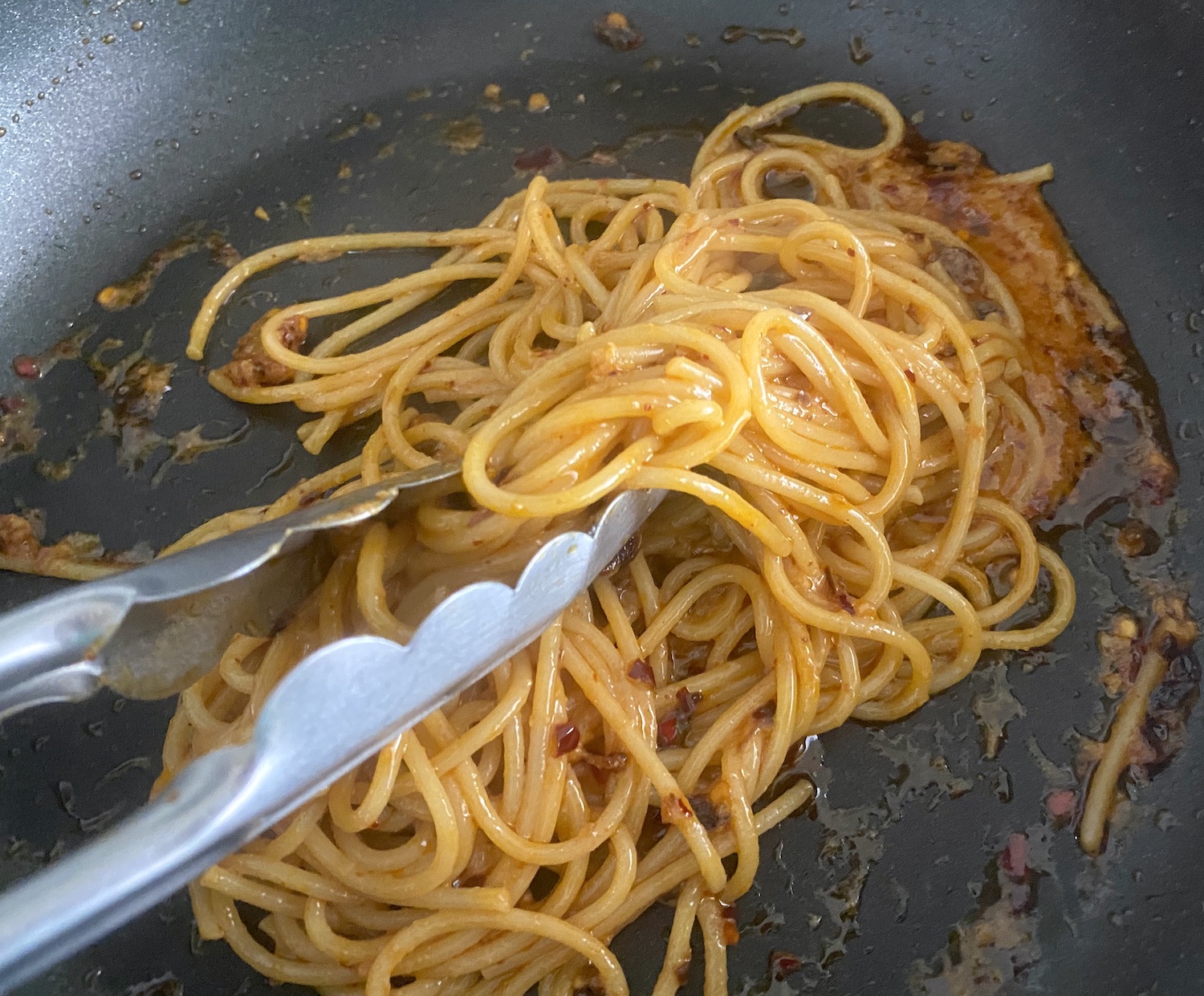 Top with scallions, cilantro and sesame seeds, and you've got a yummy meal.  It might not fix even even one of the world's problems, but it certainly fills your hungry belly 🙂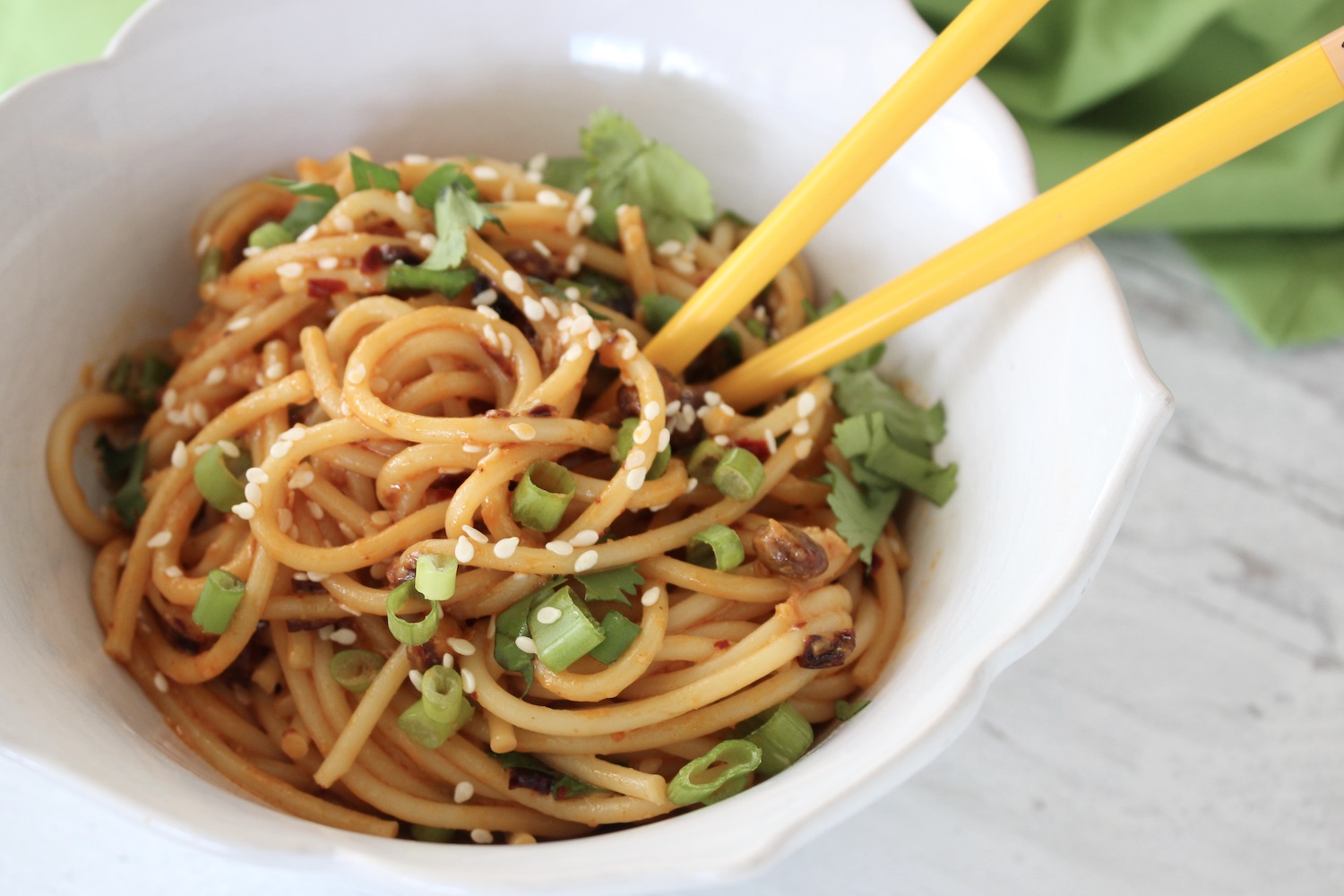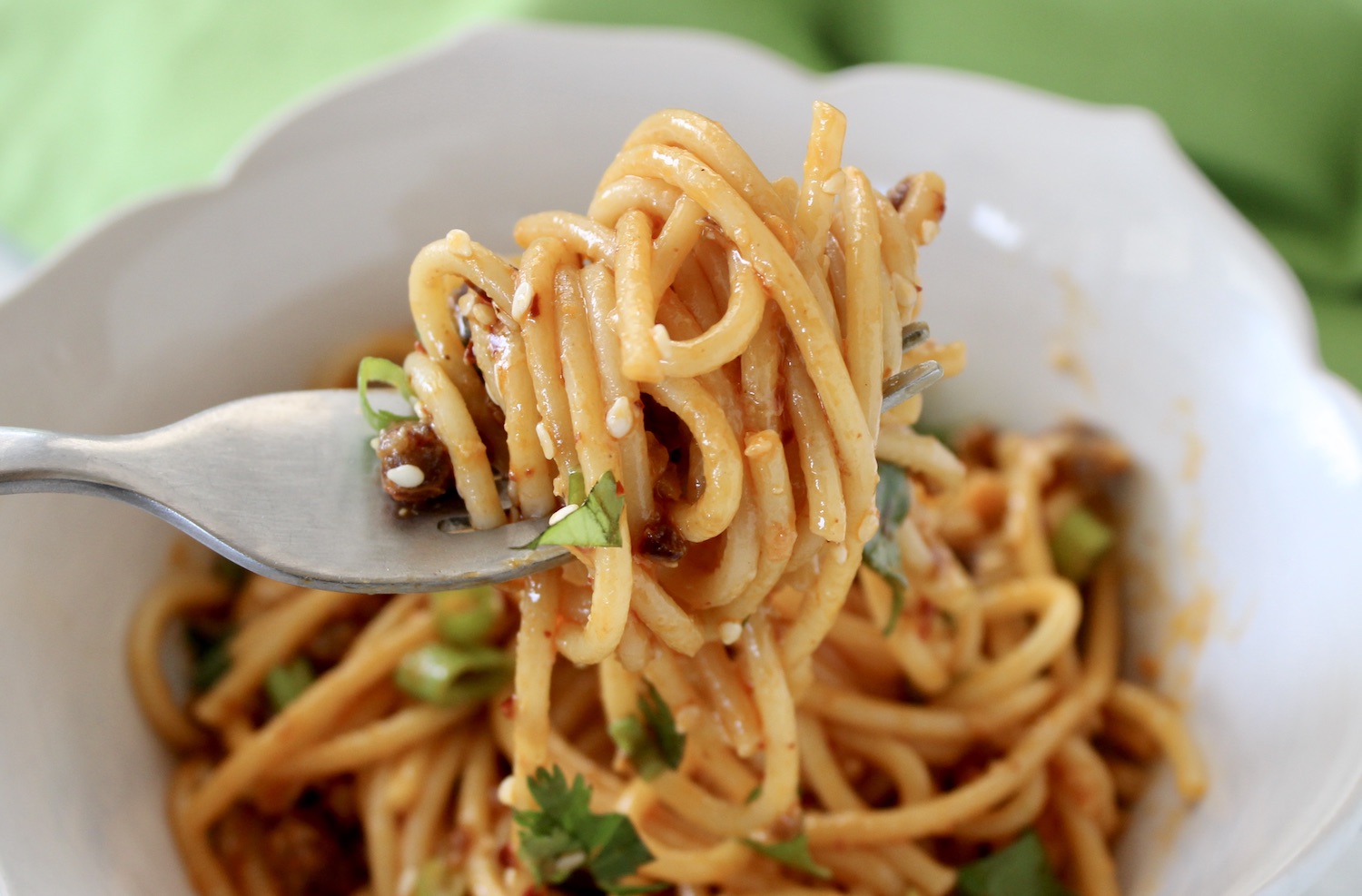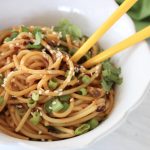 Print Recipe
Miso Peanut Noodles
Noodles in a sauce of chili garlic oil, butter, miso, peanut butter and more garlic. What could be better?
Ingredients
8

oz.

Dry pasta (thin spaghetti works fine)

6

Tb.

Unsalted butter

4-5

Garlic cloves, minced

4

Tb.

Chili Crisp Oil

3

Tb.

Miso paste (mild)

2

tsp.

Creamy peanut butter (salted)

(add more if you like a bit more sweetness)

2

tsp.

Rice vinegar

1

tsp.

Chili Garlic Sauce

(add more if you love heat)

1

Tb.

Soy sauce (optional)

3-4

Scallions, chopped

2-3

Tb.

Sesame seeds

Handful

Fresh cilantro, roughly chopped
Instructions
Cook pasta according to package directions (be sure to salt the water!).

While pasta cooks, melt butter over medium heat in a large, non-stick skillet. Add garlic and cook until fragrant, about 1-2 minutes. Reduce heat to low then add chili crisp oil, miso, peanut butter, rice vinegar and chili garlic sauce; stir to combine. Turn off heat until pasta is ready.

When pasta is cooked through, reserve 1 cup of the starchy pasta water, then scoop pasta into the sauce pan, along with 1/2 cup of the pasta water. Over low heat, stir the pasta so it absorbs the sauce. It will thicken slowly and get shiney and beautiful (but if it's too thick to your liking, simply add a bit more pasta water). Transfer to a serving bowl; top with sesame seeds, scallions and cilantro.
Notes
Miso has salty undertones, so whatever you pair it with, be cognizant of the salt measurements.
You can replace peanut butter with almond or sunflower butter, or tahini.
Don't be too concerned about exact measurements - mix to your liking, add a splash of soy sauce, or sesame oil, or toss in fresh cucumber when serving.  You really can't go wrong with this dish (aside from making it just TOO spicy, so be wary of the chili garlic sauce) 🙂