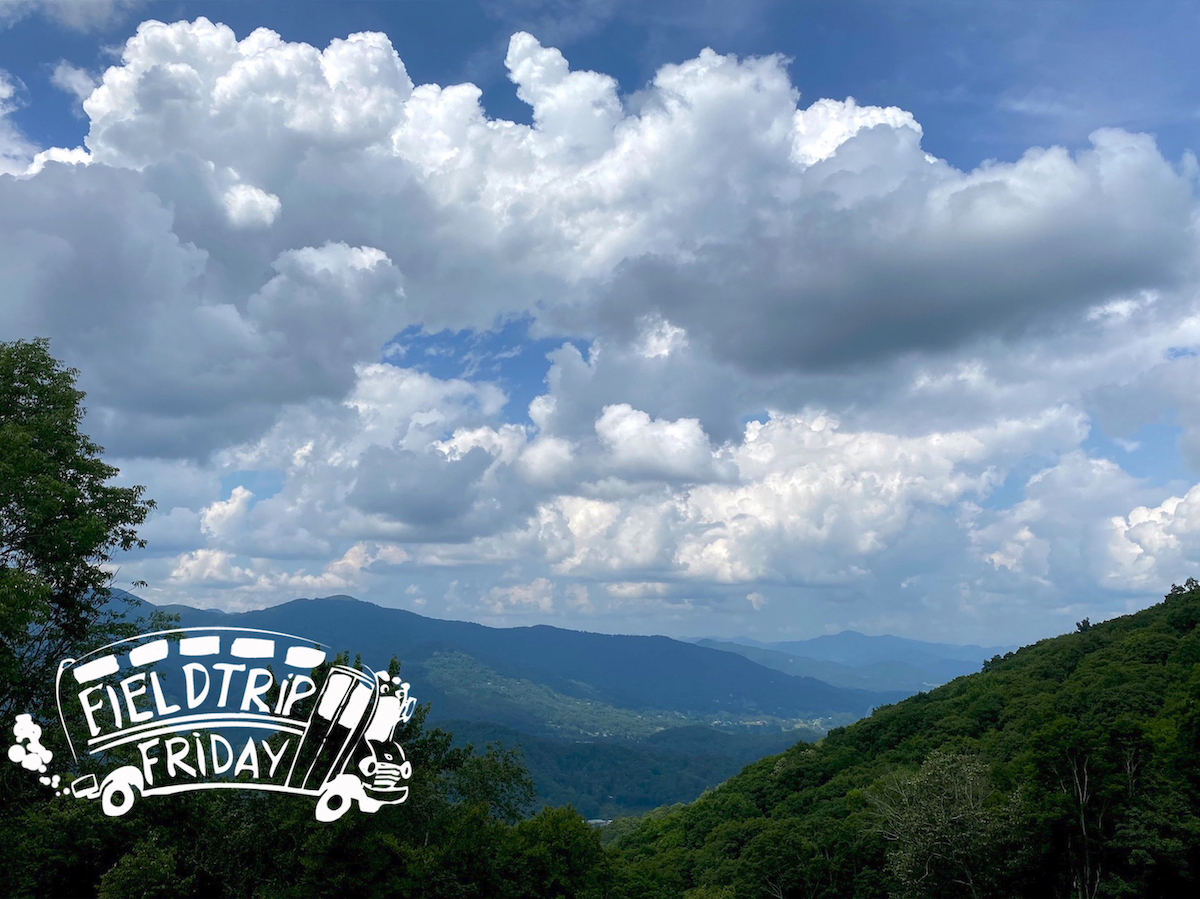 (
Field Trip Fridays
 are
 interesting, fun, food-related and/or fishing adventures I like to share with you!)
My husband and I recently spent a few days in Asheville, North Carolina. . .a much-needed escape from Florida.
Summer in western NC is beautiful, with its abundance of farmers markets, scenery and outdoor events. We stayed in downtown Asheville, a laid-back, walkable city with great restaurants, music and art. This trip was all about exploring – no agenda or schedule, just us stumbling through interesting areas. There's no way to share it all, so I've included highlights 🙂
Our downtown condo offered great views, including this one with a double rainbow after a bout of rain:
My artist hubby especially enjoyed the
River Arts District
, a community of industrial buildings on the French Broad River that began transforming in 1985 and is now loaded with working artists – some with open studios; others by appointment. They're happy to share their creative processes, so be sure to ask questions! And 0f course I had to visit their farmer's market, chock full of fresh, local produce.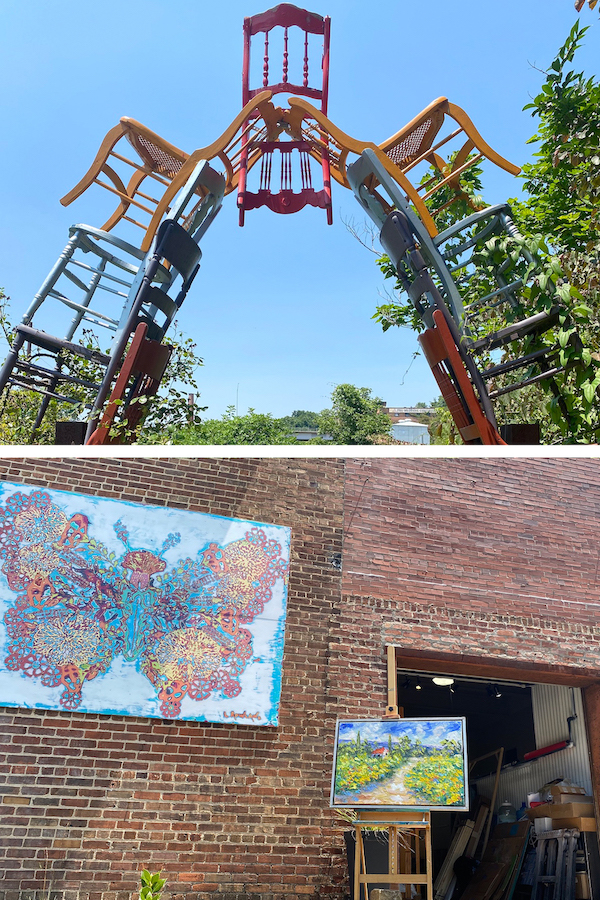 Downtown Asheville's 
The Black Bird
restaurant offers a nod to southern fare. Original owners handed over the reigns in 2019 to a Boston chef who continues to offer a menu filled with locally-sourced products. I had vegetable Wellington with sweet potato, fig and pecan (unique & delish); hubby had fried chicken and some of the best mashed potatoes he's ever had. We shared perfectly-cooked grits from a local mill, flavored with Parmigiano-Reggiano and fresh corn, and even had room for the tasty crawfish slider (Chef's Snack).  But the 'funnest' dish was freshly-fried pork rinds topped with spice and a drizzle of honey – hot and crackling upon delivery, and absolutely delicious.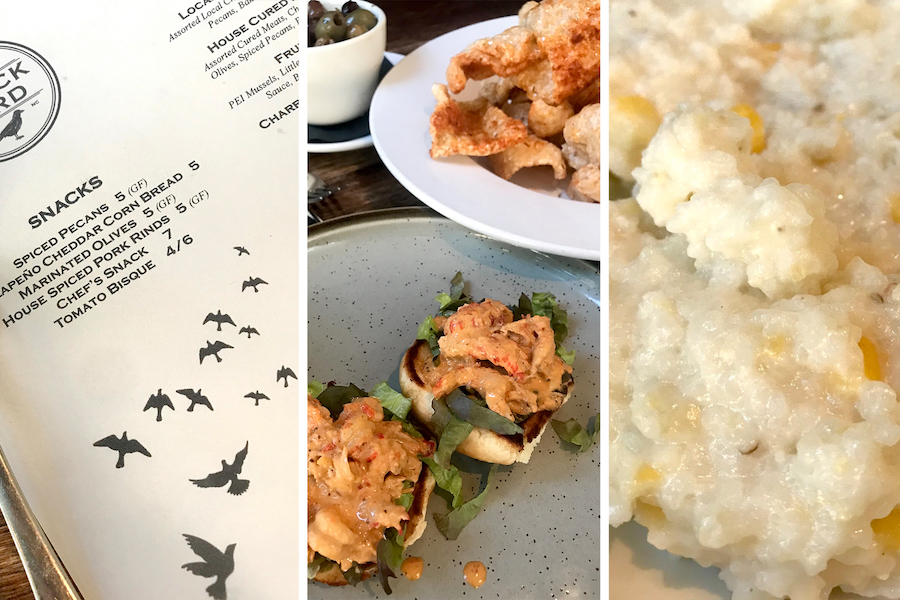 We drove a short drive east to Black Mountain, a small town with a thriving downtown. For lunch, we enjoyed an amazing Cuban sandwich at 
Cousins Cuban Cafe
. The owner/chef, Betty, a first generation Cuban American from Miami, gained culinary chops from her Cuban parents. She also makes amazing pulled pork – not traditional, she admits, in a Cuban pressed sandwich, but a nod to NC tradition.
Herschell's
is a family-owned biz offering locally-sourced products, including delicious Sourwood honey (available only in certain parts of NC, TN & GA, so be sure to get some). We even stopped at a roadside flower stand – I especially liked the pickle jar bunch 🙂
Franklin
is about an hour southwest of Asheville and we took the scenic route through the Blue Ridge Parkway to get there. I loved
Yonder Market
, with all its local produce, bread, soap, grain, and lots more (BTW, it's not every day you get farm eggs with hand-drawn unicorns & rainbows on the carton).  
Caffe Rel
(in a gas station, of all places) was closed, but apparently serves amazing French fare, so we'll be back. We ended up at
The Gazebo Creekside Cafe
– a family-owned spot with delicious, classic sandwiches, along with a big dose of southern hospitality.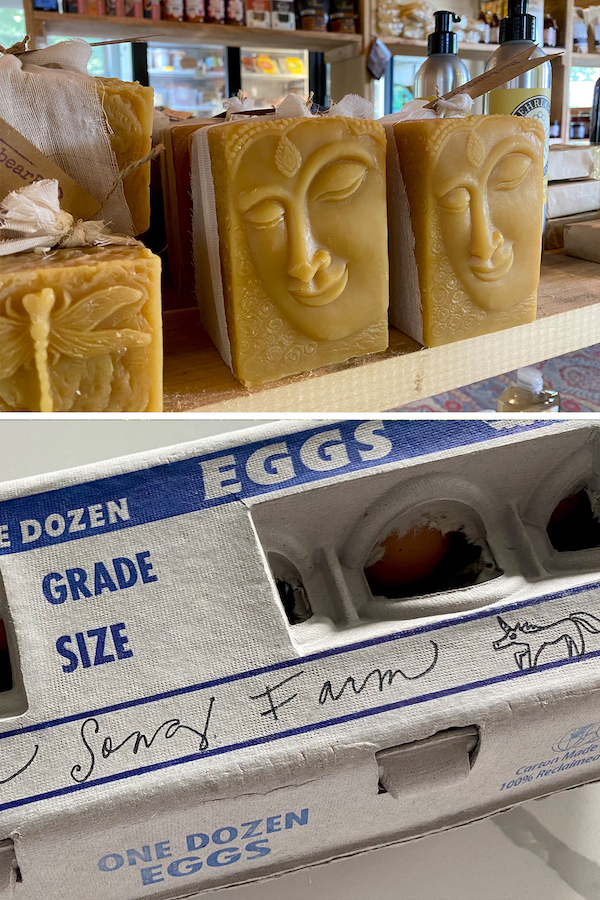 There's a reason the
Omni Grove Park Inn
is always on lists of top sunset spots in NC, and we were lucky to catch a good one. It's a majestic place, oozing with history and charm, especially the main hall which is filled with Arts and Crafts-era furnishings and fireplaces big enough to sit in, so be sure to visit.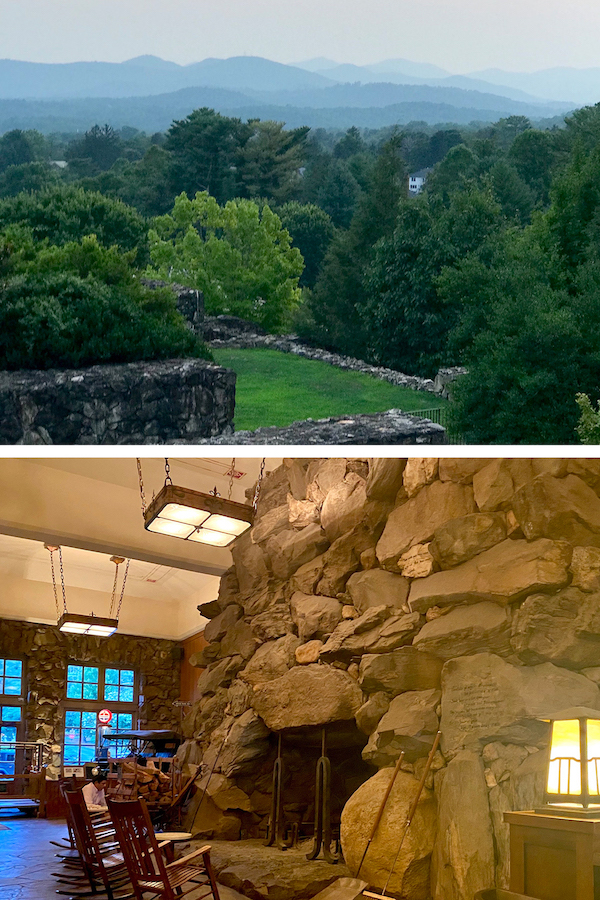 I love to tour local farms, so I found John McEntire at
Crooked Creek Mills
in Old Fort. John has to be one of the nicest people on the planet, giving us an impromptu tour, sharing insight about his products and methods (the small batch, old fashioned way), and sending us off with grits and homemade sorghum syrup. He's been milling grain for many years, and was even born in the house on his property! He mainly sells his corn, artisan wheat, and heirloom rye to local breweries, distilleries and restaurants, including the awesome grits we had at The Blackbird.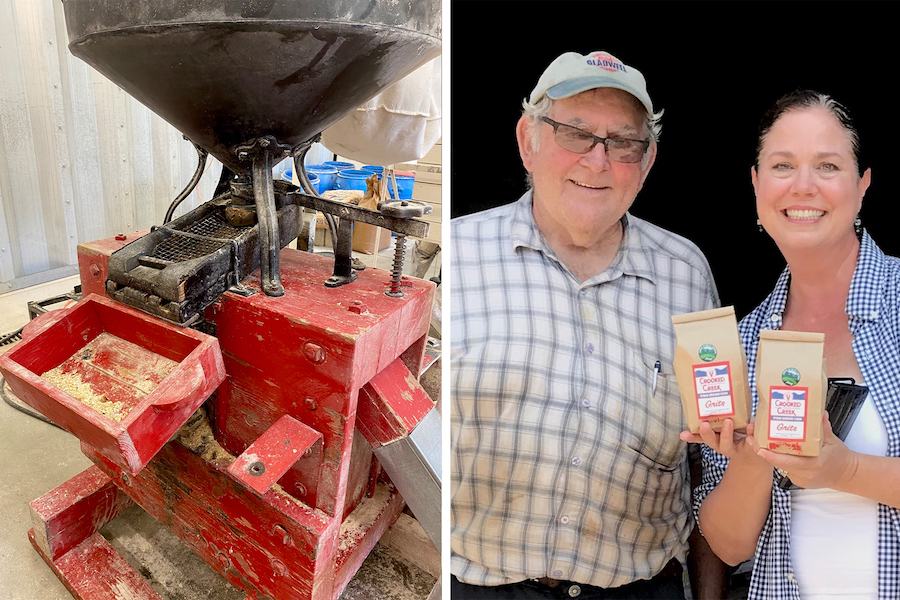 I'll leave you with pics of a few of the gorgeous flowers I spotted throughout western North Carolina: