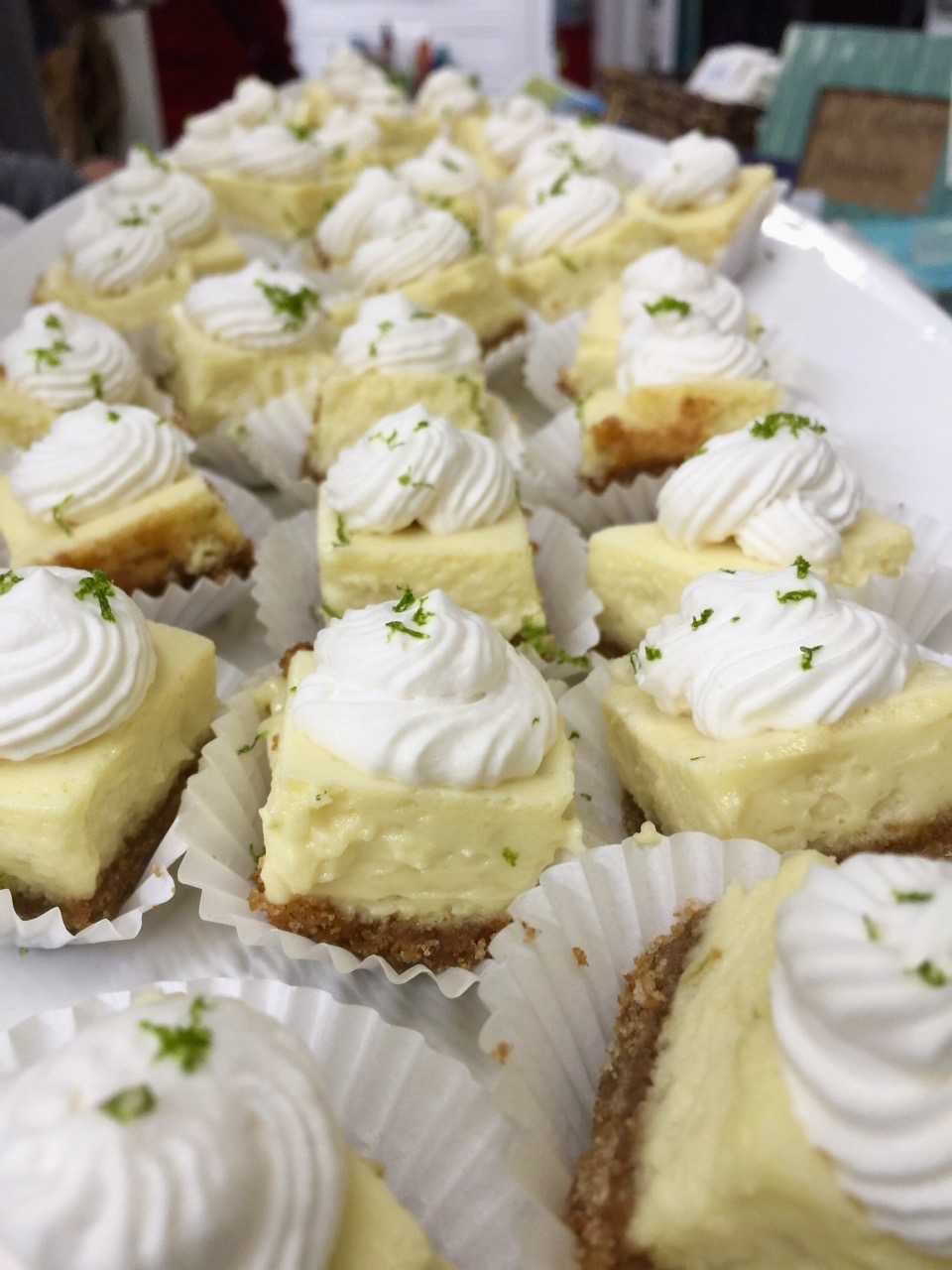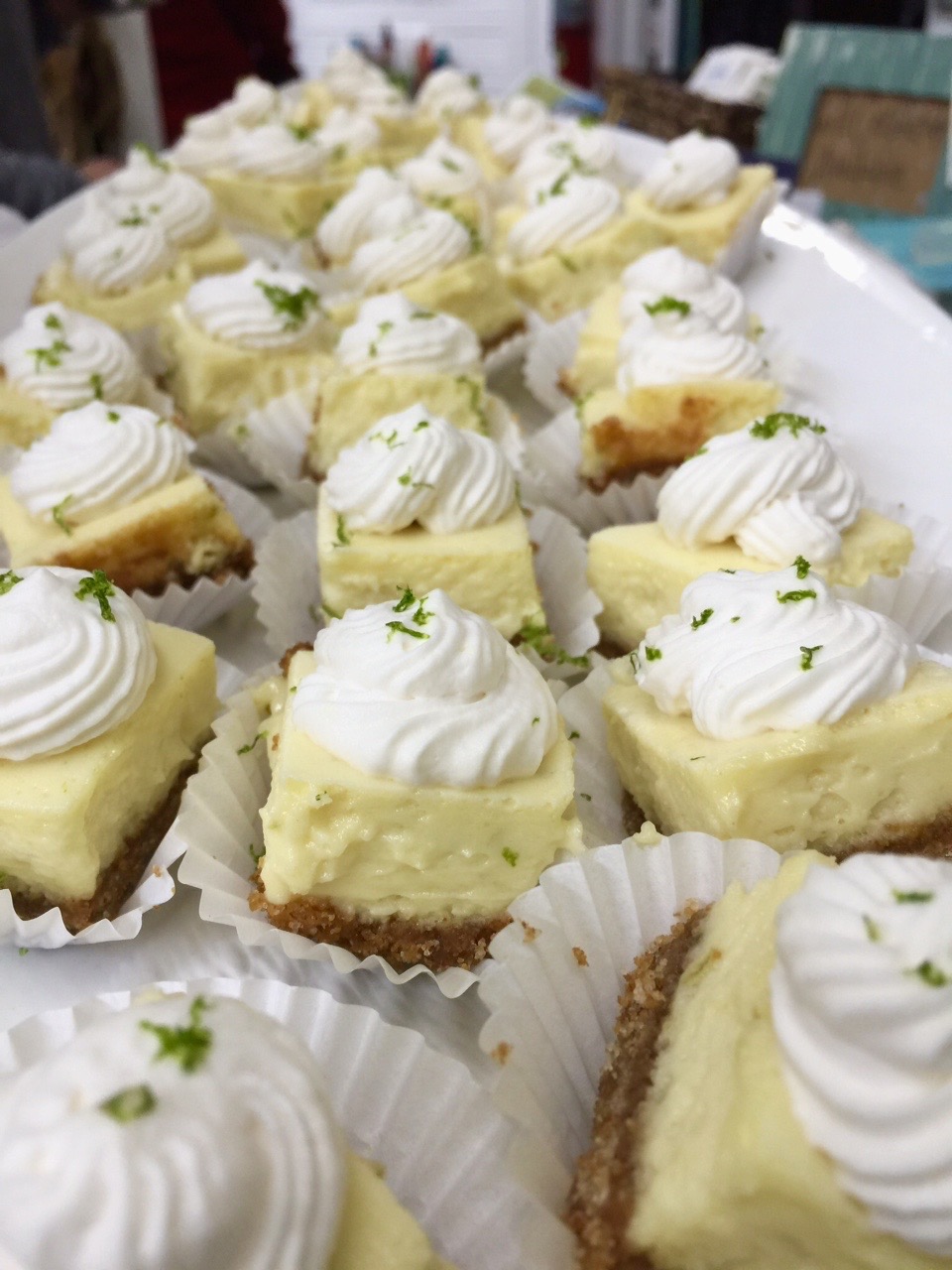 Recently, my husband and I attended a party at Old Florida Outdoor Center in Englewood, Florida, to celebrate their 6-month anniversary.  If you haven't visited this beautiful store on Dearborn Street, you must go soon! The owners, Kenya and Danny Leonard, carry beautiful Florida art, offer several creative classes, schedule kayak rentals & guided walks and so much more – it's a wonderful destination spot.
The invitation suggested bringing something to share that exemplified "Old Florida" and the first thing that came to mind, aside from smoked mullet and swamp cabbage, was key lime pie! I've made a few of these in my day, but decided to try a recipe created by my friend Robin, who writes the AuthenticFlorida.com blog.  Robin grew up in Sarasota, has made this pie for decades, and has even traveled throughout Florida in search of the best key lime pie, so I figured she knew how to make a good one 🙂
Lucky for me I have a neighbor with a key lime tree, and it just so happens that she shared a bunch of these little balls of juice the day before I made my dessert.  When they're ripe, they almost look like lemons – and these were definitely ripe!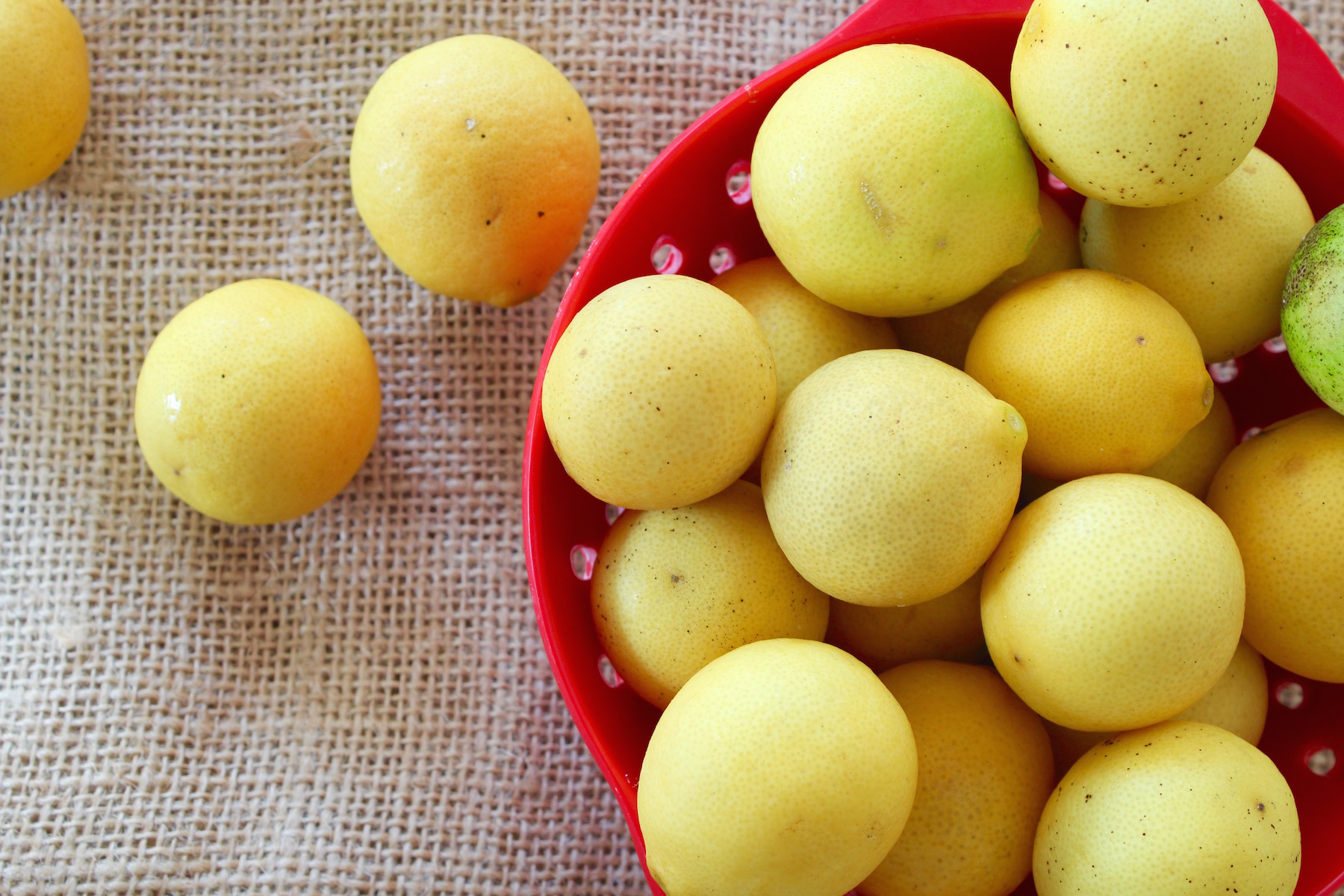 Sure, there's lots of squeezing and it's a little messy, but the results are well worth it. The tanginess of fresh key limes really makes a delicious pie, but if you don't have access to fresh key limes, you can buy the bottled juice at most supermarkets and it also does the trick.  Real key lime pie has a lovely pale yellow color that looks so pretty against the rich brown graham cracker crust.  And as for how to top a true key lime pie, well, if you hadn't heard, there are pretty much two schools of thought regarding this. Many wouldn't be caught dead using anything other than meringue, but others prefer real whipped cream.  Personally, I love meringue, but I don't think you can go wrong either way!
Instead of making a regular pie shape, I made the recipe in a square baking dish and cut the pie into bite-sized pieces so they'd be easier to eat, then I topped each square with whipped cream using a pastry bag (it's the holidays – why not add a nice touch?!?).  Let me tell you, once I put that platter on the dessert table, it wasn't long before it was empty!  They were SO yummy.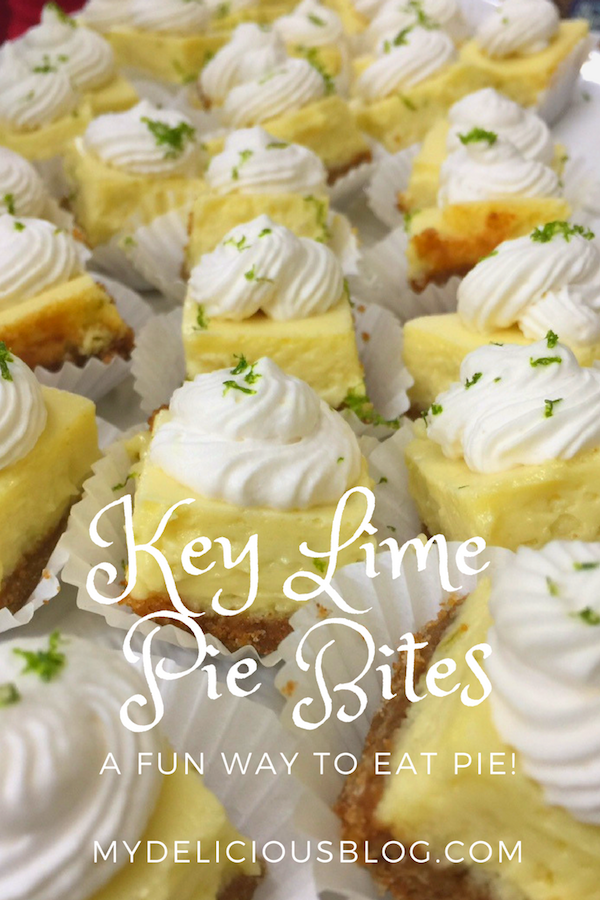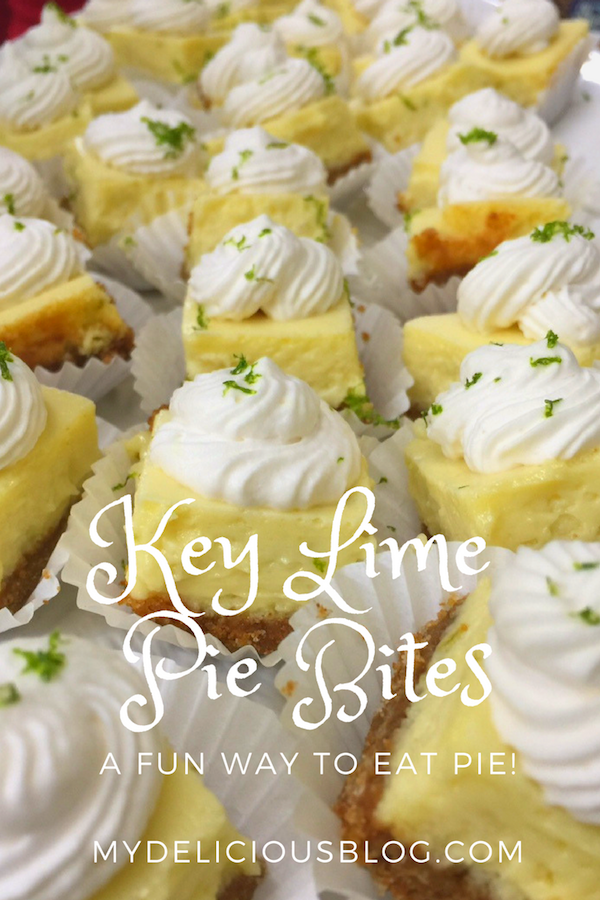 P.S. check out Robin's post about Road Tasting Key Lime Pies Throughout the Florida Keys – what a fun trip that must have been!

Key Lime Pie Bites
Adapted from the "Authentic Florida Key Lime Pie" recipe at www.AuthenticFlorida.com
Author:
My Delicious Blog
Serves:
approx. 64 pieces
Ingredients
Crust
1 sleeve plain graham crackers (each pkg is different, so be sure you have 10 crackers!)
5 Tb. unsalted butter, melted
⅓ c. granulated sugar
Filling
4 egg yolks (reserve whites for meringue, if using)
2 tsp. lime zest (about 24-36 Key Limes or 6-8 regular/Persian limes)
1 14-oz. can sweetened condensed milk
⅔ c. freshly squeezed key lime juice
Whipped Cream
1 c. heavy whipping cream
1 Tb. confectioner's sugar
(add Lime zest for garnish)
Instructions
For the Crust:
Heat oven to 350 degrees if using a square, metal baking dish (8X8). If using a glass baking dish, reduce to 325 degrees.
Break up the crackers and place them into the bowl of a food processor. Pulse several times until you get fine crumbs. Note: if you don't have a food processor, place the crackers in a large plastic bag, seal it and crush with a rolling pin.
Add sugar sugar to the crumbs and pulse until combined.
Add the melted butter and pulse once or twice to combine.
Pour the mixture into an 8X8" baking dish and press lightly into the corners and up the sides.
Place in oven and bake for 8 minutes, until lightly brown.
Remove from oven and allow to cool.
For the Filling:
Add egg yolks and lime zest into a stand-up mixer bowl fitted with a wire whisk and beat until fluffy (about 5 minutes).
Pour in the condensed milk and continue to beat until combined (3-4 minutes).
Lower the mixer speed and slowly add the lime juice, just until combined.
Pour the mixture onto the crust.
Bake for about 10 minutes, until the filling has just set.
Cool on a wire rack. Note: once cool to the touch, place the pan in the freezer for about 30 minutes. This will make cutting 1" squares much easier when removed from freezer.
Cut into 1" squares and place on a baking sheet or decorative tray.
Refrigerate squares for about 2 hours.
When ready to serve, combine whipping cream and sugar in a small bowl and whip on high speed until stiff peaks form. Place cream into a piping bag and top each square with a decorative dollop, along with some lime zest.