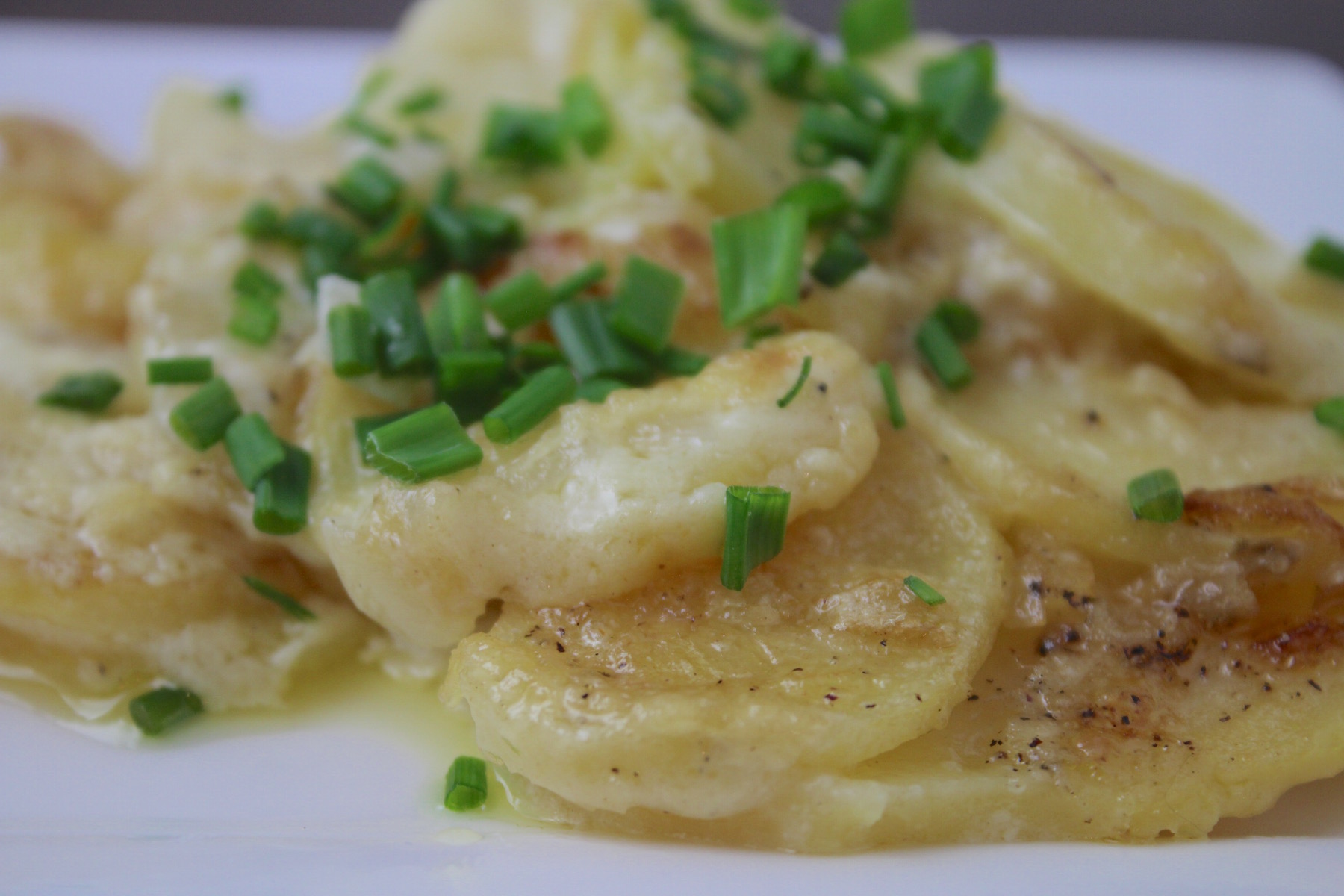 Want something delicious to go with seared fish, pot roast, grilled chicken, or just about ANYTHING else?!?  While rummaging through my grandmother's recipe box recently, I came across this one for "Scalloped Potatoes with Onions" and my aunt told me this was one of my grandmother's go-to recipes.  I remember her making yummy potatoes, so you can imagine my surprise when I realized this might be THAT recipe!
It's really simple and really delicious.  Plus, there's no milk, cream or cheese, so it saves a few calories, and still results in a silky, tasty side dish.
Hubby was one happy guy because he got an extra treat — the sides of the baking dish and the bottom layer of potatoes were caramelized, chewy delectable bites.  He asked for thirds on this one.

Silky Scalloped Potatoes
Scalloped potatoes are easy with this recipe.
Author:
My Delicious Blog
Ingredients
5 large (1 quart) potatoes, medium sliced (I like to use Gold potatoes)
1 c. yellow onion, chopped
4 Tb. unsalted butter
¼ c. all-purpose flour
8 oz. chicken broth (I use Better Than Bouillon chicken base, according to package directions)
¼ c. mayonnaise
½ tsp. kosher salt
¼ tsp. freshly ground black pepper
Freshly chopped rosemary (optional)
Instructions
Butter a 2.5 quart casserole dish.
Preheat oven to 350 degrees.
Melt butter in a large saute pan over medium heat.
Add onion & potatoes; stir to combine. Sprinkle with a little salt & pepper. Add chopped rosemary, if using.
Cover for about 3 minutes, in order to create some steam and heat the potatoes through. Stir once or twice.
After a few more minutes remove from heat and place potatoes in casserole dish.
Whisk together flour, chicken broth, mayonnaise, salt & pepper; pour over potatoes.
Place foil over top for the first half of the baking time, then remove to get the golden, crispy top & edges.
Bake until potatoes are tender, but be careful not to overcook! Allow to cool slightly before serving.