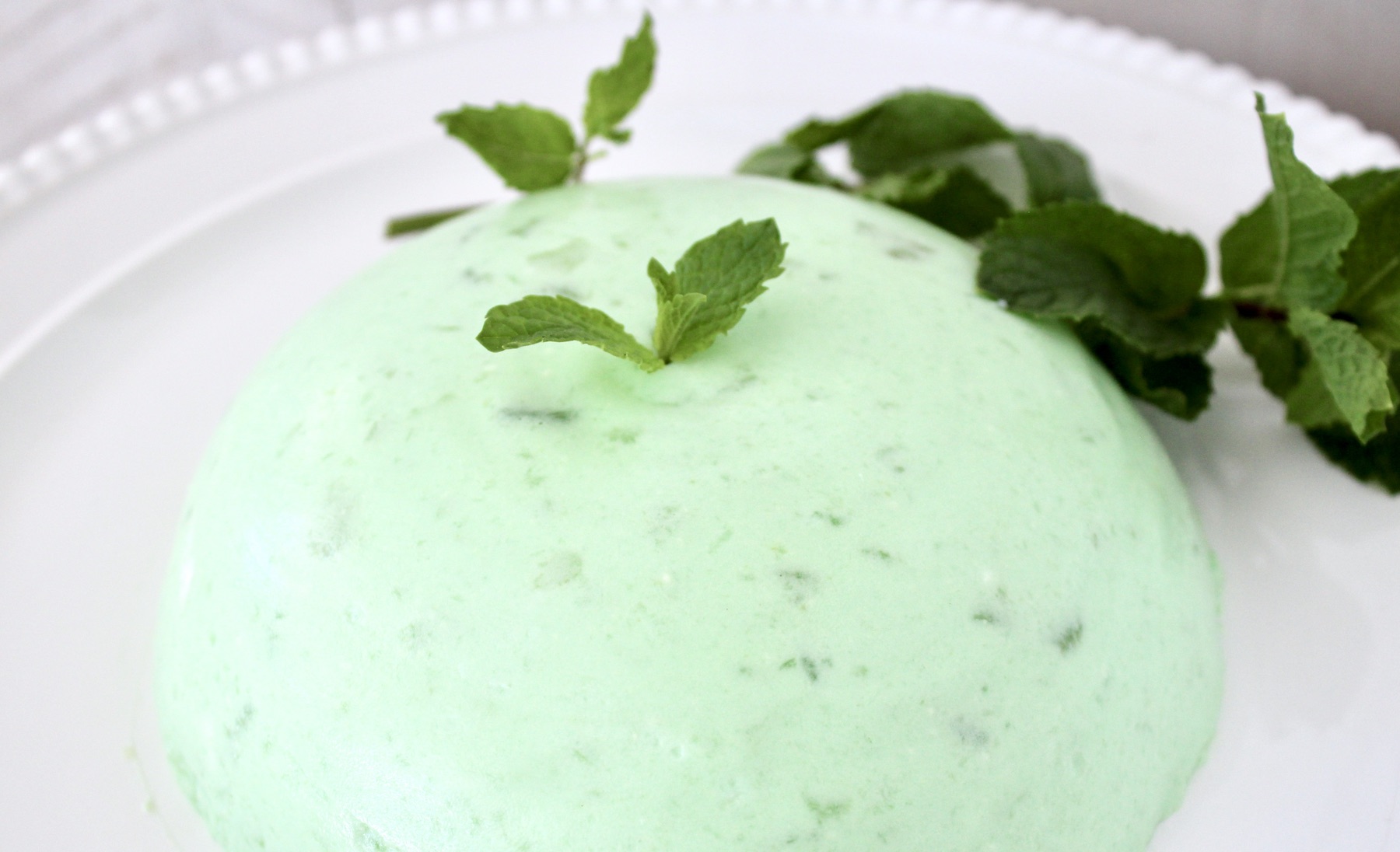 Summer is on its way and we're feeling the heat here in Florida.  To cool things down, I decided to make a dish that's not only refreshing, but easy.  It even jiggles.  Yes, it's a Jello-O® salad!
Jell-O has its origins in gelatin (around since the 15th century), but I recently learned that the sweet, dessert brand we're all familiar with got its name in 1902.  Homemakers have loved it for many years because it's inexpensive, easy to make, great for kids, and it has the ability to produce a somewhat 'fancy' dish, even during tough financial times.
For years, "congealed salads" have been popular at parties, offering sweet and/or savory options on the buffet.  I love the sweet varieties (especially the ones with mandarin oranges), but you may have also experienced first-hand or seen vintage photos of salads with 'winning' combinations like lamb and potatoes, cabbage and beans, chunks of cheddar with green olives and canned tuna or, my personal favorite, Spaghetti-Os with hot dogs.  Let's just say they weren't all welcome at your neighbor's party 🙂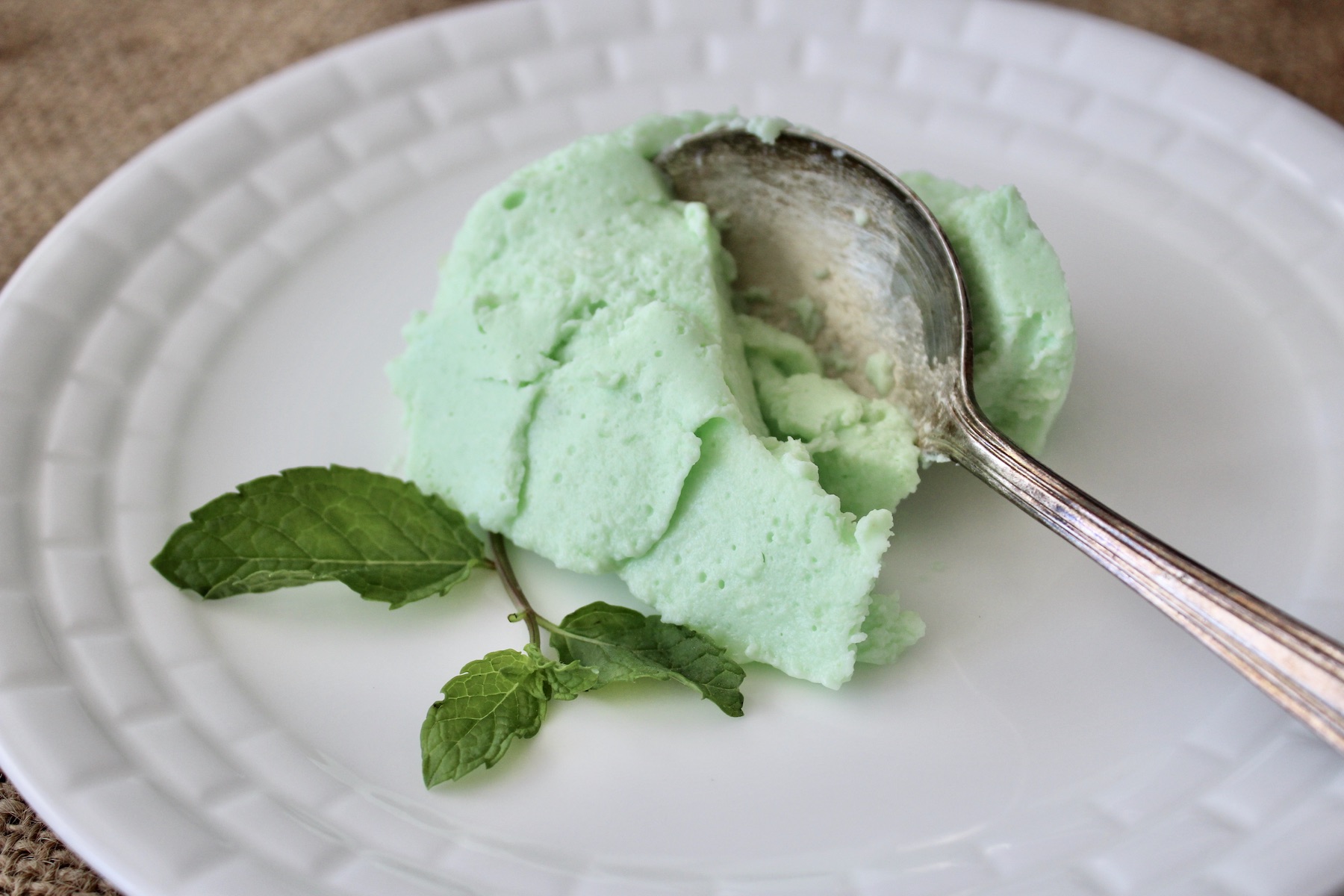 I like to enjoy this Seafoam Salad for dessert.  My whole family has been making it for a long time, and my Aunt Vivian even tells me it's still one of her favorites that she makes regularly.  It comes from my grandmother's recipe box, alongside 6 others for Jell-O based salads, so I'm pretty sure she was a fan of the stuff.  I made mine with sugar free Jell-O and adjusted my Memere's recipe card to account for sizes available in today's supermarkets, but basically, it's the same as hers.
There are lots of variations out there — some with cherry-flavored Jell-O, others without canned fruit, some with sour cream instead of whipped cream – but this one has a lovely pistachio color, it's light, cool, refreshing, and great for summer.  Serve it for dessert, or as a side dish on a lunch buffet — you can't go wrong because it's yummy, full of history, and chock full of memories of our grandmothers 🙂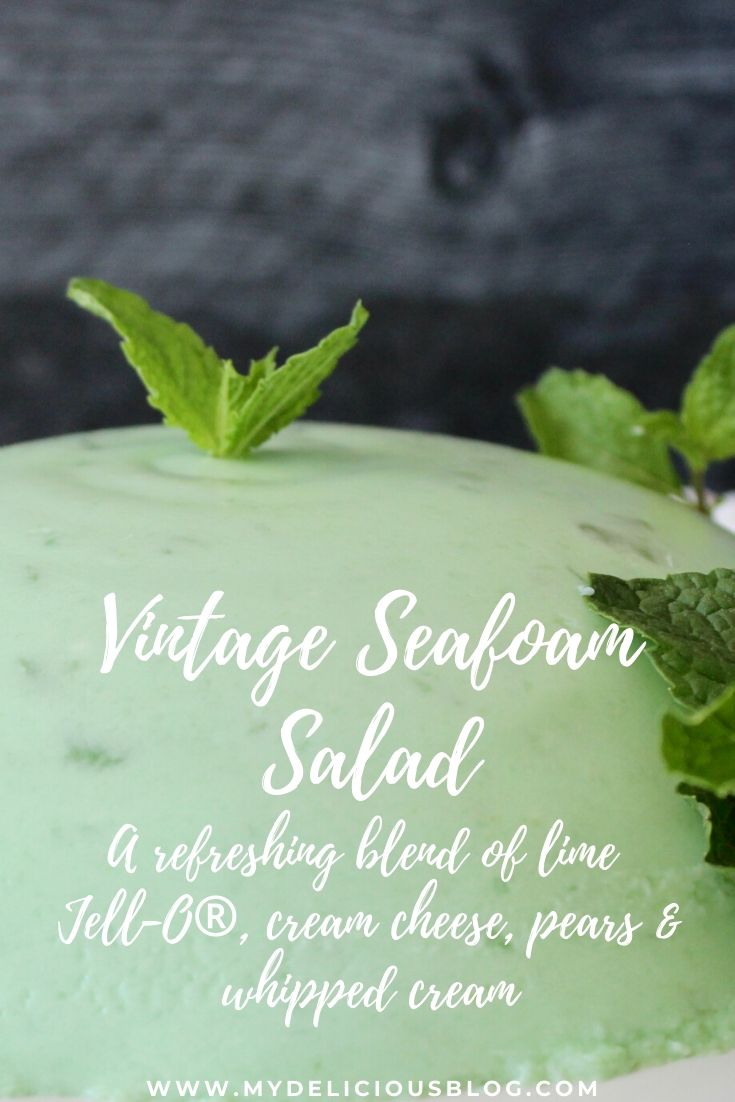 Print Recipe
Vintage Seafoam Salad
A deliciously light, refreshing salad made with sugar-free lime Jell-O, canned pears, cream cheese and whipped cream.
Ingredients
1

15 oz. can

Pears in syrup (reserve syrup after opening)

1

c.

Pear syrup

1

small box

Lime flavored Jell-O®

(alt: 1 small box sugar-free)

6

oz.

Cream cheese, room temperature

1

Tb.

Whole milk, room temperature

1/2

c.

Whipping cream (regular or heavy)
Instructions
Measure out 1 cup of syrup from the pears (if not quite 1 cup, add a little water to bring it to 1 cup); pour into a small saucepan and bring to boil.

Place Jell-O in a medium mixing bowl. When syrup comes to a boil, pour it into the Jell-O and stir until fully dissolved. Set aside to cool 2-3 minutes.

Place pears in a small bowl and mash to a fine consistency using a fork, wood spoon or potato masher; set aside.

Whip the cream to soft peaks; set aside.

In a separate bowl, use a hand mixer or immersion blender to beat the cream cheese and milk until smooth. Add cooled Jell-O mixture and blend to combine. Fold in pears and whipped cream and mix until the consistency is smooth.

Using a fancy mold or just a smooth, medium-sized bowl, dab in a drop or two of vegetable oil and spread it all around with your fingers. Pour the Jell-O mixture into the mold/bowl and refrigerate 3-4 hours, until firm.

When ready to serve, place the mold/bowl into a larger bowl filled with warm water for about 2 minutes, then invert over your serving dish and it should pop out. If not, try the warm water bath again and maybe even run a thin spatula, dipped in warm water, around the edges 🙂
Notes
Note: this makes a small mold, so if you're serving a larger crowd, definitely double the recipe 🙂