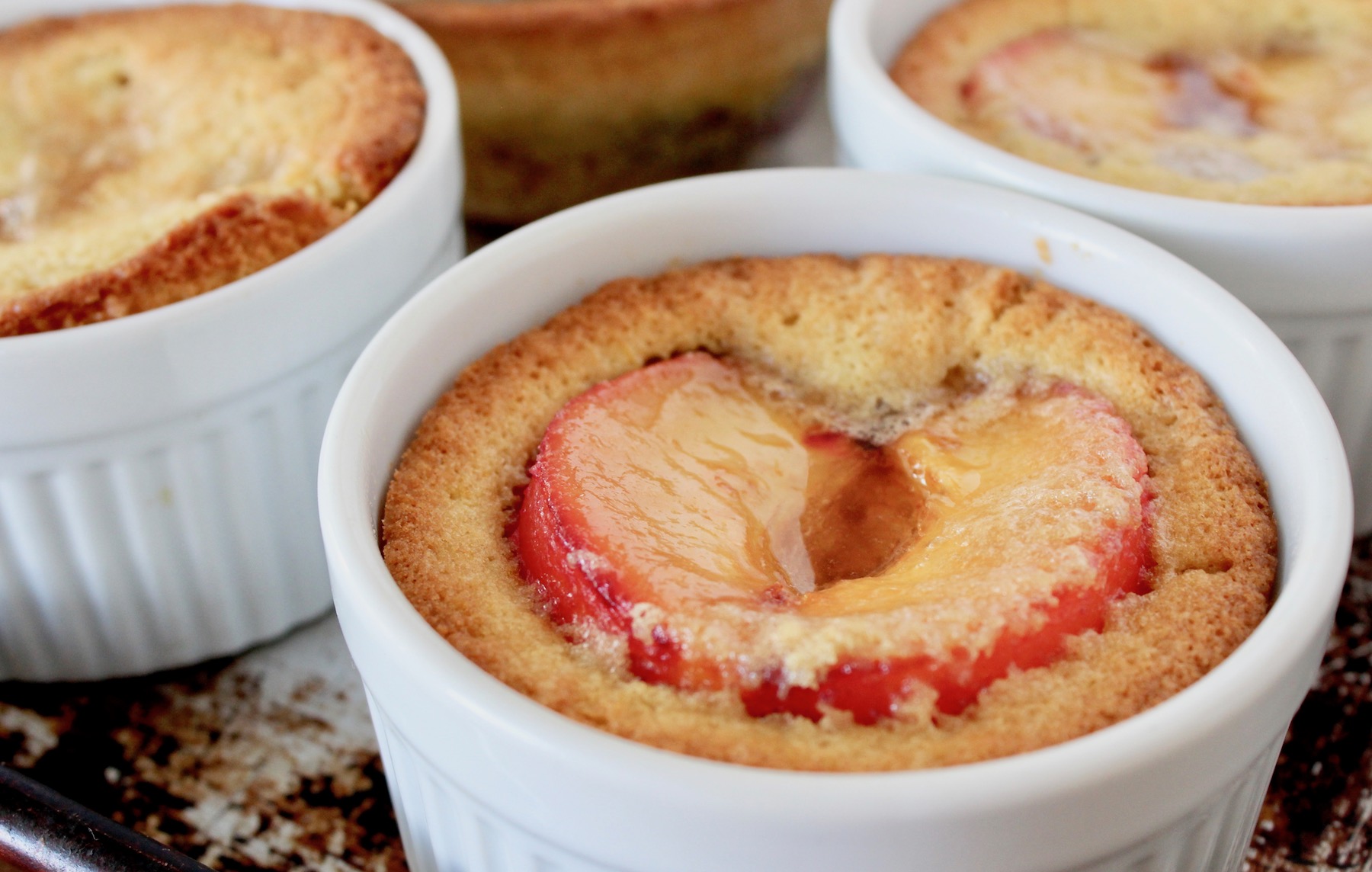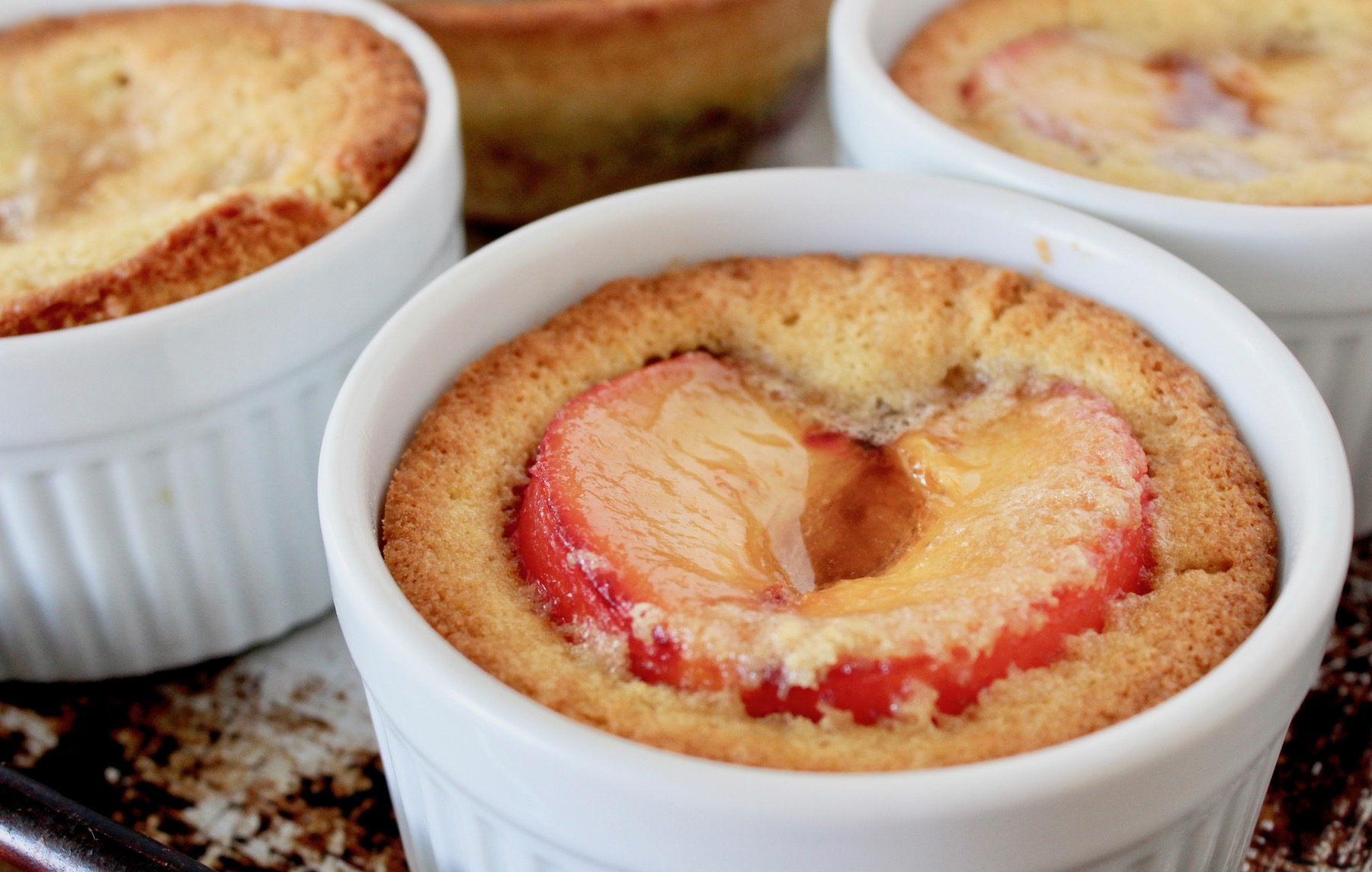 Julia Child's birthday was this week – August 15, to be exact.   For those of us who love to cook, she was an inspiration because we learned so much from her, and we saw the passion and joy she displayed in her kitchen, so we celebrate her special day!
I was really young when I started watching "The French Chef," marveling at how she whipped up elegant meals and laughed at herself along the way. She helped me be comfortable in the kitchen, encouraged me to have fun, to experiment and to not be afraid of making mistakes with food. Over the years I kept up with her shows, including all those episodes with Jacques Pepin, her Master Chef series, and her "Baking with Julia" series, when she invited master bakers to make their recipes in her kitchen while she watched, asked questions and shared insight gained from decades of baking delicious pastry herself.
This week I found some beautiful, ripe plums at the supermarket and, rather than eating them over the kitchen sink I decided to make a dessert in honor of Julia.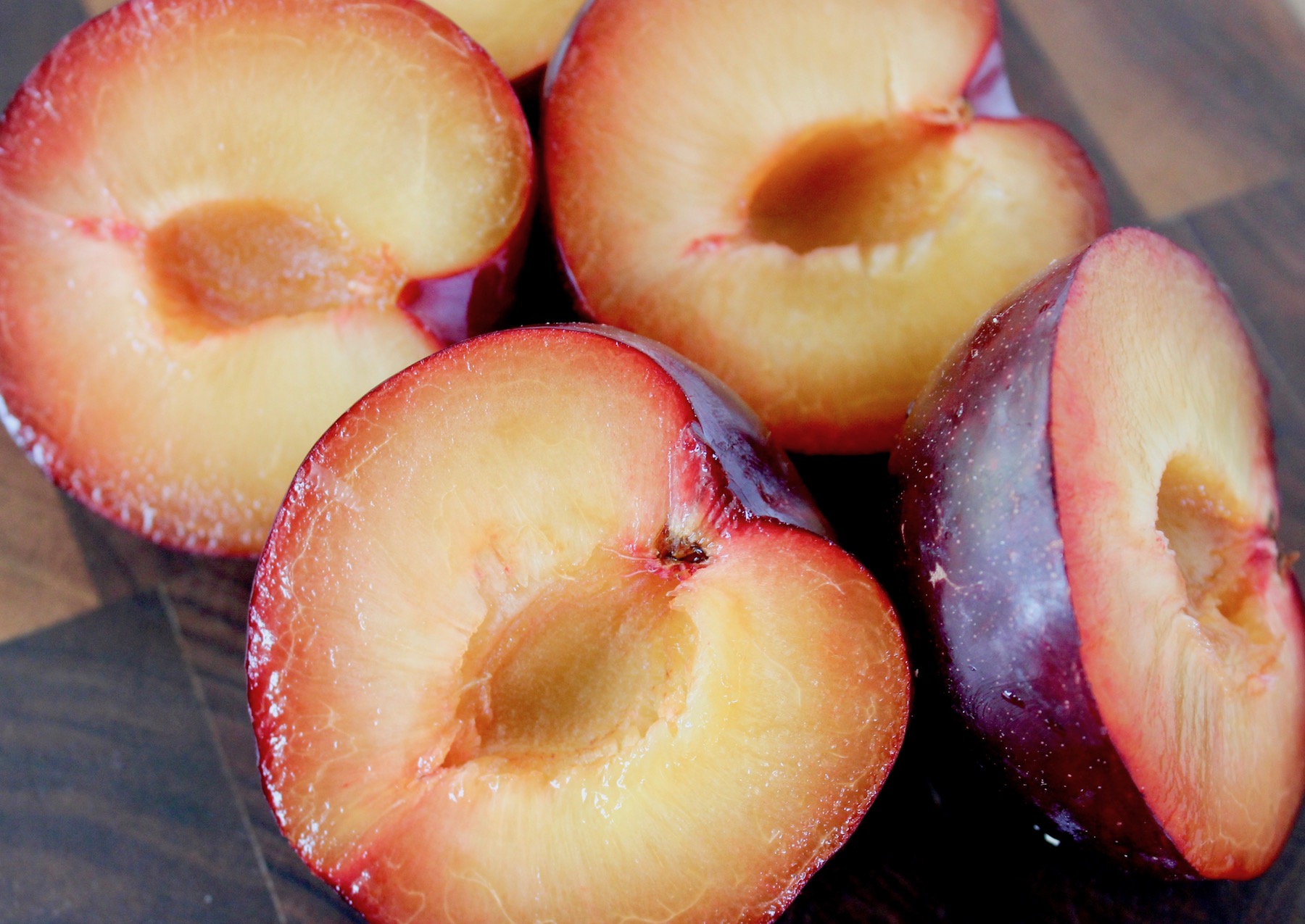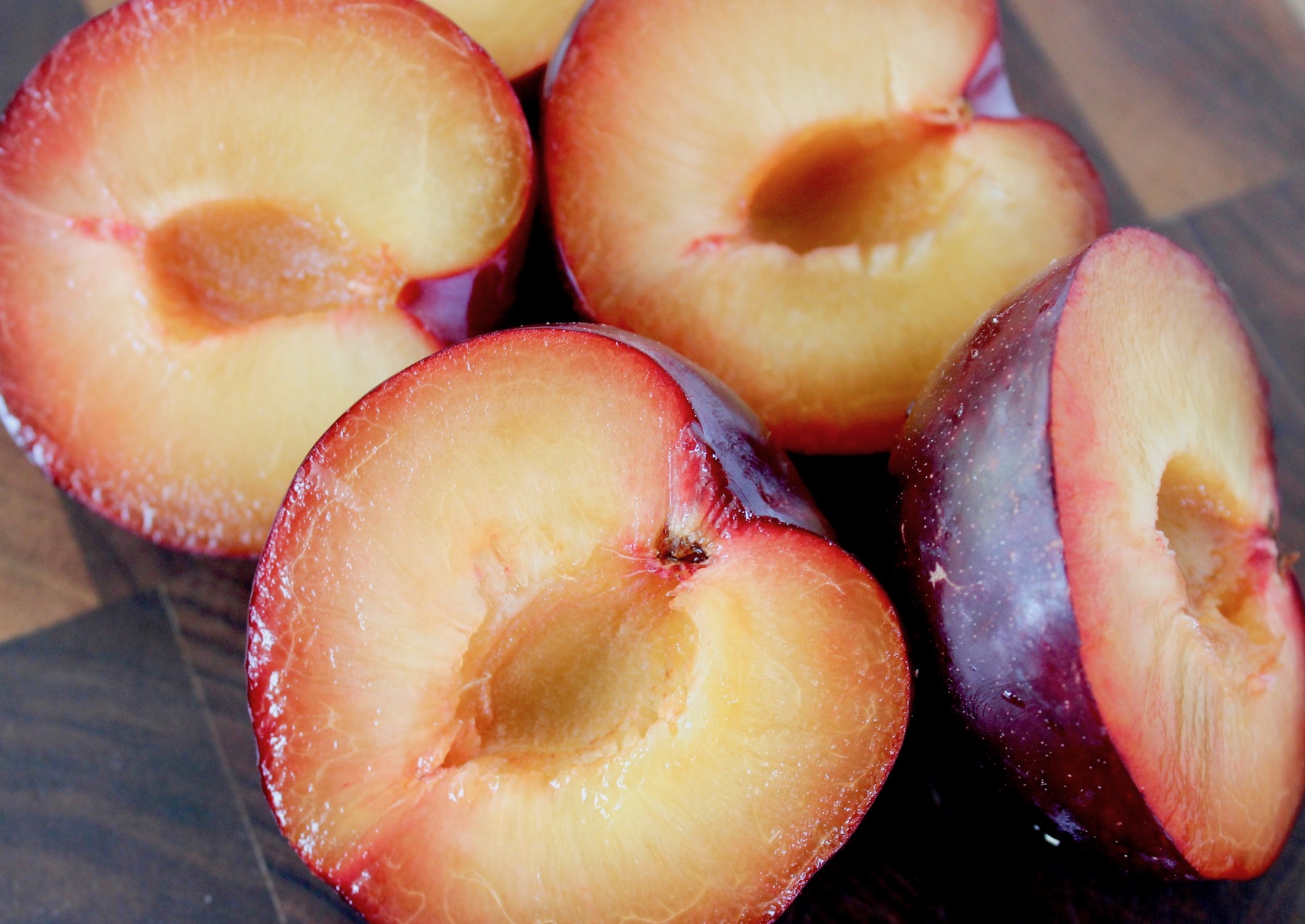 I scoured my Mastering the Art of French Cooking and other books penned by Mrs. Child or those inspired by her, and found a perfect recipe called "Oven-Roasted Plum Cakes."  It's in the Baking with Julia book by Dorie Greenspan, who captured recipes from the show, and wrote it in the style of Julia – detailed, with lots of professional insight for the home baker. In the episode, Julia hosted chef Marcel Desaulniers, author of Death by Chocolate. He baked while Julia watched and, of course, he topped the finished cakes with bittersweet chocolate sauce.  My favorite part of the episode was after he scraped down the butter/sugar mixture in the bowl. . .As he put his rubber spatula down to resume beating, Julia pointed out that there was still a spot that needed scraping. . .a little humor in the comment, while letting him know she was still on the ball.  I loved her.
The recipe couldn't be any simpler — spoon the batter into ramekins, plop a plum half into that batter, sprinkle with brown sugar, then bake for 25 minutes.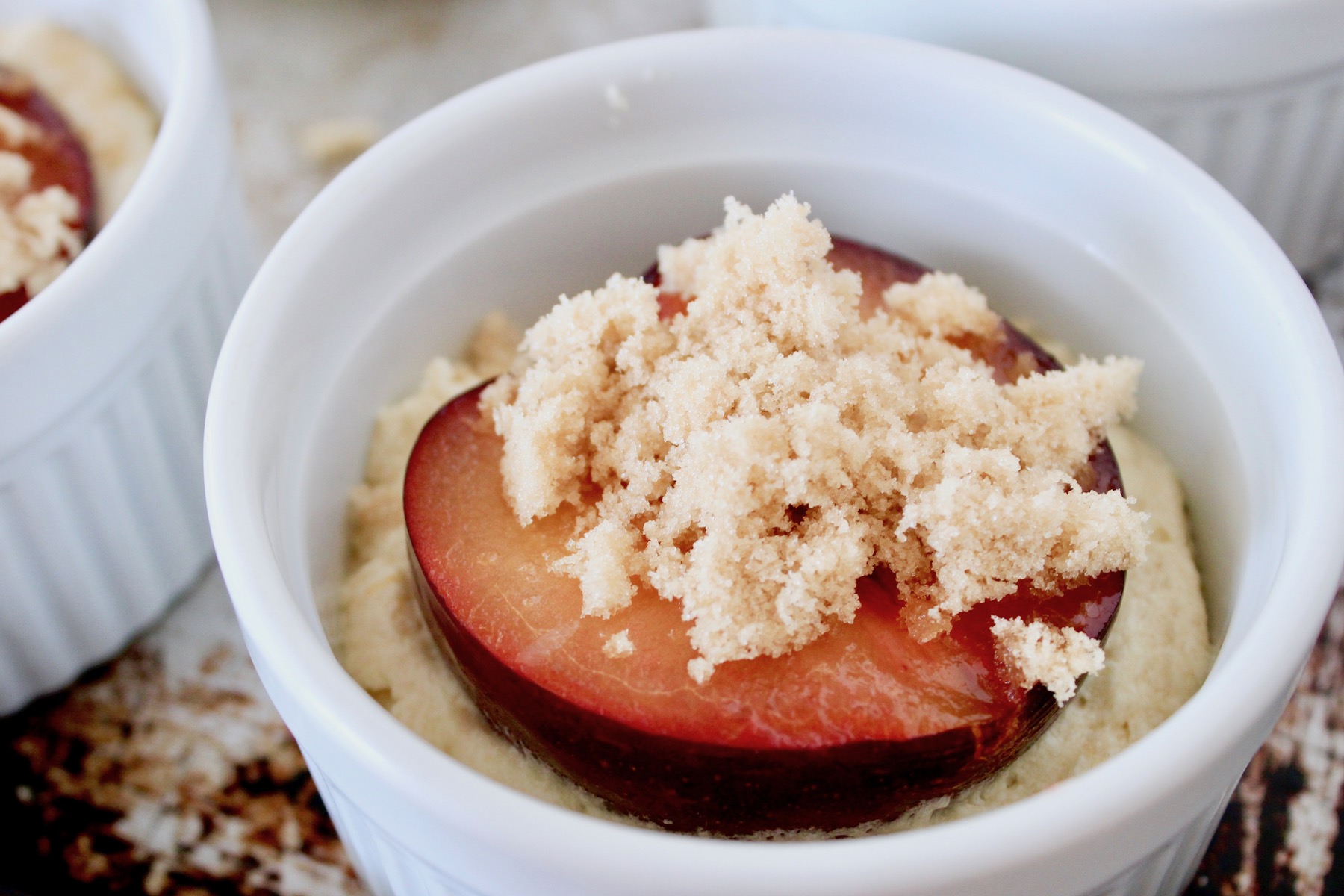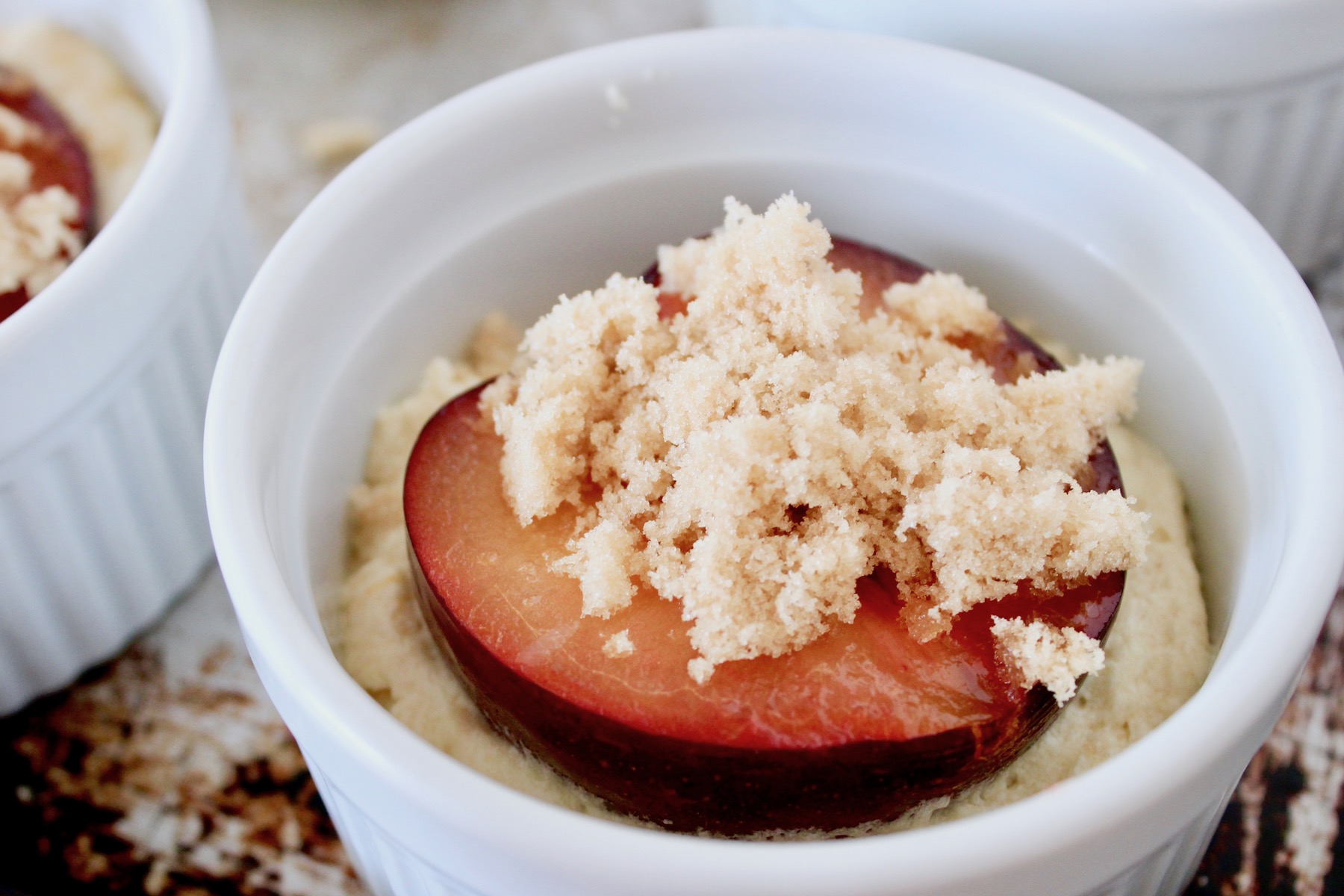 These little cakes are absolutely delicious. The batter crawls up around the plum, making crispy edges all around, and when combined with that juicy, sweet plum, it's the perfect bite.
Hubby and I ate ours with spoons, right out of the ramekins, not even bothering to remove the cakes like the photo in the book shows.
I made half the recipe (6 desserts) and shared a few with friends, leaving 3 in our house.  If this happens to you, be careful! You just may have to fight your spouse for the last one.  It's that good.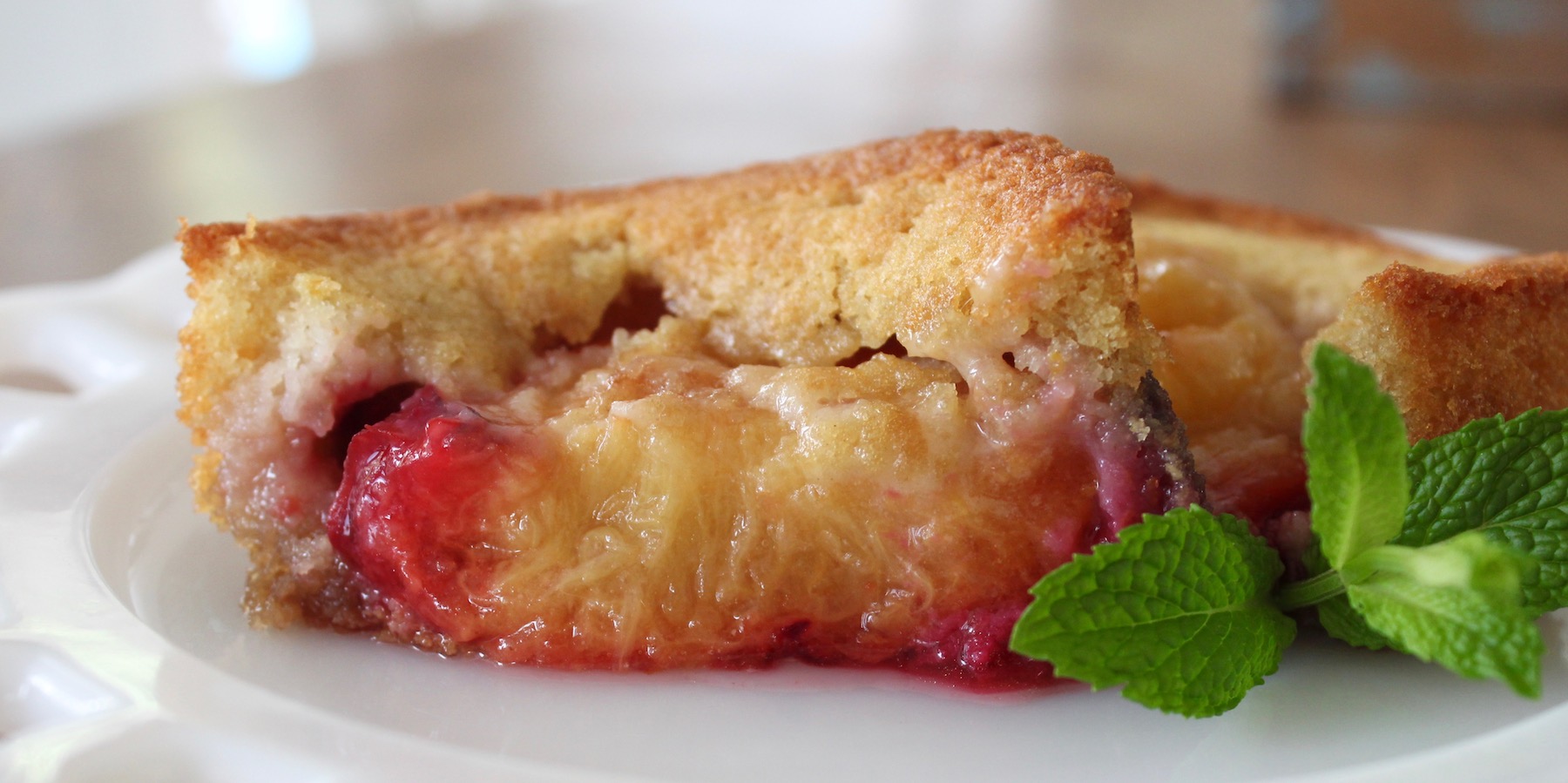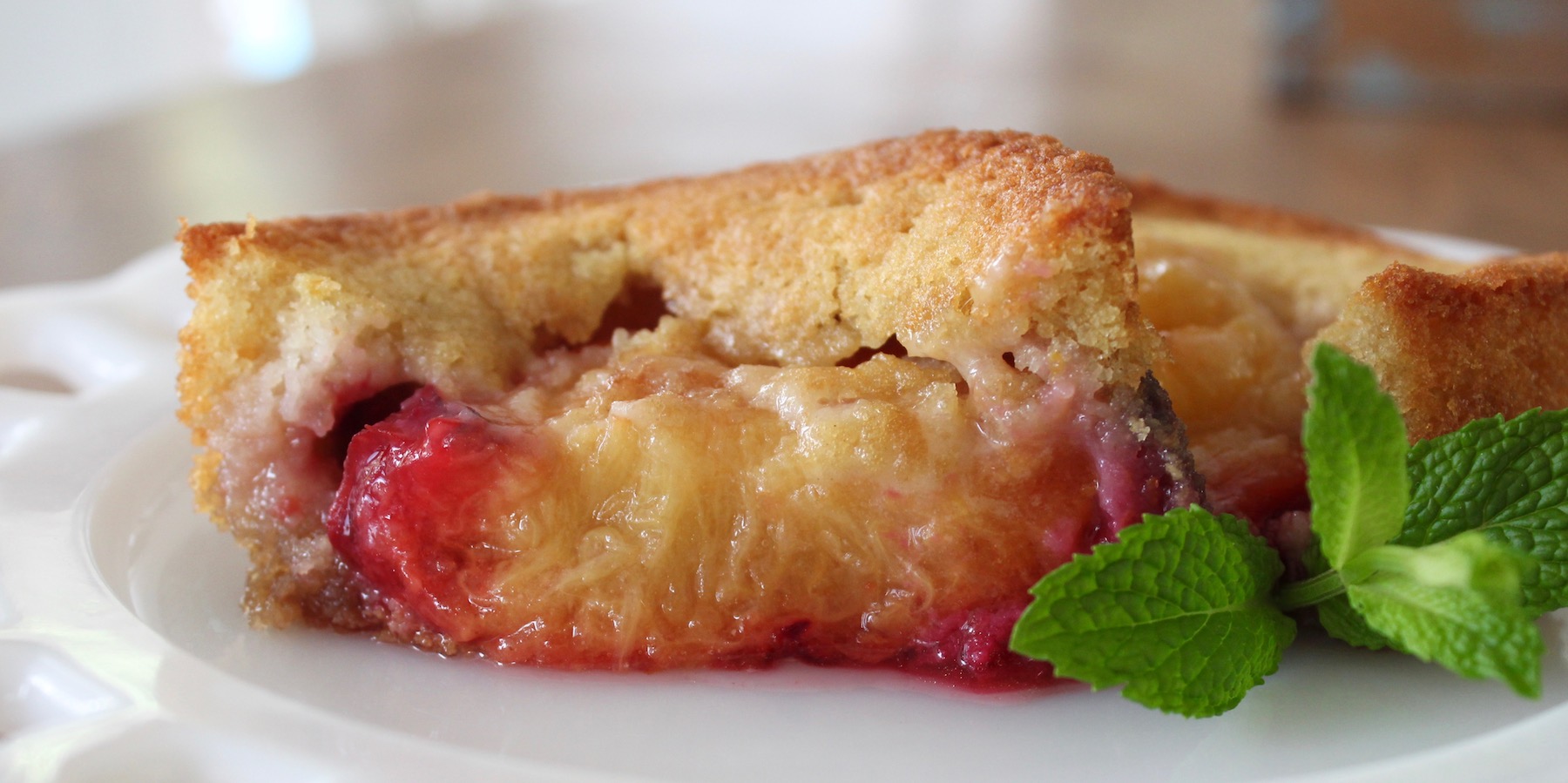 Happy Birthday Julia!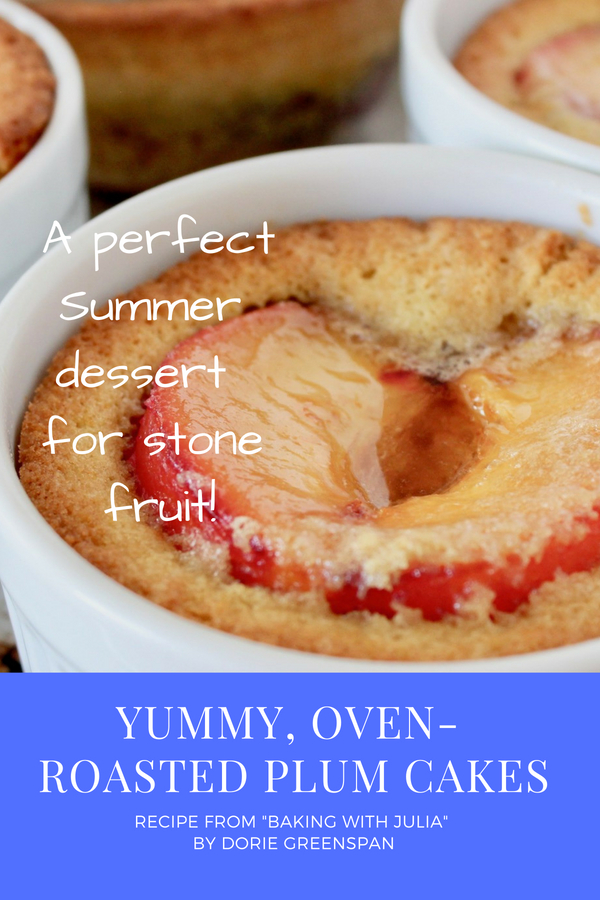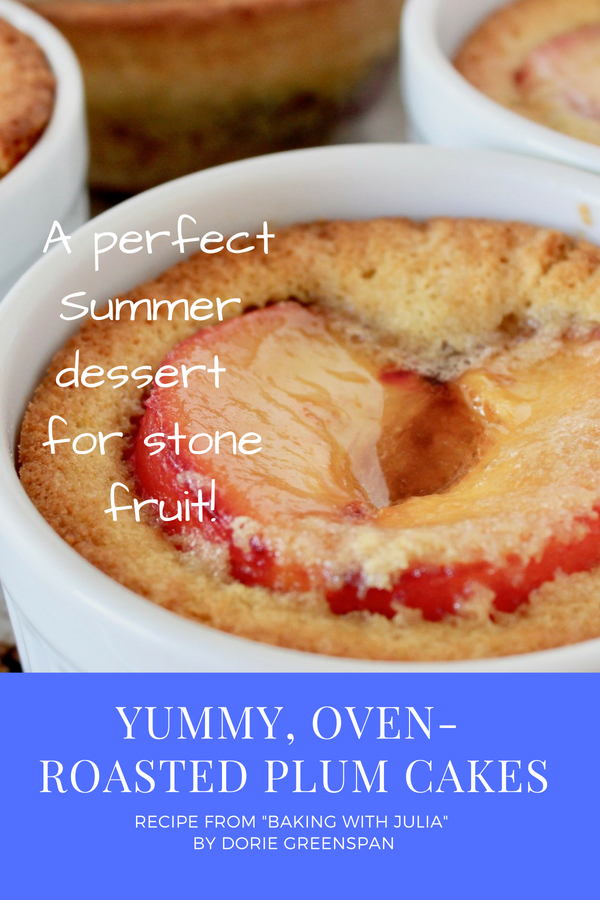 Plum Cakes
Slightly adapted from the recipe "Oven-Roasted Plum Cakes" in the book "Baking with Julia" by Dorie Greenspan. Contributing baker Marcel Desaulniers made this recipe in Julia's kitchen, as documented in Greenspan's book.
Author:
Marcel Desaulniers & Dorie Greenspan
Ingredients
4 oz. unsalted butter at room temperature
⅔ c. light brown sugar, packed
½ c. granulated sugar
2 eggs, large
1 tsp. orange zest
½ tsp. vanilla extract
1 c. all-purpose flour
¾ tsp. baking soda
¼ c. buttermilk (I used low-fat)
6 large ripe plums, halved & pitted
Melted butter to coat ramekins
Instructions
Set a rack in the center of the oven; heat to 350 degrees.
Sift flour and baking soda; set aside.
Coat the insides of the ramekins with melted butter and place on a rimmed baking sheet.
Using a mixer with a paddle attachment, cream the butter, 2 Tb. brown sugar, and granulated sugar on medium speed for 3 minutes. Scrape the sides and continue to mix 3+ minutes, until sugar is dissolved and the mixture lightens.
Add one egg then turn speed to high for 30 seconds.
Scrape down the bowl, add the second egg and beat on high 30 seconds.
Add orange zest and vanilla and mix until incorporated (about 30 seconds).
Reduce speed, add flour and baking soda and mix 15 seconds.
Pour in buttermilk and mix 30 seconds.
Finish blending with a rubber spatula to avoid over-mixing.
Spoon about 2 Tb. of batter into each ramekin.
Place a plum half in each ramekin, cut side up, into the batter, and push down slightly.
Sprinkle equal amounts of remaining brown sugar over each plum.
Place baking sheet in the oven and bake about 25 minutes, until a toothpick inserted in the cake comes out clean.
Remove and cool about 10 minutes.
To un-mold: run a butter knife around edges of the cakes then lift out and serve with whipped cream or bittersweet chocolate sauce. OR eat them right out of the ramekins with a spoon!
Notes
These cakes are best eaten warm, so the cake edges stay crispy 🙂