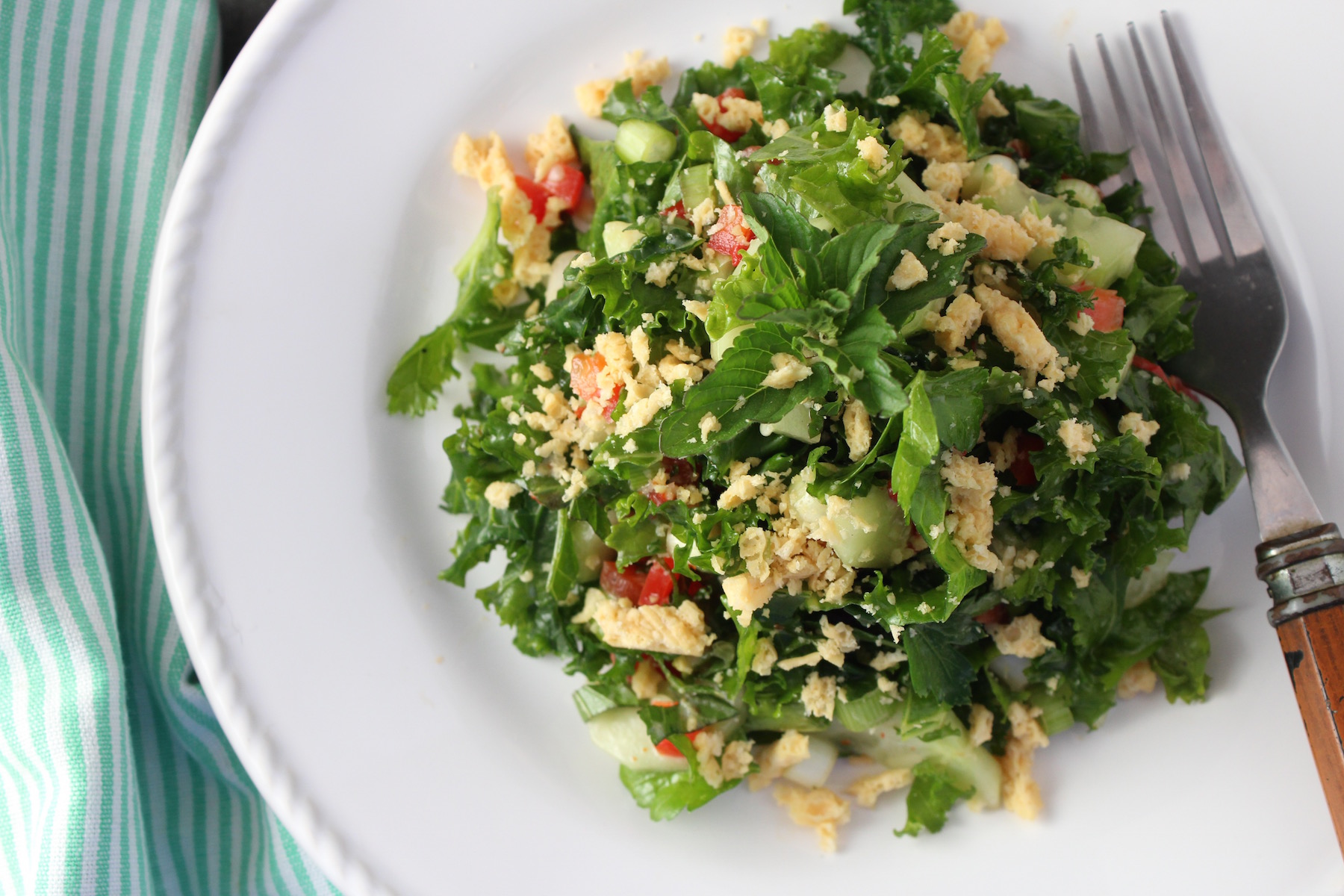 All Hail Kale!
Yes, it's time for another kale salad, and this one celebrates the hearty crop of kale in my garden.  Hubby and I are pleased with our ability to grow kale and, for first-time Florida gardeners, it's one of our big successes.  Look how beautiful it is:
Unlike some near-misses and shear disasters (including some plants that actually committed suicide), we have found kale to be pretty indestructible.  But with a fresh batch just about every day, we've  had to be creative in the kitchen, with the goal of consuming as much of it as possible. . .
This salad is inspired by one I enjoyed last summer in Napa Valley at Farmstead at Longmeadow Ranch in St. Helena.  And let me just say that if I lived near that beautiful place, I would probably eat there every day — that's how yummy everything was!  The restaurant is in an old, renovated barn, and the sprawling property is simply gorgeous. They grow their own produce, including grapes, olives and apples, and they raise their own beef.  This place had it all.  And after a long morning of biking through hills and vineyards, Brendan and I were ready for a hearty lunch, which is just what we got.
We tried several dishes including fire roasted peaches with prosciutto, and a very tasty Lacinto kale salad with a chili pequin and lemon dressing topped with toasted parmesan. That salad had flavor, texture and all around goodness, so I gobbled it up (after taking pics and notes, of course) and tucked the memory away, knowing the right time would present itself for me to try something like it at home.  And that's just what happened this week, as I stood in my kitchen, stumped about what to do with my newest bounty of kale, when the memory of that yummy salad in St. Helena finally resurfaced!
My inspiration salad's dressing at the restaurant included dried chili pequin flakes, mustard and lemon.  But I decided to use sweet chili sauce, rice vinegar, garlic, lemon juice and sesame oil, for a little extra Asian flavor.  The first batch would be fine on its own, but I decided to add a small amount of low fat plain yogurt at the end. . .it might sound odd, but it offered just enough 'creaminess' to soften the edges of the vinegar and lemon while still honoring the mild heat of the chili sauce. Try it either way! The salad is a combination of tender kale (any kind will do), mint, basil, scallions, red pepper and cucumber. When mixed with savory parmesan crisps*, the finished dish offers lots of fresh flavors and textures.
If you find yourself with too much kale, be sure to check out my other salads:
Kale & Cashew Salad with Miso Dressing
Warm Barley, Kale and Date Salad
Citrus & Kale Salad with Garlicky Orange Dressing
Kale Salad with Peanut Dressing and Strawberries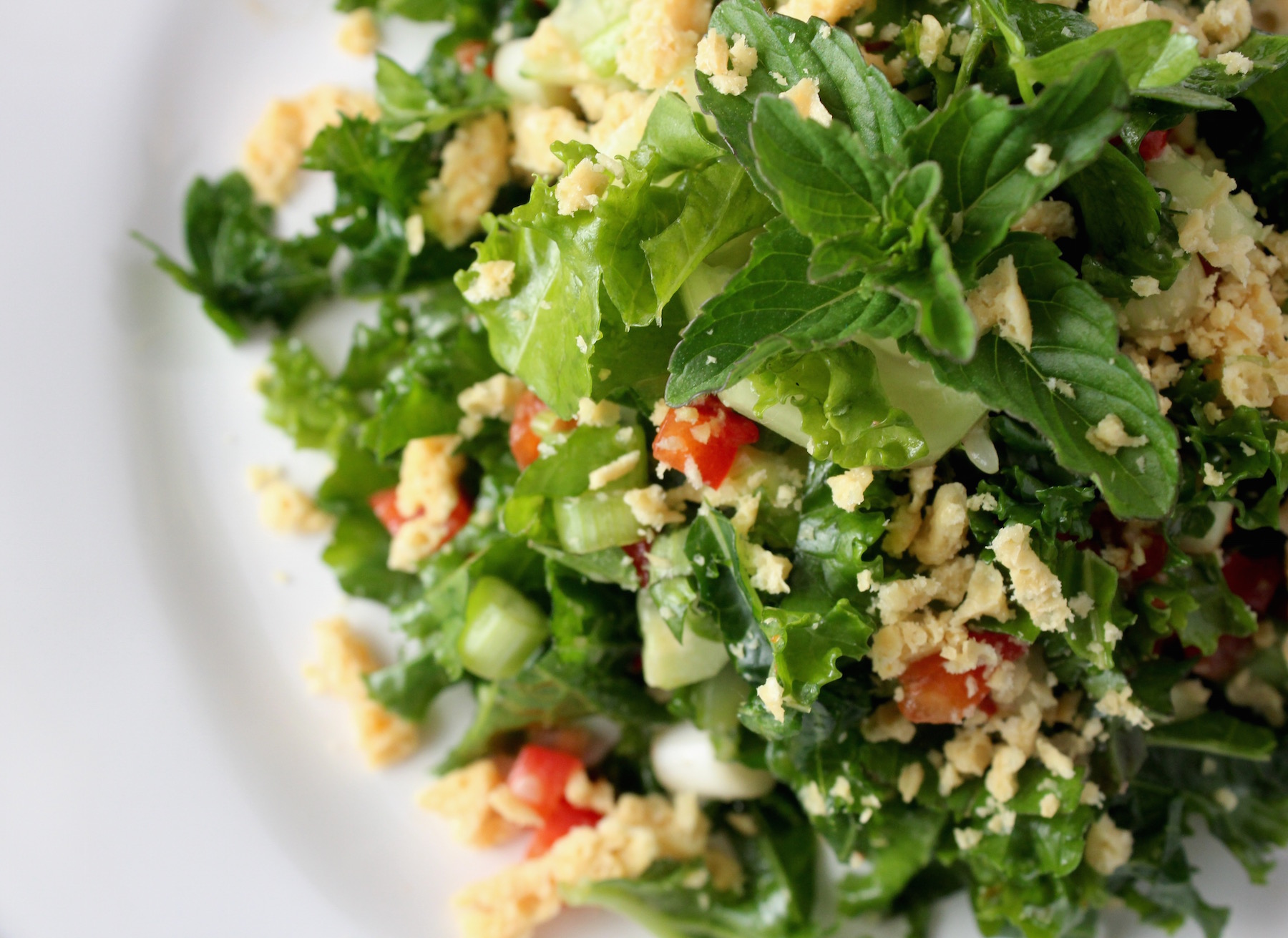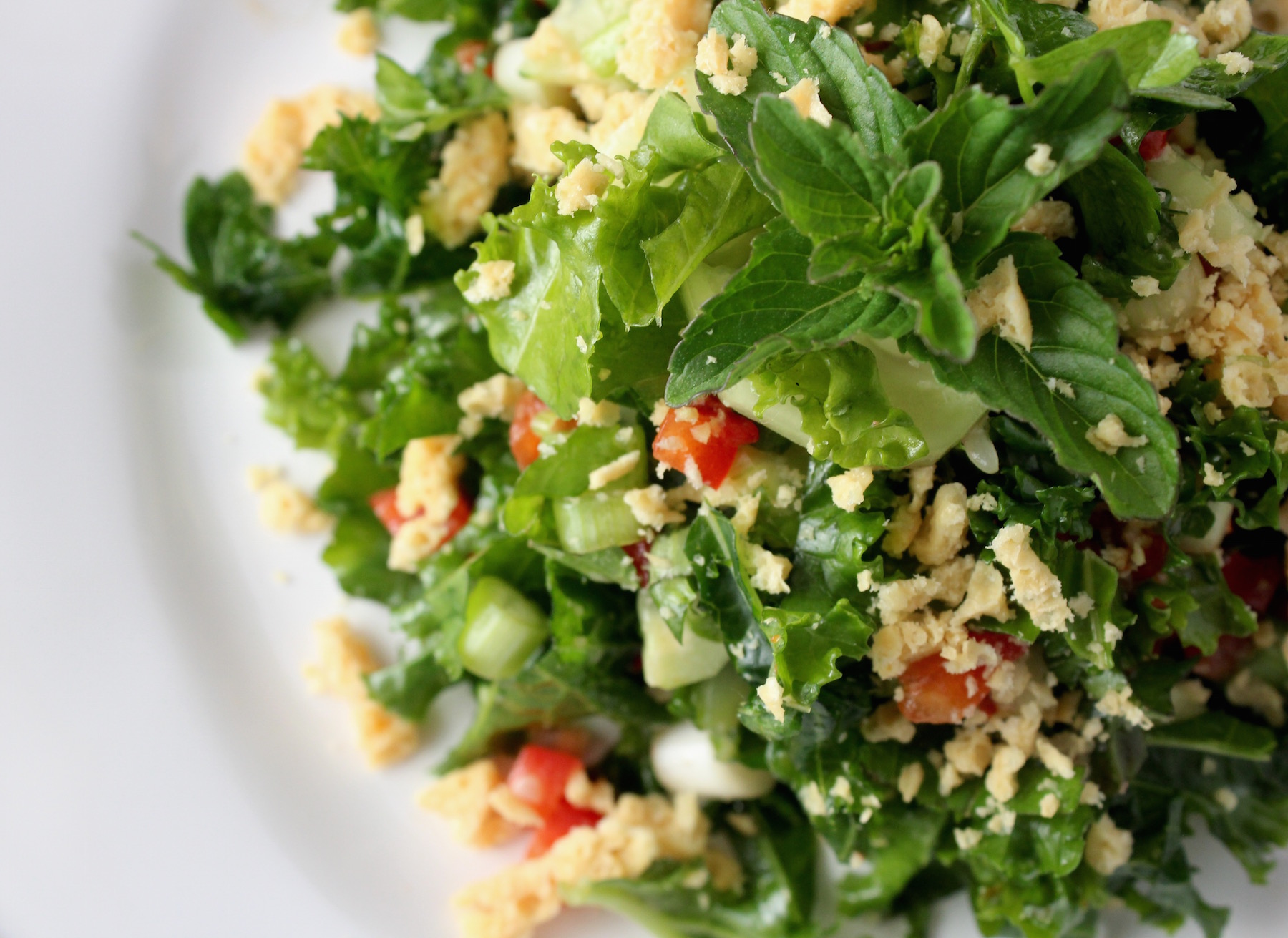 *Note: if you've never made parmesan crisps, don't be daunted. They're easy – just shred fresh parmesan and pile it onto a parchment (or Silpat) lined baking sheet and bake about 5 minutes in a 400-degree oven. The cheese flattens/melts and when the little disks are cool, they're crispy, cheesy and delicious. Break them up for this salad or serve them whole.  And if you don't have time or desire to make them, you can usually find them at speciality stores or Whole Foods!

Kale Salad with Sweet Chili Dressing
Dress up healthy kale with this sweet and spicy dressing.
Author:
My Delicious Blog
Ingredients
Salad
2+ c. fresh kale (curly, Lacinto or other)
3-4 scallions, sliced thinly
½ cucumber, peeled & sliced thinly in half disks
2-3 Tb. red pepper, small dice
Handful fresh mint leaves (slice thinly if large)
Handful fresh basil leaves (slice thinly if large)
Dressing
2 Tb. sweet chili sauce
2 tsp. rice vinegar
2 tsp. vegetable oil
1 tsp. toasted sesame oil
1 small clove garlic, minced
1 tsp. fresh lemon juice
Pinch kosher salt
2 tsp. low fat plain yogurt (optional)
Parmesan Crisps
½+ c. fresh parmesan cheese, shredded
Instructions
Heat oven to 400 degrees.
Line a baking sheet with parchment paper or a silicone mat; set aside.
Whisk all Dressing ingredients in a small bowl; set aside or refrigerate until ready to use.
Make the Parmesan Crisps by placing 4 small mounds of cheese on the baking sheet, about ½" apart. Pat down gently, then place in the oven for about 4-5 minutes, until they look flat and crisp. Remove from oven and allow to cool 10-15 minutes.
Wash and dry the kale. Stack the leaves and roll them into a big 'cigar' shape then slice into thin ribbons using a chef's knife. Add to a large mixing bowl. Drizzle the kale with 1-2 tsp. olive oil, then 'massage' the leaves with your hands - get in there and rub the oil into the leaves for about 2 minutes -- this releases some of the 'toughness' in the leaves and breaks them down so they're more tender and flavorful. Let this sit for a minute or two, then add scallions, red pepper, cucumber and herbs.
Mix in the dressing, then break up the parmesan crisps and sprinkle on top.