Many months ago I was having one of those days when I just couldn't bear to cook another meal, after about 22 in a row (yes, this does happen sometimes). So, hubby took me to our favorite Thai restaurant for dinner and it was wonderful to just sit back and enjoy a yummy meal without preparing anything myself 🙂
I usually order the same dishes at this lovely restaurant, but that night I tried a new salad. It was called "Jumping Shrimp Salad" and it was SO tasty.  It was a beautifully-prepared dish with fresh steamed shrimp, onions, lettuce, peppers, cucumbers, cilantro in a spicy lime-sweet chili dressing. I tried to remember every component (including what I thought was in the dressing), jotted down some fast notes when I got home and said to myself "some day I'm going to try to replicate that salad!" Well, today was the day for experimentation, and I can now toss this crumpled, dog-eared little piece of paper I've been moving around for almost a year!
I did a little online research for "jumping shrimp Thai salad" and found a video of a woman in Thailand preparing what looked like a really tasty coating for shrimp – roasted rice flour, peppers, spicy oil and lots of other good stuff. But the star of her dish made its appearance when she scooped up some tiny LIVE shrimp from a holding pen and tossed them into the coating, mixed and served (hence the phrase "jumping shrimp"!) to the amazed onlookers.  Many of those wary tourists simply declined the serving, but a few brave gals were happy to give it a try (one actually went back for seconds!).
I'm not that adventurous so, not to worry — I COOKED my shrimp (and so did my favorite Thai restaurant!).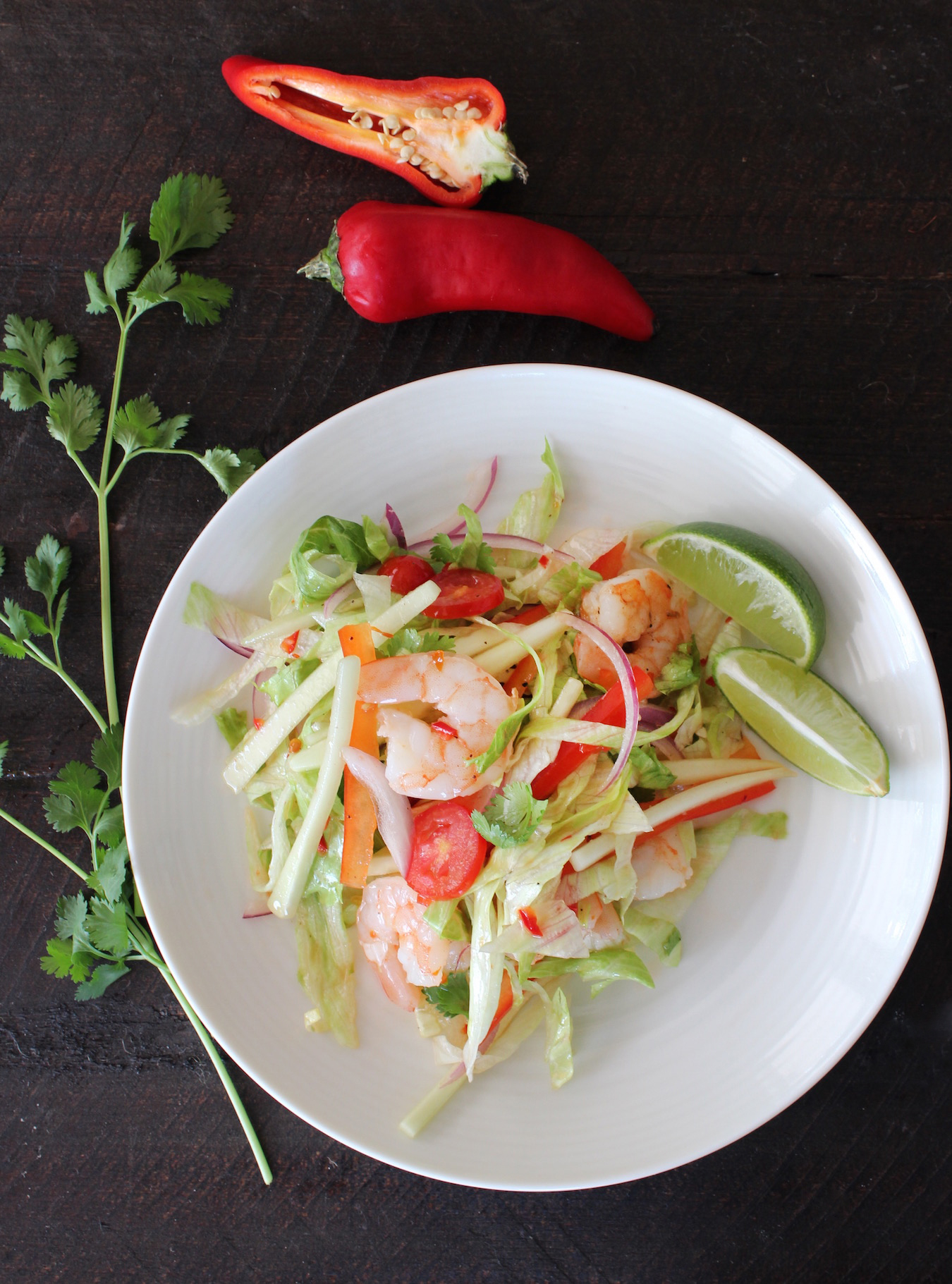 The nice thing about this salad is the mix of flavors and textures. It's refreshing, tasty, crunchy, light, and you can make it as spicy as you want. Hubby and I enjoyed it as a large lunch salad, but it would make a good starter as well.

Tasty Thai Salad
Shrimp and crispy veggies pair nicely with this Thai inspired dressing.
Author:
My Delicious Blog
Ingredients
Salad
~1 lb. large shrimp, deveined, shelled
Handful of grape tomatoes, sliced
1 head iceberg lettuce, shredded (or any other crunchy lettuce you have on hand)
1 English cucumber, cut in half, julienned
½ red bell pepper, julienned
½ yellow or small red onion, sliced thinly
Handful of fresh cilantro leaves
Optional: chopped peanuts or almonds
Spicy Chili-Lime Dressing
2 Tb. sweet chili sauce
2 Tb. rice vinegar
2 Tb. lime juice
1 tsp. fresh red chili, minced (less if you don't want it too spicy)
1 tsp. honey
dash kosher salt
dash freshly ground black pepper
Instructions
In a large shallow pan, add about ¾ c. water with a pinch of salt.
Place shrimp in the pan in one layer. Simmer on low for just a few minutes, until the shrimp turn pink. Remove from pan and refrigerate (in one layer), covered, about 30 minutes.
Prepare tomatoes, lettuce, cucumber, red pepper, cilantro, onion and place in a large mixing bowl; refrigerate until shrimp are cool.
Mix dressing ingredients in a small bowl and refrigerate until ready to serve.
When ready to serve, combine the dressing with the salad and shrimp (and top with nuts, if using).
Notes
Allow an additional 30 minutes for chilling the shrimp 🙂