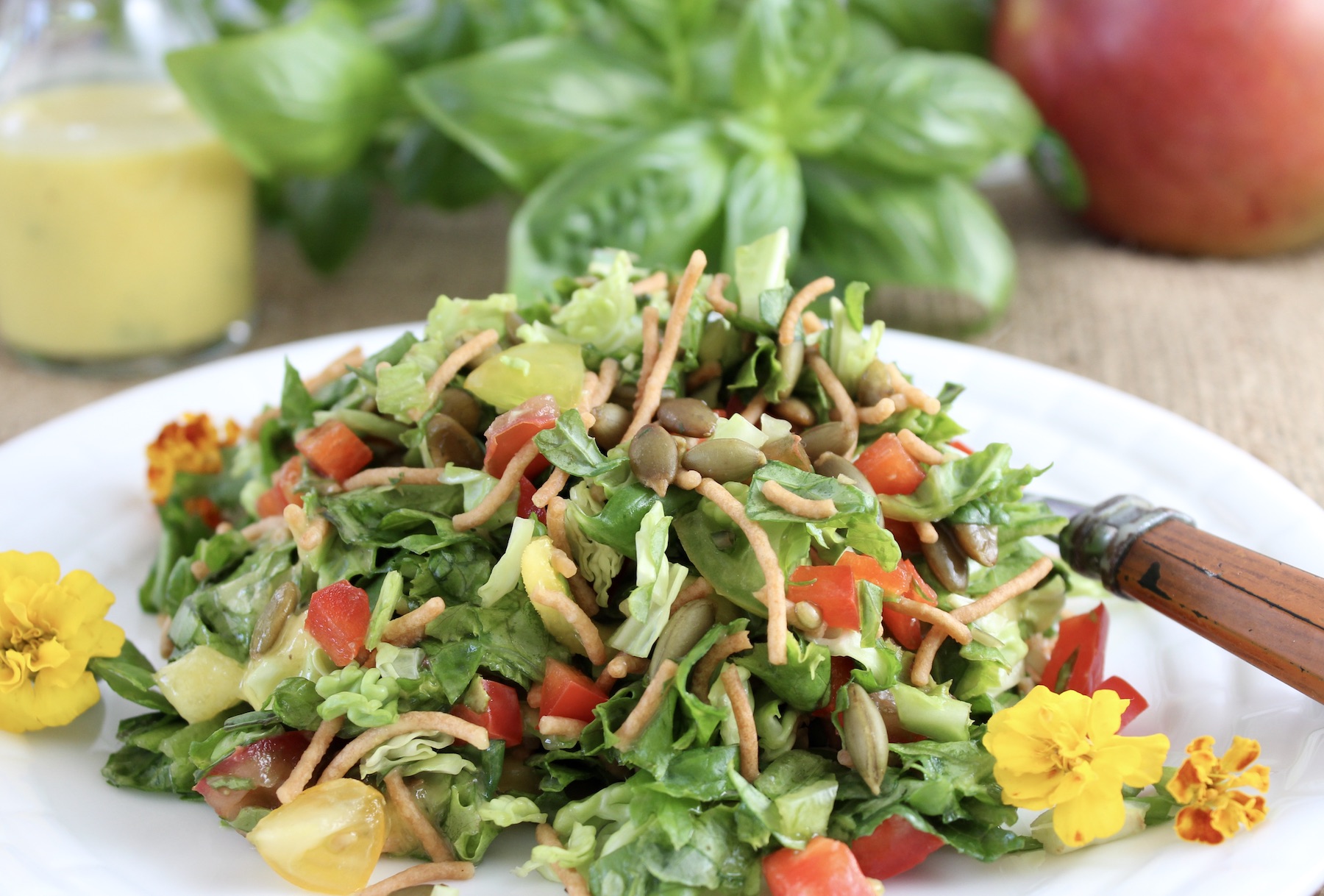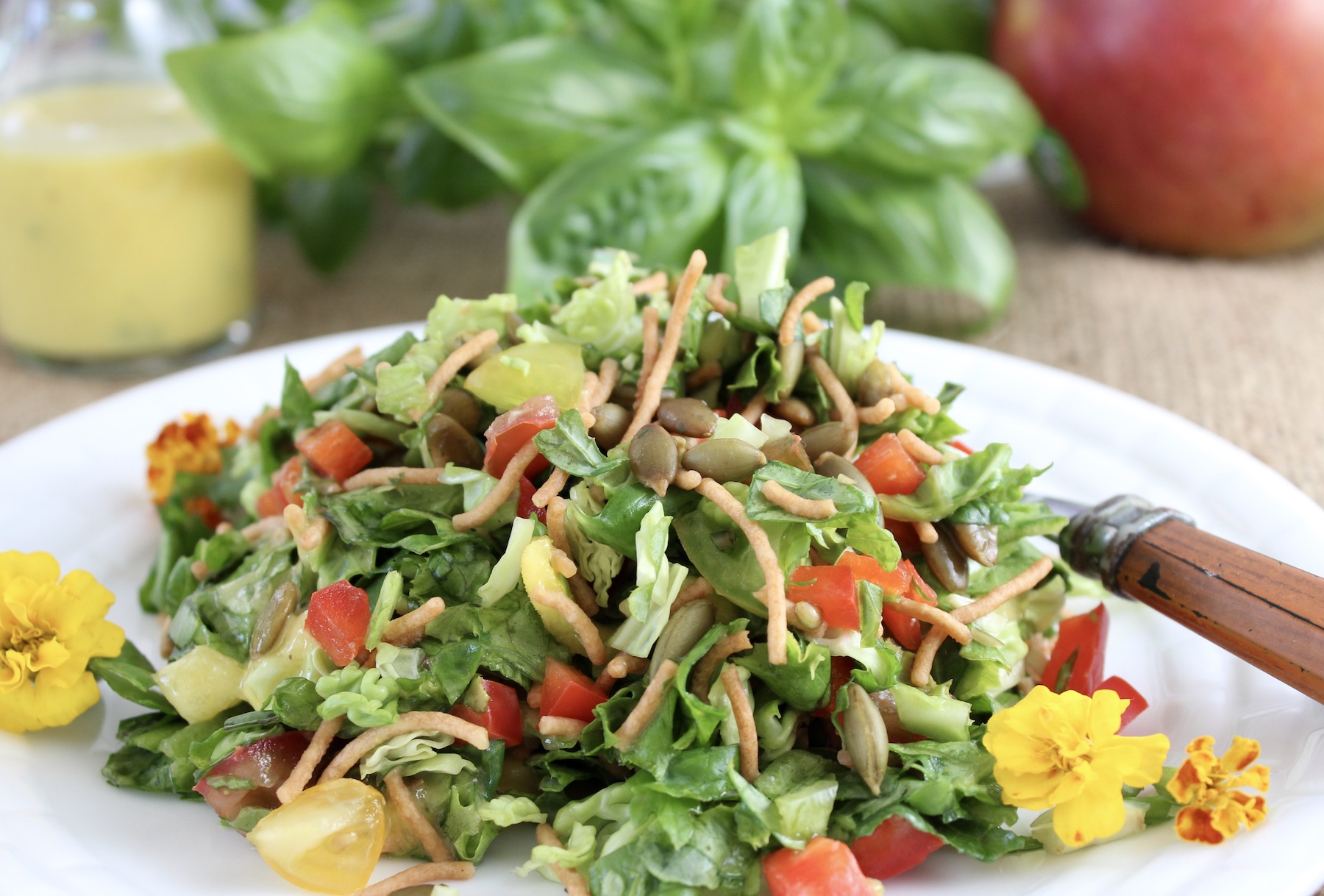 It's peak mango season in Florida, which means backyard trees are dripping with fruit, and grocery store bins are filled to the rims.
There are more than 500 varieties of mangoes, but common supermarket varieties you'll find include Tommy Adkins (large red, juicy), Keitt, and Honey. And if you're really lucky (like if you're in an area that grows tropical fruits, in south Florida), you've got access to unique and/or little known varieties that are even more spectacular than those mainstream, supermarket varieties.  These complex fruits have names like Ice Cream, Coconut Cream, Juicy Peach, Cotton Candy, Fruit Punch, Anglo, Gold Nugget, Florigon, Ah Ping, and Kuwini.  Each has its unique scent and flavor characteristics, described as buttery, spicy, tart, sweet, complex, unique, smooth, ginger-y, peach-y, 'like an overly cooked carrot', citrus-y, coconut-y, 'grapefruit-y but with less tartness', fruitpunch-y, melon-y, and more.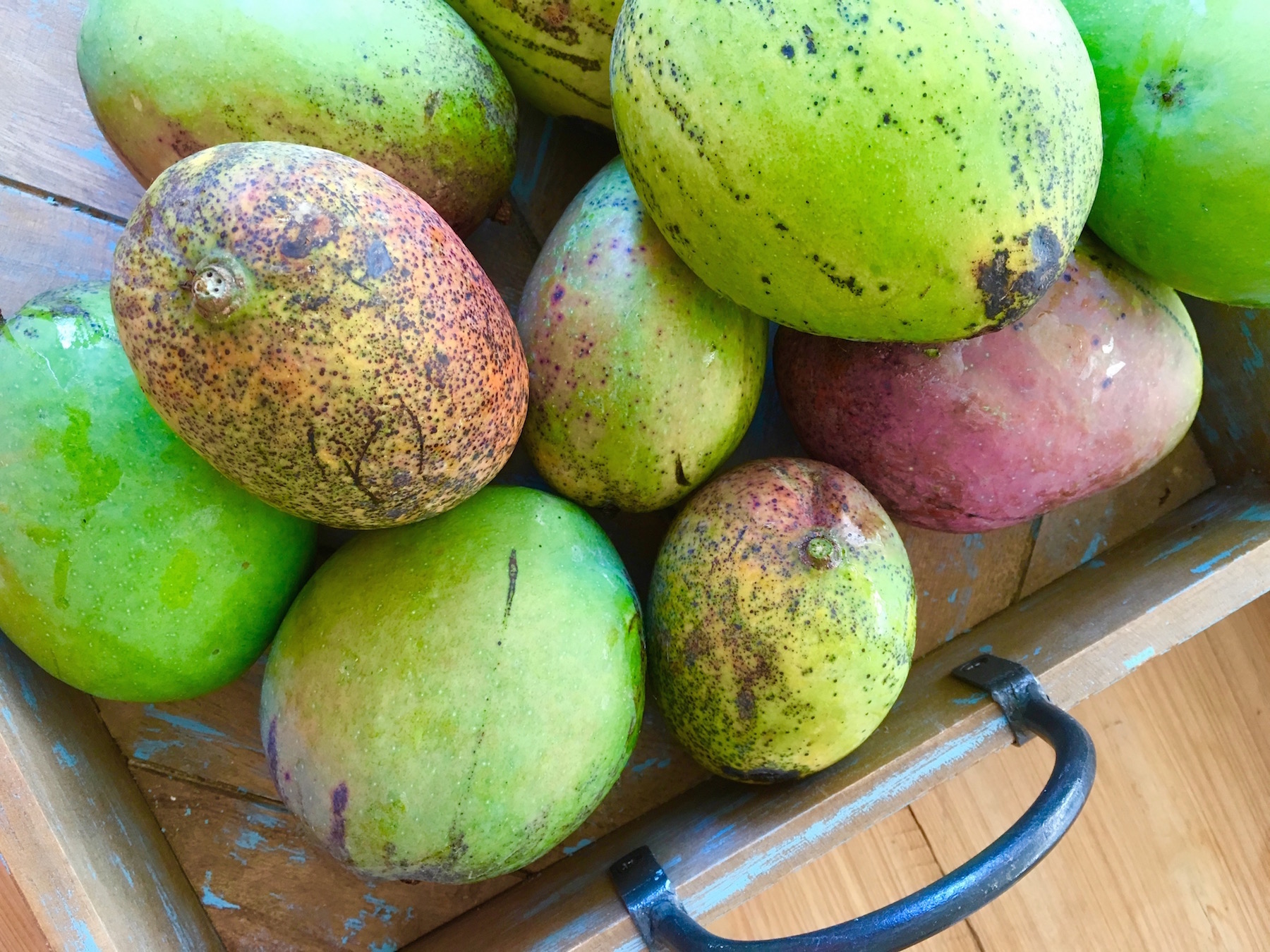 If you didn't know, mangoes inherently have an interesting ingredient called
toluene
, a chemical also found in things like paint thinner and turpentine (don't be scared), and one that provides the fruit with a slightly 'pine-y' undertone.  It pairs with each variety's sugar levels, producing a wide variety of tropical and/or citrusy flavors.  When I find out a food's natural tendencies, I like to figure out what to pair it with to either highlight or downplay those tendencies, and I've learned that black peppercorns emphasize a mango's toluene traces, turning potential 'harsh' flavors of the fruit into a spicy, savory enhancement to its sweetness.  
(BTW – black pepper also enhances a strawberry's natural sweetness, so try a little on some fresh berries)
.  But mangoes also pair well with fresh basil, mint, cilantro, ginger, lavender, as well as, cayenne, cinnamon, cloves, garlic, and paprika. So, if you don't have a mango allergy(*), try them with black peppercorns or some of the other flavors and see what you think!
Here in Florida, many folks get excited about mangoes this time of year.  Some even compete in mango recipe contests at the annual
Mango Mania
event at Pine Island's Tropical Fruit Fair, where they actually crown a Mango Queen!  If you want to learn more about fun things relating to Florida mangoes, check out this article on the
Authentic Florida
website.  And if you need more mango recipes, here are few on my blog (can you tell I like mangoes?!?):
Today's salad has tender greens, crunchy cabbage, fresh basil, salty/toasted pepitas, mango, red bell pepper, cherry tomatoes and even some tiny Chinese noodles for crunch.  It's great with this tasty mango-basil-ginger dressing: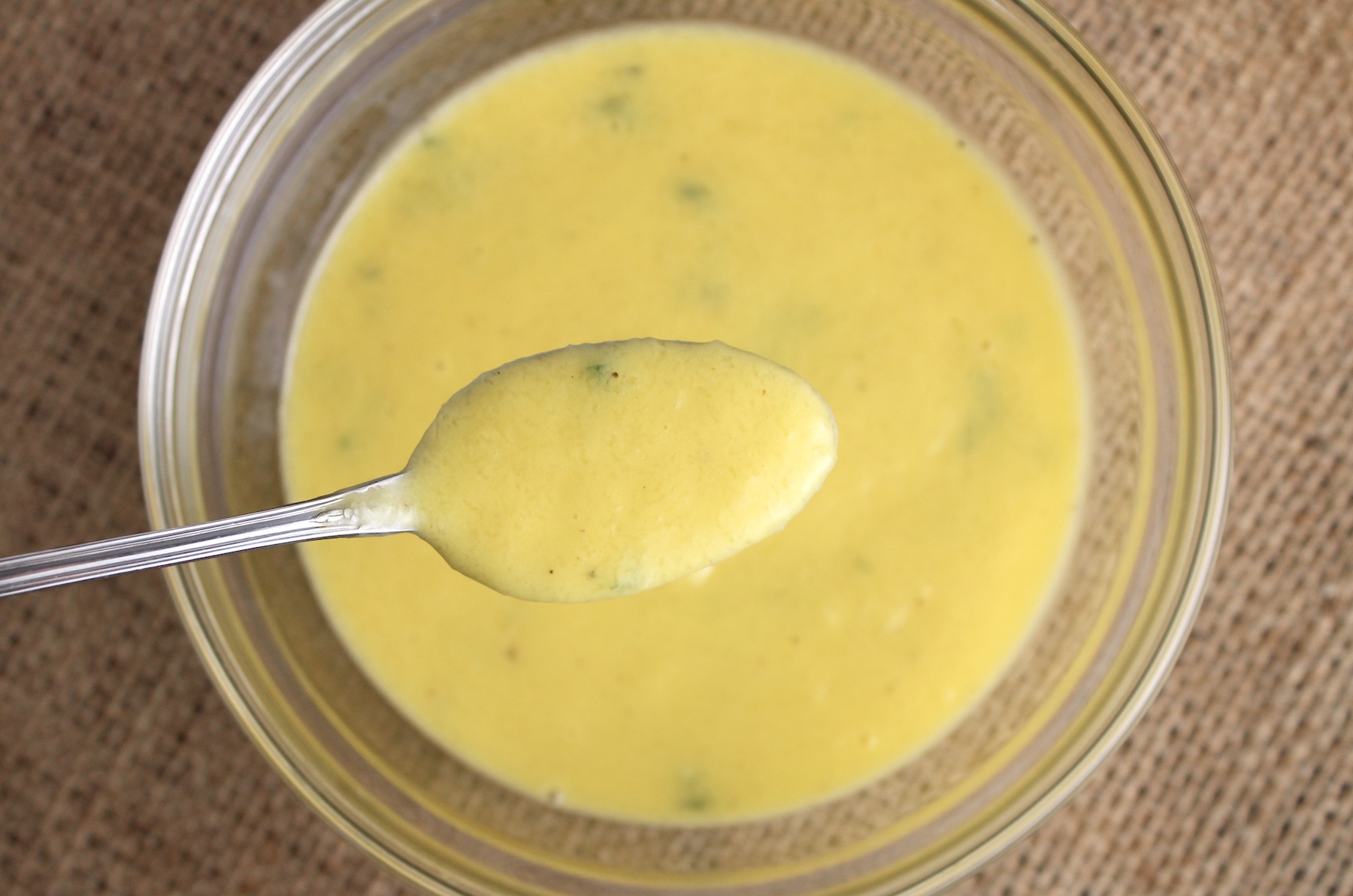 Enjoy the salad by itself, or toss in some roasted/sauteed shrimp, grilled chicken, roasted salmon, tofu, your favorite cheese, or some avocado.  It can be a lunch salad, or a side salad.  It offers lots of possibilities and you can adjust measurements based on what you have on hand.
Just be sure to chop everything into similar bite-sized pieces, and don't chop or assemble until just before you plan to sit down and eat it, otherwise the greens will develop brown cut edges and won't be as crisp 🙂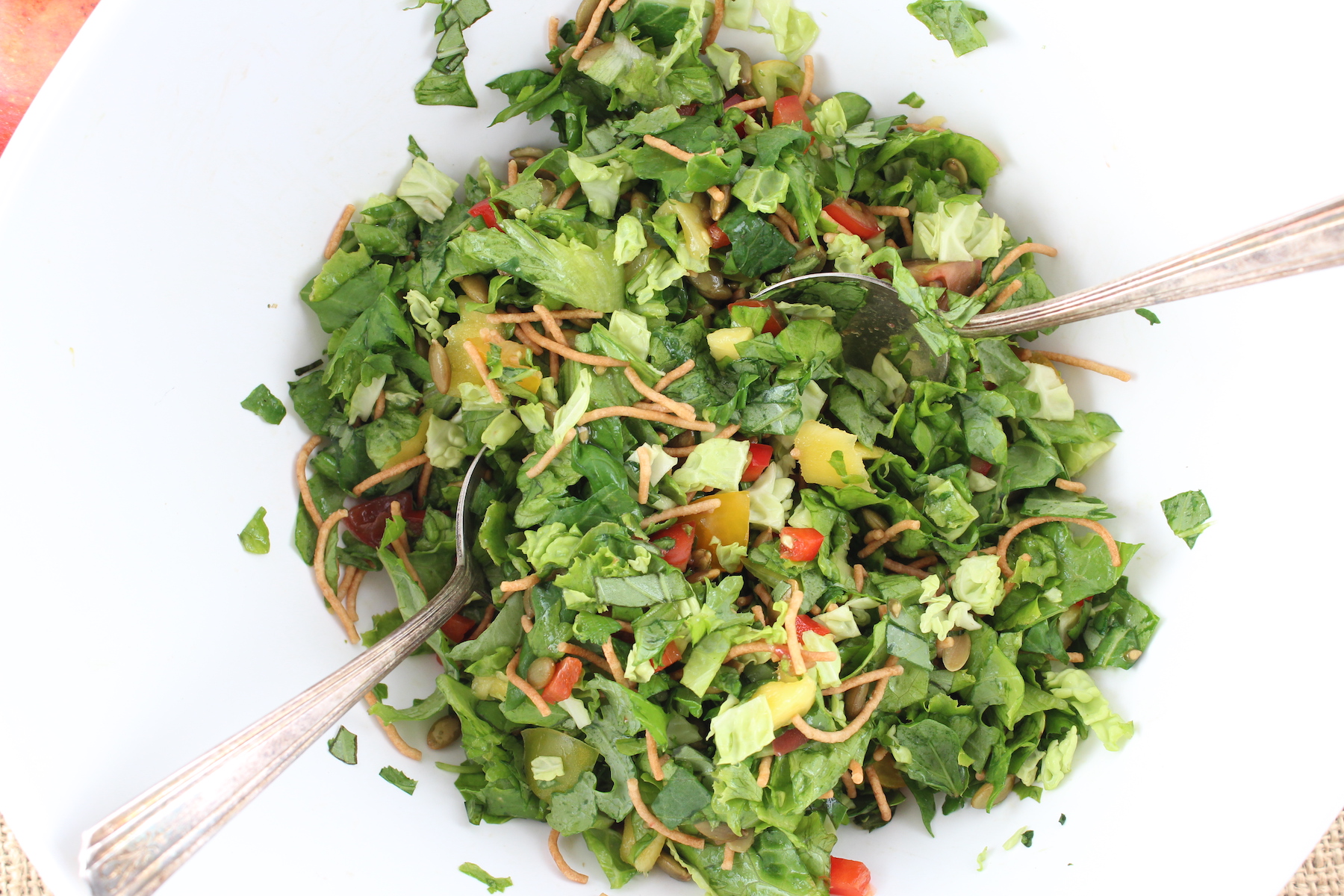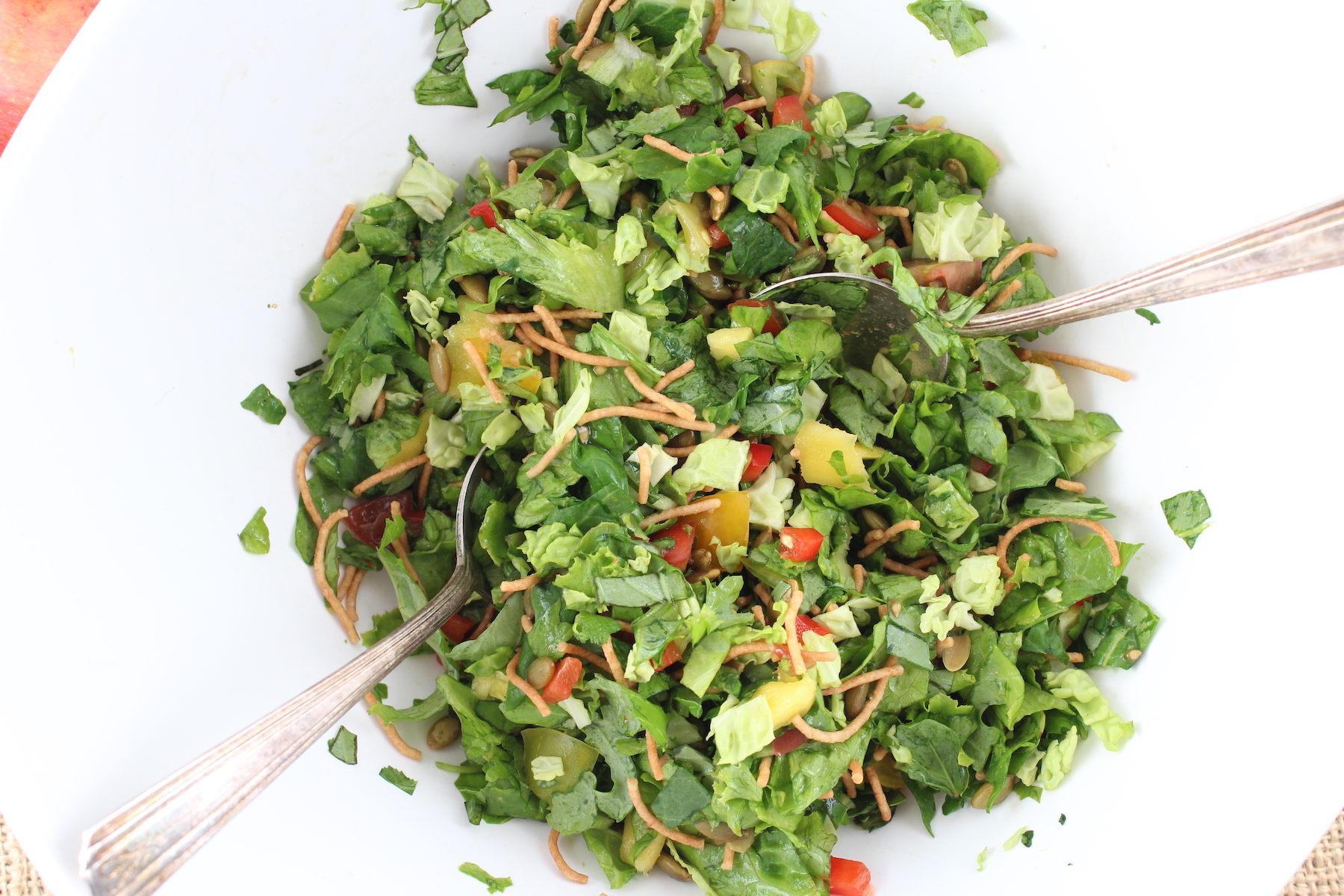 (* Some folks are allergic to a sappy substance in the mango's skin which can cause skin rashes and even more serious issues).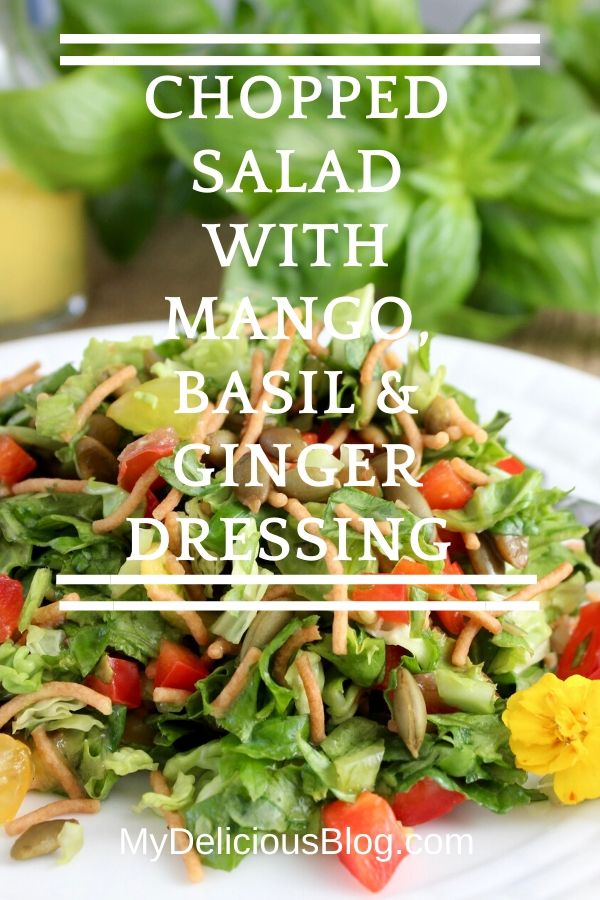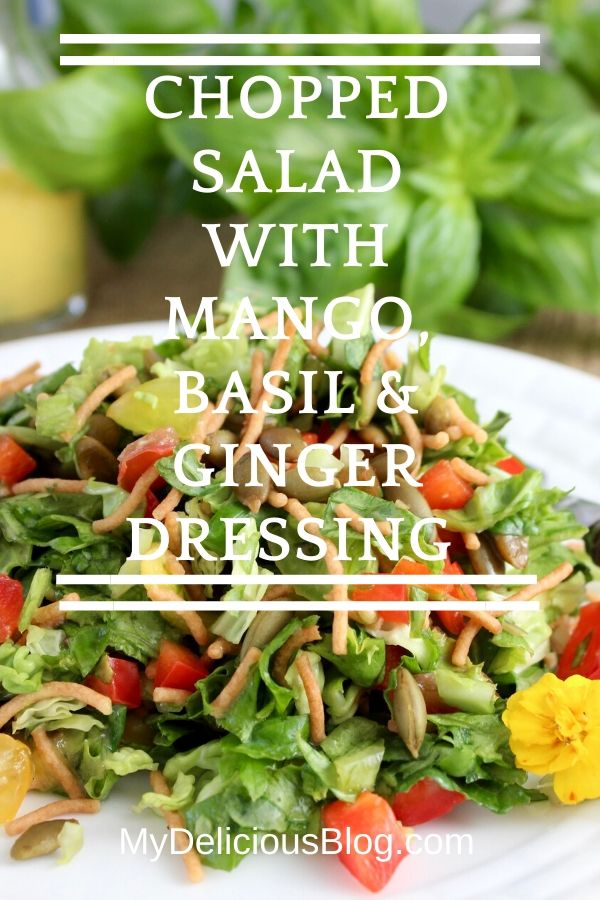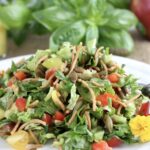 Print Recipe
Chopped Salad with Mango & Basil Dressing
A yummy, fresh, chopped salad filled with greens, cabbage, tomatoes, red pepper, basil, pepitas, Chinese noodles, and topped with a flavorful mango-basil-ginger dressing.
Ingredients
Mango Ginger Basil Dressing
1

large

Ripe mango, peeled and chopped roughly

1/4

c.

Fresh orange juice

(alt: prepared orange juice)

1/4

c.

Fresh lime juice

(1 - 1.5 limes)

1

Tb.

Honey

1

1" piece fresh ginger, peeled, grated

(add more if you like it zippy)

1/2

tsp.

Kosher salt

1/4

c.

Extra virgin olive oil

1

Tb.

Fresh Jalapeno, seeded & chopped finely

1/4

tsp.

Freshly ground black pepper

1

Tb.

Fresh basil, chopped finely
Salad
4

c.

Chopped, fresh greens (bite-sized pieces)

(baby kale, Green lettuce, Romaine, iceberg, etc.)

1

c.

Chopped, fresh cabbage (bite-sized pieces)

(Napa is ideal, but Savoy works, too!)

1/2

c.

Chopped, red Bell pepper (bite-sized pieces)

8-10

Cherry or Grape tomatoes, quartered

1/2

c.

Chopped, peeled, fresh/ripe mango

1/2

c.

Roasted/salted pepitas (pumpkin seeds)

1/2

c.

Chinese rice noodles

(available in supermarkets in the Asian section)

1/4

c.

Fresh basil leaves, chopped (or chiffonade)
Instructions
For the Dressing
Add mango pieces to the bowl of a food processor. Add lime juice, orange juice, ginger, honey, salt and olive oil. Mix until well combined and smooth. Taste for seasoning (add a bit more lime or salt, if needed). Transfer to a small bowl then stir in the jalapeno, chopped basil, and black pepper (this process ensures the dressing won't get too 'muddy' looking, staying a fresh mango color). Leave in that bowl for serving, or transfer to something fancy to pour it at the table 🙂
For the Salad
Chop greens into bite-sized pieces and place in a large serving bowl. Add tomatoes, red pepper, mango, Chinese rice noodles, peptas, basil.

Add a little bit of dressing at a time to the salad mixture and mix to combine well.

Refrigerate any leftover dressing, which should last for a few days in the fridge (make another salad, or top grilled chicken, fish or veggies with it!)
Notes
Be sure to chop everything into similar bite-sized pieces.
Don't chop or assemble until just before you plan to eat it, otherwise the greens will develop brown cut edges and won't be as crisp 🙂