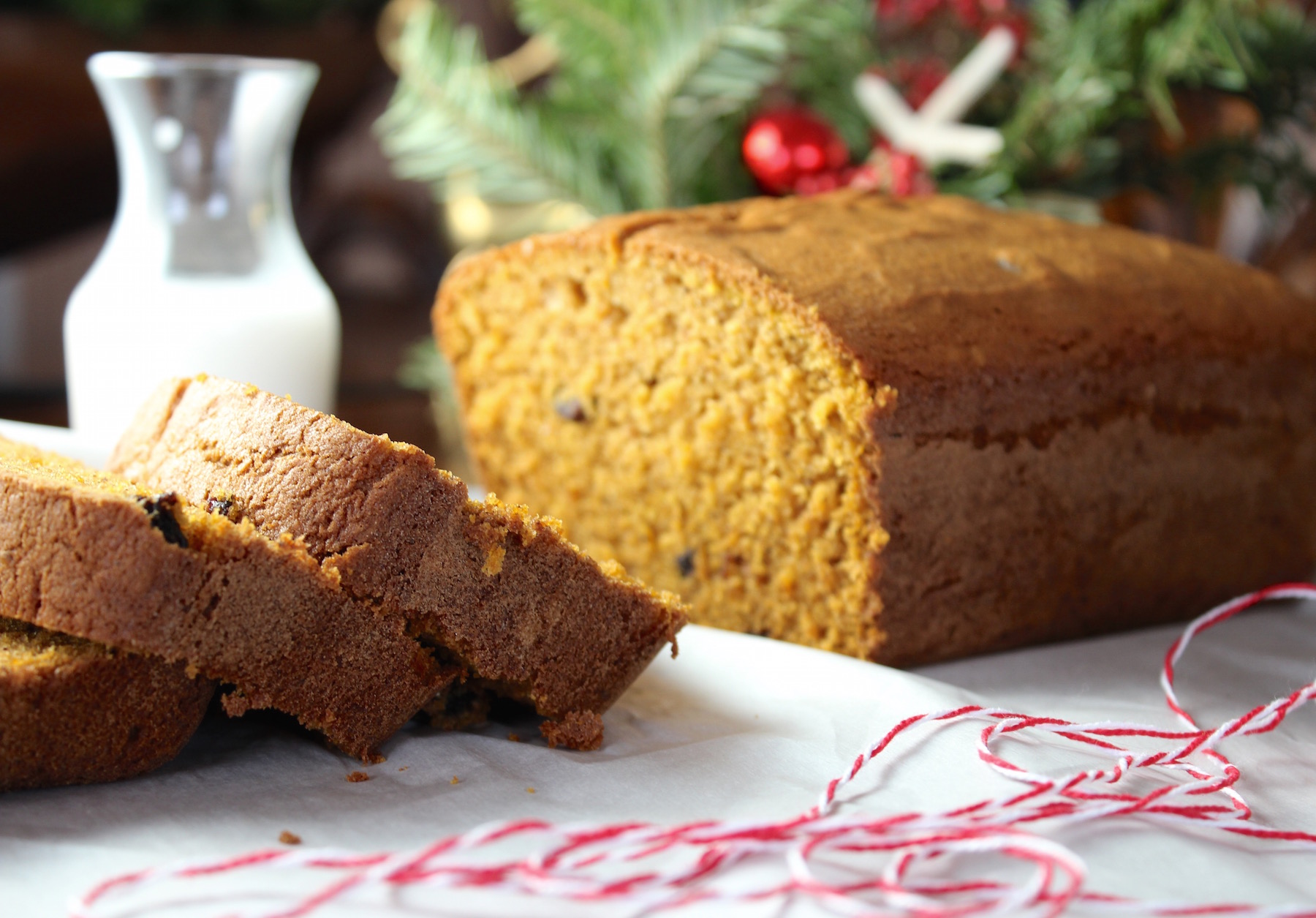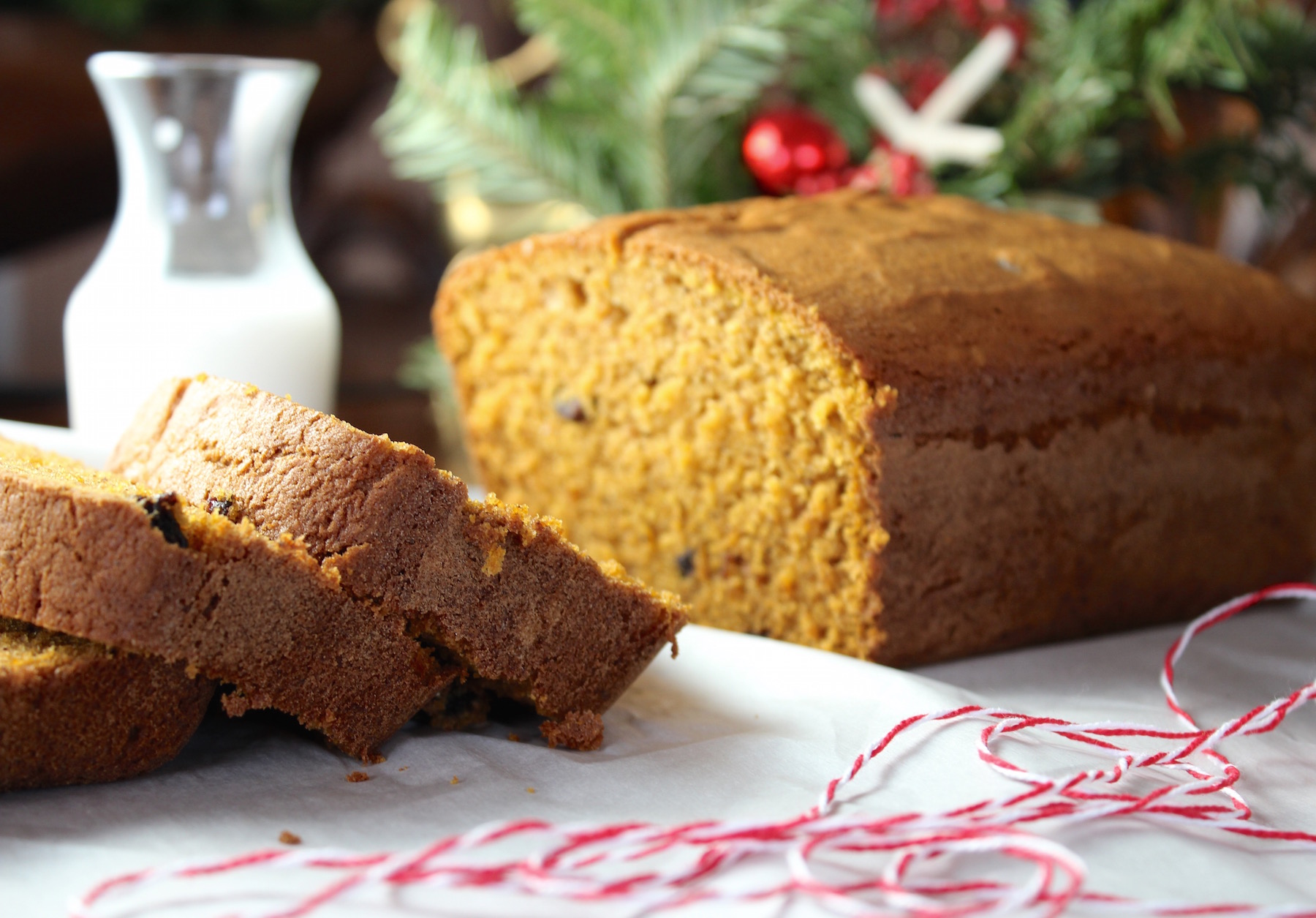 It's a gloomy, rainy day in southwest Florida due to a front coming through, but hopefully it will bring some cold, holiday-type air with it!  Despite my strong desire to simply curl up on the couch with a blanket and my cats, I decided to be somewhat productive and headed to my kitchen.  So, with feline friends at my feet and Christmas music playing in the background, I pulled out the flour and sugar and started making one of my favorite holiday treats.
This spicy pumpkin bread is actually more of a moist, tender and flavor-packed cake. It's SO delicious, especially when paired with a hot cup of coffee or a cold glass of milk 🙂  My family has been making this recipe for many years — not sure where it originated, but it's one of my favorites amidst the sea of 'pumpkin bread' recipes I've tried. The recipe makes two loaves, but you can easily make half a batch if you only have one loaf pan.  It calls for canned pumpkin but if you have extra time and want to roast and puree your own fresh pumpkin, by all means, do that!  The recipe comes together easily, and it even makes a beautiful, creamy batter.  Once you pop it in the oven, though, wait about 20 minutes for some heavenly aromas to fill the house. . .cinnamon and cloves just scream of the holidays, don't they?
This pumpkin bread makes a wonderful holiday gift, especially if wrapped in something retro-inspired like parchment paper and pretty ribbon or butcher's twine.
So, now that the bread's out of the oven and it's still raining, maybe I can squeeze in a little nap?!?   Shhh. . .don't tell Brendan 🙂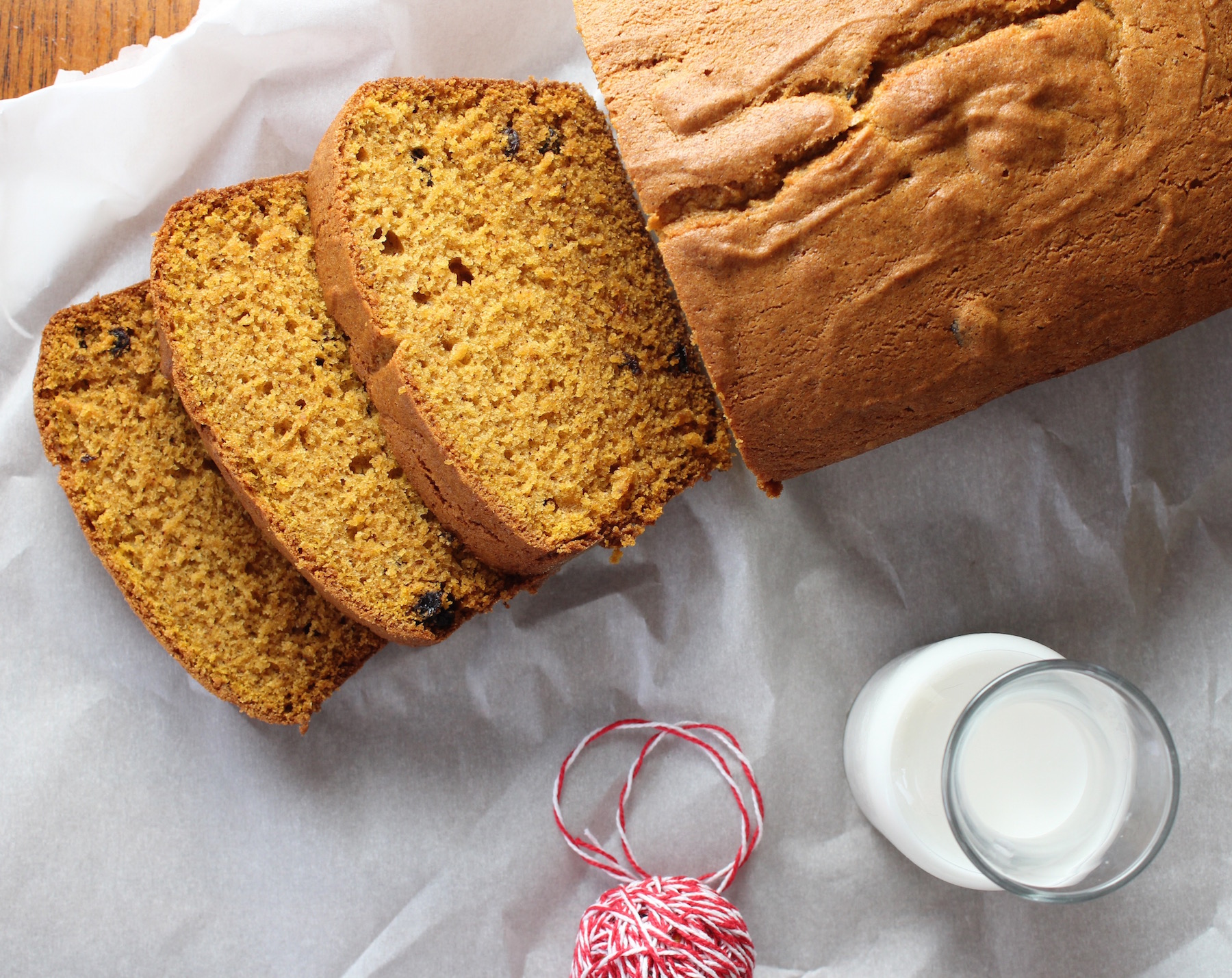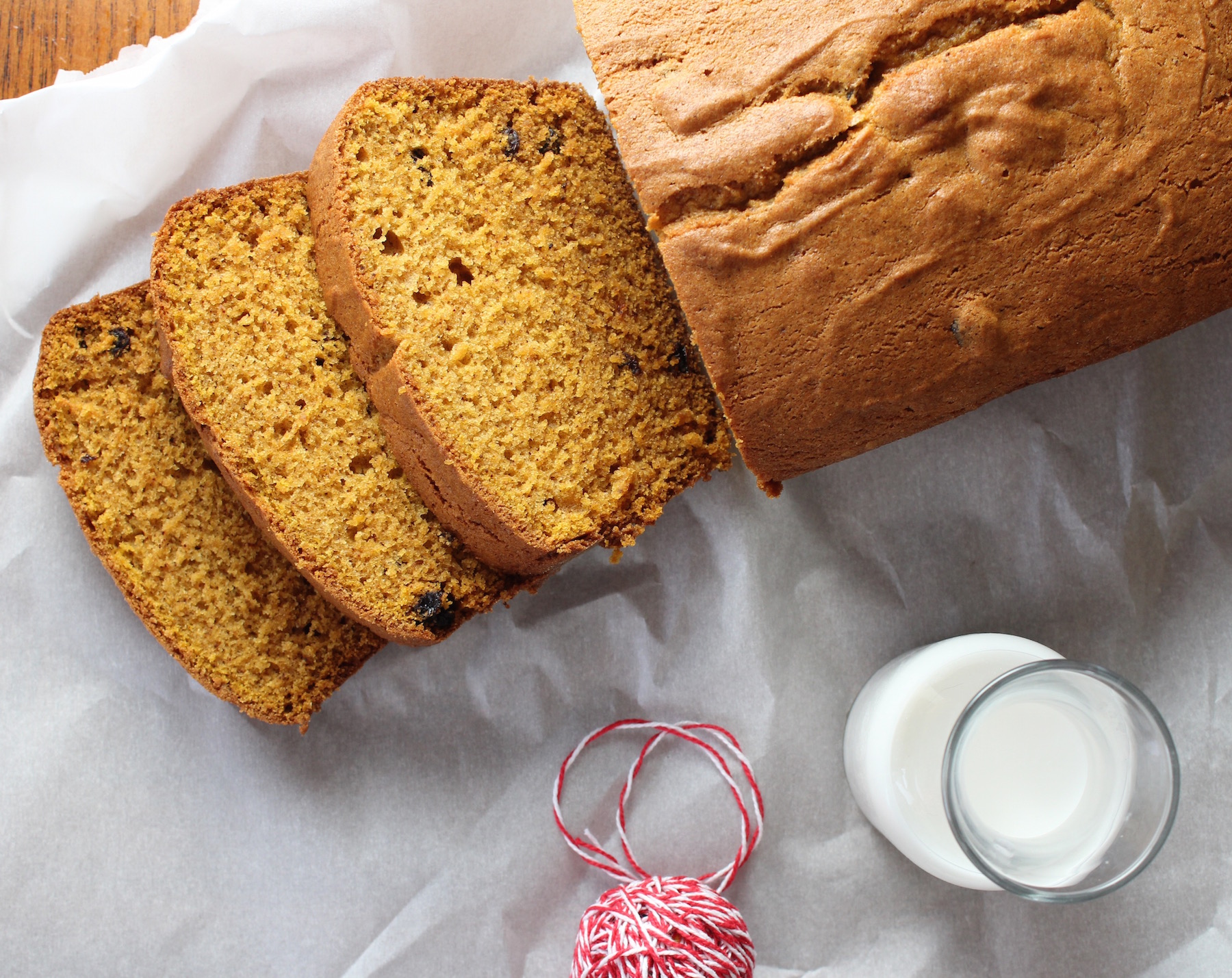 Spicy Pumpkin Bread
Spicy, sweet pumpkin bread - delicious.
Author:
My Delicious Blog
Ingredients
⅔ c. vegetable shortening (I like to use ⅓ c. Crisco and ⅓ c. coconut oil)
1⅔ c. granulated sugar
4 large eggs
1 15 oz. can solid pumpkin (I like Libby's)
⅔ c. water
3⅓ c. all-purpose flour
1½ tsp. kosher salt
2 tsp. baking soda
½ tsp. baking powder
1 tsp. ground cinnamon
1 tsp. ground cloves
Nuts, raisins or dates - optional (see Notes)
Instructions
Heat oven to 350 degrees (if using a glass pan, reduce to 325 degrees).
Butter and lightly flour two loaf pans (8½" X 4½").
Cream shortening and sugar until light and fluffy.
Add eggs, one at a time.
Add pumpkin - allow to combine well, then add water and blend until all is smooth & creamy.
Sift dry ingredients then add slowly to wet mixture.
By hand, mix in nuts, raisins or dates (optional).
Pour equal amounts of batter into prepared baking pans.
Bake for 50-60 minutes, until a toothpick inserted in the middle comes out clean.
Remove from oven and allow to cool in pans for about 20 minutes before removing and serving.
Notes
If using nuts, raisins or dates, be sure to lightly dust them with flour before placing in the batter, so they don't sink to the bottom.