Gremolata sounds fancy, but it's a simple mixture of fresh parsley, garlic and lemon zest – ingredients you probably have in your fridge at any given time or can easily pick up at a market.
It's a classic seasoning that originates from northern Italy (Milan, I believe), sprinkled on soups/stews, braised meats, roasted veggies and heavier-leaning dishes like Ossobuco to give brightness and freshness to every bite.
When I make this I remember a story I read about Marcella Hazan, the authority on authentic Italian cooking (I treasure her book 
The Classic Italian Cookbook
).  Apparently, she wasn't a fan of topping her own Ossobuco with gremolata because she believed her recipe was
perfect
 and didn't require anything else.  I wish I had that kind of confidence in my own cooking!
I assemble it on a cutting board so I can see when the consistency is to my liking.  I remove parsley stems, roughly chop the leaves, toss in garlic and lemon zest and run my knife through it to combine until just right (i.e., not too roughly chopped, not too minced).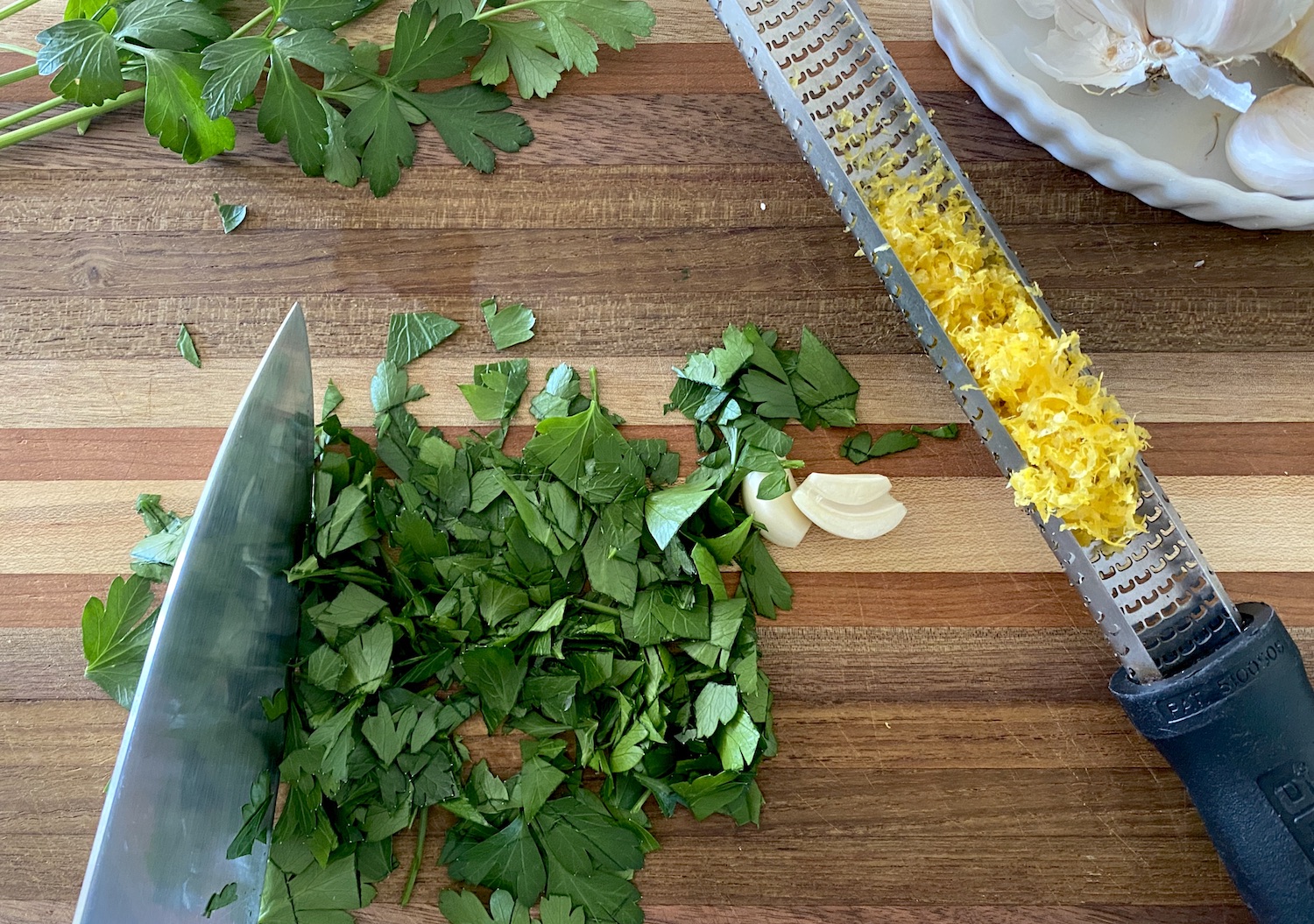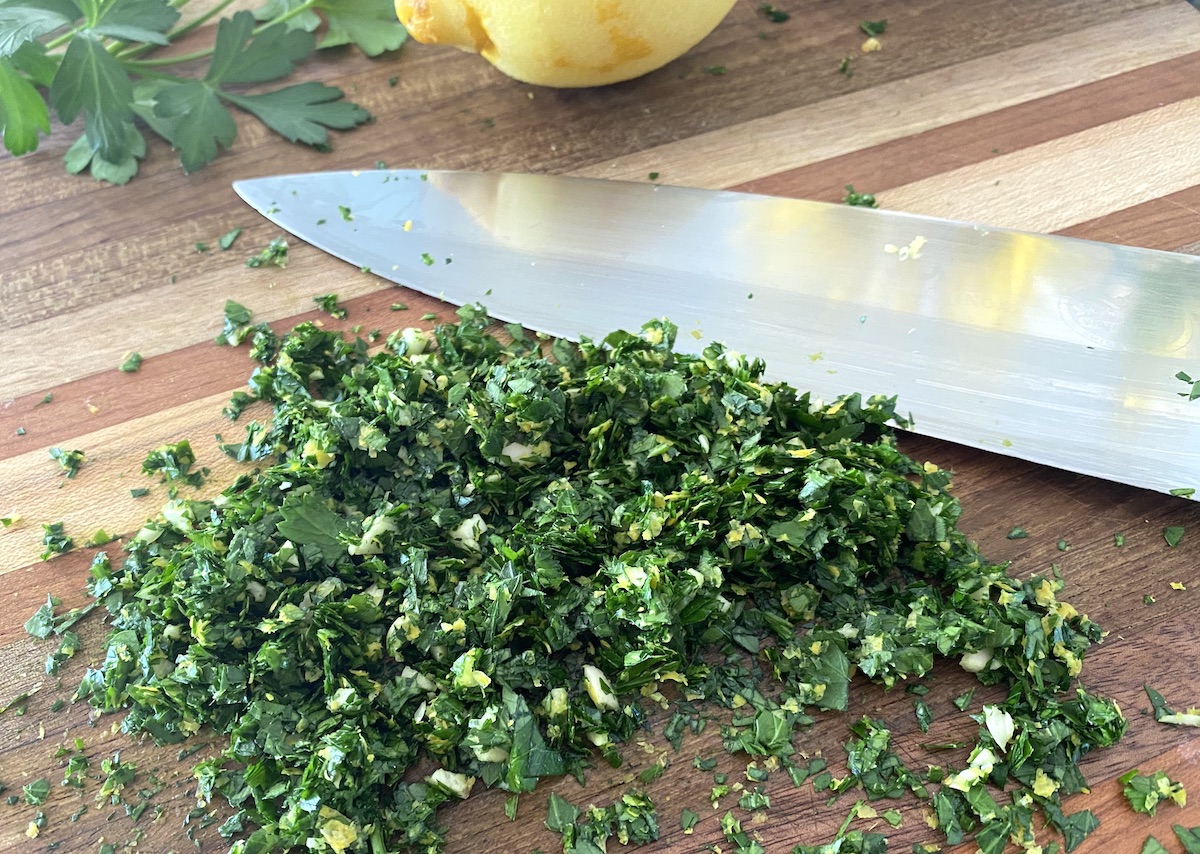 For this batch, I tossed in toasted pine nuts for buttery, nutty flavor and mild crunch – especially tasty on grilled salmon.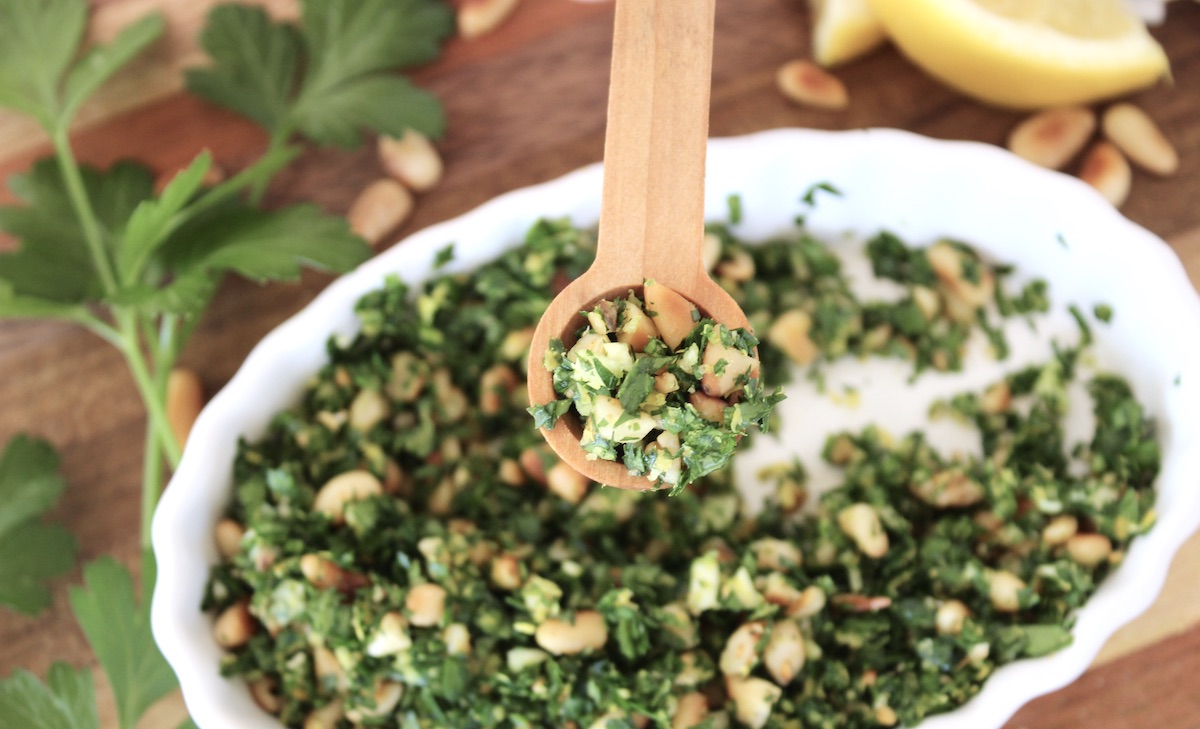 But don't feel limited to these ingredients – have fun with the mixture, like:
– replace lemon zest with orange zest; or parsley with mint (check out this one with 
Flounder
);
– try lime zest/shallot/cilantro;
– use shallot instead of garlic, for milder flavor;
– zest Meyer lemon;
– switch parsley for sage for 'warmer' flavor great with lamb or turkey.
Note: it should be enjoyed soon after preparing it.  You could refrigerate up to 1 hour after making it (i.e., until dinner's ready), but making it just before serving ensures the freshest, brightest flavor.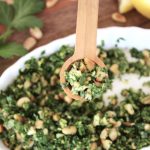 Print Recipe
Flavor Punches: Gremolata
A classic Italian mixture of parsley, garlic, lemon zest, along with some toasted pine nuts, all minced together to top fish, poultry, veggies or soups/stews.
Ingredients
2

Tb.

Pine nuts, toasted

1/4

c.

Flat leaf parsley, chopped

1

Small garlic clove, peeled & halved

2

tsp.

Lemon zest
Instructions
In a small pan, toast pine nuts over low heat. When nicely browned, remove from heat and cool thoroughly.

Remove large stems from parsley, place leaves on a cutting board and roughly chop, using a chef's knife. Toss in garlic pieces and lemon zest and continue to run your knife through the mixture until it's just about minced to your liking. Roughly chop pine nuts, add them to the parsley mixture, and run your knife through a few more times to incorporate the pine nuts.

Sprinkle over fish, soups/stews, roasted meats, etc. Or, refrigerate for up to one hour before serving (it's best served immediately to ensure bright flavor).