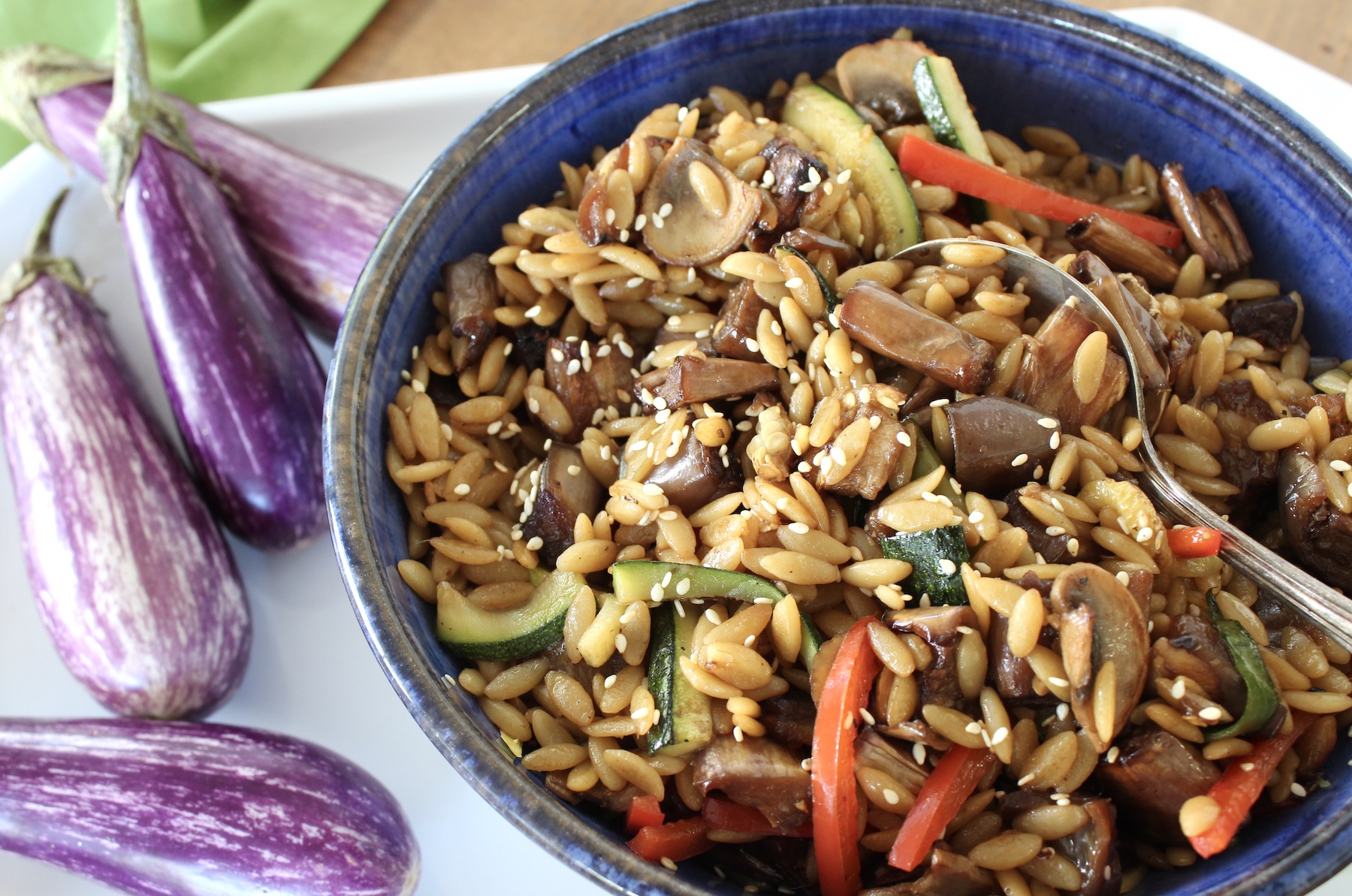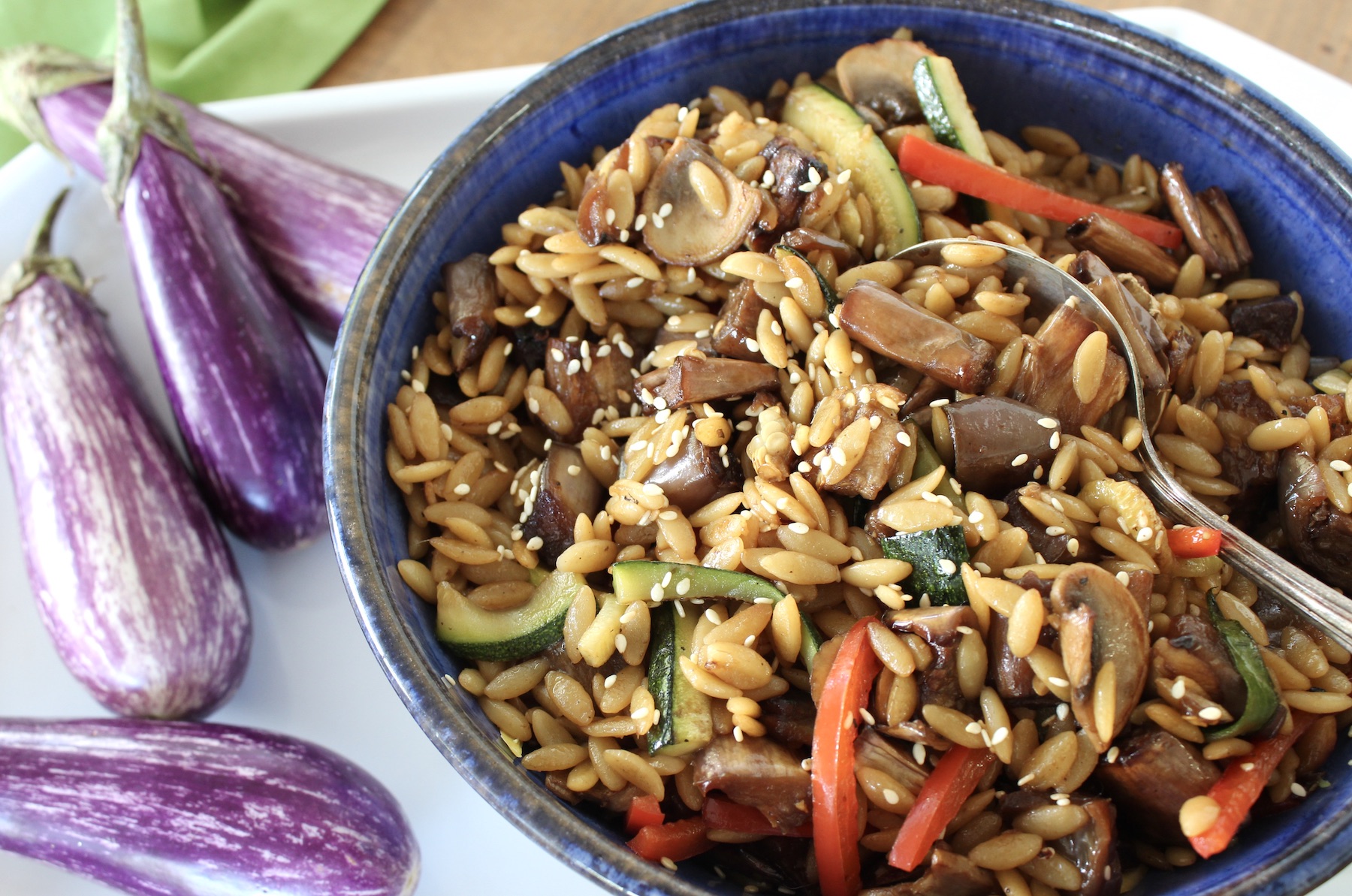 Eggplant.
Love it?  Hate it?
Feelings about this funny-looking vegetable seem to be all over the board.
If you love it, you happily gobble up garlicky Baba Ganoush or Caponata; you savor creamy Moussaka or veggie-filled Ratatouille; and you adore eggplant Parmesan. . .
But if you're not a fan, you may object to its 'spongy' quality, which can even be unappealingly chewy, if not cooked properly.  Maybe you've even had some that was bitter and you said "Never again!"
Some believe this nightshade vegetable (like tomatoes, potatoes and peppers) can increase unhealthy inflammation when consumed in large quantities.  But if you don't have any concerns about that, you'll find eggplant to be a nice complement to your diet because it's a great source of fiber and protein, as well as, Vitamins A, C and K.
If you can get your hands on small, richly-colored and shiny-skinned eggplant, grab them, because they're usually tender and flavorful.  And the skin is where most of the nutrients are, so try to keep it on, if possible, when cooking.
I recently purchased a CSA (Consumer Supported Agriculture) subscription from a Sarasota-based farm called 
Honeyside Farms
.*  This week I unloaded my first box and my cat LuLu was quick to jump in – you cat lovers know what I'm talking about.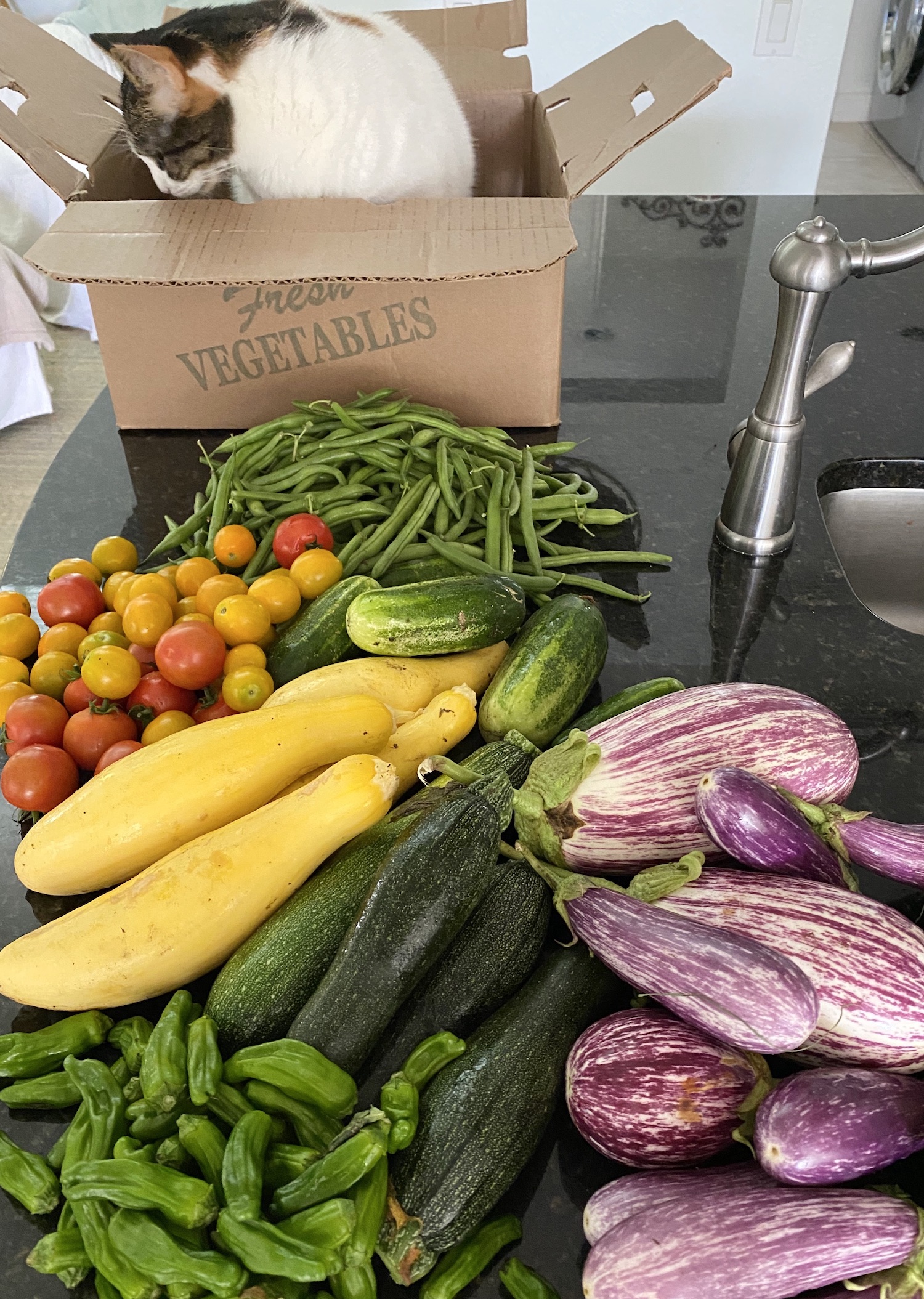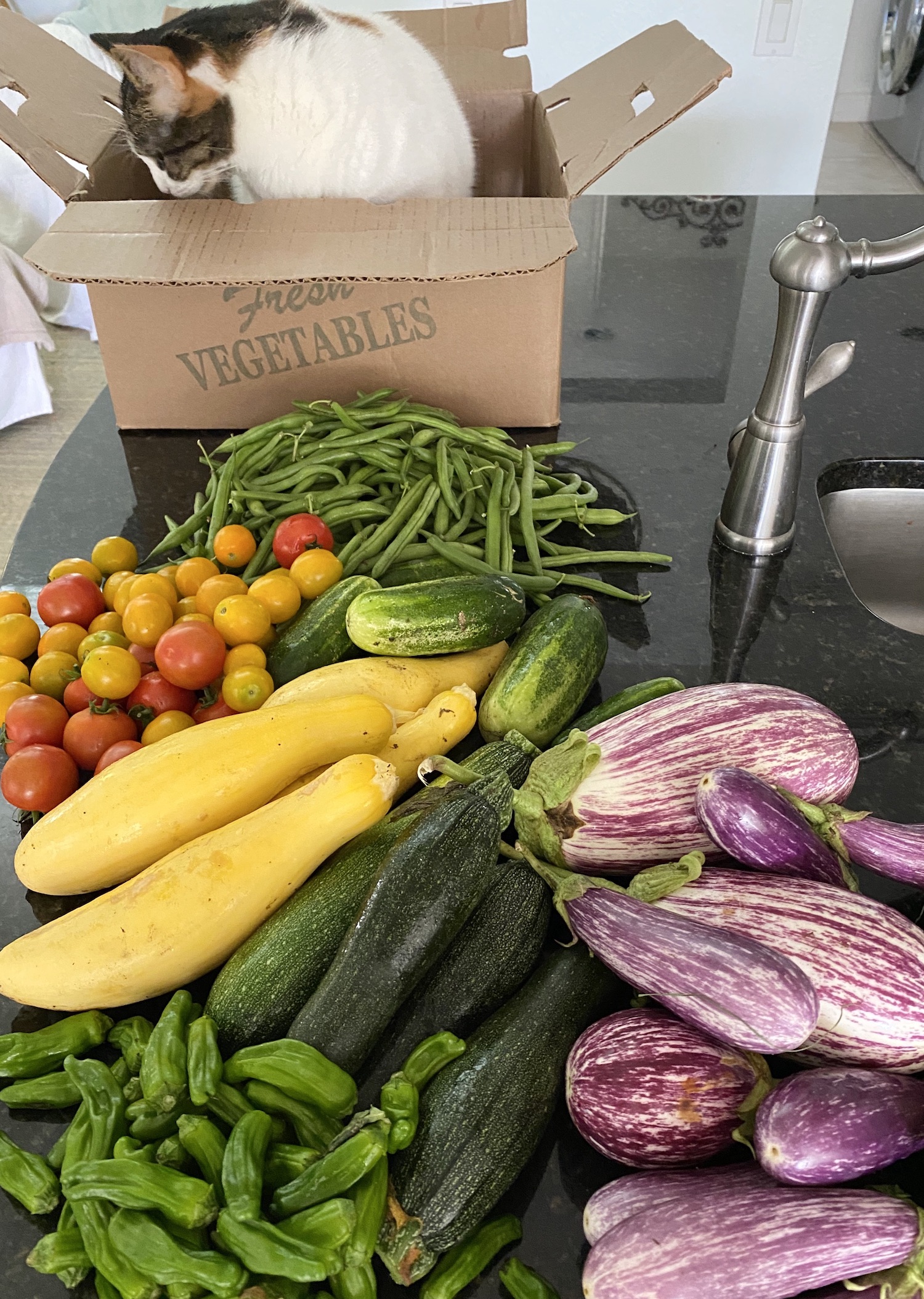 It was filled with organic tomatoes, green beans, cucumbers, zucchini, okra, lettuce, Shishito peppers, and eggplant.  Lots of eggplant.  I'm talking TEN – the beautiful Fairy Tale, Calliope and Orient Express varieties, in lovely colors, shapes and sizes.  These little guys are perfect to roast or grill whole, or as pieces or planks.  They're also great steamed or sautéed.  I made a batch of eggplant 'meatballs' (a yummy meat alternative), roasted others for a garlicky dip, then did something a little different with the rest. . .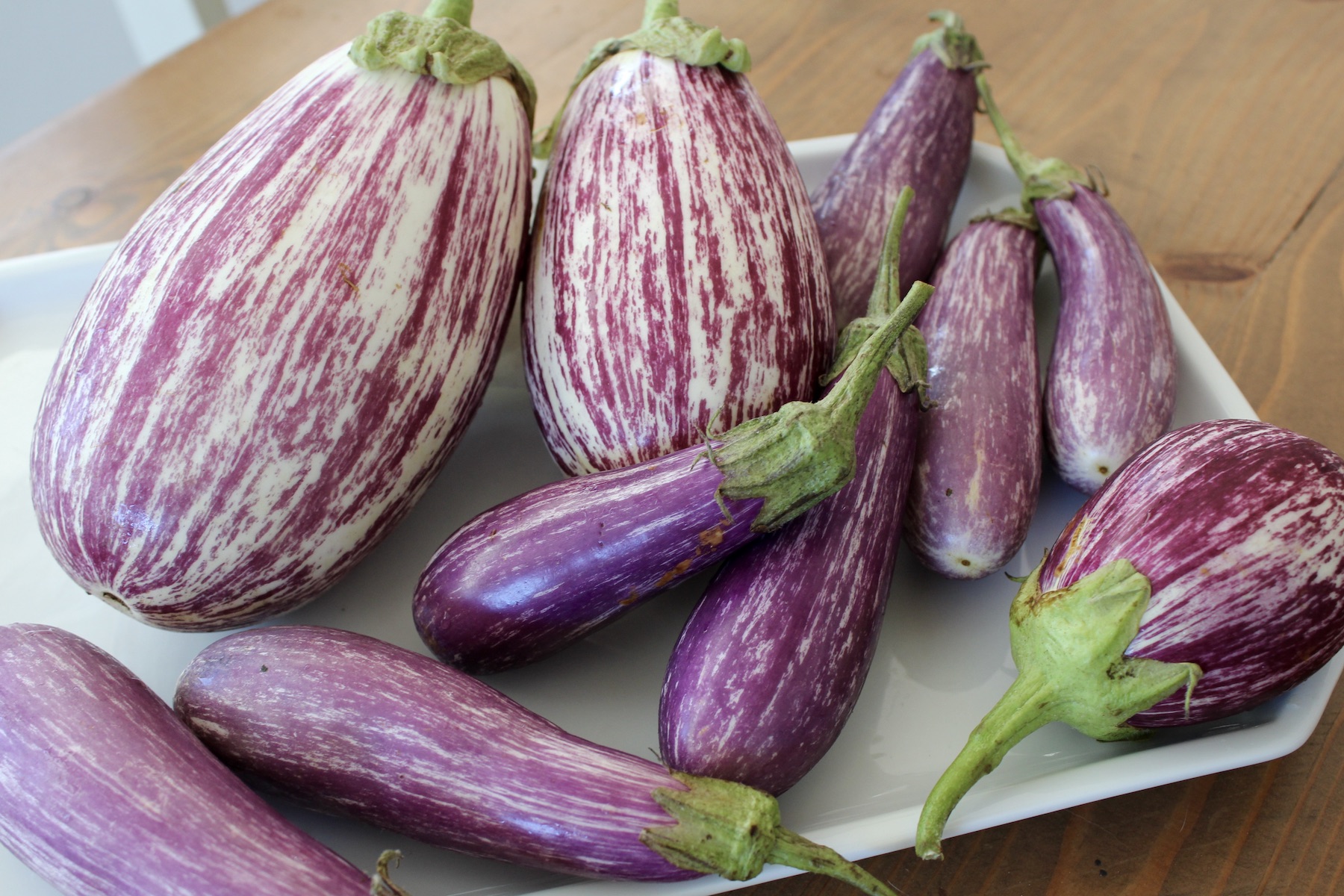 I cut them into small pieces and marinated in soy sauce, rice vinegar, brown sugar, garlic and ginger.  I browned the pieces, added some marinade to the pan, covered it, turned off the heat to let the eggplant soak up the liquid and get extra creamy, soft and delicious.  I sautéed more veggies, then mixed everything into cooked Orzo (you could also use brown rice or pasta) and more of the marinade mixture.  It was a delicious, meatless meal, packed with flavor and texture 🙂
Now I'm off to think about what I'll make with this week's haul. . .
*BTW, if you've never tried CSA, it's a great way to not only access locally grown/harvested veggies (many that are organic), but also, support the farmer who grows it.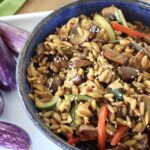 Print Recipe
Marinated Eggplant with Orzo
A great way to use tender, small eggplants, with the tastiness of soy sauce, rice vinegar, brown sugar, ginger, and garlic.
Ingredients
Marinade
1/2

c.

Low sodium soy sauce

1/2

c.

Rice vinegar

3

Tb.

Light brown sugar

3-4

cloves

Garlic, finely minced

1"

piece

Fresh ginger, peeled & grated (or finely minced)

1/8

tsp.

Fresh black pepper
Veggies
6-8

Small/medium eggplant, stems removed, skin-on, cut into 1/2" chunks

(if using 1 large Globe eggplant, you may want to peel it since the skin could be tough)

1

medium

Red bell pepper, cut into thin strips or small pieces

8-10

Fresh mushrooms, sliced

1

medium

Zucchini, cut into thin strips or small pieces

2

Tb.

Vegetable oil (divided)

3-4

Tb.

Toasted sesame seeds or chopped green onions (optional, for garnish)
Orzo, brown rice or pasta (prepare according to package directions for 4 servings)
Instructions
Whisk marinade ingredients in a large bowl and allow to sit a few minutes so the brown sugar dissolves.

Add eggplant pieces to marinade; mix well. Cover and leave at room temperature about 20 minutes.

Prepare orzo (or brown rice or pasta) according to package directions for 4 servings. When cooked, drain and/or set aside and keep warm until ready to combine with veggies.

Add vegetable oil to a large nonstick skillet over medium heat. Add red pepper, zucchini and mushrooms and cook until tender and slightly brown (about 5 minutes). Transfer veggies to a large mixing/serving bowl and cover to keep warm.

In the same pan, over medium heat, add 1 Tb. vegetable oil, then eggplant pieces (but leave the marinade in the bowl).

Cook and stir eggplant until the edges are brown and pieces are soft (about 5 minutes). Then add 3-4 tablespoons of the marinade, cover the pan, turn off the heat and allow it to sit 8-10 minutes.

Transfer the eggplant (and any liquid) to the mixing/serving bowl; add the cooked orzo/rice/pasta. Add several tablespoons of the remaining marinade, mix, taste, and keep adding a little at a time, to taste. Add salt, if needed. Top with toasted sesame seeds or chopped green onions (optional) and serve.
Notes
This can be a main course or a side dish, depending on how hungry you are 🙂 
If you have leftover marinade, keep it in the fridge for your next batch, or use it with sautéed chicken, fish or veggies.
Don't feel limited to red pepper, zucchini & mushroom - use whatever you have or prefer.