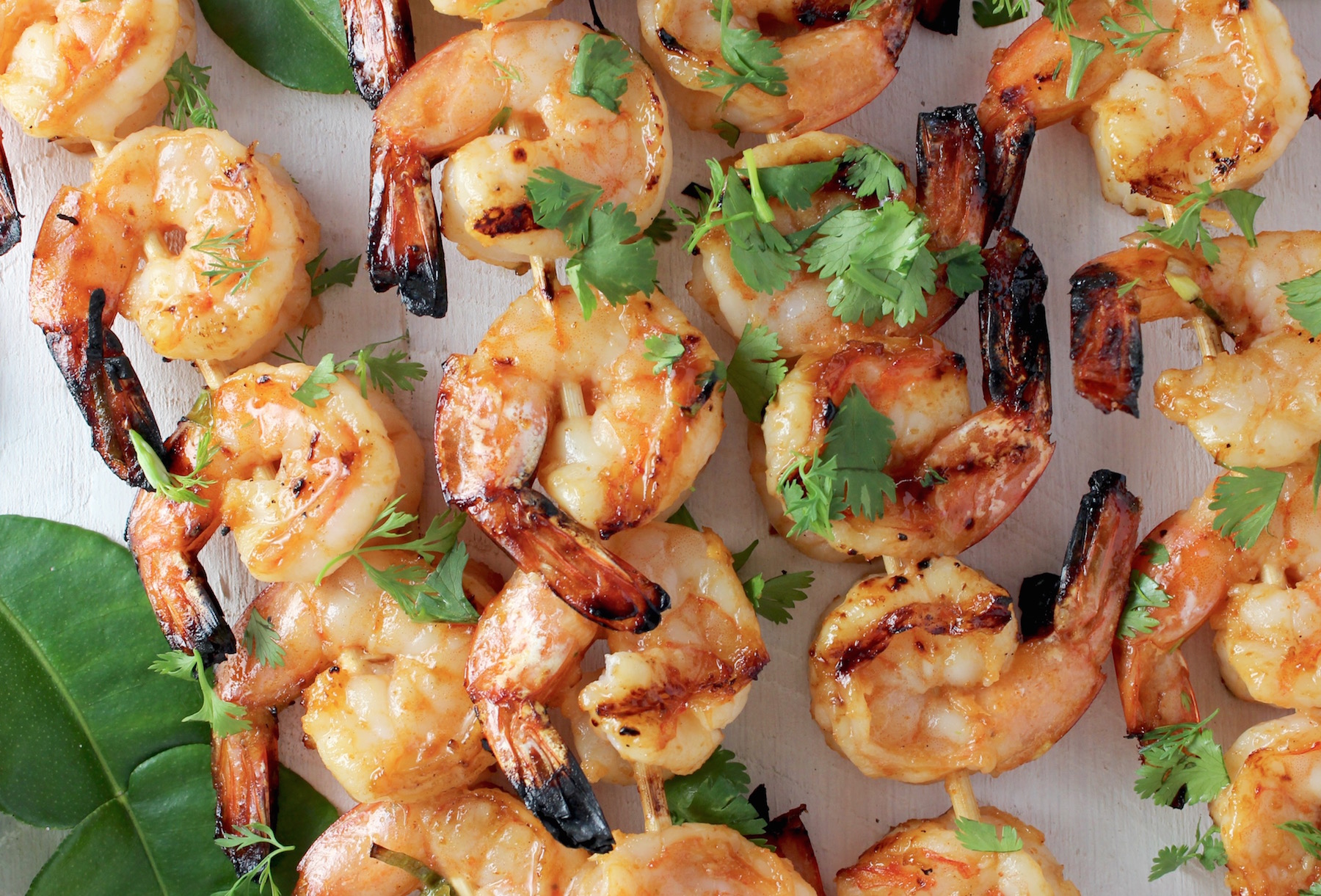 I LOVE savory appetizers, don't you?!?  They definitely whet your appetite for what's to come during dinner.
Shrimp offers so many options, especially when it comes to appetizers.  And every time I work with shrimp, I think of the scene from the movie Forrest Gump when Bubba lays out all the wonderful things you can do with it: ". . . You can barbecue it, boil it, broil it, bake it, saute it. There's shrimp-kabobs, shrimp creole, shrimp gumbo. Pan fried, deep fried, stir-fried. There's pineapple shrimp, lemon shrimp, coconut shrimp, pepper shrimp, shrimp soup, shrimp stew, shrimp salad, shrimp and potatoes, shrimp burger, shrimp sandwich. That, that's about it."  Yup, that's about it 🙂
Today we're talking about tasty shrimp-kabobs. And since I still had some beautiful makrut lime leaves (sometimes called kaffir lime) in my fridge, I wanted to make something that packed a punch, but also offered layers of flavor to make that first bite really special.
Enter Sriracha sauce. . .one of the most treasured ingredients in my fridge, and one that definitely packs a punch. Combined with a little brown sugar, aromatic essential oils from those lime leaves, zingy garlic and ginger, this marinade became a magical sauce that bathed those little shrimp in pure wonderfulness.
I skewered the marinated shrimp and placed them on a hot grill (a quick way to cook them all at the same time), but you can easily saute them in a hot, non-stick skillet on the stove or roast them in your oven.  However, the charring on the grill does make them really special. Just sayin'. . .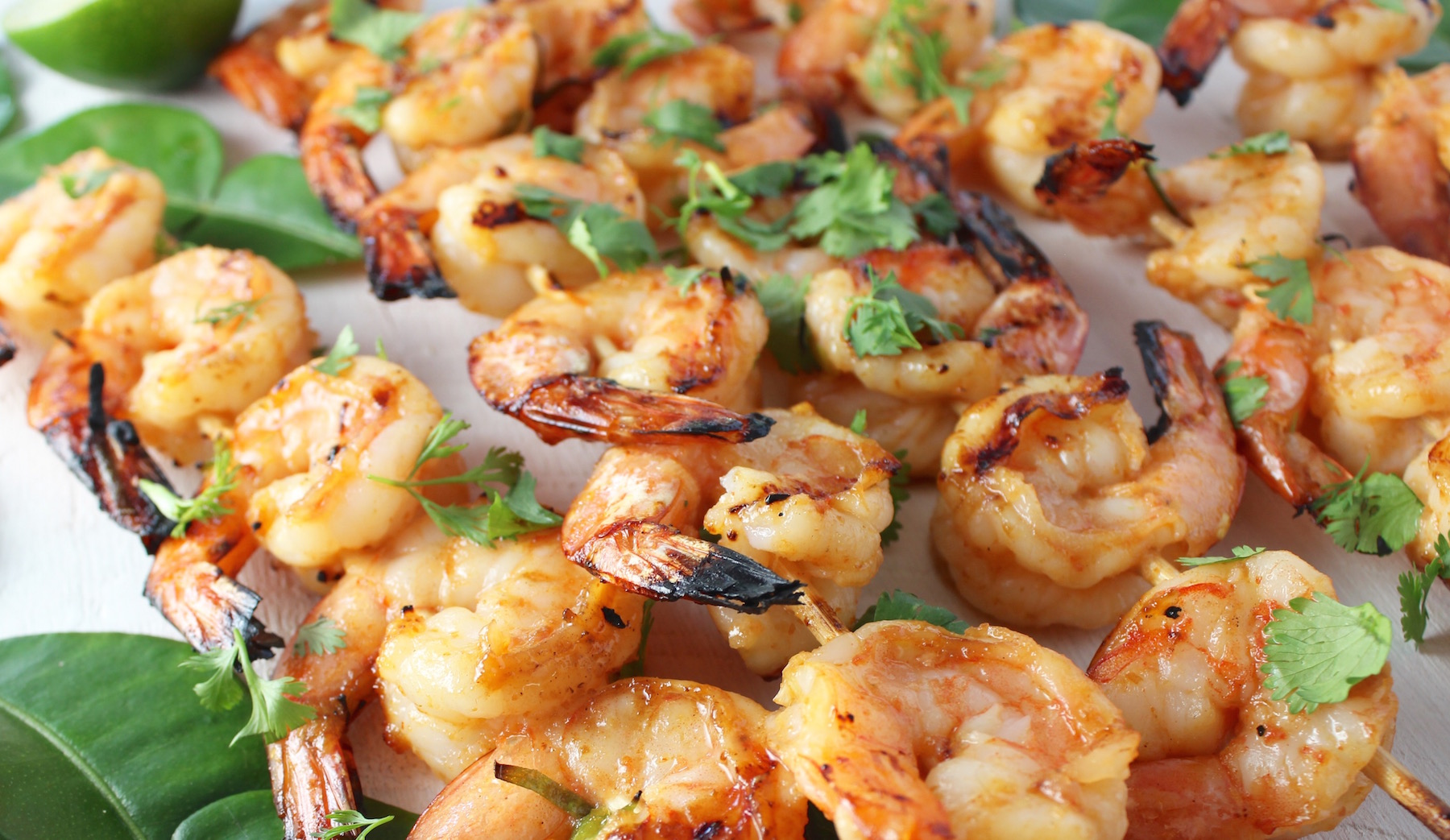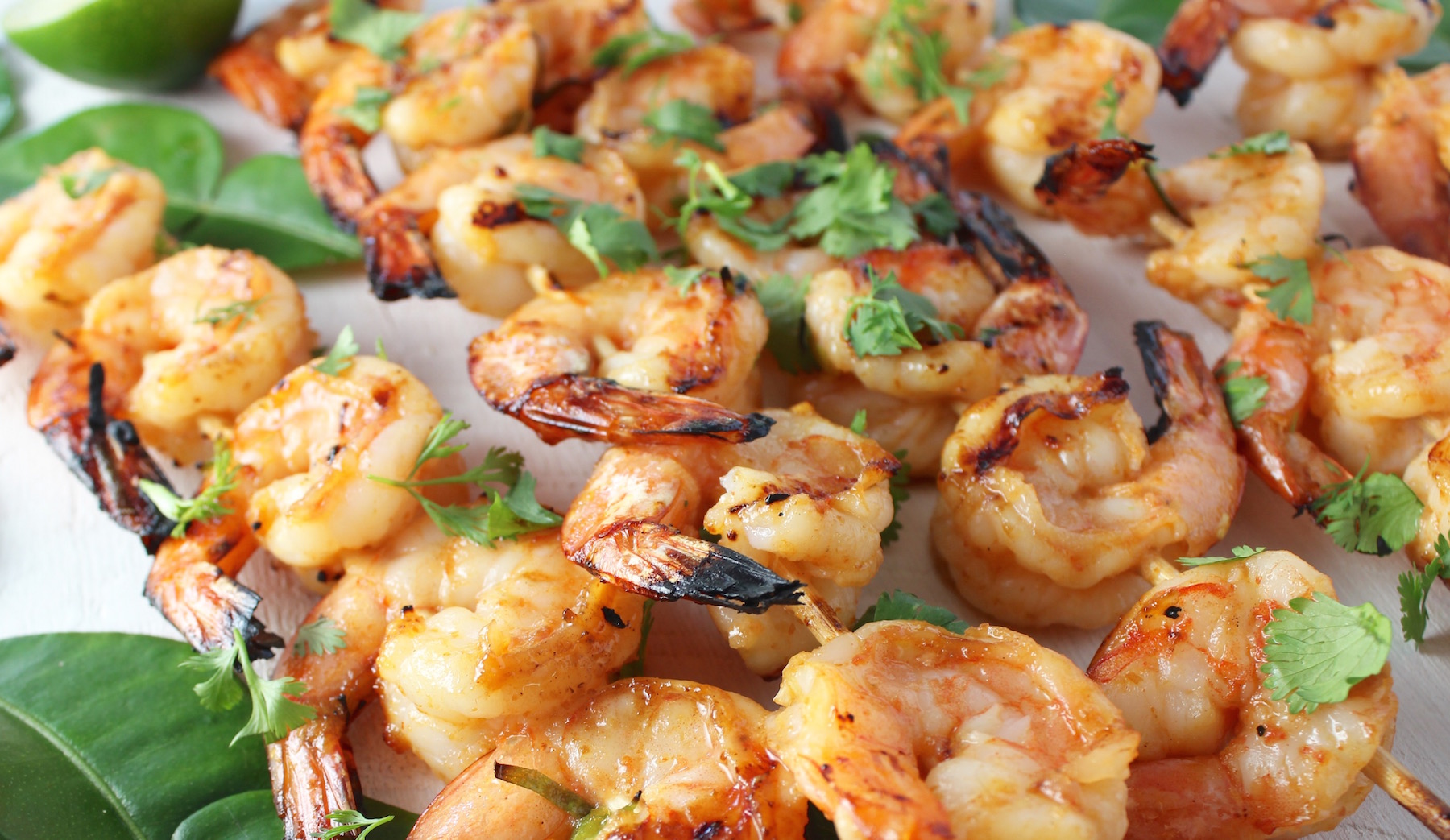 Once they're cooked and splashed with lime juice and fresh cilantro, they're SO tasty (and quite pretty on a platter). The first bite tells you they're laden with heat, but it's not overwhelming – it hits on the front end but doesn't finish in a blaze  of glory.  You can even taste the subtle tropical and fragrant lime leaves, along with the sweetness of the sugar and all that other good stuff.  Yummy.
I brought them to a dinner party last night and one of my friends, after tasting her first one, proclaimed "Oh, my God. I've just had a spiritual experience!" If that's not an endorsement for this recipe, I don't know what is!
You could also toss these babies into a crispy salad with citrus dressing (like the one here for Cantaloupe, Cuke and Bacon Salad), or mix them into a bowl of hot pasta, veggies and a little lemon/olive oil dressing. Tasty!

Sriracha, Kaffir Lime & Ginger Shrimp
Tasty, juicy shrimp with flavors of Sriracha, lime and ginger make a perfect summertime meal.
Author:
My Delicious Blog
Ingredients
¼ c. Sriracha sauce
¼ c. olive oil
¼ c. packed brown sugar
2 Tb. rice vinegar
3-4 green onions, sliced thinly
~10 Makrut lime leaves, shredded
1" piece fresh ginger, peeled & grated
1 clove garlic, minced or mashed
2 lbs. extra large shrimp (~26/30), shelled but w/tails
Handful fresh cilantro, chopped
Lime wedges
Instructions
Combine all marinade ingredients in a 1-gallon, sealable plastic bag and squish the bag to combine everything.
Once the shrimp are prepped, place in the bag and mix to ensure all are coated.
Refrigerate at least 2 hours.
Remove from refrigerator and place shrimp on skewers (metal or bamboo).
Heat grill to high and place skewers on grate to cook first side about 1 minute then reduce heat to medium, cook another minute, then turn to cook other side about 2-3 minutes.
Remove from grill and sprinkle with chopped cilantro and lime juice before serving. (P.S. if you have any leftover lime leaves, they make a great garnish!)
Notes
If you don't have kaffir lime leaves (or can't find them at your local Asian market), there's no ideal substitute, but fresh lemongrass will add some wonderful flavor. In a desperate pinch, use lots of grated lime zest.