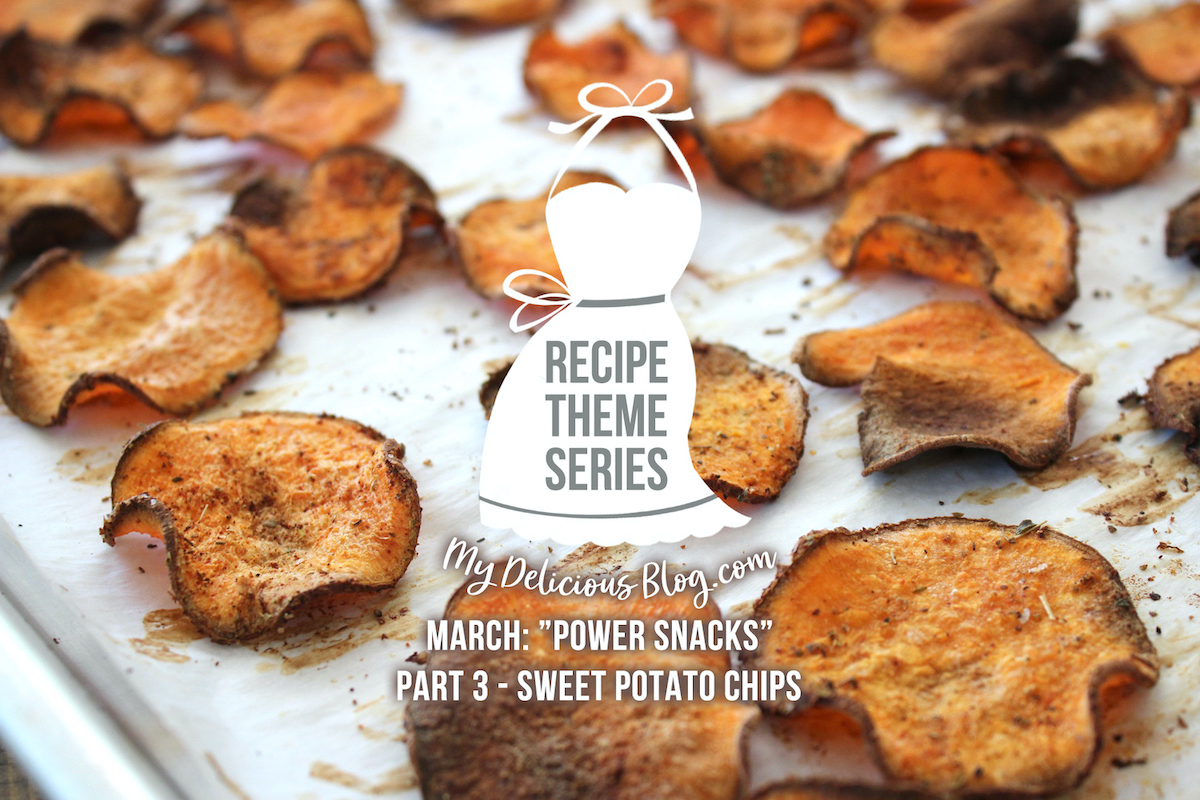 Today's snack is savory 'cause sometimes you need something crispy and salty when cravings hit.  As a salty-snack gal who's happy to bypass cookies when given an option, these are right up my alley.
I recently remembered a story about Vardamon, Mississippi, a town that calls itself "Sweet Potato Capital of the World."  They even have an annual
event
 with pie-eating contests, pageants (to crown Sweet Potato King & Queen, of course), tractor events and crafts, and 2021 marks the 47th year.  I love small-town festivals that celebrate something they're particularly proud of, and only wish I lived closer!
Armed with inspiration, I decided to make seasoned sweet potato chips, thinly sliced and baked about 15 minutes.  They're easy to grab on the go or when settling into an armchair for a movie.  They're also full of fiber and vitamin A, making them a healthier alternative to potato chips or ice cream.
A mandolin is the easiest tool to get uniform, thin slices (I used my thinnest setting of 1/16″), but you can also use a very sharp knife.  I soaked the sliced potatoes in cold water for 20 minutes to remove some starch, which makes them crisp up a little quicker in the oven.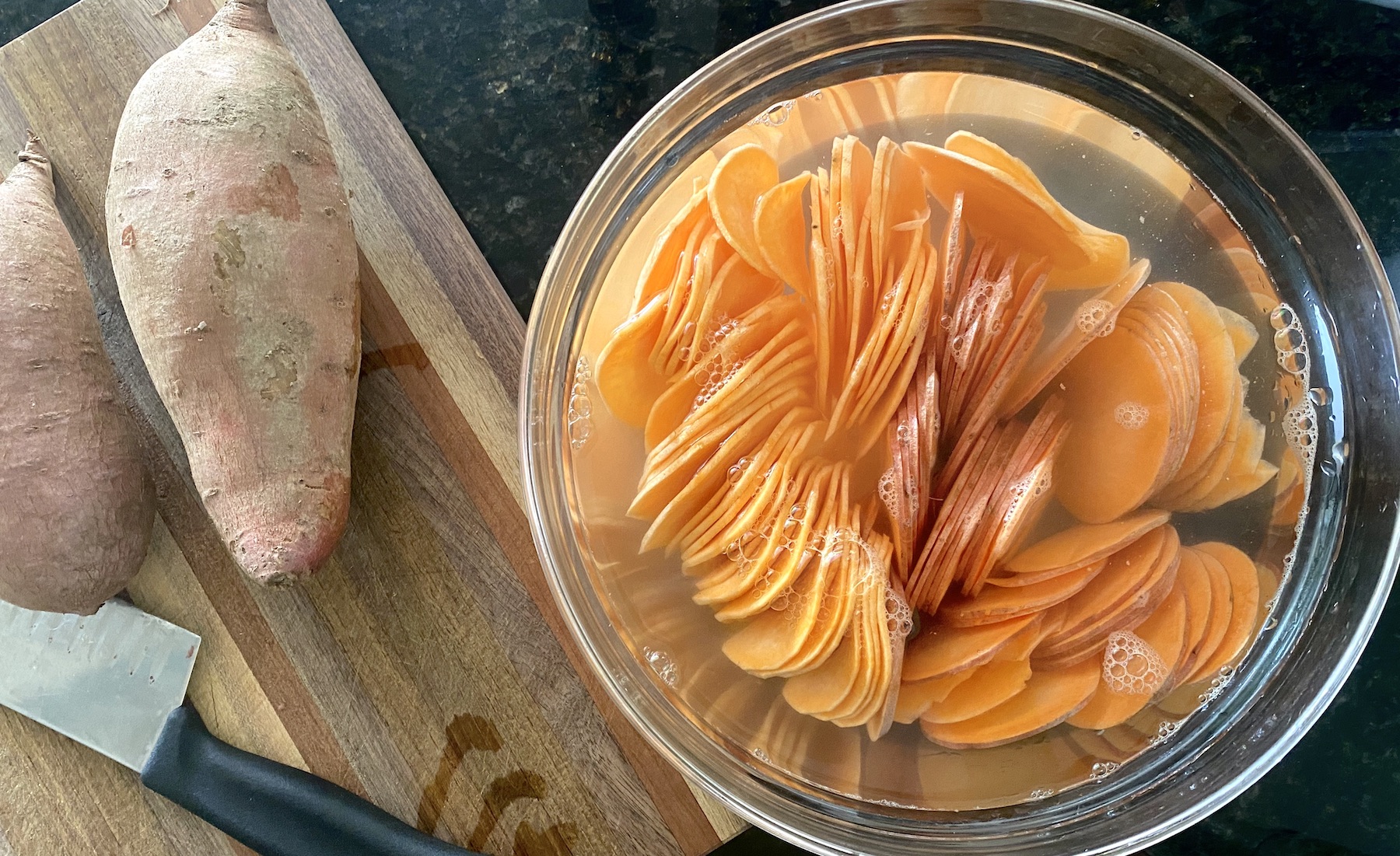 Then I placed them on a towel and patted them dry with another (I like to use these great
kitchen towels
but paper towels work, too).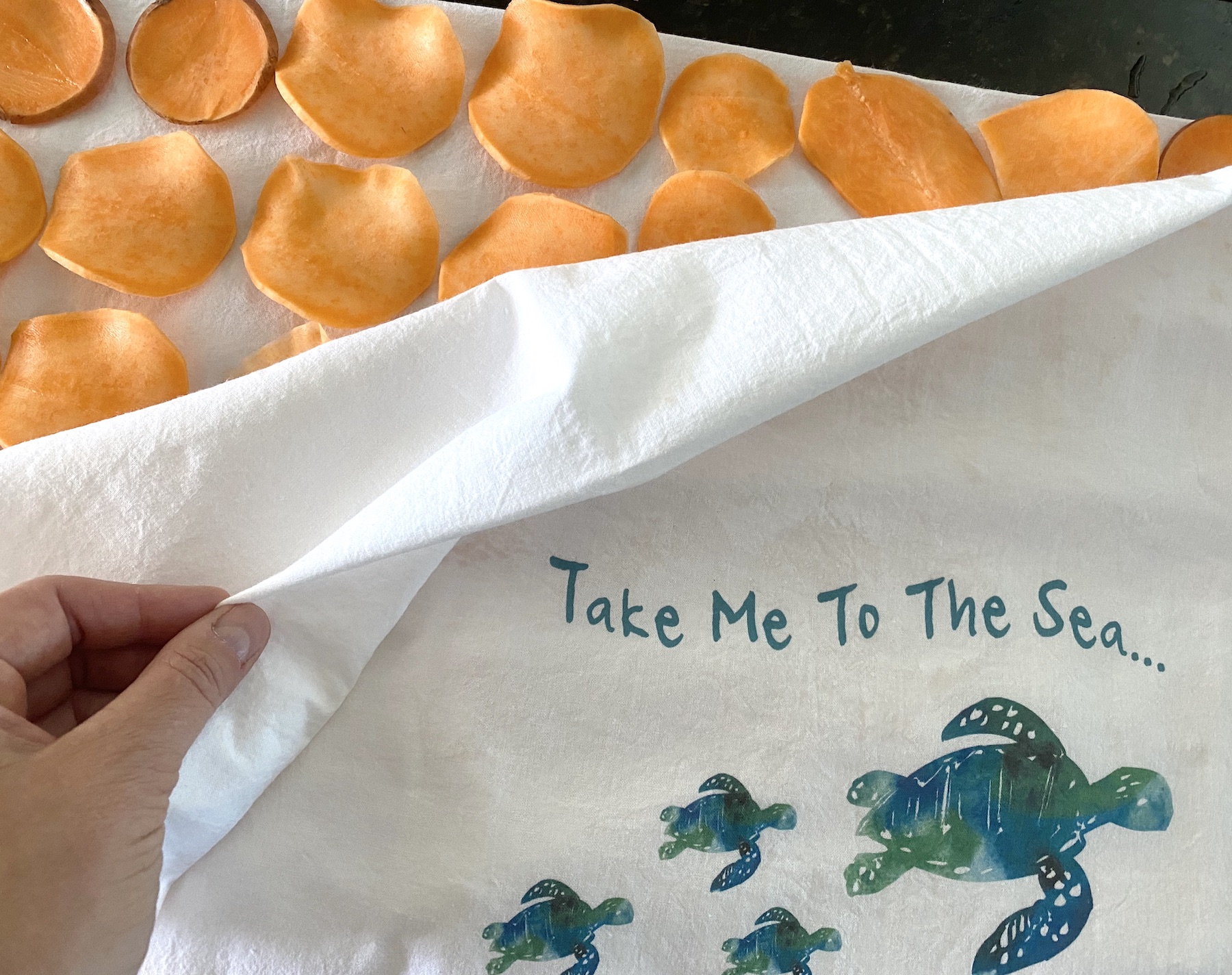 I coated the slices in olive oil and spices (a blend I use when roasting edamame), and layered them on baking sheets.  At 375 degrees they crisp up pretty quickly, so check them at 10 minutes, rotate the sheet, then check frequently because they can burn.  Honestly, though, don't worry if they burn a bit around the edges – I think they're extra delicious when that happens.  If they still seem too soft, just pop them back in the oven, but keep a close eye on them.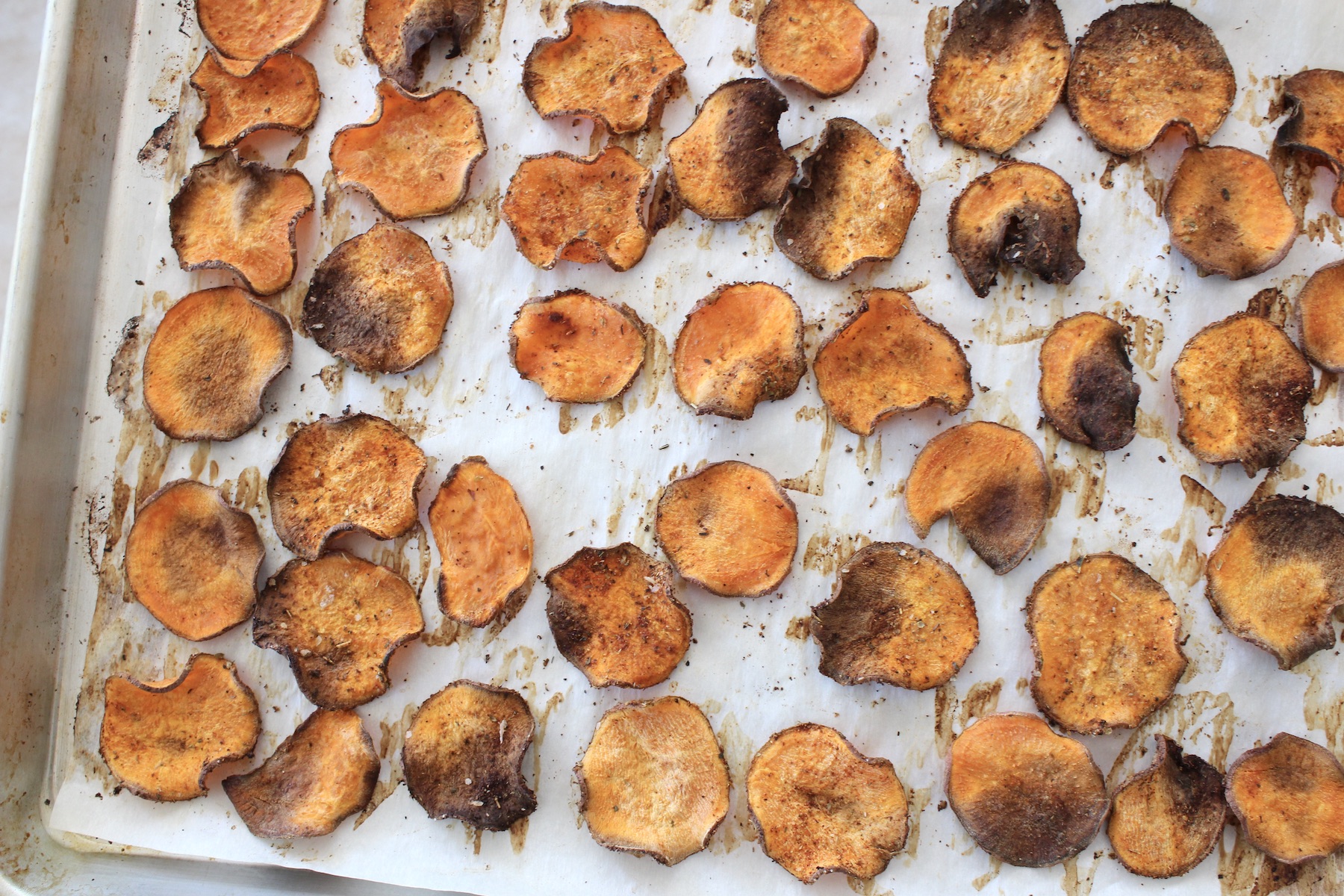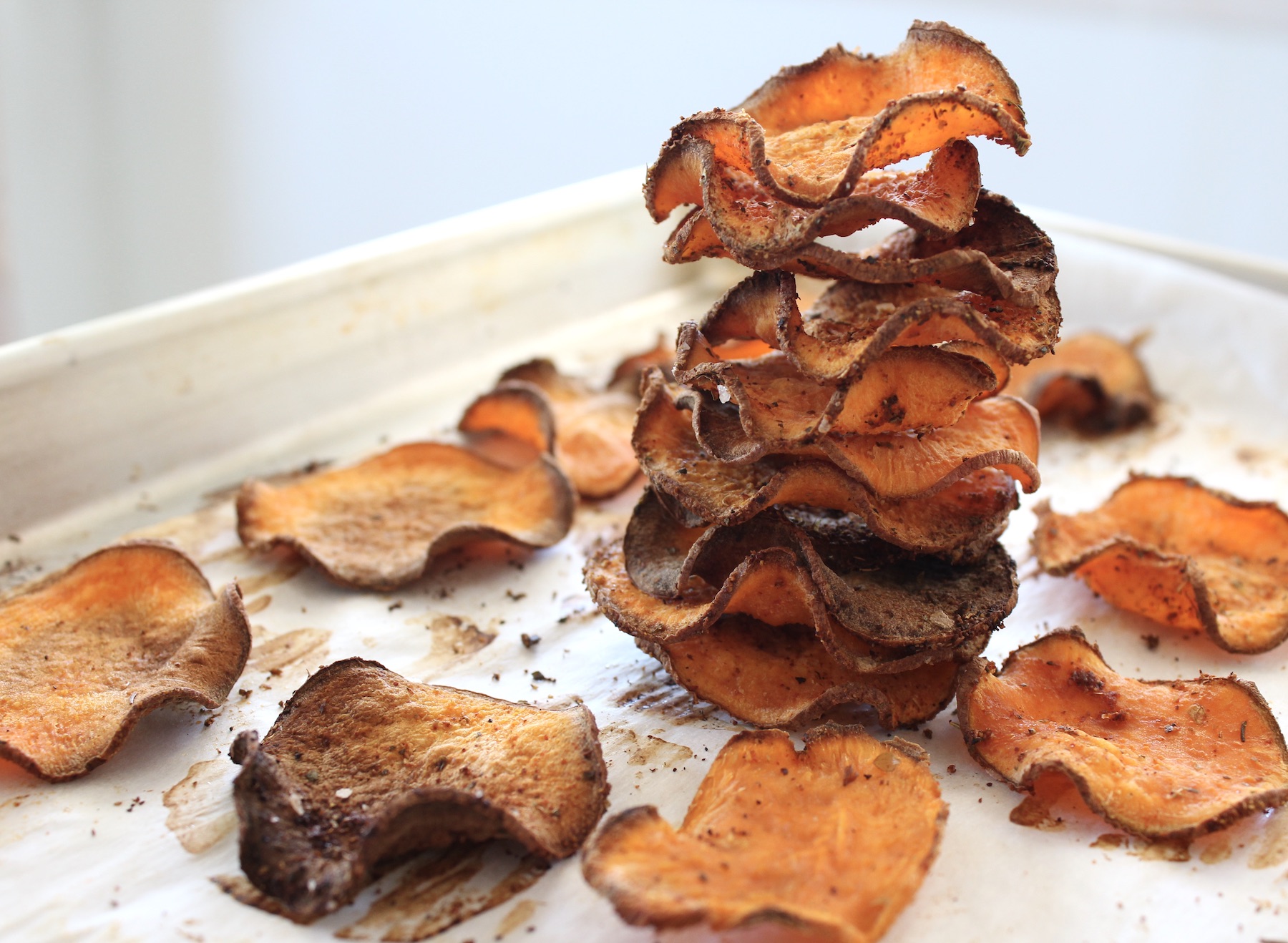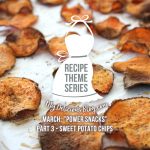 Print Recipe
Baked Sweet Potato Chips
Sweet potato chips, baked with a little olive oil and a tasty dry spice mixture, make a satisfying and healthy snack.
Ingredients
1

lb.

Sweet potatoes, skin on, scrubbed, ends removed

3

Tb.

Olive oil
Spice Mixture
1/2

tsp.

Dried oregano

1/2

tsp.

Smoked paprika

1/2

tsp.

Cumin

1/2

tsp.

Garlic powder

1/2

tsp.

Kosher salt

1/4

tsp.

Freshly ground black pepper
Instructions
Heat oven to 375 degrees. Line 2 rimmed baking sheets with parchment or foil.

Thinly slice potatoes using a mandolin or a very sharp knife.

Place slices in a large bowl, cover with cold water and allow to sit 20 minutes so they release some starch.

Drain the water, dry the bowl and set aside. Transfer the slices to a clean towel and pat them dry with another towel.

Return potatoes to the bowl, sprinkle with the olive oil and mix with your hands to coat the potatoes (this is the best way to do it). Sprinkle the spice mixture over the potatoes and use your hands to coat them as evenly as possible (it won't be perfect, but that's ok).

Place slices in a single layer on the baking sheets. Bake about 10 minutes, rotate the sheets, then check on them regularly to ensure they're not burning (they may burn a little on thinner edges, which is ok, but you just don't want black disks!).

Remove from the oven when the chips are no longer soft and you don't see any moisture on them. Allow them to sit on the baking sheet for a few minutes, where they may still crisp up more, but they'll be ready for snacking soon after. They probably won't last long, but store any unused chips in an airtight container.