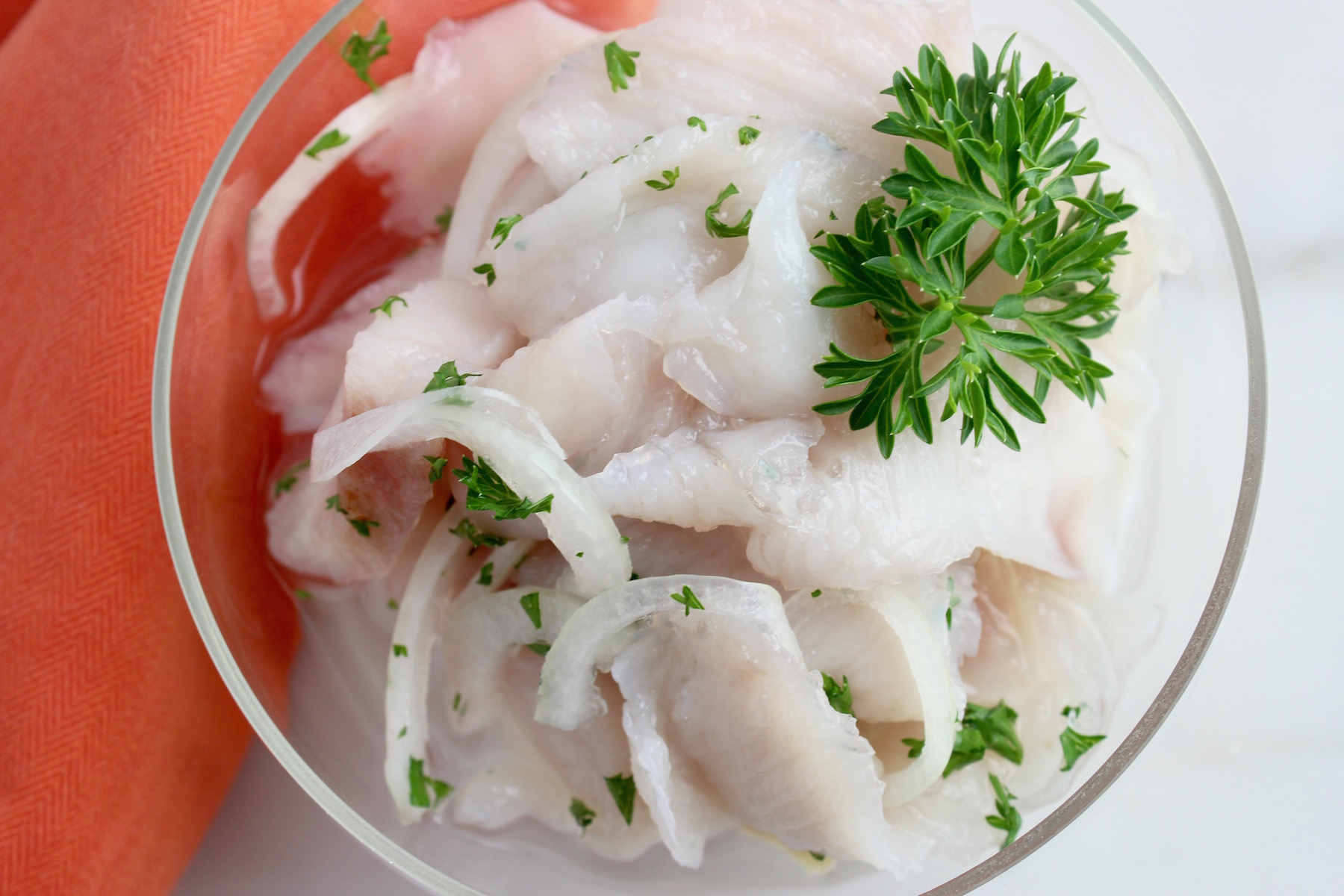 I missed National Ceviche Day on June 28. What the heck was I doing that was more important than writing about ceviche?!?
I'm always on the lookout for interesting ways to prepare fish, which is why my ears perked up at a cocktail party after hearing my friend Claire talk about her global sailing adventure. After raising a family and having busy careers, she and her husband packed up their house and sailed around the world. What adventurous people! They enjoyed the thrill of catching amazing fish, but were challenged about how to store what they couldn't eat immediately ('cause those sailboats aren't known for their expansive space). Luckily, they met some Japanese sailing friends who shared their method for pickling fresh, raw fish on long journeys.  It was a welcome recipe that served them quite well, and Claire shared the recipe with me!
If you're familiar with pickling, you know it's really just a form of preserving food by immersing it in brine or vinegar. It's the same principle when making ceviche, which typically uses citrus (acid) to preserve or 'cook' it. Both kill most bacteria, so they're great ways to keep and enjoy fresh fish.
Mahi Mahi is a tasty fish that's perfect for this because it has bright white flesh and it's very tender. If you don't have it, though, I'm sure other fish would work like Cod or Snapper.
Whenever I have Mahi Mahi I remember a fun fishing day a few years ago. Our crew was made up of 4 women and 2 men and it wouldn't be inappropriate to say that the women out-fished the men! The best part was when we found a school of small Mahi Mahi (sometimes called "Chicken Dolphin") and, after pulling in lunkers like tuna, Wahoo, Amberjack and Grouper that morning, we were enjoying these easy, feisty fish. We had caught about 20 and were celebrating until one of the guys yelled "Hey! Just remember we have to clean them, so slow down gals!" So, not wanting anyone to work harder than they had to (and we certainly didn't want to clean them), we definitely pulled it back a notch. . .
I played around with the recipe and modified it ever-so-slightly, incorporating a little bit of citrus (which may not be readily available on a boat but, heck, I'm not on a boat).  The fish was tender and sweet, with a hint of ginger. It was mild, but had layers of flavor and the pickled onions provided nice crunch. I served it on buttery, crunchy crostini, along with a dry white wine and a green salad. All in all, a delicious way to enjoy raw fish 🙂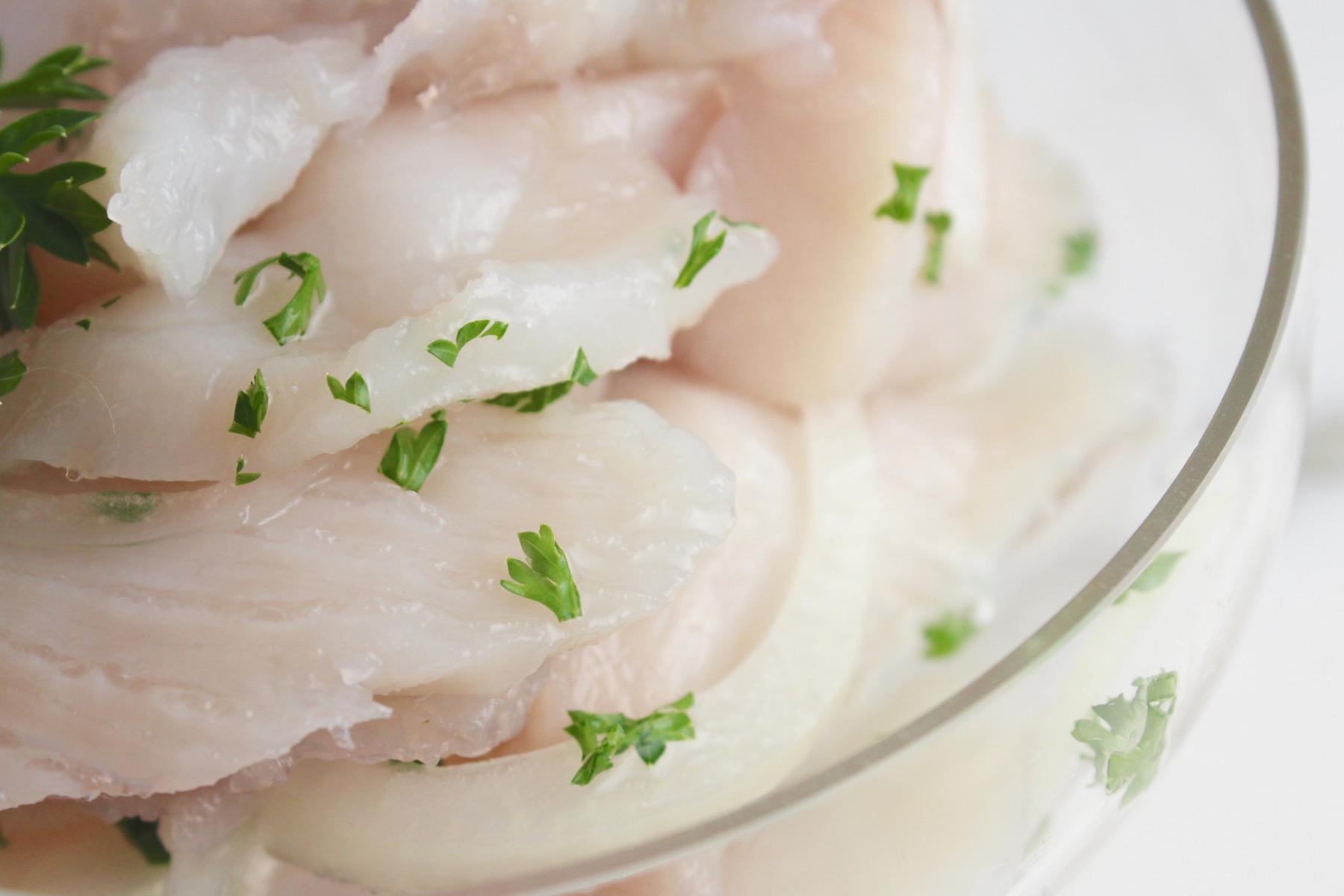 Pickled Mahi Mahi
Recipe inspired by some unknown Japanese sailors!
Author:
My Delicious Blog
Ingredients
1 c. white vinegar
½ c. granulated sugar
¼ tsp. kosher salt
1 lb. Mahi Mahi, thinly sliced in 2" pieces
½ sweet onion, thinly sliced
1" slice fresh ginger, peeled & minced
1 bay leaf
3-4 thin lemon slices
1 Tb. lemon or lime juice
2-3 Tb. fresh parsley, minced
Instructions
In a medium glass bowl, combine vinegar, sugar and salt and stir until almost fully dissolved.
Prepare the fish (this process works best if you have a fillet knife -- if not, just use the sharpest knife you can find). Remove any pin bones and cut very thin strips into 2" pieces.
Add fish, onion, ginger, bay, lemons and lemon/lime juice to the vinegar mixture; stir to combine. Be sure the fish is fully covered -- if not, add a bit more vinegar and lemon or lime juice and stir again.
Cover with plastic wrap and refrigerate at least 8 hours. Mid-way, stir to mix up the fish.
Before serving, add a squeeze of lemon or lime juice and parsley. Add a little salt, to taste.
Serve on crostini or crackers.