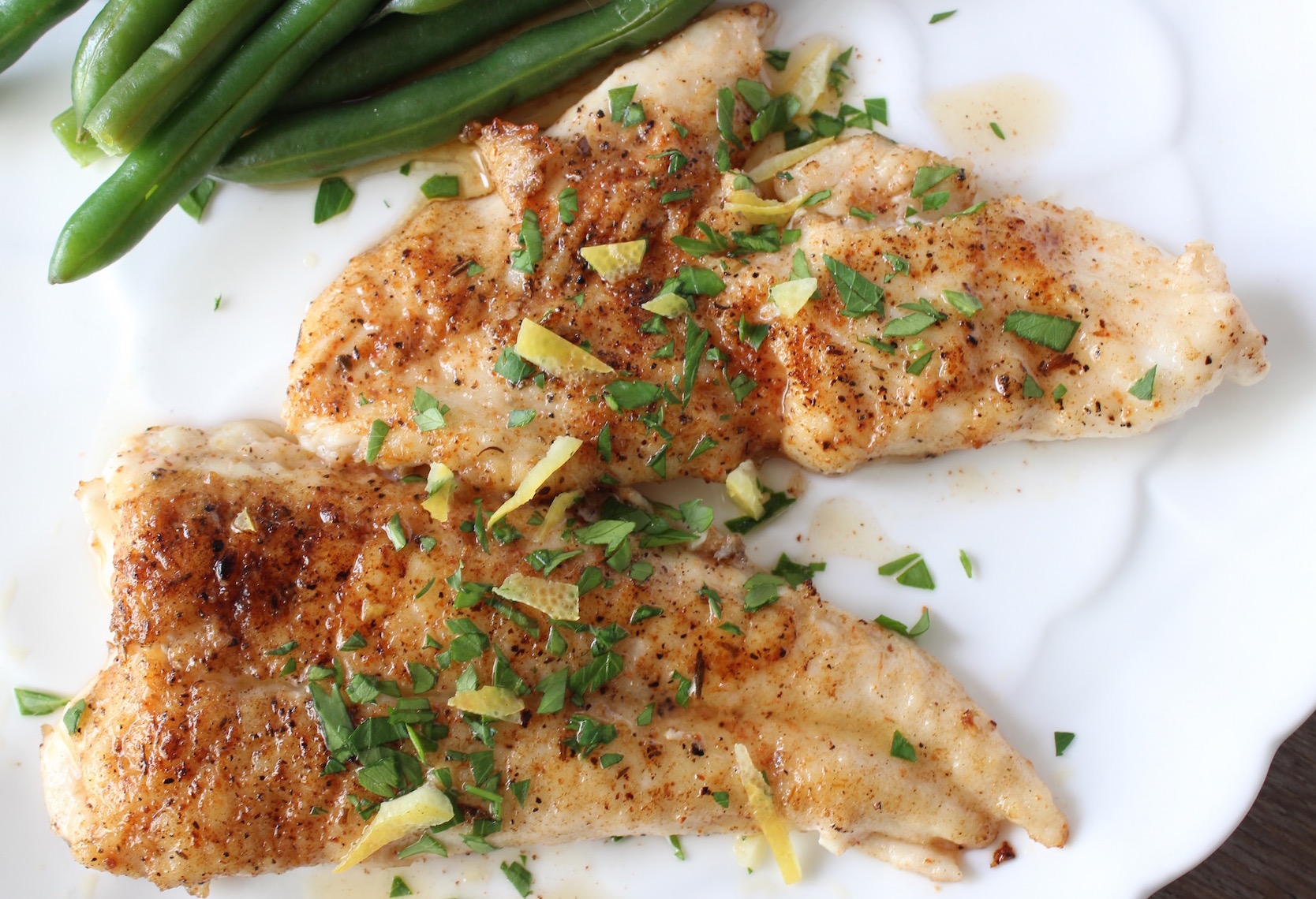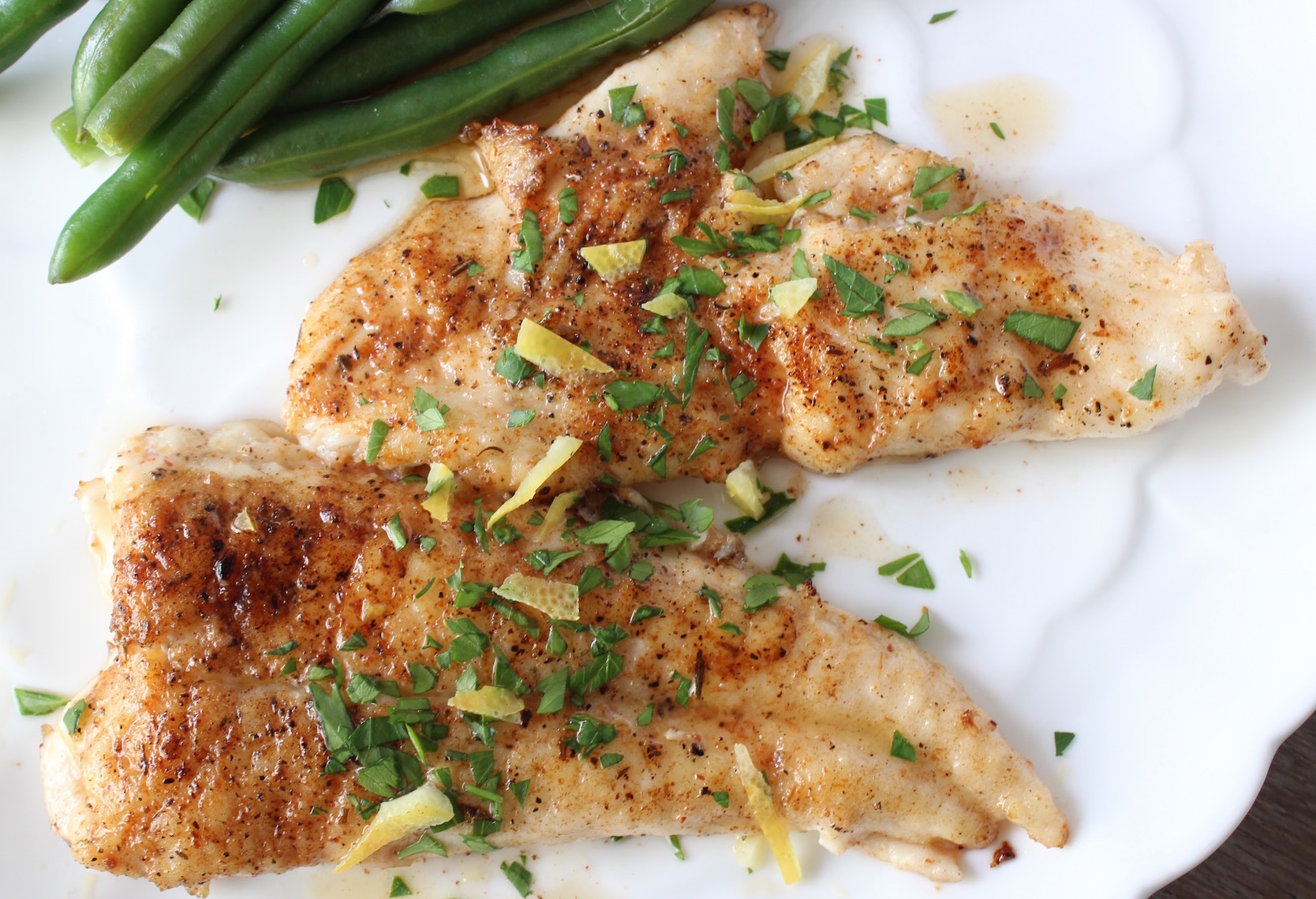 I sent my husband off yesterday to go Tarpon fishing, then got busy on blog work and the 100 or so other things I seem to do every morning. When he got back he was excited to tell me about his trip, so I assumed he had caught a Tarpon or two. "Oh, no" he said. "I got something even better!" Then he showed me this pic of him holding a big
Flounder
.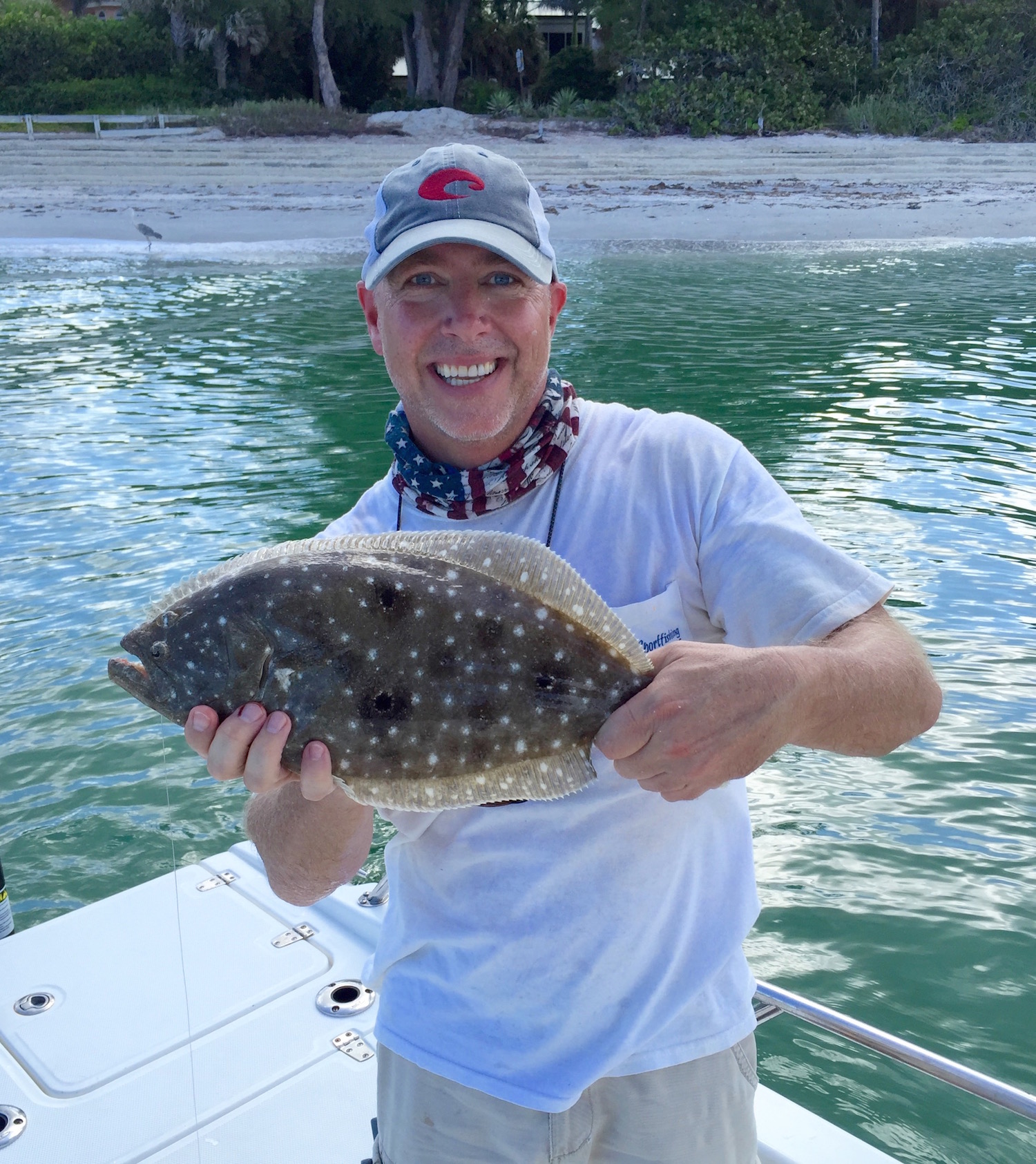 We don't catch Flounder very often, so you can imagine how excited I was.  It's not the prettiest fish around, but it's one of the most delicious, light, flaky fish out there and it's one of my absolute favorites.  With fresh Flounder in the house, I tossed aside plans for roast chicken and got busy thinking about how to prepare it for dinner. This fish doesn't need a lot of extras because its own delicate flavor and texture should shine through. That said, I wanted to make something tasty. I decided to pan-sear the fillets and top them with a garlic-infused brown butter, lemon rind and parsley (things I just happened to have in my fridge). Oh my goodness. . .it was SO tasty.   But as my last bite approached, I became sad — I guess that's when you know you've made something really good.  Doesn't this look yummy?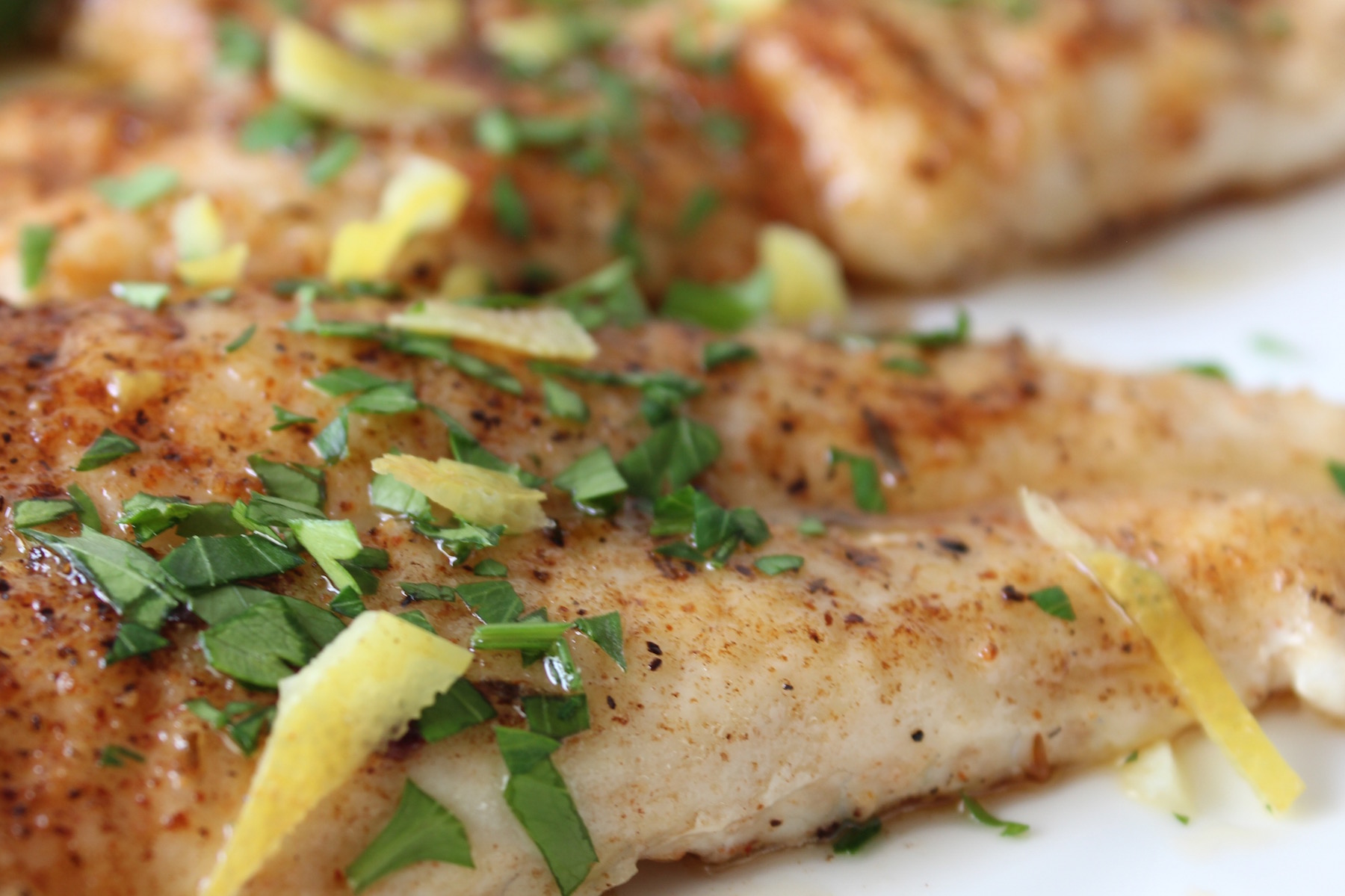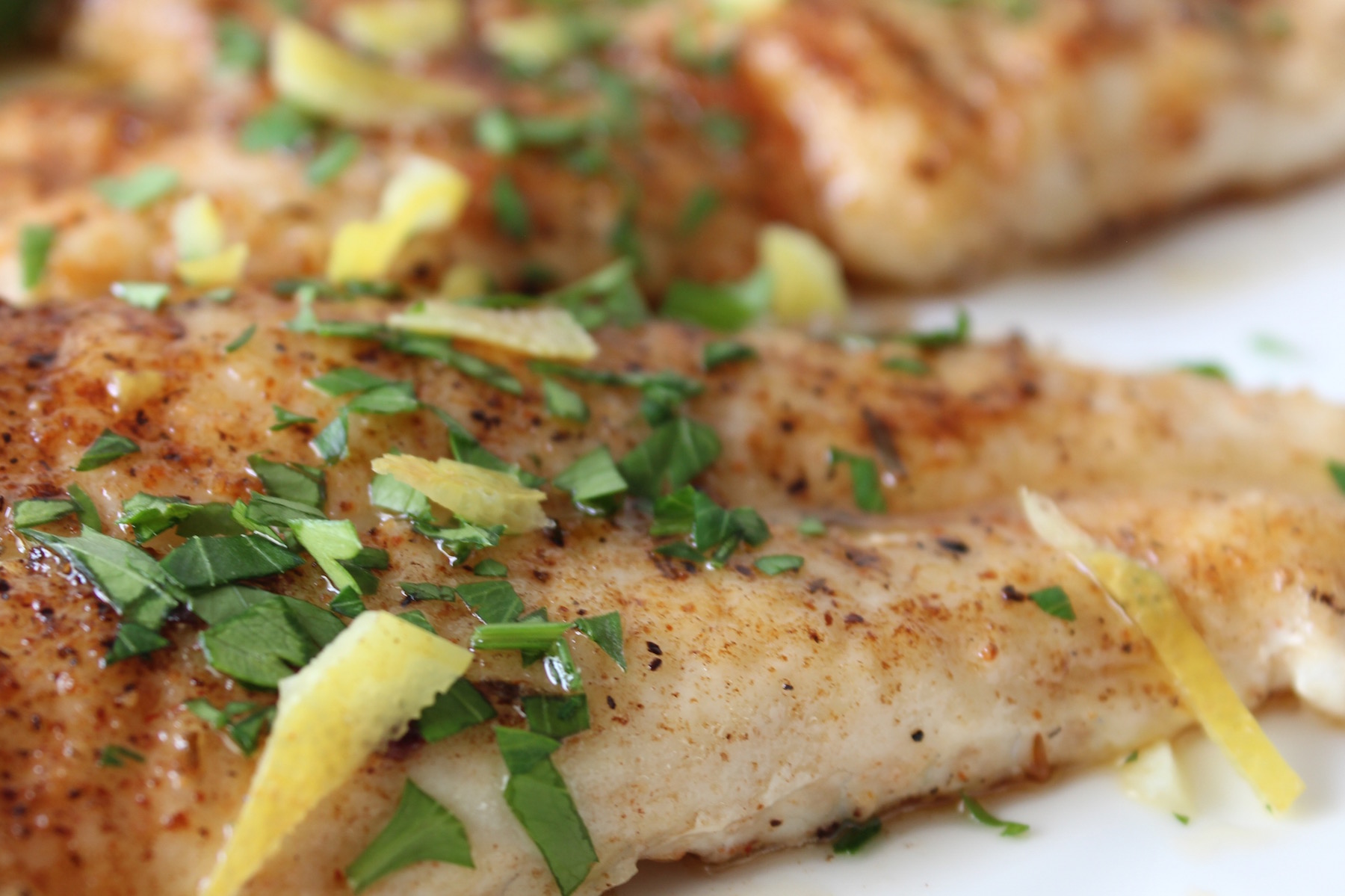 If you've never made brown butter, this is your chance to try something very easy and very delicious. When butter heats up slowly, the milk solids break down and start to cook, while the water evaporates. The result is a rich and nutty flavor that has so many possibilities when you replace regular butter with this wonderful concoction. It also smells delightful in the kitchen when you're making it, so that should be motivation enough to give it a try. The key to success is keeping a watchful eye on it as it cooks – otherwise, you'll have to start all over again 🙂 Want to know how to do it?  The recipe is below. This brown butter recipe would be tasty on any light, white fish, and I think it would even be yummy on chicken or pork.  It's so good it can go on just about anything.  And if you're not a fan of the garlic I included in the recipe, simply eliminate it and you'll still have something delicious. P.S. if you like Flounder and want to try another recipe, check out my
Flounder with Mint-Lemon Gremolata
.
Flounder with Brown Butter, Garlic & Lemon
Flounder, or any flaky white fish, will be so tasty with this delicious combination of brown butter, garlic and lemon.
Author:
My Delicious Blog
Ingredients
4 Tb. unsalted butter
1 clove garlic, minced or pressed
2 fresh Flounder fillets
Dash kosher salt and freshly ground black pepper
¼ tsp. Cajun or blackening seasoning (optional)
1 tsp. lemon rind, thinly sliced or minced
Handful fresh parsley, minced
Lemon wedges
Instructions
For the brown butter:
Don't use a non-stick pan! You need a clean, stainless pan in order to see the emerging color of the butter as it heats.
Cut the butter in tablespoon-sized pieces and place in the pan.
Heat the butter over medium heat - any higher and the butter will easily scorch.
Stir the butter constantly with a heat-proof spatula or wood spoon. (Note: once I started to heat my butter, I added in the minced garlic). As it warms, the milk solids start to come to the surface and you'll notice the color start to take on a golden-brown hue. As soon as it becomes the color of caramel, immediately remove it from heat and pour it into a heat-proof dish. Any longer and it will burn and become black, and that's no fun for anybody! Some of the solids might get mixed into the golden butter, but that's ok - they'll just sink to the bottom. You can also pass the butter through a fine mesh strainer to avoid most of the solids.
Once in a dish, skim away foam or any floating garlic with a small spoon.
For the fish:
Wipe out the butter residue in the pan with a paper towel.
Add 1 tsp. olive oil to the pan and heat to medium/high.
Sprinkle the fillets with salt and pepper (and Cajun or blackening seasoning, if using) on both sides. Place the fillets in the hot oil. Allow the fillets to cook for at least a minute then check to see if there's a brown crust forming on the first side. Use a very thin spatula to get under the fillets and flip each one carefully. Cook the other side 1-2 minutes. Both sides should be crispy and brown.
Transfer to a serving plate.
Top with a little brown butter, parsley and some lemon rind. Sprinkle a little lemon juice, if desired. Season with a little kosher salt, if needed.
Store any remaining brown butter in the refrigerator, in a tight container, up to 2 weeks.